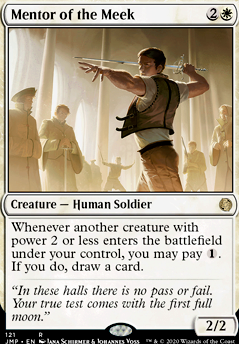 Mentor of the Meek
Creature — Human Soldier
Whenever another creature with a power of 2 or less enters the battlefield under your control, you may pay . If you do, draw a card.
Browse Alters
View at Gatherer
Trade
Legality
| | |
| --- | --- |
| Format | Legality |
| Oathbreaker | Legal |
| Unformat | Legal |
| Vintage | Legal |
| Arena | Legal |
| Leviathan | Legal |
| Historic | Legal |
| Custom | Legal |
| Highlander | Legal |
| Modern | Legal |
| Legacy | Legal |
| 1v1 Commander | Legal |
| Duel Commander | Legal |
| Pioneer | Legal |
| 2019-10-04 | Legal |
| Tiny Leaders | Legal |
| Limited | Legal |
| Block Constructed | Legal |
| Canadian Highlander | Legal |
| Casual | Legal |
| Commander / EDH | Legal |
Mentor of the Meek occurrence in decks from the last year
Latest Decks as Commander
Mentor of the Meek Discussion
4 days ago
Changelog (22/11/2020)
White
Blue
Black
Red
Green
Multicolored
Colorless
Mana Fixing
1 month ago
Wirewood Symbiote might be something to consider. It's not an elf but it goes well with cards you already have like Marwyn, the Nurturer and Mentor of the Meek. You not only get to untap your commander as well as big mana dorks like Priest of Titania but you also get to replay other cards you want etb triggers from. Plus you can save your elves from spot removal by bouncing them. You could also add Harrow to your ramp package. It's super under played if you ask me and since you have a lot of basics it can not only ramp you an additional land but can also find the colors you need (for example, if you need double white to cast something you can sac a forest to get two plains). Plus it's an instant so you can leave up mana to use other things like your commander's ability if you need to. And if you don't end up needing to you can just ramp on the endstep before your turn.
1 month ago
Grove of the Guardian is a good land you could throw in, gives you a big token that can be copied. Cryptolith Rite is insane ramp. Illusionist's Bracers to copy Rhys's copy abillity, working very similarly to Doubling Season and crew. Crashing Drawbridge is a good budget way to give all your tokens haste which can be very valuable. Throne of the God-Pharaoh and Altar of the Brood are good wincons if you're not able to attack for whatever reason. Huatli, Radiant Champion, Mentor of the Meek, and Runic Armasaur are all pretty consistent card draw options throughout the entire game. And Aura Shards is a huge defensive piece, keeping opponents' games out of sync with their key artifacts and enchantments. A few tutors to get out creatures and enchantments help as well... a few are Idyllic Tutor, Enlightened Tutor, Eladamri's Call, and Green Sun's Zenith. That should be a pretty good list to get you started, you can check out my Rhys deck if you would like for any other inspiration you may find: 0-60 in 3.5! (Rhys tokens). Rhys is such a fun commander! Make a big emphasis on ramp and quick token generation and watch it fly out of control! If you would like any help with cuts or any questions let me know!
1 month ago
I think you'll be happier with Cryptolith Rite over most of your ramp. All the tokens you make can now be used for mana, which you can dump into Rhys or cast your big stuff.
Beastmaster Ascension is easy to activate the turn it comes into play with all your tokens. You can easily the end game in one swing with this card.
Mirror Entity is another good way to turn your token army into huge game-enders at instant speed. It also protects them from dying to damage by growing them out of range.
Hour of Reckoning can be a pretty one-sided board wipe against most decks, leaving you with your token army. Not to mention you can use your tokens to pay for it.
Second Harvest is amazing because it works at instant speed. Playing this at an opponent's end step before your turn is an easy way to steal a win.
This might seem to go against the game plan, but Skullclamp is a very easy way to draw an extra 2-6 cards each turn at the expense of a few tokens. Definitely worth including.
Mentor of the Meek is another excellent way to take advantage of your token creation to get more cards out of the deal.
Aura Shards takes advantage of so many creatures coming into play on your side and makes sure no artifacts and enchantments stay in play under your opponent's control without your permission.
Wellwisher will net you insane amounts of life very quickly with Rhys' elf tokens. Might be better than Soul Warden.
Epic Struggle would allow you to win against Pillowfort decks, provided you can protect it for a turn. Good combo with Teferi's Protection I guess.
Since your commander is an elf you could benefit from Wirewood Lodge. It also works well with something like Priest of Titania or Wellwisher. In the same vein as Priest of Titania, you could also probably use Wirewood Channeler.
In terms of cuts, I think Emmara Tandris, Oviya Pashiri, Parallel Evolution, Arcane Signet, Growing Ranks, and Curious Herd seem the least essential or least powerful for your deck. I think it would also be easy to find swaps for my suggestions with cards that do similar things. Let me know if you need more help with cuts or swaps.
2 months ago
enpc And with newer colorless card draw becoming much better, modern playable Mazemind Tome, EDH specific Endless Atlas, and older Sensei's Divining Top/Scroll Rack always being powerful options!
Things that synergize with white's effects like counters with Mindless Automaton, lifegain with Well of Lost Dreams, and tokens or small dudes with Skullclamp, that or Sword of Fire and Ice for equipment strategies, Smuggler's Copter and Bonders' Enclave for other strategies.
And in white, after looking it up for Omniscience_is_life, here is my new, semi-educated package:
Land Tax, Mangara, the Diplomat, Alms Collector, Weathered Wayfarer, Mesa Enchantress, Kor Spiritdancer, Sram, Senior Edificer, Stonehewer Giant, Dawn of Hope, Puresteel Paladin, Mentor of the Meek, Bygone Bishop, Luminarch Ascension, Emeria, The Sky Ruin, Sun Titan, Sevinne's Reclamation, Ranger of Eos, and Castle Ardenvale
Not to mention tutors being Weathered Wayfarer/Ranger of Eos being tutors, alongside Steelshaper's Gift, Open the Armory, Recruiter of the Guard, Ranger-Captain of Eos, Academy Rector, Arena Rector, Call the Gatewatch, Idyllic Tutor, Enlightened Tutor, Heliod's Pilgrim, Quest for the Holy Relic, Three Dreams, Boonweaver Giant, Auratouched Mage, Djeru, With Eyes Open, Taj-Nar Swordsmith, Thalia's Lancers, Totem-Guide Hartebeest, Relic Seeker, Priest of the Wakening Sun, Forerunner of the Legion, Ignite the Beacon, Plea for Guidance, Kithkin Harbinger, etc.
Oh, and there is more, just look!
2 months ago
mccabej140: White has pure card draw in the forms of Mentor of the Meek, Wall of Omens, Bygone Bishop, Alms Collector, Dawn of Hope, Mangara, the Diplomat, Thraben Inspector, Scout's Warning and To Arms! (from a quick gatherer search).
In addition, it has artifact and enchantment based draw/tutor in the form of Enlightened Tutor, Sram, Senior Edificer, Puresteel Paladin, Stoneforge Mystic, Stonehewer Giant, Open the Armory, Steelshaper's Gift, Kor Spiritdancer and Mesa Enchantress to name a few.
That seems like plenty of options for card draw/tutors in white. And while seom of these are limitied to artifacts/equipment, you can't just write these off becuase your specific deck isn't heavy in that area. It's like saying that green's tutoring is crap becuase you can't tutor instants despite thefact that green has some of the best creature tutors.
"Fun" is also not an argument here. Just becuase you haven't played with or against stax decks and just becuase you don't find them fun does not mean that that you can just write the entire acrhitype off. There are plenty of people who really enjoy playing those decks and now you're effectively telling those people how to play Magic.
Some players don't like counterspells - does that mean that we shouldn't play them? Now blue has a big void until late game. Blue needs more ramp! it has to rely on artifacts, that's not fair to blue!
But the above logic is flawed. Counterspells exist and giving blue ramp would make it more powerful. Just like giving white a crapload of unrestriced draw. Stax exists and you can't just pretend it doesn't becuase you don't like playing it/against it. White exists on a balance between having draw and having stax and that balance is important.
channelfireball12345: see above.
I would ask the question to everyone here - if white has such bad card draw, then what's stopping you from splashing a second colour to fix the deficit? Why is there such a push to build mono-white decks?
Load more