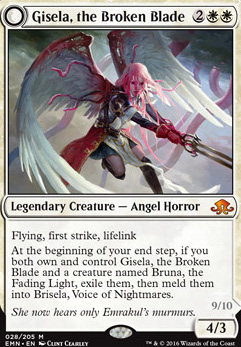 Legality
| | |
| --- | --- |
| Format | Legality |
| Standard | Legal |
| Frontier | Legal |
| Commander / EDH | Legal |
| Vintage | Legal |
| Legacy | Legal |
| Modern | Legal |
| Tiny Leaders | Legal |
Related Questions
Gisela, the Broken Blade
Legendary Creature — Angel Horror
Flying, first strike, lifelink
At the beginning of your end step, if you both own and control Gisela, the Broken Blade and a creature named Bruna, the Fading Light, exile them, then meld them into Brisela, Voice of Nightmares.
Have (14)
DHermos , Zomgasa ,

G

o

l

d

G

h

o

s

t

0

1

2

, jrschnoebelen ,

m

e

n

t

o

r

6

, TheAnnihilator ,

S

p

a

r

k

y

4

1

, Borg0th ,

h

a

r

d

h

i

t

t

a

7

1

1

9

4

,

D

r

_

J

a

y

, Oloro_Magic , gildan_bladeborn , VGJustice ,

P

o

p

t

a

r

t

z

9

5

Want (3)

F

e

r

g

e

r

n

u

g

g

e

t

s

, Kravian ,

a

b

b

y

3

1

5
Gisela, the Broken Blade Discussion
5 days ago
First Update, been getting a few suggestions off Reddit and the good book, so here they are...
1 week ago
Your lands are weighted towards , yet your early spells are weighted towards
Also, if you have Attune with Aether in a deck then you drop that number of lands. Attune with Aether is the same as hitting a land drop, because it fetches one for you.
I would change your lands to:
4x Aether Hub
2x Canopy Vista
7x Forest
3x Fortified Village
4x Plains

I wouldn't just stick 4 of every Creature in a deck. That is a classic building mistake.
You want 4 of Creatures that will make you win more consistently.
I would cut Felidar Sovereign and Regal Caracal down to 3 copies each.
In their place I would try 2x Gisela, the Broken Blade. Her life gain might help you to win with Felidar Sovereign.
Since you have 4 less cards I would fill those spots with removal.
To me the best removal spell at the moment is Declaration in Stone.
It can Exile Indestructible Creatures and also wipes Tokens off the board.
I would put 4 of those in.
See how those changes go and tag me if you want me to take another look.
1 week ago
Where Champion of Rhonas falls on the curve is when you want Gisela, the Broken Blade to hit the field, not him.
He doesn't slot well into any other part of the deck. Other Creatures are more efficient.
As you said, it is not useful to cheat Bruna, the Fading Light on to the field. Her casting ability lets you fish Gisela, the Broken Blade out of the Graveyard and Merge right away.
You don't want to cheat Archangel Avacyn Flip on to the field on your Attack phase.
Her job is to Flash in when least expected, usually when blocking enemy Creatures or to protect against board wipe.
Given all of that, Champion of Rhonas is NOT a good fit for this deck.
1 week ago
I was thinking on the lines of Traverse the Ulvenwald (Eldritch Evolution would also work). I seen you have Archangel Avacyn Flip and Gisela, the Broken Blade I was thinking Ulvenwald would be in your price range. That said, I wasn't saying you "need" Tutors but, I would drop Gisela, Bruna and Odric in favor of lower CMC consistency cards. While one ofs are fine, those particular ones need to hit the board at particular moments on the game and if you can't make that happen I would look for more consistency over momentum changing cards. For exp. you could keep Odric but, go to 3 of and dropping Gisela and Bruna. That would give you consistency of hitting Odric turn 4.
1 week ago
Carte a retirer --> Kaalia
Baneslayer Angel, Bruna, the Fading Light, Gisela, the Broken Blade, Herald of War, Linvala, Keeper of Silence, Sigarda, Host of Herons,
1 week ago
Carte a retirer --> KaaliaBaneslayer Angel, Bruna, the Fading Light, Gisela, the Broken Blade, Herald of War, Linvala, Keeper of Silence, Sigarda, Host of Herons,
Load more
Latest Commander