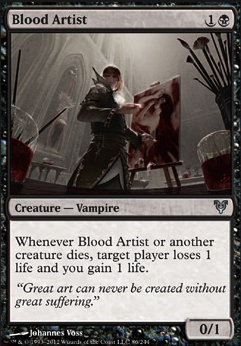 Blood Artist
Creature — Vampire
Whenever Blood Artist or another creature dies, target player loses 1 life and you gain 1 life.
Have (11)

R

e

g

u

l

u

s

1

0

1

0

, trness ,

O

c

e

l

o

t

P

r

o

b

l

e

m

s

, simson475 ,

j

w

e

9

4

,

G

o

l

d

G

h

o

s

t

0

1

2

, thegoblinmaster , Crow_Of_The_Void , Explotography , gurthang034 , DrLitebur
Want (7)

a

g

G

r

a

v

i

t

y

, luckythepirate , about30ninjas , dspot4lyf , riley1001000 , m-d-an , Haplo78
Blood Artist Discussion
17 hours ago
If you run Extraplanar Lens remember to only run Snow-Covered Swamp as it will benefit all basic swamps otherwise. Urborg, Tomb of Yawgmoth is very common in any dual, or tri-colored deck that runs

. As far as other vampires, there's quite a few of them floating around. Not all of them are ideal however.
Blood Seeker: is a good one especially against token decks.
Blood Artist: is another great option to go with a sacrifice theme.
Bloodghast: he's that annoying itch that never seems to go away.
Ascendant Evincar: Nasty against non-token token decks.
These are just a few examples there are others out there but a gatherer search will find all the other relevant ones.
3 days ago
I've got a few suggestions for this list after digging around tappedout for a bit. These aren't cards that need to be in the list, but I do believe they serve their purpose, and should at least be considered.
3 days ago
Few new suggestions -
4 days ago
Glad that you like it.
Let me show you a few examples of why Champion of Lambholt is useful in several ways:
It provides counters even when I can't sacrifice something or the opponent refuses to kill my creatures, so it can give the initial spark for and be part of a counter-producing loop with Retribution of the Ancients targeting any of my undying creatures.

It lets me swing with huge unblockables if it survives just one turn. Ever had a Champion of Lambholt gain 9-12 counters the turn after it was cast? I get that regularly. Often supported with secondary attackers.

It is not the most important card in the deck, but draws the paths and bolts like crazy, so my Bloodflow Connoisseurs and Blood Artists are in less danger to catch one. It being a favored target is kind of a good thing.
Judged by the basic strength in a vacuum, Mogis's Marauder might be better or not. Hard to say since they are so different. However, the synergies in this deck make Champion of Lambholt superior in every aspect.
Thank you for your comment and your suggestion. I might have to consider ensuring that it is more resilient to removal. Maybe some hexproof instant or Lightning Greaves/Swiftfoot Boots, that could also help protect the others.
4 days ago
i think Plumeveil is a nice addition here: the flash plays nicely with your instants, allowing you to hold up mana for tricks, and play a surprise blocker/removal spell that holds its own against most critters.
Falkenrath Noble or Blood Artist could help you hold onto your verdicts a little longer, and then stabilise your life total when you do choose to wrath all the critters away.
depending on the decks you're facing, Mana Leak or even Arcane Denial may be more effective for the 4-of counterspell slot. denial is especially sweet as it cantrips for you and is a hard counter, as opposed to leak (soft) and negate (conditional). it's also probably 1.5$ apiece, tho...