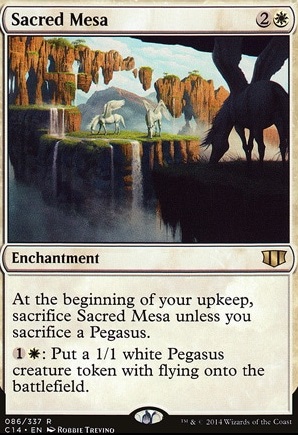 Legality
| | |
| --- | --- |
| Format | Legality |
| Tiny Leaders | Legal |
| Noble | Legal |
| Leviathan | Legal |
| Magic Duels | Legal |
| Canadian Highlander | Legal |
| Vintage | Legal |
| Modern | Legal |
| Penny Dreadful | Legal |
| Custom | Legal |
| Vanguard | Legal |
| Legacy | Legal |
| Archenemy | Legal |
| Planechase | Legal |
| 1v1 Commander | Legal |
| Duel Commander | Legal |
| Oathbreaker | Legal |
| Unformat | Legal |
| Casual | Legal |
| Commander / EDH | Legal |
Tokens
Sacred Mesa
Enchantment
At the beginning of your upkeep, sacrifice Sacred Mesa unless you sacrifice a Pegasus.
: Put a 1/1 white Pegasus creature token with flying into play.
Sacred Mesa Discussion
2 months ago
Love the deck - been wanting to make a similar one for a while. accordianing suggestions to avoid filling the page.
Origin Spellbomb
- double dips as part of "Lay me Down to Rest" here, allowing extra card draw for token generation.
Roc Egg - double dips as well, making multiple 3/3 flying tokens when it dies with your general on the field.
Sorin, Lord of Innistrad - pumps out lifelinkers, pumps out emblems. double win.
Hallowed Spiritkeeper - the bigger the graveyard, the bigger the swarm
Anointed Procession - Double up on tokens. works with Treasure & Clue tokens too
Wurmcoil Engine - double dips into a on death trigger
Hangarback Walker - double dips into, you guessed it, a death trigger. sensing a theme in my suggestions...
Sifter of Skulls - acts as an additional Pawn of Ulamog , but gives them 1/1 s instead of 0/1s
Pitiless Plunderer - gives treasure tokens on you creature's death.
Revel in Riches - gives treasure tokens on enemy creature's death, and an alternate win con
Sacred Mesa - also triggers a sac proc each turn you keep it around
Hidden Stockpile - a sac outlet that grants creatures.
Elspeth, Sun's Champion - pumps out tokens 3 at a time, or wide down the fatties. or both.
Twilight Drover - make tokens when tokens die. the cycle continues.
Custodi Soulbinders - makes tokens based on how many creatures were in play.
White Sun's Zenith - EoT mana dump for all the tokens. follow up with general cast, swing.
Entrapment Maneuver - force a solo attacker to die, makes tokens. handy little overlooked combat trick.
Legion's Landing Flip - makes a single token for 1. lingers a bit, then turns into a land that makes tokens.
Lingering Souls - kind of a staple of Orzhov spirits, was kinda supprised not to see it.
Luminarch Ascension - stall to make stupidly cheap angels.
Perilous Myr
- can be a decent source of colorless burn as needed, when paired with a good reanimation engine.
Seraph of the Scales - this card is solid, if not amazing, so I was rather suprised to not see it here.
Yosei, the Morning Star - either lock down 2 opponents for a turn, or one opponenet for 2 turns. either way is a solid win.
Archon of Justice - exile a threat on death. simple enough.
Ashen Rider - triggers coming and going, but kinda pricey mana wise. worth looking at if nothing else.
Kokusho, the Evening Star - drain ALL THE THINGS!
Solemn Simulacrum - goes in most decks, didn't see it here so I figured I'd mention it.
Vindictive Lich - gives alot of options for a single death effect.
5 months ago
It is a really great Enchantress build. Some suggestions: Copy Enchantment gives more utility. Leyline of Anticipation lets you play reactively. Burgeoning should be included, because it lets you put all lands you draw with Mesa Enchantress and friends on the battlefield - and you draw a lot in this deck. Duelist's Heritage is a great political card, since you can give double strike to your opponents' creatures to take someone out. Aura Thief+High Market combo nicely with Enchanted Evening. You may also try Solemnity. It comboes with Phyrexian Unlife (you can't die since you can't have poison counters), Lost Auramancers (that can be immediately killed with High Market to bring Decree of Silence so no one but you can play Magic), Glen Elendra Archmage (counter all noncreature spells your opponents cast), Glacial Chasm (never be attacked again), Mystic Remora (free draws throughout the game). Collective Restraint is another Propaganda effect that comboes with Shock Lands and Prismatic Omen. // Have you tried Tuvasa the Sunlit as the commander and Mind's Dilation instead of Sunbird's Invocation? Tuvasa is a enchantress and finisher on the command zone that can be recast at least 2 times before being expensive. Also, a 3-color mana base is way smoother than a 4-color one. You can even run less taplands to chain a turn 1 Wild Growth or Utopia Sprawl or Birds of Paradise or Burgeoning into a turn 2 Tuvasa the Sunlit. // If you want to stick to Kynaios and Tiro of Meletis, you can put Tuvasa the Sunlit in the 99. Fertile Ground can help you reach K&T on turn 3 (land enchantments are better than land ramp in this deck, since they can draw you cards with an enchantress even in late game). Nature's Lore also can guarantee K&T on turn 3. You might also consider Selesnya Sanctuary, Azorius Chancery and Simic Growth Chamber - K&T can put them on the battlefield at end of your turn, so you don't lose tempo. Blasphemous Act is a great boardwipe on Red. Assemble the Legion and Sacred Mesa create more tokens. Purphoros, God of the Forge, Kruphix, God of Horizons and Keranos, God of Storms are also solid.
6 months ago
Oh? Then if you want to make it a life deck, I'd encourage you to take a look at Karlov of the Pings. It's a life gain deck of mine, has a lot of great stuff. However it should be noted that to truly break Krav's ability there should be some token producers too.
Benevolent Offering can win you some friends on the table. Brimaz, King of Oreskos is a powerhouse. Captain's Claws can be equipped to Regna. Cenn's Enlistment can get rid of garbage lands. Doomed Traveler is a generally great card. Entreat the Angels is awesome. Ghoulcaller Gisa is oddly both a sac outlet AND token producer. Hero of Bladehold is a legend. Hidden Stockpile is honestly pretty good. Hoofprints of the Stag and Krav work great together. Hunted Witness is a slightly worse Doomed Traveler, Icatian Crier is a great way to pitch lands. Legion's Landing Flip is a nice one-drop and a permanent source in the late game. Leonin Warleader is nice. Lingering Souls is a classic. Militia's Pride, along with all these other cards, makes me wonder if attack-based tokens is a viable modern strategy. Mobilization is great if the game gets stagnant. Monastery Mentor is soooo good. Necromancer's Covenant is insane against aristocrats. Ogre Slumlord is a great rattlesnake and honestly the freaking best. Ophiomancer isn't quite as good, but still nice. Patrol Signaler- again with the attackers! Pawn of Ulamog could also be a great mana source, in the same vein as Sifter of Skulls. Promise of Bunrei seems really good. Quest for the Gravelord is a good thicc boi. Raise the Alarm is actually pretty underrated. Regal Bloodlord is great here. Sacred Mesa is great, and very repeatable. Smothering Abomination would be devastating here. Sengir Autocrat is 4 sac targets. Skirsdag High Priest can make some thicc bois. Sorin, Lord of Innistrad and Sorin, Grim Nemesis are both perfect for this deck. Twilight Drover is also freaking amazing. Wingmate Roc is, once again, practically designed to be played here!
7 months ago
Sacred Mesa gives me enough reason to add back in Fertile Ground. I'm already running Wild Growth. I've run all the above mentioned enchant land cards you've listed in previous builds of this deck and was never satisfied, even when Estrid, the Masked was the commander. Exploration and Burgeoning offer more towards ramp with inclusion of draw and Land Tax.
I'm already running Satyr Enchanter, Eidolon of Blossoms, Argothian Enchantress, Enchantress's Presence, Mystic Remora, and Sylvan Library, not to mention my Commander is a guaranteed turn 2-3 drop. Also, I can always tutor my enchantress pieces in multiple ways. Inclusion of two additional enchantress cards with double mana costs is not as good as you think.
Thought Vessel is needed fo hand size and not to be dropped. More options in hand to respond during other players turns is power. Including Seedborn Muse continuous plays at all times is guaranteed.
Aurification and Dissipation Field are actually worthless pillowfort choices as Commander damage or an all out assault can still kill you when up and opponents have possiblility to reobtain their creatures. Taxing effects are often more effective to discourage assaults as well as being cheaper to cast. Elephant Grass is listed on my maybe list, but is not prime choice due to cumulative upkeep and gives no card draw unlike Mystic Remora.
Overall my deck shuts down opponents very effectively so they can't interact with me, but I can still touch them. Either opponents die to combat damage, Commander damage, or scoop due to lack of ability. I do like that Sacred Mesa that you mentioned.
7 months ago
Earthcraft has a couple more combos that can be easily included here. By using an enchantment like Wild Growth on a basic plains, you can then use Earthcraft to combo with Luminarch Ascension and Sacred Mesa.
As a general tip for enchantment decks, I would include the other ones such as Satyr Enchanter, Verduran Enchantress, and Mesa Enchantress. These will provide reliable draw for an engine
For ramp, include enchantments such as Fertile Ground, New Horizons, Utopia Sprawl, Overgrowth, Awakening Zone, and Weirding Wood. These will trigger your tuvasa draws and also will combo with earthcraft, and should probably be included over your signets and Thought Vessel. I would shoot for ten reliable ramp cards and ten reliable draw cards, putting in as many enchantress effects as possible.
I really like your pillowfort aspect of the deck, and would also include Aurification, Elephant Grass and Dissipation Field.
Hope this helps! +1
8 months ago
Just so you are aware, if you have Divine Visitation and Sacred Mesa out, you will no longer be able to make pegasi that you need to keep making to sac to the sacred mesa.
Apart from that, the deck looks pretty cool. Have you considered Awakening Zone or From Beyond?
Load more
Sacred Mesa occurrence in decks from the last year
Commander / EDH:
All decks: 0.0%