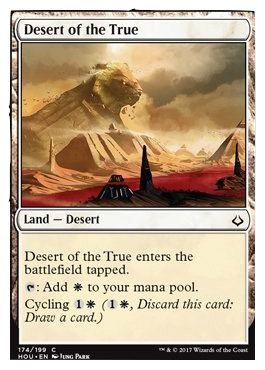 Legality
| | |
| --- | --- |
| Format | Legality |
| Pre-release | Legal |
| 1v1 Commander | Legal |
| Magic Duels | Legal |
| Vintage | Legal |
| Modern | Legal |
| Standard | Legal |
| Leviathan | Legal |
| Legacy | Legal |
| Duel Commander | Legal |
| Unformat | Legal |
| Pauper | Legal |
| Commander / EDH | Legal |
Desert of the True
Land — Desert
Desert of the True enters the battlefield tapped.
T: Add W to your mana pool.
Cycling 1W (1W, Discard this card: Draw a card.)
Desert of the True Discussion
18 hours ago
So first of all, TheTinyViking, you can just comment on this thread that you've updated the deck and I'll should see the comment :P
On to commentary...
I think that the deck is looking much better, with actual payoffs for going cat tribal. However, you can still make some upgrades I think. If you don't mind being in topdeck mode for a large portion of the game, that's fine, but it's generally not a good place to be. I would try to find space for cards like Mouth / Feed, Harmonize, or Rishkar's Expertise, with harmonize probably being the most powerful as it's good even if you're behind while the other two aren't.
Finally, your land base could use some upgrades. Scattered Groves, Blossoming Sands, Canopy Vista, Fortified Village, Graypelt Refuge, Stirring Wildwood, Temple of Plenty and Sunpetal Grove are all just actually better than the current tap lands you have in your deck, and Gavony Township, Grove of the Guardian, Desert of the True, and Desert of the Indomitable also all provide additional utility.
I would probably recommend Scattered Groves, Stirring Wildwood, and one of the following: Fortified Village, Temple of Plenty, or Sunpetal Grove as twelve of your lands, with each as four ofs, but aren't needed for budget reasons. For utility lands, you don't NEED any of them for budget reasons, but some mixture of them would provide your deck with more to do in the late game. That being said, no matter what, I would increase the number of white sources in the deck, in order to enable a WW spell on turn two.
20 hours ago
The_Mike, thank you for the advice on the card advantage! However, I'm not quite sure which of the three is the best, but I'm leaning towards Survival Cache...
That Mentor of the Meek and Bygone Bishop give a much greater number of cards over the course of the game, but are more fragile and more conditional. That the mentor gets completely shut off if I have more than one Honor of the Pure on the battlefield, and then I only have 19 creatures for the bishop...
If we add Smuggler's Copter into the list of potential card advantage tools, which do you think would be the strongest? Or should I just test with each of them on MTGO. I was planning on cutting the Elspeth, Knight-Errant and the Zealous Persecution for a 3x of the card advantage spell.
Finally, is Desert of the True too slow for this deck? The cycling would give a bit of flood prevention.