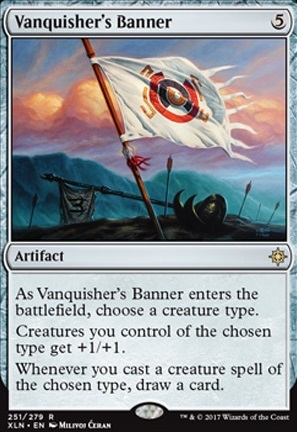 Vanquisher's Banner
Artifact
As Vanquisher's Banner enters the battlefield, choose a creature type.
Creatures you control of the chosen type get +1/+1.
Whenever you cast a creature spell of the chosen type, draw a card.
Browse Alters
View at Gatherer
Trade
Legality
| | |
| --- | --- |
| Format | Legality |
| Tiny Leaders | Legal |
| 1v1 Commander | Legal |
| Historic | Legal |
| Magic Duels | Legal |
| Canadian Highlander | Legal |
| Vintage | Legal |
| Modern | Legal |
| Highlander | Legal |
| 2019-10-04 | Legal |
| Block Constructed | Legal |
| Pioneer | Legal |
| Leviathan | Legal |
| Legacy | Legal |
| Frontier | Legal |
| Duel Commander | Legal |
| Oathbreaker | Legal |
| Unformat | Legal |
| Casual | Legal |
| Commander / EDH | Legal |
Vanquisher's Banner occurrence in decks from the last year
Standard:
All decks: 0.08%
Commander / EDH:
All decks: 0.06%
Green: 0.2%
Red: 0.19%
Black: 0.16%
Vanquisher's Banner Discussion
1 week ago
Thank you so, so much for your help and advice!  I hadn't thought about either card draw or improving the 'mana ramp,' (which may leave you wondering what I did think about! - werewolves!!) so your suggestions were really useful - thanks!
While I didn't end up adding everything, I really liked and immediately added: Cultivate, Harmonize, Nature's Lore, Rampant Growth, Skyshroud Claim and Vanquisher's Banner.
I also added quite a few of your suggestions to my 'maybe' list.  The main reason they didn't make the main deck was either mana expense or creature type (I've been sticking with humans / wolves / werewolves) - but I might well reconsider them when I've seen how my new deck plays without them!
I didn't end up adding:
Colossal Majesty because I felt like I might not get many cards from it

Llanowar Elves because I never seem to keep little mana creatures alive long enough to get much use out of them! 

Soul's Majesty because I felt like I might not keep a powerful creature alive long enough to make good use of this!
My reasoning is very newbie-based, and so I'm sure it has flaws, but I still feel very excited by the upgrades you have helped me to make to my deck - thank you! :D  Now to see how it plays...
1 week ago
Great deck but I think that you need a little more card draw to make the deck run smoothly. I suggest to take out some lands since 41 is a lot and add some card draw such as Vanquisher's Banner, Beast Whisperer, Harmonize, Return of the Wildspeaker, Rishkar's Expertise, Hunter's Insight, Colossal Majesty, Shamanic Revelation, Soul's Majesty or Soul of the Harvest. The Ramp is good but i would recommend a little more for some of your big creatures like your commander so consider cards like Cultivate, Rampant Growth, Nature's Lore, Llanowar Elves, Skyshroud Claim or Ulvenwald Captive  Flip (for this deck specifically). But for a first commander deck, you've done a very good job :)
2 weeks ago
Vindicate is a good card, but if you noticed that most of my removal is instant speed for single target and sorcery speed for mass removal. That was why Vin didn't make the cut.
Herald's Horn is a nice card (and I have three or four copies somewhere) but the reduction is nice and all, but humans are pretty cheap. The added card draw is nice, but this deck doesn't lack that.
Vanquisher's Banner was considered since it is a nice anthem and card draw, but that 5CMC is what's stopping me.
Thought Vessel is a maybe because it was a cheap mana rock. I was trying to run as many cheap mana rocks that I got back at least half the card's cost back without having to do anything extra.
Angel of Glory's Rise was considered, but since she's an angle, I didn't want to open that can of worms because then people would suggest cards like Herald of War or Angelic Overseer or Requiem Angel.
I'm not going to reject your suggestions, but these were my thoughts against them. Now I was also considering switching the commander for the partners in the deck. If I did that I would most likely run Angel of Glory's Rise AND Requiem Angel.
2 weeks ago
I feel like a broken record at this point, but I suppose it can't be helped, lol.
Some cards to consider for spot removal: Vindicate, Anguished Unmaking, and Utter End. They are played in the vast majority of Orzhov and Mardu decks for a reason.
Tribal decks are gonna wanna run Vanquisher's Banner and Herald's Horn for the same reason: they're just that good.
Finally, General Kudro of Drannith is a lord card, gave hate, AND (somewhat limited) spot removal in one package. Run him in this strategy, for the love of all that is pure and holy! Jirina will love you for it.
3 weeks ago
Looks good! You might like these: Cubwarden, Hungry Lynx, Mirror Entity, White Sun's Zenith, Highcliff Felidar

, Door of Destinies, Coat of Arms, Vanquisher's Banner, Icon of Ancestry, True Conviction
Load more