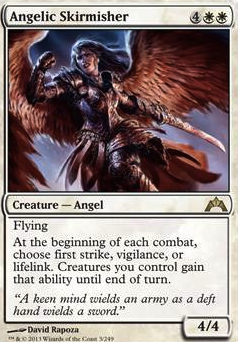 Legality
| | |
| --- | --- |
| Format | Legality |
| Tiny Leaders | Legal |
| 1v1 Commander | Legal |
| Magic Duels | Legal |
| Canadian Highlander | Legal |
| Vintage | Legal |
| Modern | Legal |
| Penny Dreadful | Legal |
| Leviathan | Legal |
| Legacy | Legal |
| Duel Commander | Legal |
| Unformat | Legal |
| Casual | Legal |
| Commander / EDH | Legal |
Related Questions
Angelic Skirmisher
Creature — Angel
Flying At the beginning of each combat choose first strike, vigilance or lifelink. Creatures you control gain that ability until end of turn.
Have (40)
Wazerwifle , Supremespeed , TheAlmostHero , jstn.mrrtt ,

D

r

_

J

a

y

, Feyd-Rautha , nakni , Fairseas , Fineontheoutside , AllDayTayTay , TThors , Stryfe_ ,

W

o

l

f

e

b

l

a

d

e

e

l

i

t

e

, beatdown36 ,

s

a

j

0

2

1

9

, webdokkeren ,

s

o

n

n

e

t

6

6

6

,

F

A

L

L

E

N

-

X

-

A

N

G

E

L

,

s

l

e

m

u

l

v

,

V

e

n

s

e

r

_

t

h

e

_

S

o

j

o

n

e

r

, twistedmage , jaradgolgarilichlord , Swamy ,

G

e

m

i

n

i

S

p

a

r

t

a

n

X

,

m

a

z

r

i

m

t

a

i

m

, EliGjerdingen ,

a

c

c

i

o

a

l

i

, Crimson6 , plof , MonoRedBomb.Com , Famicomania , joshw335 , thetechzombie , sombrevivo ,

S

u

n

s

_

C

h

a

m

p

i

o

n

,

T

h

e

_

M

u

n

c

h

k

i

n

,

S

h

i

s

h

k

y

B

o

b

, Caldazar ,

N

i

v

S

t

o

r

m

f

r

o

n

t

,

V

a

1

m

a

r

Want (15)
sleepy104 , Gypsyhatten , HehaGardenHoe , Talonisnthavingit , Myrolluth , Artius , lightbow , rhinoloupe , Kalanmazoo , Sigmafie , SleepySushi , TheAceol , Hexaflexagon , cwaquil , loganbowers
Angelic Skirmisher Discussion
1 month ago
Response to Vargavaka comment.
It ramps like crazy almost have no problem with the CMC. I am having trouble with control decks; they are able to destroy my one or two big creatures leaving me with little cards in hand and a bunch of useless equipment. I'm thinking about upping the number of draw cards.
2 months ago
Suggestions: Archangel of Tithes, Angelic Arbiter, Angelic Field Marshal, Baneslayer Angel, Emeria Shepherd, Bruna, the Fading Light + Gisela, the Broken Blade , Angel of Serenity, Angelic Skirmisher, Mass Calcify, Swords to Plowshares, Linvala, Keeper of Silence, Cultivate, Mirari's Wake, Asceticism, Return to Dust, Admonition Angel, Archangel of Thune, Resolute Archangel, Deathless Angel, Karmic Guide, Somberwald Sage, Elvish Piper, Elesh Norn, Grand Cenobite, Krosan Grip, Heroic Intervention, Enlightened Tutor, Worldly Tutor, Green Sun's Zenith, Rampant Growth, Terminus, Lightning Greaves, Gilded Lotus, Thran Dynamo, and Akroma's Memorial.
2 months ago
There is also always the option to just give your creature vigilance via Akroma's Memorial, Always Watching , Angelic Field Marshal, Angelic Skirmisher, Brave the Sands, Heliod, God of the Sun, Oathsworn Giant, or Serra's Guardian (there were more of those than I anticipated and not all are good, but i was committed by the time i realized how many there were.
Deck seems to want built in Jeskai, so I suggest Ruhan of the Fomori at the helm.
3 months ago
Thanks! Aggro and Control are definitely things that you don't see together too often.
Noetic Scales could be good against decks that dump their hands, and like you said, my walls would be safe. Stoic Angel and Derevi might be good for some more control, I'll have to think about them.
Aluren would be good, my walls have low cmc and come in powerful. I also wouldn't have to worry about completely running out of resources because of Arcades. Vizier of the Menagerie could help, I'll think about it.
I'm not really sure about Door of Destinies, Kindred Discovery, and Descendants' Path. With door I'm worried about boosting so much that I still die to my board wipes, I feel like I have enough card draw without Kindred Discovery, I also worry about burying spells I might need with Descendants' Path.
Archangel of Strife is a good idea, with "peace" mode my walls essentially get +3/+3. Angelic Skirmisher is good too; I can enable vigilance if I don't have it, or give my walls some other advantages.
Thanks for the suggestions! If you have any idea what cuts I could make to include from my maybe board then go ahead and suggest them.
6 months ago
I like the deck over all. I think it's pretty neat that your deck has an underlying "angel tribal" sub-theme to it. If you would like to expand that theme a bit then you could focus on more tribal synergies as well, like adding Bruna, the Fading Light

and Herald of War. Also in your cat deck you have Herald's Horn and Urza's Incubator which I believe are better suited for this deck.
The big problem I am seeing with this deck overall is that your instants and sorcerys are a bit lacking, especially for red white, and your creature mana curve is really high. Some of the mana problems go away with the amount of rocks you run and if you switch to tribal angels you can use the artifacts and Herald of War to alleviate that a bit. Another problem is that most of your lands enter tapped.
To fix these things you could do as such (if you have the money or desire to):
-Desolation Giant (you're better off with a normal wrath)
-Jareth, Leonine Titan (doesn't have flying or reach which makes him worse)
-Kalemne's Captain (to much mana. If you have enough to monstrous, play an angel)
-Warchief Giant (this card is great, but you might want Angelic Skirmisher or Aegis Angel instead. Up to you really)
-Ancient Amphitheater (you wont be running enough giants for this to be worth it)
-Some of the cycling lands. You don't need 5. (probably Drifting Meadow & Smoldering Crater)
-Comeuppance (4 drop instant is a lot in this deck)
-Manabarbs (I like the idea, but you will need to tap many more lands than anyone else)
-Boros Keyrune (Boros Cluestone is better & it isn't worth 3 mana)
-Loxodon Warhammer (Great card, but not really useful in this high cost deck)
-Tamiyo's Journal (Too slow for this deck)
-Whispersilk Cloak (Most of your creatures already have flying)
+Bruna, the Fading Light

+Generator Servant (Good mana + haste, and Sun Titan target)
+Hanweir Battlements (haste is good, enters untapped, don't need but could add Hanweir Garrison if you want to)
+Seraph Sanctuary (life gain is nice & angel synergy)
+Deflecting Palm (just a better Comeuppance)
+Defy Death (5 mana for an angel)
+Marshal's Anthem (anthems and brings back a bunch of creatures)
+Quicksilver Amulet or Belbe's Portal (removes mana cost problem)
Other cards you might want to think about:There are plenty of other possible angels to add. The list is to big to add here, so look online if you are interested.
Path to Exile is great if you have a spare.
Wear is good, but it's a couple bucks.
Chaos Warp would be a must add if it wasn't $3.
Wraths are good at slowing down the game for you to catch up. Cards like Hour of Revelation, Day of Judgment, Blasphemous Act, Descend upon the Sinful, Rout, and Fumigate are all pretty good examples.
Vandalblast is a good artifact wrath.
Other Tribal artifacts like Door of Destinies & Vanquisher's Banner work nice too.
Kindred Boon might be a sweet enchantment to check out.
Gratuitous Violence is right up this decks ally.
Berserkers' Onslaught is pretty cool as well.
Hope this helped.
Load more