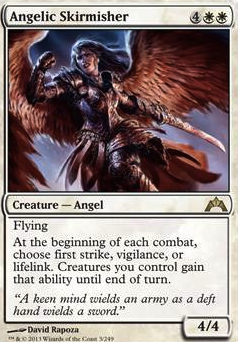 Legality
| | |
| --- | --- |
| Format | Legality |
| Tiny Leaders | Legal |
| 1v1 Commander | Legal |
| Magic Duels | Legal |
| Canadian Highlander | Legal |
| Vintage | Legal |
| Modern | Legal |
| Penny Dreadful | Legal |
| Leviathan | Legal |
| Legacy | Legal |
| Duel Commander | Legal |
| Unformat | Legal |
| Casual | Legal |
| Commander / EDH | Legal |
Related Questions
Angelic Skirmisher
Creature — Angel
Flying At the beginning of each combat choose first strike, vigilance or lifelink. Creatures you control gain that ability until end of turn.
Angelic Skirmisher Discussion
4 days ago
Team buffs: Agrus Kos, Wojek Veteran , Hero of Bladehold , Angel of Jubilation , Spear of Heliod , Balefire Liege , Hero of Oxid Ridge , Nobilis of War , Ogre Battledriver , Glory of Warfare , Marshal's Anthem .
Singular buffs: Kusari-Gama , Sword of the Animist , Argentum Armor , Sword of Feast and Famine .
Haste & Double Strike: Aurelia, the Warleader , Captain Lannery Storm , Odric, Lunarch Marshal , Hero of Oxid Ridge , Ogre Battledriver , Assemble the Legion , Berserkers' Onslaught , Boros Charm True Conviction .
Double Damage & Extra Attack Phases: Gratuitous Violence , Aurelia, the Warleader , Combat Celebrant , Aggravated Assault .
---
Iroas, God of Victory 's 1st and 2nd abilities, aka Menace ability and suto Dolmen Gate will guide you to victory.
---
+1 Upvote
Like what you see, +1.
don't like what you see ? Check out my other deck Selvala, Explored and Returned with tokens
---
I missed this stuff too: Agrus Kos, Wojek Veteran , Hero of Oxid Ridge , and Hero of Bladehold they all buff my creatures when they attack so giving them extra attack phases to attack again, buffs them again. So its "battle cry x2" from the Hero's, and its +4/+0 form Agrus Kos, Wojek Veteran on the second attack. Angelic Skirmisher also triggers twice. Not only for my extra combat phases, but my opponents as well. you're all going "duhhh" right, but i knew this too. Didn't realize i have been missing these triggers all the time.
As you can see it works when I remove the changes you said you had to do scotchtapedsleeves
1 week ago
Hey, I would say my decks power level floats around 8, and I would say yours is ~6 based on the speed (10 being cEDH ready). I for sure don't think you should lower your creature count, but should instead look to increase it with your trample effects. You need to commit to your strategy instead of stretching yourself. I had an early version of my deck that looks similar to this with the gods + Oketra the True and Odric, Lunarch Marshal for powerful swings, but ended up cutting the deck down to make it faster with the dorks. As for cuts, Luminarch Ascension is a bit slow and puts a target on you. Crush Contraband and Return to Dust also seem like a bit much, but it depends on your meta. I would replace them with creatures that destroy artifacts/enchantments like Qasali Pridemage . I also never liked Angelic Skirmisher , at that mana cost I want creatures with immediate impact when they hit the board. I also don't like Genesis Wave . It's a fun card, but I struggled to get good waves, and I have tons of dorks and Gaea's Cradle . I'd imagine it's tough in this deck. Also Priest of Titania would be money with all the elves you have.
2 weeks ago
Yeah together we have both progressed our decks extremely far! Ironically he is running a black deck, and he has also finally taken full advantage of sacrifices, card/card removal, life gain drain and now so how Eldrazi.
After recently play testing my deck a couple times I completely agree with you about Archangel's Light. It doesn't make sense for me because I'm always "praying" for the next big bomb or the right card on my card draw. The sideboard for me at the moment is basically cards I can't decide if I should add or not but still consider to be an extremely good for this deck. Hence why I'm here for advice!
So the thing about Lumbering Battlement is I consider it to be a protection card from me. I use it like I would use Faith's Reward or Sudden Disappearance , expect if no one tries to attack me after that then I get a free swing in before board wiping and yet simultaneously getting all my creatures back. Helm of host I have mixed feeling on that because it has actually won games for me. Depending on who I equip it to, like Lyra Dawnbringer which just makes all angels stronger for every time it creates a token or Exquisite Archangel I can sacrifice a token instead of the original angel, Angelic Skirmisher for the first strike and vigilance, Aegis Angel granting all angels close to indestructible or even artifacts, Angel of Serenity can basically exile my whole graveyard or opponents field. I see your point about it being a nine cost but in tell my friends get smart about trying to destroy it might as well keep it. Angelheart Vial Single handily made me win game but I agree it will also go in exchange for Pristine Talisman . I will defiantly try out Mana Tithe again sadly I just haven't used in game but I'm sure you are not wrong about its use!
Thank you heyzeus_ for fallowing my updates! Your support has really helped me shaped this deck into what it is today! I got my first copy on this deck so it's made me extremely happy and proud, just can't believe how much I've put into this deck though... but it has been worth it and of course I will continue to make it better. What are your thoughts on Ugin's Nexus considering I board-wipe and get ride of artifacts.
1 month ago
Thanks SomaCruz, lots of great suggestions here. I really wrestled with the angel decisions for this deck - there's so many amazing ones. I debated as to whether or not I should include each of the ones you've mentioned so I'll try to explain the 'why' behind my omissions.
Angel of Jubilation is excellent, love the casting cost and lord effect but she didn't make the cut because I need to be able to pay life for one of my win conditions, Aetherflux Reservoir . Angel of Condemnation and Angel of Sanctions are good removal options, but ultimately I decided that I'm running enough removal. I may revisit that line of thinking if it becomes a recurring problem, perhaps replace Angel of Serenity with one of these cheaper, less win-more options. Now having said that, looking at Admonition Angel again, yeah. That needs to be in here. You're also right about Angelic Skirmisher so I think I'll take that out and swap in Angelic Field Marshal , good call. Sunblast Angel is awesome and is indeed in here already. I thought about Karmic Guide and Dawnbreak Reclaimer as recursion options but I am actually comfortable with the current recursion amount ( Bruna, the Fading Light

, Emeria Shepherd , Reya Dawnbringer , Defy Death , Buried Ruin & Emeria, The Sky Ruin ).
Dawn of Hope and Smothering Tithe make a lot of sense and should probably be in here, I'm just not certain what to cut for them yet. I'm luke warm on Geier Reach Sanitarium and Inventors' Fair in here but I see what you're getting at, likewise with Weathered Wayfarer & Expedition Map .
Thank you for the good ideas and let me know when/if you post your Lyra deck, I'd be keen to check it out.
2 months ago
Hey Geomonbla.
As suggestions, I think that you may do this changes:
With this changes your deck can be more aggresive, and Thalia, Guardian of Thraben is good to avoid annoning removals on the firsts turns. And if your budget allows it, you can replace the taplands by some fastlands, shocklands, fetchlands and more Cavern of Souls.
Greets, TheSimikBOat :]
2 months ago
I'm also in favor of dropping Mardu Hateblade for another copy of Champion of the Parish. Did you mean Angelic Overseer instead of Angelic Skirmisher? The skirmisher's not bad, but at 6 mana and not a human, it just doesn't play well here.
If your budget allows it, swapping your comes-into-play-tapped lands for Fetchlands would be a great upgrade. If you're looking for +1/+1 counters and returning small creatures to the battlefield, then I"d recommend Ajani, Adversary of Tyrants over Liliana in the planeswalker slot.
Load more
Angelic Skirmisher occurrence in decks from the last year
Commander / EDH:
All decks: 0.01%
White: 0.26%