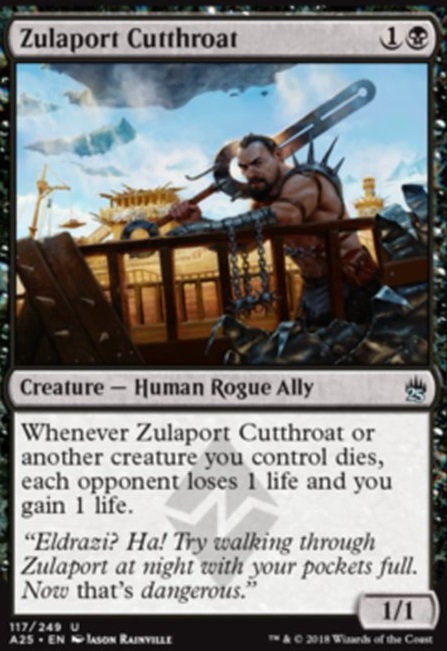 Legality
| | |
| --- | --- |
| Format | Legality |
| Tiny Leaders | Legal |
| Limited | Legal |
| Magic Duels | Legal |
| Canadian Highlander | Legal |
| Vintage | Legal |
| Modern | Legal |
| Highlander | Legal |
| Block Constructed | Legal |
| Custom | Legal |
| Leviathan | Legal |
| Legacy | Legal |
| Frontier | Legal |
| 1v1 Commander | Legal |
| Duel Commander | Legal |
| Oathbreaker | Legal |
| Unformat | Legal |
| Casual | Legal |
| Commander / EDH | Legal |
Zulaport Cutthroat
Creature — Human Rogue Ally
Whenever Zulaport Cutthroat or another creature you control dies, each opponent loses 1 life and you gain 1 life.
Zulaport Cutthroat Discussion
2 days ago
can I ask why Anafenza, the Foremost ? sure it puts a counter on another attacking creature. But it stops your creatures from going into your graveyard. Instead, can I suggest Nissa, Voice of Zendikar for its -2?
I would also remove Oath of Kaya and Oath of Gideon as you aren't going to be getting much value out of them. Karn's Bastion does Oath of Gideons job way better, for putting counters onto everything rather than when a planeswalker enters the battlefield. I've also found that the extra counter rarely matters on the planeswalkers. Oath of Kaya doesn't stack, and barely stalls in my opinion. With only 11 planewalkers, I'm not entirely sure what justifies it. Personally would add Mirri, Weatherlight Duelist to control the attacks towards you, and Bolas's Citadel which puts you so far ahead
and since you got Zulaport Cutthroat , why not add Blood Artist and Cruel Celebrant ?
6 days ago
Snowmen1 - Thanks so much for your feedback. You spotted a huge error in EE and I was able to take that out ready for my first play test at my LGS Modern evening. I placed in 2 Ratchet bomb which saved me in a lot of games. Zulaport Cutthroat did me wonders and I don't know how I feel about replacing this at the moment. I found myself some games stuck on 1 land with 3 drops in my hand as I was getting unlucky with the card draw mechanics not going off...
Anyway, I somehow ended up with 2 wins and 2 losses yesterday evening... Game 1 I beat Burn thanks to him going for the face and then I drop out a Cutthroat and Carrion Feeder to recover lost health and swing for a ton of damage. I then beat the best deck in the shop - Humans... lost game 1 and won 2+3. That was epic, the cards that saved be were the Ratchet bomb, Death Baron and Aethersphere Harvester to take out the Mantis Riders. Then lost to Phoenix Burn and Eldrazi. The deck was insane fun and needs some tweaks - starting with the mutavaults! Going to add some fetches too to trigger Fatal Push more often.
Typing on lunch break so its very rushed! Apologies.
1 week ago
I'd keep Yahenni, Undying Partisan in the deck. A free sac outlet is always useful, and he can become nasty over time.
Dread Shade is cutable. Other than being a creature you can pump, he doesn't give you much. Not enough value for a slot. I don't like Angel of Despair , either. Too high a CMC for what she does in colors that don't have a problem getting rid of just about anything. Better off running Anguished Unmaking , Despark , or Utter End . I think I'd cut the one-time fog effects like Darkness and Ethereal Haze . You just aren't going to get much value out of them, and better cards that support what your deck wants to do should go in their place, like Aristocrats that give you value when things die. Zulaport Cutthroat , Cruel Celebrant , Viscera Seer , Falkenrath Noble , and the like. Teysa Karlov would be strong here, too, as I think it should double up triggers on your Commander.
Hope this helps some.
1 week ago
I love zombies. I have a few things to say about your deck that I think you should consider though. In your sideboard, you play Engineered Explosives , this is very bad in mono black because you can only get up to 1 counter on it. for mono colored decks, a similar effect can be achieved with Blast Zone or more conventionally Ratchet Bomb . About Undead Augur , life is worth far less than a card, and being able to replace zombies that have died is what I think puts this tribe over the top. Basically, I dont think lifeloss is going to be a problem, as this is the only card that will deal damage to you in your entire deck. Being mono colored means you dont take damage from your lands, making this card all the much safer. now about lands, Mutavault is awesome, but I am not sure if it has a place in zombies. The problem is that zombies require a lot of black mana, and being stuck with a Mutavault instead of another black source can be backbreaking. I see you have Urborg, Tomb of Yawgmoth to solve that, but it can really only be a one of, so it doesn't do a good job of solving the problem. Also Relentless Dead is Awesome, I'd try to run 4. Also Consider adding Aether Vial , trust me it is very good being able to play an instant speed Undead Augur or Carrion Feeder , or be able to put a Relentless Dead on the battlefield with mana open on turn 3 vs a heavy removal deck.
In short this is what I would say:
+1 Zombie Lord
-1 Engineered Explosives (Sideboard)
+1 Ratchet Bomb (Sideboard)
+4 Aether Vial
-4 Something, rly up to you, probably Smuggler's Copter and something else.
Anyways, awesome deck, you had some stuff in there that I never heard of and I am 100% adding now. Feel free to check out the deck I made, http://tappedout.net/mtg-decks/16-06-19-mono-black-zombies/?cb=1560
1 week ago
What do you think about Vindictive Vampire and Zulaport Cutthroat ? Maybe more draining is a good thing to focus on?
For another budget draw I though about Sign in Blood and Painful Truths . I personally run these instead of Dark Confidant and Wheel of Fortune .
As for removal I consider Wear - it might be viewed as 3CMC but it's flexibility and ability to be 3 CMC 2-for-1 redeem it for me. Might work instead of Path to Exile or Harsh Mercy since you have enough creature removal. The latter might also work really bad in more tribal oriented metas or because of the fact that so many good creatures are Elves of Humans.
Load more
Zulaport Cutthroat occurrence in decks from the last year
Commander / EDH:
All decks: 0.1%
Black: 0.52%
Golgari: 0.43%
WB (Orzhov): 1.31%
Rakdos: 0.3%