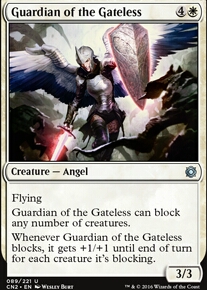 Guardian of the Gateless
Creature — Angel
Flying Guardian of the Gateless can block any number of creatures. Whenever Guardian of the Gateless blocks, it gets +1/+1 until end of turn for each creature it's blocking.
Browse Alters
View at Gatherer
Legality
| | |
| --- | --- |
| Format | Legality |
| Tiny Leaders | Legal |
| 1v1 Commander | Legal |
| Magic Duels | Legal |
| Canadian Highlander | Legal |
| Vintage | Legal |
| Modern | Legal |
| Pioneer | Legal |
| Leviathan | Legal |
| Legacy | Legal |
| Duel Commander | Legal |
| Oathbreaker | Legal |
| Unformat | Legal |
| Casual | Legal |
| Commander / EDH | Legal |
Guardian of the Gateless occurrence in decks from the last year
Commander / EDH:
All decks: 0.0%
Guardian of the Gateless Discussion
2 months ago
Secondly, when it comes to casual commander, the one thing I have learnt is that as a general rule, people suck at deckbuilding. That's not a dig at anyone in particular, but the common theme I notice is that people just don't want to devote deck slots to things like ramp or card advantage. They want to play all of the big, splahsy spells and as such their deck suffers. This especially goes for white. White has some very powerful creatures with quite board altering effects, however to offset it they are expensive to play.

Yet time and time again I see decks ruuning really heavy curves with minimal ramp or card advantage and then people wondering why their deck is running slowly. But they don't want to cut the big, fun spells to actually make their deck work properly. Again, I don't see how that is the fault of the colour pie.
This is where our experiences differ, and I can't refute what you have experienced with the format, and it's perfectly valid. It's just not what I've experienced. "Casual" commander, in my experience, involves crazy infinite combos, huge board presence, artifact ramp, etc. When I go down to my LGS to play commander night, and a guy sits down with Marchesa, the Black Rose , I can expect him to combo off turns 4-6 if nobody stops him. That's "casual", as I've experienced it. And that's not even a very optimized combo commander imo.
Within my personal playgroup, we tend not to be that... aggressive about our deckbuilding, because we do like big splashy spells, but we understand that we need to ramp into those spells for them to be viable. Even then things can happen, I can drop Bolas's Citadel turn 3-4, reveal Aetherflux Reservoir and just go off.
Now onto decks that are playing good artifact integration and yet are still falling behind, how many of these are then leveraging the stax effects that white offers? Because again, if you're not slwoing your opponents down because you choose to not run certain cards because they are "unfun", then that's on you.
The issue here isn't with "unfun" necessarily, it's with making yourself a target. With the level of decks I'm used to going up against, if I just drop a Rule of Law , I can expect that I probably won't get another turn this game. Because the moment I throw that on the stack, I have sent the message to the rest of the table that if they don't kill me ASAP, they have no chance. I do tend to run some of White's stax-type effects in my white decks, but I can't include too many or they'll clog up my hand because honestly, the important part with these kinds of cards in EDH isn't the deckbuilding, so much as it is the play sequencing. You have to play around the fact that these cards turn your opponents against you, and if you aren't prepared to deal with a 3v1, playing these cards will kill you.
I'm sure that there are some good white decks that still get outpaced by their bretheren of different colours. But at the end of the day, you're never going to strike a perfect symmerty with all colours and all commanders across all levels of play within a format.
This I agree with. The game will never be perfectly balanced. But as eternal formats go, the disparity between White/Red and Blue/Green/Black in EDH seems significantly larger than color disparity in other formats imo. It's enough that I've watched newbies catch on to it pretty fast. People with no previous knowledge of the format, getting into it, and figuring out that White is just bad.
Arcane Signet and a few other "command zone" based cards are not relevant in any format where there is no commander, however the kind of white based ramp you're descibing wouldn't fall within this.
Perhaps I've described it poorly then, because Arcane Signet is exactly what I want. I want to see it printed more, and I want to see more cards like it. It alone, in my experience in the short time I've had to play around with it, has done wonders to help close the gap on ramp between colors. It's actually better than most green ramp cards, unless your deck cares about lands specifically. Arcane Signet is available to all decks of all colors (barring mono-colorless), and provides colored ramp for 2. For green decks, this is often a slightly worse Nature's Lore . For decks weaker in ramp like White, it's just great. The closest comparison I can even find for it in White is Marble Diamond . And wow. Just wow.
give white some more powerful stax effects, preferably ones that got stronger based on the number of player still in the game
This is a pretty cool idea though! I'm not sure how this would work out exactly, but I'd be interested to see something like Undaunted becoming a White thing, as opposed to a one-off single-cycle throwaway keyword. The idea of fending off multiple foes at once has always been a pretty White concept imo, with cards like Guardian of the Gateless , Grasp of Fate , etc. It seems kind of ironic to me though that White would then struggle in a multiplayer format.
6 months ago
Tzefick I struggled long and hard whether to have the card draw on the blocks or damage step. If I may I would like to go into why I would rather it be the damage (or first strike damage) step.
1 I pretend WOTC will see this one day and care.
2 Wizards is very particular about white getting card advantage and why. If a Sanctuary Cat with Certainty (with the words draw when blocked) blocks a Curio Vendor : the defending player will have a chance to find an answer before damage. I don't think Wizards likes the idea of the defending player in this scenario getting such a potential advantage. As several voices have said before 'it promotes passive gameplay.'
3 As I mentioned in the original there are some creatures that can block many things : Knight of Sorrows , Luminous Guardian , Hundred-Handed One , or even Guardian of the Gateless . This is what worries me most about the idea (again still my idea). Certainty plus any of those creatures needs to be limited. I block 7 creatures, draw 7 cards: this is not what I want. By choosing damage instead: the power of the creature is the limiting factor not the number of creatures my opponent sends.
4 I wanted to mirror Curiosity .
Don't get me wrong you made good points. "Whenever enchanted creature blocks, you may draw a card," is beautiful. It is simple, self-explanatory, and clear. When it came to complex situations then I found reasons to (in my opinion) make a weaker but printable card.
6 months ago
Thank you so much, and thanks for the upvote! :)
Yeah Wall of Glare could work rather well, but it doesn't deter fliers on its own and Guardian of the Gateless can get pretty nasty if I have Rune-Tail's Essence out or a Darksteel Plate on her. If anything, I'd run both for redundancy if I had the room, lol.
I know, right? Worship is very underrated, indeed. Took me forever to slot it in this deck, but I wanted it in so badly, because of its sentimental value, though that's not to say it's a bad card by any stretch of the imagination.
Yeah, Pull from Eternity is another unsung hero, especially in Sunforger packages, lol. I simply HAD to try it out, especially with the threat of exile being a factor.
6 months ago
Very creative deck...so many cool ideas!
I never thought of using cards like Guardian of the Gateless as pillow-fort. I wonder if something as simple as Wall of Glare could deter attacks effectively. Opponents might not want to waste an entire combat step just to kill the wall.
Worship seems highly underrated. You would think it'd see more play in Marchesa decks given how popular Solitary Confinement is. Especially in decks that want to give the monarch away and use Marchesa as a defensive token generator.
And Pull from Eternity is so, so sweet. I love the interactions with Teferi's Protection , Mistveil Plains / Reito Lantern , Sunforger ...
Would upvote multiple times if I could :)
6 months ago
hi, just watched the Legendary Creature Podcast and as someone that loves mono white AND Eight-and-a-Half Tails, i'd like to put some input in the deck.
first of all, i would cut ALL of the unsynergistic "lose-less" cards like: Dawn Elemental , Blinding Angel , Guardian of the Gateless , Palisade Giant , Platinum Angel , Selfless Squire , Ghostly Prison , Pariah , and Gideon of the Trials . none of these cards advance your game state, or put you closer to a win. If anything these cards only help you durdle around, hoping you can squeeze out a cheeky win. you already run the 3 circle of protection cards that will more or less synergistically do most of that already, and you can also add Idyllic Tutor as redundancy. i would probably replace the lose-less cards for more hatebears, like Aven Mindcensor , Angel of Jubilation , and Containment Priest . you're also running only 2 creatures with an etb effects, so cards like Torpor Orb and Hushwing Gryff can be very back breaking against other more creature based decks.
if you want commander damage to be your wincon, you should run bigger "bombs" or equipments/auras like Eldrazi Conscription and/or Blackblade Reforged on top of the strata scythe and umezawa's jitte.
snow-covered plains are cheap right now. so possibly investing in Extraplanar Lens (which unfortunately isn't cheap) might be something worth while for the deck.
Scuttlemutt is a cute ramp piece that can also paint creatures white. Cloudchaser Kestrel has an etb effect AND can paint things white also
i noticed you ran Steelshaper's Gift in the video, but it's not in your current list. need an update? if you don't already have it, Open the Armory is also a good way to look for those voltron pieces.
you only have 6 cards in your entire deck that can shuffle your making Sensei's Divining Top mostly a waste of time, at that point Crystal Ball would do you better as you can scry away "bad" cards at the top of your library, unlike SDT. if you add the 5 fetchlands, and more tutors then you can reconsider it.
Now onto more spicy tech. Ugin, the Spirit Dragon

and All Is Dust both have great synergy with 8.5 since you can paint other people's lands and artifacts white.
adding Urborg, Tomb of Yawgmoth in the deck can make temple of the false god and maze of ith tap for mana, BUT it also allows you to run some extra spicy cards like Karma and Royal Decree which, with any of the circle of protection cards, for 1 mana you can make it 1 sided.
Illumination a solid counterspell that people won't see coming, and you can stop gross cards like omniscience, and mind over matter.
Renounce the Guilds is also a great way to kill everyone's non-mono color deck commanders.
not sure of the timing of the filming, but Smothering Tithe and Generous Gift should both be auto includes in every white deck.
if you are able to get your hands on the fetchlands, Brought Back can be a really good include, along with Lotus Field .
Cavalier of Dawn is also a strong include.
end notes: try to keep your deck as low to the ground as possible, with a very low mana curve, you want to play cards but also keep as much mana open to do any of your 8.5 shinanigans. if you spend 6+ mana on a spell on your man phase, it really limits what you can and cant do on other people's turns, which you want to mainly be doing with a commander like 8.5 that screams CONTROL.
7 months ago
I would start out with cutting a lot of those enchantments like, Crusade , Honor of the Pure , Divine Sacrament and Marked by Honor . Why would you want that many anthem effect on already "huge" bodies?
I dont know your meta, but at least in my playgroup i had the problem with mono w angel tribal that its just too slow, So i had to have more removal to even survive.
Cards that i suggest are (There are way more but these come to mind first): Emeria Shepherd - Just too good recursion, gets more out from your grave than Reya, Pearl Medallion - Helps with ramping, Angelic Arbiter - Makes opponents choose between casting or attacking, Guardian of the Gateless - make this guy indestructible and its a golden blocker against go wide decks, Hour of Revelation - Hits all nonland permanents, and in multiplayer game easy to cast for 3 mana, Return to Dust - One of the best spot removals, Brave the Elements - cheap way to protect your dudes from something nasty, Cleansing Nova - Mass removal that lets you choose mode, yes please, Nykthos, Shrine to Nyx - Just way too good mana for mono colored deck,
7 months ago
Okay, so after looking at this deck for a while, considering its sideboard, and adding some cards that I use often for similar strategies, I've come up with a list of edits (well, actually three lists).
Before I get to those, I would like to explain what I found. Firstly, I like the idea behind the deck. Token strategies are always a great way to make a casual deck that can scale to be for optimized. I love the afterlife keyword as it lends itself to this optimization really well. But there were several less-than-savory card choices in here. The two biggest issues that I saw are ones that I see a lot (and full into too). The first of these is that many cards have a very high cost-to-value ratio. That is, there were several cards that cost too much (mana) and do too little for it. Elgaud Inquisitor is a fantastic example. While Elgaud Inquisitor is on-theme with their on-death triggered ability, that is all they have going for them. The lifelink isn't super useful, and the CMC is WAY too high. They are only a 2/2 too boot. Second off, theme isn't the same as function. I understand that there is a vorthos element to this deck, but since this deck isn't a full tribal deck, I think it's better to focus on ways to make the good parts of the theme work great.
I saw lots of cards that were life gaining cards ( Pontiff of Blight , Impassioned Orator , Riot Control , etc). This deck can make a lot of tokens which Tesya gives lifelink. You need not worry about life gain card. The strength of your creatures that make tokens when they die is that you can easily recur them in W/B. In the lists below, there are many cards that give added value to dying creature or make killing your creatures more ways to die. Lastly and most importantly, you had ZERO ramp and ALMOST NO card draw. THESE ARE THE TWO MOST FUNDAMENTAL ASSPECTS IN EDH!!! You NEED to have them!!! You can not rely solely on the one land drop and card draw. I've listed several cards that assist the main strategy and draw you cards (things like Dredge and Altar's Reap ). As for ramp, there is almost no good ramp outside of green. That only means that you have to look harder. Mana rocks are a must. I only have three in the lists, but they are absolute must-haves. Next, I put in several cards that give you mana in other ways. Most of them align themselves with the main strategy ( Ashnod's Altar , Soldevi Adnate , and Pawn of Ulamog to name a few). Similarly, I added cards that draw you cards from creatures dying. There is one card that I would like to point out in particular, Erebos . The important part of Erebos is his last ability. You pay and 2 life to draw a card. Life is a resource, and you'll be making plenty of it. Be sure to spend it. There are lots of cards that help you turn life into various things, like Bolas's Citadel (which I almost put in and still think has a place here). I would encourage you to look into them. Lastly, I would remove 6 lands. You have other ramp now and don't want to be flooded all of the time.
Here is the list of cards that I would remove:
I understand that there is a budget to this deck, so I've split my suggestions into two lists. The first is all cards that are cheap and should keep you under budget. The second list of cards is for later edits. If you want to spend more money on this deck, those are the cards that I would recommend buying.
As you're read through these, you might notice that a lot of these came from your sideboard. There are lots of good cards in there.
I hope you enjoy these changes. Just remember that casual decks don't have to be un-optimized.
8 months ago
Alright so this is where things get difficult lol. Right now the deck has some semblance of agro and control but its currently being bogged down by things that don't contribute anything or enough to warrant their spot. I'm going to suggest a lot of cuts and for each one I'll offer a decent replacement that will not only make all of our lives miserable but also contribute to making the deck far more resilient and difficult to stop. Creatures to cut
Creatures to Add
Noncreature Spells to Cut
Noncreature Spells to Add
Now what these additions will do is smooth out your mana curve and make you come out swinging far more quickly in more consistently. The additions include another outlet to go infinite through Sword of Feast and Famine and Aggravated Assault . They also contain multiple ways to tutor up Helm of the Host and win. Combat Celebrant and Godo, Bandit Warlord each go infinite with helm and Godo will tutor for it himself and place it straight onto the battlefield.
We also tighten up your control package with cheap removal and creatures that limit what you're opponents can do. I can provide more explanations in person if you like.
Remember these are only suggestions lol But if you try them I think you'll like how much faster the deck pops off.
Load more