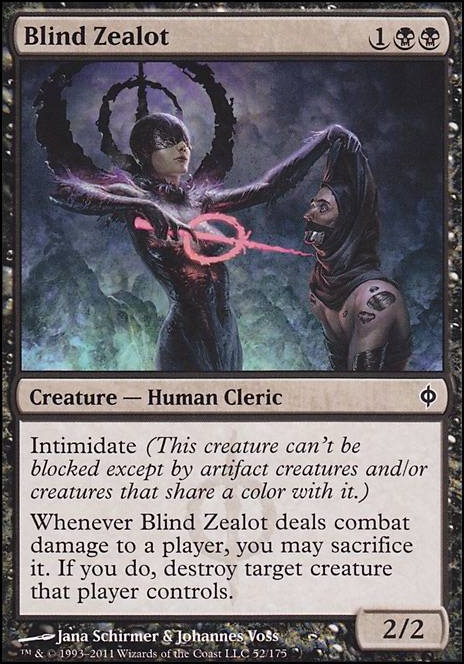 Legality
1 year ago
You might like these: Whisper, Blood Liturgist , Priest of Gix , Pitiless Plunderer , Soldevi Adnate , Teysa Karlov , Tormod, the Desecrator , Desecrated Tomb , Grim Haruspex , Aetherworks Marvel , Syr Konrad, the Grim , Ayli, Eternal Pilgrim , Benevolent Bodyguard , Selfless Spirit , Blind Zealot , Yawgmoth, Thran Physician , Phyrexian Reclamation
1 year ago
Cards you could add for added devotion in place of those cards.
2 years ago
Looks good! You might like these: Herald of Leshrac , Stitcher's Supplier , Custodi Soulcaller , Blind Zealot , Palace Jailer , Wispmare , Judith, the Scourge Diva , Kongming, "Sleeping Dragon" , Balefire Liege , Instigator Gang Flip, Lim-Dul's Paladin , Siege-Gang Commander , Goldnight Commander , Cathars' Crusade , Cauldron of Souls , Pitiless Plunderer
2 years ago
Very cool deck! Though not a cleric or demon, you might like Blood Speaker . Children of Korlis is a neat cleric that works nicely with Ravos, Doom Whisperer, Razaketh, and Vilis. The Children also have a fun place in the history of magic. Like the pentagram in the original art of Unholy Strength , Children of Korlis drew the ire of many parents for having the words "Sacrifice Children". Then there's the classic cleric combo: Daru Spiritualist + Shaman en-Kor , which allows you to gain an arbitrarily large amount of life with Starlit Sanctum. Toss in a Transmutation and you can use the Sanctum to take out an opponent with this combo. Other cards you might consider are Bishop of Binding , Blind Zealot , Custodi Soulcaller , Teshar, Ancestor's Apostle , and Heirloom Blade .
3 years ago
list of possilbe clerics to consider:
Heliod, God of the Sun - okay, not a cleric, but makes cleric tokens
Alms Collector - good card draw engine in EDH - prevents players from drawing their deck in one go also
Auriok Champion - linear upgrade from Soul Warden - resists removal
Auriok Replica - good sac for anti-commander damage, fits cleric type, colorless to cast. not super amazing, but worth mentioning
Ayli, Eternal Pilgrim - not all that useful until you gain some life, then amazing removal. and 2/3 deathtouch for 2 isn't bad either
Battlefield Medic - damage prevention based on clerics. nothing to special, but tribal themed, so I mention it here.
Beloved Chaplain - evasion that's hard to top - can't be blocked by creatures, can't be removed by creatures.
Blind Zealot - sacs to destroy target creature when it hits a player, good for general
Cabal Archon - sac outlet? check. Cleric tribal? check. sadistic grin? double check.
Cabal Executioner - on par with blind zealot - lacks the evasion, but doesn't sac to activate. mixed bag, but not horrible
Children of Korlis - sacs to revert life total to start of turn? yes please
Custodi Lich - grants Monarch, and forces creature sac on play and when you regain it. seems good.
Custodi Soulcaller - requires a few players to be super amazing, but still worthwhile even if all you get back is Children of Korlis
Daru Spiritualist - not quite pro- red, but helps agaisnt spot removal for entire tribe. bonus if paired with Shaman en-Kor
Devout Chaplain - most clerics are humans, exile is good. enough said.
Eight-and-a-Half-Tails - good protection for your side of the field.
Entomber Exarch - cleric that can reanimate or force pitch from opponents. not gamebreaker, but solid card with options
Frontline Medic - clerics are indistructable as long as 3 swing? seems good
Giver of Runes - really should be vodka-aunt of runes, but w/e, still good
High Priest of Penance - great to chump with, better with aethreos, best when indistructable
Kor Sanctifiers - decent artifact / enchantment removal on a cleric body, not much else to say.
Leonin Arbiter - the staple of death & taxes and hate bears is, in fact, a cleric. seems useful.
Leonin Relic-Warder - fiend hunter for artifacts & enchantments, not much else to say.
Mikaeus, the Lunarch - cleric that slowly buffs your side
Order of Whiteclay - recusion cleric. not as useful once it gets vigilence, so fair warning.
Pious Evangel Flip - sac outlet that transforms into a mini- blood artist, is cleric.
Pontiff of Blight - mass extort is disgusting. seven toughness is hard to remove.
Ravos, Soultender - recursion + steroids = win
Remorseful Cleric - mass graveyard remval + evasion is good
Shaman en-Kor - this guy is bonkers, and with any form of damage prevention makes your side nigh unkillable
Sin Collector - exiles instants & sorceries, solid card. never returns them either. probably is on a wanted list in some libraries for back charges
True Believer - if you don't want people to target you, ivory mask with legs is a cleric too
Tymna the Weaver - less useful in duels, but solid for mass card draw otherwise
Vile Deacon - cleric tribal lord for black, comparible to doubtless one
Weathered Wayfarer - land tax on legs. still a cleric
Whipgrass Entangler - ghostly prison based on clerics for mana, but single target per use
Whisper, Blood Liturgist - creature recusion that nukes for 6 with general out, or mass reanimation if opponen't don't take it.
Profane Prayers - not an X spell, but cleric tribal nuke seems kinda on-theme.
3 years ago
HalbrechtHalbrecht, thanks for the insight. Dark Prophecy is definitely something I'm considering. I'll probably pick up some copies when I get a chance and do some more playtesting. Vampiric Rites is certainly an option as well. I just need to figure out if the mana cost is worth gaining 1 life instead of losing 1.
As for Bloodchief Ascension , I was looking into the rules when I got my Forbidden Orchard s and I think it does actually work. From what I read, tokens that die do hit the graveyard, then are removed from the game as a state-based action. If you found some official rules that state otherwise, please point me to them.
Viscera Seer looks absolutely amazing and I'll definitely be checking out that card. Zulaport Cutthroat also looks nice. It's a pity that it only works with your creatures and not the opponent's, but at 2 CMC and with 1 power vs. the 0 on Blood Artist , it's worth a look.
I won't lie, getting the Bloodchief Ascension s stacked sometimes takes time. I usually get attacks in via flying tokens from Bitterblossom and Bloodline Keeper Flip (also my prime targets for equipping Mask of Memory , so I get good dual-use from them). It's true that a single Bitterblossom token won't get the job done, but two of them will. Still, it wouldn't hurt for me to consider swapping cards to add something deadlier. I've built up quite a collection of black cards while developing this deck. Fun examples include Ogre Marauder , Dauthi Slayer , and Blind Zealot . If you have more suggestions for creatures or other effects for easily delivering that 2 life loss, I'm all ears.
As for Elixir of Immortality , I've had dozens of games where it's saved my life in the early-mid game against aggro decks, allowing me to pull out a win later when I finish assembling my engine. Having that 5 life on demand is not to be underestimated, and the dual purpose of shuffling your graveyard back into your library stops mill decks and even has a little synergy with Beseech the Queen in the rare case where all four copies of something have made it into your graveyard. It also mitigates the negative impact of discarding, when that's a factor.
Long story short, I appreciate your other advice, but experience has taught me to never give up those elixirs.
4 years ago
I can see you are working on a bit of a budget so I will try to stick to budget suggestions, but I am going to make a few suggestions that are more expensive for you to shoot for later.
I think the deck is good for a first run. I understand that it isn't quite where you want it yet, and you have ideas of what you want to add; I suggest adding those to the Maybe Board or Acquire Board to keep others from suggesting cards you already have in mind.
Firstly, recursion is great, but right now I see no way for you to get your creatures into the yard aside from attacking/blocking. So I recommend the following list for making sure you always have a reanimation target:
Secondly, I think you need to trim most of the creatures in your deck that have more than 2 power so that you have more reanimation targets for Alesha. I suggest replacing them with cards that have good ETB effects such as:
Lastly, you will want some cards that benefit from all the death you will be causing. I suggest the cards below:
This is by no means an extensive list as I just spent a short time searching based on cards I already knew paired well. Most of these should be rather cheap additions and fairly easy to come by.
Hope this helps.
Load more