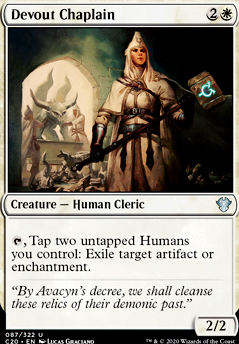 Devout Chaplain
Creature — Human Cleric
, Tap two untapped humans you control: Exile target artifact or enchantment.
Browse Alters
Trade
Legality
| | |
| --- | --- |
| Format | Legality |
| 1v1 Commander | Legal |
| Block Constructed | Legal |
| Canadian Highlander | Legal |
| Commander / EDH | Legal |
| Duel Commander | Legal |
| Highlander | Legal |
| Legacy | Legal |
| Leviathan | Legal |
| Limited | Legal |
| Modern | Legal |
| Oathbreaker | Legal |
| Tiny Leaders | Legal |
| Unformat | Legal |
| Vintage | Legal |
| Casual | Legal |
| Custom | Legal |
| Quest Magic | Legal |
Latest Decks as Commander
Devout Chaplain Discussion
2 months ago
Sup lobsternips!
As a baseline, you'll need to add lands, which I'm sure you know. Since you're making Treasure and Gold tokens in this deck you'd probably be good with roughly 34-36 lands, leaning more to the most mana color you'll need, say like a 25/25/50 split if thats what you're going for.
That basically does it for my brief review, hope I was of some help!
1 year ago
Initial thoughts are that there seems to be a high amount of the creatures that grow when one of your creature dies and not a lot of ways beyond Odric to grant keywords. Growing beaters that you play that lack a way to get through and require additional resources on your part might be better served with cards or creatures that give a more proactive benefit. (ex. Frontline Medic and Devout Chaplain
The new Manascape Refractor doesn't seem like it will do much with the lands you have currently.
There is a ton of cycling in the deck and I'm not sure that your color combination is best positioned to really take advantage of it baring that new cycle human. Then without more mana rocks or consistent sources of ramp, burning etb tapped lands seems rough to be able to cycle them.
1 year ago
list of possilbe clerics to consider:
Heliod, God of the Sun - okay, not a cleric, but makes cleric tokens
Alms Collector - good card draw engine in EDH - prevents players from drawing their deck in one go also
Auriok Champion - linear upgrade from Soul Warden - resists removal
Auriok Replica - good sac for anti-commander damage, fits cleric type, colorless to cast. not super amazing, but worth mentioning
Ayli, Eternal Pilgrim - not all that useful until you gain some life, then amazing removal. and 2/3 deathtouch for 2 isn't bad either
Battlefield Medic - damage prevention based on clerics. nothing to special, but tribal themed, so I mention it here.
Beloved Chaplain - evasion that's hard to top - can't be blocked by creatures, can't be removed by creatures.
Blind Zealot - sacs to destroy target creature when it hits a player, good for general
Cabal Archon - sac outlet? check. Cleric tribal? check. sadistic grin? double check.
Cabal Executioner - on par with blind zealot - lacks the evasion, but doesn't sac to activate. mixed bag, but not horrible
Children of Korlis - sacs to revert life total to start of turn? yes please
Custodi Lich - grants Monarch, and forces creature sac on play and when you regain it. seems good.
Custodi Soulcaller - requires a few players to be super amazing, but still worthwhile even if all you get back is Children of Korlis
Daru Spiritualist - not quite pro- red, but helps agaisnt spot removal for entire tribe. bonus if paired with Shaman en-Kor
Devout Chaplain - most clerics are humans, exile is good. enough said.
Eight-and-a-Half-Tails - good protection for your side of the field.
Entomber Exarch - cleric that can reanimate or force pitch from opponents. not gamebreaker, but solid card with options
Frontline Medic - clerics are indistructable as long as 3 swing? seems good
Giver of Runes - really should be vodka-aunt of runes, but w/e, still good
High Priest of Penance - great to chump with, better with aethreos, best when indistructable
Kor Sanctifiers - decent artifact / enchantment removal on a cleric body, not much else to say.
Leonin Arbiter - the staple of death & taxes and hate bears is, in fact, a cleric. seems useful.
Leonin Relic-Warder - fiend hunter for artifacts & enchantments, not much else to say.
Mikaeus, the Lunarch - cleric that slowly buffs your side
Order of Whiteclay - recusion cleric. not as useful once it gets vigilence, so fair warning.
Pious Evangel Flip - sac outlet that transforms into a mini- blood artist, is cleric.
Pontiff of Blight - mass extort is disgusting. seven toughness is hard to remove.
Ravos, Soultender - recursion + steroids = win
Remorseful Cleric - mass graveyard remval + evasion is good
Shaman en-Kor - this guy is bonkers, and with any form of damage prevention makes your side nigh unkillable
Sin Collector - exiles instants & sorceries, solid card. never returns them either. probably is on a wanted list in some libraries for back charges
True Believer - if you don't want people to target you, ivory mask with legs is a cleric too
Tymna the Weaver - less useful in duels, but solid for mass card draw otherwise
Vile Deacon - cleric tribal lord for black, comparible to doubtless one
Weathered Wayfarer - land tax on legs. still a cleric
Whipgrass Entangler - ghostly prison based on clerics for mana, but single target per use
Whisper, Blood Liturgist - creature recusion that nukes for 6 with general out, or mass reanimation if opponen't don't take it.
Profane Prayers - not an X spell, but cleric tribal nuke seems kinda on-theme.
Load more