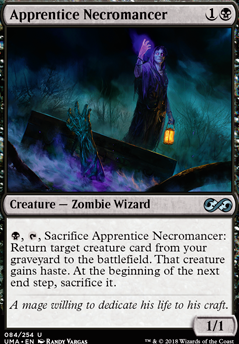 Apprentice Necromancer
Creature — Zombie Wizard
, , Sacrifice Apprentice Necromancer: Return target creature card from your graveyard to the battlefield. That creature gains haste. At the beginning of the next end step, sacrifice it.
Latest Decks as Commander
Apprentice Necromancer Discussion
1 week ago
For Chainer, Nightmare Adept, looting is your friend its sorta like having a limited second hand. Of course you can use his ability only once a turn so I think having a good amount of recursion like Apprentice Necromancer is good. Pair it with cards like Grim Haruspex you can refill your hand to discard more cards. So I would build it as a looting deck focused on recuring good stuff.
2 weeks ago
Hey, nice casual budget version, but are undying creatures other than Mikaeus and Flayer really worth it?
Consider more enablers to get +1/+1 counters on your creatures?
If you're going for an attacking strategy then consider a few more fliers that have some added value when they die or when they ETB?
Bloodtracker + Sword of Hours is a nice interaction. Some sac outlets are helpful to sac creatures who have counters to get their die or ETB triggers.
You have several high CMC creatures here, more reanimation and enablers could help.
Olivia, Mobilized for War is a +1/+1 counter enabler and an enabler for reanimation.
---
Some cards to consider cutting:
Good luck with your deck.
3 weeks ago
Hey, consider more budget card interactions with Serfis that let you repeatedly venture on your opponents turns? Phyrexian Reclamation combos with Radiant Solar for repeatable venture twice for three mana and the life gained from Solar negates the life loss of Reclamation. Compulsion is repeatable venture for two mana, discard a creature to reanimate as well as repeatable draw.
Reassembling Skeleton combos with Viscera Seer for repeatable venture/scry 1 for two mana. Apprentice Necromancer combos with Sun Titan for repeatable reanimation of 3 CMC or less permanents. I'm suggesting one 1 drop and three 2 drops therefore you could cut some higher CMC cards for these to help lower the mana curve which is high at 3.4.
Some changes to consider:
Good luck with your deck.
1 month ago
Hey, well done so far on a budget.
Consider the Emeria Shepherd + Pyre of Heroes interaction with basic Plains? Shepherd is an Angel to reanimate because then she along with Plains can reanimate any nonland permanent. The interaction of these two cards comes from being able to sac an Angel to tutor for to cheat another one onto the battlefield and then reanimate the Angel you just saced with Shepherd. Just by playing a land Shepherd can get a nonland permanent into your hand such as Mind Stone to cast to help to trigger Firja.
Angel of the Ruins has a powerful ETB effect and is another nice Angel with Shepherd because any land can return Ruins to your hand to then plainscycle to search for a Plains. Another interaction with Pyre is repeatedly sacing the same Angel such as Angel of Despair and reanimating it with Shepherd as long as you have Plains.
Firja as a five drop starts the chain nicely with Pyre when saced to get a six drop Angel such as Valkyrie Harbinger and then Harbringer the next turn gets Shepherd. From there get back Harbringer with Shepherd and then sac it later on to get Sephara, Sky's Blade.
---
Profane Tutor is a budget low CMC tutor that you cast from suspend. Open the Armory is a low CMC tutor to get Mask of Memory or Animate Dead. Dawn of Hope can do a lot when your Commander has lifelink as well as has evasion.
Court of Grace can be repeatable Angels as well as draw from the monarch. Flying Angels especially ones with vigilance can help to defend for you to keep the monarch, not letting your opponents do combat damage to you. Cleric Class is another one mana card that can help to gain life to trigger various effects and the other levels are good too.
Apprentice Necromancer has interaction with Sun Titan to repeatedly reanimate any 3 CMC or less permanent for one black mana. With Titan in your graveyard reanimate him with Necromancer. Titan ETB reanimates Necromancer and Titan has haste thus he attacks reanimates any other 3 CMC or less permanent. At your end step Titan is saced putting him in your graveyard to reanimate again with Necromancer on your next turn and repeat.
Titan can reanimate Evolving Wilds which is fuel for Emeria Shepherd. Because of Titan For one black mana you could repeatedly trigger Shepherd two times until you run out of Plains or nonland permanents to reanimate/recur. Patriarch's Bidding and Victimize are upgrades for some reanimate spells and Bidding is now a budget card.
Dark Ritual is one mana to help to cast a second spell to trigger Firja or use it to help to cast Firja since she's double black mana cost. Orzhov Signet, Talisman of Hierarchy, Mind Stone are some budget mana rock additions/upgrades. Caves of Koilos, Shineshadow Snarl, Snowfield Sinkhole, Path of Ancestry, Esper Panorama, Ash Barrens are some budget lands to consider adding.
If interested in any of these suggestions then I offer more advice of cuts to consider. Good luck with your deck.
1 month ago
Hey, a budget creature who's good with Alesa is Vile Entomber . It can be a repeatable way with a sac outlet to tutor for any creature to get into your graveyard to reanimate with Alesha. Goblin Bombardment was just reprinted, it's budget now, down to $1 and it's one of the best sac outlets in Commander. Bombardment can be a win condition with the combo of Karmic Guide + Reveillark .
Apprentice Necromancer + Sun Titan is a budget combo to repeatedly reanimate 3 CMC or less permanents. This interaction needs Titan in your graveyard, Necromancer can tap and costs one black mana for Necromancer to reanimate Titan. Titan then reanimates Necromancer and Titan has haste from being reanimated by Necromancer therefore it can attack to reanimate any 3 CMC or less permanent. At the end of the turn Titan is sacrificed letting you repeat the combo. Titan can also reanimate Alesha which is helpful to avoid Commander tax.
If interested I offer more advice. Good luck with your deck.
1 month ago
Thank you, for taking the time to respond
Squirrel_of_War, the deck tempos till combo. Stalling the game till turns 5-7 would be much easier then stalling the game till turns 7-9 wich would greatly increase my win%. That's why I'm focused on power level.

enpc, this deck does self milling, Crucible of Worlds is the only option in these colors to get lands back with out giving opponents there lands also, plus it being a 3 cmc permanent makes it a reanimate target.
Nirkana Revenant is never hard casted it's a reanimate target. I have actually had games were turn 0 gemstone-exile Rev, pull from eternity, turn 1 reanimate
Apprentice Necromancer was swapped for Priest of Fell Rites & Doomed Necromancer was swapped for Magus of the Will

Night's Whisper & Sign in Blood are fantastic suggestions cantrips are the key to frija
1 month ago
Before I go on to card swaps, I think that having a measurable "Turn X - Y equates to power level Z" is a bit silly. I get what you're trying to achieve with it, but the concept is very two dimensional when deck building and piloting is is not.
As for actual card changes - if you want to make the deck faster then a more consistent mana base will be step one. Yes, that means fetches. You have stuff like Crucible of Worlds which is midrange tech, yet if the goal was for speed then this contradicts the gameplan.
On top of that, you're not running Demonic Tutor or Diabolic Intent . If we're talking no budget, Imperial Seal is another one worth a slot. Night's Whisper is good card draw too, as is Sign in Blood .
I would also look into cards like Mana Crypt , Mana Vault and Dark Ritual . Cheap ramp effects are your friend. Big mana accelerators like Nirkana Revenant are counter-productive here, they don't help in the early game which is where you're trying to win.
A few extra reanimation effects like Apprentice Necromancer and potentially Doomed Necromancer are both useful here, since most of your combos can be assembled as creature only.
Load more