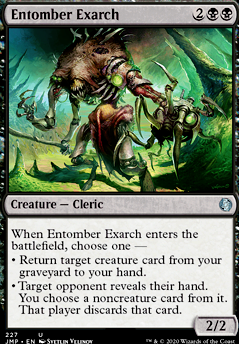 Entomber Exarch
Creature — Phyrexian Cleric
When Entomber Exarch enters the battlefield, choose one &mdash
Return target creature card from your graveyard to your hand.
Target opponent reveals his or her hand. You choose a noncreature card from it. That player discards that card.
Latest Decks as Commander
Entomber Exarch Discussion
1 year ago
I would recommend maybe some of these creatures:
Brood Monitor, Caligo Skin-Witch, Duplicant, Entomber Exarch, Gilded Drake, Palinchron, Phyrexian Ingester, Rune-Scarred Demon, Selvala, Heart of the Wilds, Solemn Simulacrum, Terastodon, Thought-Knot Seer, Vendilion Clique, Venser, Shaper Savant,
As well as these cards that can help abuse ETB affects:
Deadeye Navigator, Followed Footsteps, Mirror Mockery, Rite of Replication, Strionic Resonator, Thassa, Deep-Dwelling,
If you want more suggestions, feel free to look at my deck:
---

---
1 year ago
Hey, good start for a causal version of Yarok :)
How are you winning the game with Yarok? Even casual decks need a way to win the game. You may be playing a causal deck, but you're also playing many noncasual cards. I ask this because you should build the rest of your deck around how you want to win. One way is with infinite mana to infinite blink Agent of Treachery to gain control of all your opponents permanents. I suggest this way because Agent is an amazing card to abuse with Yarok and blink.
The main enabler for this is Deadeye Navigator who can blink the creature it's soulbound too. Peregrine Drake soulbound to Deadeye is the enabler to make infinite mana by infinite blinking Drake to tap and untap your lands. When you have infinite mana you can soulbound Deadeye to a win condition creature in this case Agent and then infinite blink Agent.
If you add Deadeye then it's safe to say that you should build the rest of your deck around Deadeye and Agent because they're how you win. Deadeye has interaction with many other creatures not just Agent because it's a repeatable source of blink for the soulbound creature. If you're interested in learning about this combo then I can explain it in more detail in another comment. Would you like to know more?
---
25 cards that are 5 CMC or higher is a lot. This many is making the avg. CMC of your deck very high at 4.2 meaning that the avg. mana cost of the cards in your deck is four mana. You risk not being able to cast a single card until you have four or more mana which could be all game if you get land screwed. An improvement would be to streamline these 24 cards down to 10 or less to start. Yarok is the five drop you want to cast more than the rest which is something to keep in mind when choosing which ones and the number of other five drops to play.
The best high CMC cards here are: Yarok, Agent of Treachery, Rune-Scarred Demon, Tooth and Nail, Sepulchral Primordial, Diluvian Primordial, Ob Nixilis, the Fallen, Sire of Stagnation, Tatyova, Benthic Druid, Mulldrifter, Conjurer's Closet. All the rest not named could theoretically be cut. If you add Deadeye and Drake then they could replace Nixilis and Stagnation.
Further streamlined example: Yarok, Agent of Treachery, Deadeye Navigator, Peregrine Drake, Rune-Scarred Demon, Tooth and Nail, Mulldrifter. All these cards can help to assemble Deadeye/Drake and then Deadeye/Agent as the win condition. Mulldrifter can soulbound with Deadeye for infinite blink to draw into your deck until you can assemble the combos with protection.
---
Some cards to consider cutting:
Some others:
I have other some suggestions of cards to add which I can make in another comment. Would you like more suggestions?
Good luck with your deck.
1 year ago
I tried to quickly look into creatures that give similar effects to duress/thoughtseize. All i could find is Entomber Exarch, but the mana cost is quite high and probably not usable.
2 years ago
list of possilbe clerics to consider:
Heliod, God of the Sun - okay, not a cleric, but makes cleric tokens
Alms Collector - good card draw engine in EDH - prevents players from drawing their deck in one go also
Auriok Champion - linear upgrade from Soul Warden - resists removal
Auriok Replica - good sac for anti-commander damage, fits cleric type, colorless to cast. not super amazing, but worth mentioning
Ayli, Eternal Pilgrim - not all that useful until you gain some life, then amazing removal. and 2/3 deathtouch for 2 isn't bad either
Battlefield Medic - damage prevention based on clerics. nothing to special, but tribal themed, so I mention it here.
Beloved Chaplain - evasion that's hard to top - can't be blocked by creatures, can't be removed by creatures.
Blind Zealot - sacs to destroy target creature when it hits a player, good for general
Cabal Archon - sac outlet? check. Cleric tribal? check. sadistic grin? double check.
Cabal Executioner - on par with blind zealot - lacks the evasion, but doesn't sac to activate. mixed bag, but not horrible
Children of Korlis - sacs to revert life total to start of turn? yes please
Custodi Lich - grants Monarch, and forces creature sac on play and when you regain it. seems good.
Custodi Soulcaller - requires a few players to be super amazing, but still worthwhile even if all you get back is Children of Korlis
Daru Spiritualist - not quite pro- red, but helps agaisnt spot removal for entire tribe. bonus if paired with Shaman en-Kor
Devout Chaplain - most clerics are humans, exile is good. enough said.
Eight-and-a-Half-Tails - good protection for your side of the field.
Entomber Exarch - cleric that can reanimate or force pitch from opponents. not gamebreaker, but solid card with options
Frontline Medic - clerics are indistructable as long as 3 swing? seems good
Giver of Runes - really should be vodka-aunt of runes, but w/e, still good
High Priest of Penance - great to chump with, better with aethreos, best when indistructable
Kor Sanctifiers - decent artifact / enchantment removal on a cleric body, not much else to say.
Leonin Arbiter - the staple of death & taxes and hate bears is, in fact, a cleric. seems useful.
Leonin Relic-Warder - fiend hunter for artifacts & enchantments, not much else to say.
Mikaeus, the Lunarch - cleric that slowly buffs your side
Order of Whiteclay - recusion cleric. not as useful once it gets vigilence, so fair warning.
Pious Evangel Flip - sac outlet that transforms into a mini- blood artist, is cleric.
Pontiff of Blight - mass extort is disgusting. seven toughness is hard to remove.
Ravos, Soultender - recursion + steroids = win
Remorseful Cleric - mass graveyard remval + evasion is good
Shaman en-Kor - this guy is bonkers, and with any form of damage prevention makes your side nigh unkillable
Sin Collector - exiles instants & sorceries, solid card. never returns them either. probably is on a wanted list in some libraries for back charges
True Believer - if you don't want people to target you, ivory mask with legs is a cleric too
Tymna the Weaver - less useful in duels, but solid for mass card draw otherwise
Vile Deacon - cleric tribal lord for black, comparible to doubtless one
Weathered Wayfarer - land tax on legs. still a cleric
Whipgrass Entangler - ghostly prison based on clerics for mana, but single target per use
Whisper, Blood Liturgist - creature recusion that nukes for 6 with general out, or mass reanimation if opponen't don't take it.
Profane Prayers - not an X spell, but cleric tribal nuke seems kinda on-theme.
2 years ago
I like this primer, and I appreciate that you understand some of the stronger Marchesa interactions like the applications of the graft creatures and Mimic. I hope you'll check out my Marchesa list. I think we have a similar outlook though I favor low cost cards for curveouts and I think you might find some of my cards to be "do-nothings." Anyway here are some of my suggestions and thoughts:
Dusk Legion Zealot , Baleful Strix , Alchemist's Apprentice , Seekers' Squire , Preordain , Sage of Epityr , Rix Maadi Reveler : The first three are a slam dunk while the rest are a bit of a harder sell, but all of these cards get cast earlier than Mulldrifter/Disciple of Bolas so they help you hit land drops and find your missing pieces. And something like Apprentice can curve right into a counter enabler and draw 4 cards on turn 4 before you'd even cast the more expensive draw spells. Preordain and some amount of the other cantrips are always worth consideration too, since you're trying to put together specific things to bring a powerful Marchesa engine online.
Altar of Dementia , Spawning Pit , Bloodthrone Vampire , Dross Hopper : A critical mass of sac outlets is important and though the creatures listed aren't exciting they're a lot better for rebuilding if your first boardstate gets broken up. Deploy on turn 2 into value creature on turn 3 to recur on turn 4, or deploy alongside 3-drop on turn 5 to try to rebuild. I dislike using my whole turn to play Grimgrin or Falkenrath which I consider to be pretty mediocre standalones in EDH (Grimgrin is probably fine actually though a little finnicky) and Yahenni not being able to sac itself is a problem for me.
Goblin Cratermaker , Heap Doll , Mausoleum Wanderer , Goblin Trashmaster , Abyssal Gatekeeper , Nevermaker : Personally only run the first three but have included all of these at some point or another. They're all creature-based interaction that Marchesa can recur, but at instant speed. For example, I much prefer Heap Doll to Agent of Erebos since you can stop something like entomb-reanimate or Survival discarding Kiki to find Karmic Guide. The downside to cards like these is that they're rare and not usually efficiently-costed, but they're definitely worth considering. Boompile , Oblivion Stone , Engineered Explosives : Grixis' best enchantment removal. I'd go with these over the Grave Pacts for multiple reasons. First, destroying all nonlands and being left with Marchesa is a bigger power play. Second, it's nice to be able to remove Rest in Peace and other generally pesky enchantments. Third, these cards aren't reliant on your engines being in place to do their job, so they're better for coming back from behind. In the same line of thought:
Sower of Temptation , Grenzo, Dungeon Warden , Hostage Taker , The Eldest Reborn , Demon of Dark Schemes : My topend may look odd to you but each of these cards is strong interaction on its own, and becomes an army-builder alongside Marchesa. Stealing creatures is great for ramping and killing enchantments, or winning with Primeval Titan. Bribery and Phantasmal Image are more cards in this vein, as well as the Puppeteer Clique and Gonti you're already playing. I prefer these to Flayer, Herald of Secret Streams, etc since they help you come from behind when Marchesa isn't out, and having "finishers" that rely on your engine being all in place isn't all that effectively different from just running some combo (Metallic Mimic / Murderous Redcap is the most efficient one for Marchesa imo if you wanted to go the route). Of course, Flayer does act as removal, and is also very fun, but I hope you'll consider cutting Herald, Merchant, and Kokusho. Mikaeus is actually nice as a "backup commander" with great synergy with Marchesa but he's not in my build because I run too many Humans. Luckily we have Grenzo who is an absolutely insane engine card.
Awaken the Erstwhile , Mindslicer : Marchesa can dominate the board but is weak to combo, hate enchantments, the whole table targeting all your stuff with removal, and brick hands. These cards take care of the first three. Landing them early with your value engines already online is like a more reliable sort of "land destruction win" since in either case they can't cast their spells. Trinket Mage , Spellseeker , Phyrexian Metamorph , Mindclaw Shaman , Entomber Exarch , Trophy Mage , Ixidron , Sparring Construct : Miscellaneous other value ETBs. Trinket Mage is the best one, I highly suggest you include him. Construct will surprise you with how strong it is. The baseline is on-board protection for Marchesa the turn you cast her, but the upside is acting like a limited Graft creature by giving each new creature you play a counter.
I think that's just about it for suggestions, maybe consider Spell Pierce , Stubborn Denial , and Fire Covenant , but overall, great primer, very well-written, and I think you'll set people in the right direction when it comes to building Marchesa.
Load more