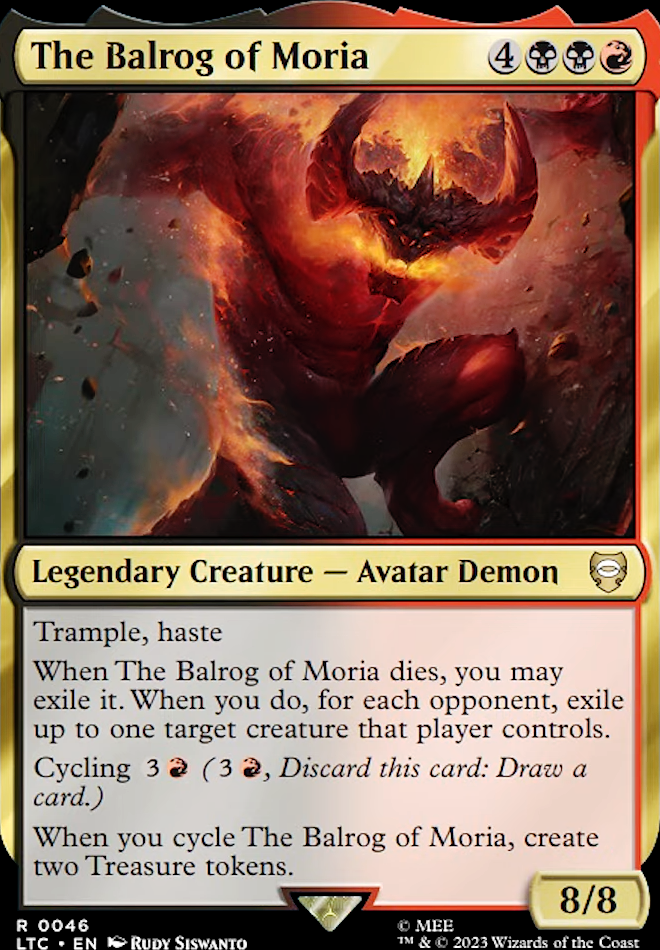 Tokens
Legality
The Balrog of Moria
Legendary Creature — Avatar Demon
Trample, haste
When The Balrog of Moria dies, you may exile it. When you do, for each opponent, exile up to one target creature that player controls.
Cycling (, Discard this card: Draw a card.)
When you cycle The Balrog of Moria, create two Treasure tokens. (It's a colourless artifact with ", Sacrifice this artifact: Add one mana of any colour.")
4 months ago
In addition to the low average CMC of the deck, the deck runs the following 17 non-land cards to satisfy its mana requirements: Jeweled Lotus, Mana Crypt, Sol Ring, Dockside Extortionist, Dream Devourer, Hellcarver Demon, Herald of Slaanesh, Rakdos, Lord of Riots, The Balrog of Moria, Treasonous Ogre, Burnt Offering, Cabal Ritual, Dark Ritual, Sacrifice, Songs of the Damned, Jeska's Will, and Seize the Spotlight.
Because many of the effects are single use or sacrificed to Rakdos, we also run 22 cards that can find or draw the above cards in addition to more lands: Burning-Rune Demon, Doom Whisperer, Immersturm Raider, Rune-Scarred Demon, Varragoth, Bloodsky Sire, Villis, Broker of Blood, Demonic Consultation, Entomb, Thrill of Possibility, Valakut Awakening  Flip, Buried Alive, Cathartic Reunion, Demonic Tutor, Doomsday, Faithless Looting, Jeska's Will, Mizzix's Mastery, Reforge the Soul, Seize the Spotlight, Wheel of Fortune, Wheel of Misfortune, and Liliana's Contract.