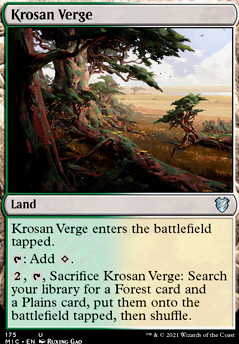 Krosan Verge
Land
This enters the battlefield tapped.
: Add .
, , Sacrifice this: Search your library for a Forest card and a Plains card and put them onto the battlefield tapped, then shuffle your library.
Latest Decks as Commander
Krosan Verge Discussion
1 hour ago
Hey! Kinda late, but I would like to suggest some stuff:
(Disclaimer: I have a budget way lower than yours, but I've been tinkering with Ghired for almost two years - he's my favorite commander. I'll break the suggested upgrades down into categories for better organization.)
Haste enablers:
Ramp: Run at least 15 ramp cards to make your deck flow smoother and faster.
As an aggressive deck, speed is fundamental. Fellwar Stone, Nature's Lore, Three Visits, Skyshroud Elf, Bloom Tender, Faeburrow Elder, Chromatic Lantern, Coalition Relic, Wood Elves, Skyshroud Claim and Mirari's Wake can ramp and heavily fix your mana, taking the place of Gyre Sage, Solemn Simulacrum, Rampant Growth, Sakura-Tribe Elder and Xenagos, the Reveler - the latter is a win-more ramp, and his 2/2 token is not large enough to synergize with the power-based card draw, while the other four fix for a single color of mana (Ghired decks can sometimes be color-hungry), and this deck can't abuse the sad robot for value.

In the land department, Krosan Verge and Blighted Woodland pull their weight, and synergize greatly with Avenger of Zendikar and Rampaging Baloths. Maybe remove Cascading Cataracts? (Your spells are not THAT color hungry.)
Direct damage:
Extra combats: You don't have to worry about your opponents' answers if they never get to their turn, so...
Boardwipes:
Card draw: Alongside ramp, it is my main concern with Ghired. I want to be able to rebuild my board after a boardwipe.
Some cards I suggest you to remove:
Some cool lands for you to try out: (landbase is my favorite part of deckbuilding)
I hope I've been of some help to you. I didn't suggest many token-related cards because I believe that, as long as you have decent ramp, draw and removal in your deck, you can win to your heart's content. Wanna throw in a Godsire? Do it. Prefer to clone your opponents' creatures with Hate Mirage? Go ahead. But the fundamentals of the deck is what makes it flow consistently. Have fun and smash 'em all (and run Doubling Season for extra fun) ;-)
1 month ago
I suspect you'd benefit from a few more White mana sources, or things that can find them. Blighted Woodland and Myriad Landscape are readily cast ramp that can find plains for you. Krosan Verge is on colour here, and is probably worth running as well, as it can find non-basic lands for you, like the Kaldheim Snow Duals. There are also ramp spells that can find those Snow Duals, so it's not just about the pricier Fetch Lands. The relevant Snow Duals are Arctic Treeline Alpine Meadow and Highland Forest. Farseek can find Meadow at least, and things like Nature's Lore, Three Visits, Skyshroud Claim can find any that are Forests. These have no other upside, but getting access to White mana off of Three Visits is going to help. Most people just find Shock Lands with Farseek, but Snow Duals are very solid options to have.
The other thing that jumped out is the low amount artifact/enchantment hate. Cards like this are really useful in Commander, there is almost always a target, even if you draw a few of them. Viashino Heretic is good artifact hate on a stick, Devout Witness can hate on either, but is worse at it's job. You can also run Green options, which often sac the creature like Thrashing Brontodon or work as a Comes Into Play effect like Reclamation Sage. Since you have big creatures and love to have Jared get hit, Ulvenwald Tracker can arrange for Jared to get swatted by the biggest thing on the board every turn, either killing it and growing or just growing.
5 months ago
Hey Goose_ thanks for the response, I appreciate the feedback. I will definitely pick up some board wipe protection, I just don't own any yet in white and green. I'm new to the commander format and only play with 2 others who are both using store bought commander decks at the moment. Most of these cards my brother-in-law gave me so I'm not concerned about price if I already have it and everything I listed here I have XD
I didn't even know Krosan Verge existed but I am already in love. Is it worth replacing Selesnya Guildgate over a basic land when adding in something like Sunpetal Grove ?
5 months ago
Cute deck idea, however a single board wipe just destroys this deck hard. Maybe include some anti-board wipe tech with Teferi's Protection , Heroic Intervention or even Wrap in Vigor . Second, I'm not sure how much you care about price, but that cradle is taking up HALF the price of this deck! There is a new card from the D&D set called Circle of Dreams Druid which does the same exact thing, just on a creature, which is great bc u want to have your commander out anyways. That would bring the deck price way down if you are looking into that. Also, I would replace that Selesnya Guildgate with something like a Sunpetal Grove so that it is more consistent. Another amazing land that is just special to selesnya is Krosan Verge which is EXTREMELY strong! I could help you out some more but I don't want to put up too much of a text wall for you. If you'd like more suggestions, please just @ me!
6 months ago
Hey hirurux,
Fellow Arahbo, Roar of the World since the pre-con Arahbo, Xenagos... for Cats
I found having too many cats wasn't very useful, I went a bit extreme, down to 14 cats, but 28 is a lot. Arahbo, Roar of the World only Eminence triggers one cat, and unless you're in a state with a ton of mana to activate the ability for multiple cats, not really needed.
How I solved this problem, was more creature tutor cards (instead of more cats), so Sylvan Tutor , Time of Need , I got a Survival of the Fittest for xmas one year which was cool. Chord of Calling , Eldritch Evolution even Congregation at Dawn are all viable to. The right cat at the right time vs. drawing more cats. Initiate's Companion , Leonin Skyhunter , Steppe Lynx feel like some easy cuts.
Three Visits was reprinted in a current set, gives you another Nature's Lore .
Are you primarily trying to kill everyone with combat damage? Beastmaster Ascension maybe?
I would get some trample in there Shadowspear and Rancor perhaps, that way 1/1 tokens don't become a nuisance to you.
Fumigate seems wrong.
Might reduce in lands, do you find yourself flooded, eliminate anything that comes into play tapped with no strong ability. Your not running toward a Tooth and Nail or anything so likely can miss a T4-6 land drop and still be in good shape, can also Land Tax or Archaeomancer's Map or Kodama's Reach to get more lands in hand. Evolving Wilds , Krosan Verge , Path of Ancestry could be some easy. If you're worried about mana fixing, fetch lands are great Windswept Heath but also the off-color ones like Wooded Foothills , Flooded Strand , etc.
Teferi's Protection to dodge board wipes?
I might add an alt win-con, Triumph of the Hordes might be one, but having a backup plan, maybe Grafted Exoskeleton or perhaps Ajani, Adversary of Tyrants to bring back Lost Leonin . Bala Ged Recovery  Flip for Triumph of the Hordes , I dunno something?
Hope you find something useful here. +1
Load more