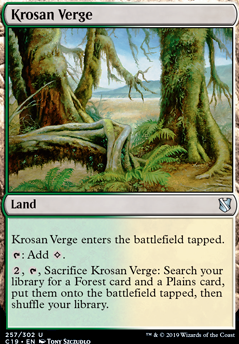 Krosan Verge
Land
Krosan Verge enters the battlefield tapped.
: Gain .
, , Sacrifice Krosan Verge: Search your library for a Forest card and a Plains card and put them onto the battlefield tapped, then shuffle your library.
Browse Alters
Trade
Legality
| | |
| --- | --- |
| Format | Legality |
| Tiny Leaders | Legal |
| Noble | Legal |
| Leviathan | Legal |
| Magic Duels | Legal |
| Canadian Highlander | Legal |
| Vintage | Legal |
| Vanguard | Legal |
| Legacy | Legal |
| Archenemy | Legal |
| Planechase | Legal |
| 1v1 Commander | Legal |
| Duel Commander | Legal |
| Oathbreaker | Legal |
| Unformat | Legal |
| Casual | Legal |
| Commander / EDH | Legal |
Krosan Verge occurrence in decks from the last year
Commander / EDH:
All decks: 0.07%
GW (Selesnya): 1.51%
RGW (Naya): 1.67%
GWU (Bant): 0.98%
Rules Q&A
Krosan Verge Discussion
3 weeks ago
My spoilers in the comment above arnt working for me so im trying something different. "If you want to sift through some cards you can look at each section, but I would recommend just looking at the first grouping to start with, as I went a bit too far with the other lists. Those lists are fine to just look at ideas or "good cards" but there are far too many to call them suggestions.
: The short list
Headtext for first 3 entries. Show
Enters tapped but sac's for free Show
Doesn't enter tapped, cost mana to sac Show
Cards that do similar but arnt lands Show
Adding to the goboi theme Show
Because creature tokens Show
3 weeks ago
If you want to sift through some cards you can look at each section, but I would recommend just looking at "The short list" to start with, as I went a bit too far with the other lists. Those lists are fine to just look at ideas or "good cards" but there are far too many to call them suggestions.
3 weeks ago
No worries lol. Well I definitely think a few more mana sources would do you some good. Most people run 37-39 lands and enough alternative mana sources after that to bring them to 50, meaning you would, in theory, want 11 additional mana sources in this list. There's plenty of wiggle room there though, like, Krosan Verge is ramp and a land in a way, so it checks more than one box. In EDH, you want each card to check as many boxes as possible if you want your deck to be super consistent. Beyond general deckbuilding recommendations though, I definitely recommend Leyline of Anticipation. Not only is this an enchantment, it gives all your stuff flash which is already good, it also gets much better with your commander, who cares about casting an enchantment every turn. In that same line is something like Cast Out. It's a bit slow, but you can cycle it if need be and it's instant speed removal that can hit anything and get you that extra draw with your commander on your opponent's turn. Banishing Light is just another Oblivion Ring, which is a super powerful effect in your deck. I don't really have too much time to give a full breakdown or anything, but my last recommendation would be to look at every card in your deck and ask "How does this card benefit from being in my specific deck with this specific commander and is there something that would have more synergy?"
3 months ago
Exotic Orchard and Krosan Verge can both be of help to your manabase. Orchard is going to produce at least 3 of the colors you need, Verge can fetch non-basics [getting Foundry and Pool for example] will often get you 4 of your colors.
Not sure you're getting a lot out of Hive Stirrings . For the mana I'd be using my commander to get exactly what I needed.
Divination also seems a bit lackluster. Guardian Project should net far more cards, especially when you can go and get a creature to cast to trigger it.
4 months ago
You've correctly identified some methods already used (signets, dorks) which are extremely common in decks. This is because they 1) ramp 2) color fix 3) spread mana across permanent types to avoid getting wiped. You should DEFINITELY run the signets/talismans and available dorks, they are so incredibly efficient at what they do and at very low real dollar cost, and are diversified to avoid getting totally wiped. I know you want more lands but also consider Armageddon only costs $4 and has already had so many printings and you will see it in competitive decks and other low-tuner competitive decks. If you run Blood Moon on a budget, absolutely run the talismans and signets I can't stress that enough.
However, being a budget boy who wants to go fast myself, I've stumbled across similar questions before, so I'm more than willing to share what I've gleaned. You pretty much want cards that WILL come down turn 1 or 2, cards that give free stuff for cheap $$$, or or pump up those basic land #'s. You may also notice that in typical Blood Pod lists, there aren't that many red cards or red mana sources, and that many of my recommendations are green. You're going to want to weight your colors so red is a smaller part and to run very few red lands because all your nonbasics become Mountains, so run your nonbasics to include a red splash and then run more forests.
It is a Rampant Growth on legs that can block-then-sac on annoying early creatures like Tymna the Weaver . Brings you to a basic so works with BM, it can swing to get Tymna triggers. It spiked a while ago but its still decently cheap to buy.
Nature's Lore is the best of these three, as the forest enters untapped and it can grab shocklands with a Forest type if you dont have BM out. Growth gives the most utility by giving you any basic land for BM. Farseek gives any but a forest, but you have to make a green to cast it so you've got at least one green somehow. These are extremely playable fixer/ramp cards on a budget and are really going to help you with a budget Blood Moon land base. I recommend these over the 3 CMC counterparts Cultivate Kodama's Reach because they come out a turn faster so far lower chance you're going to get staxed out. They curve extremely well into having 4 mana on turn 3 (Tana on turn 3?), as opposed to using all your turn 3 mana for a big turn 4. They also raise the amount of keepable hands you will have, as 2 mana + growth gets you to Tymna, while 2 mana + Cultivate is a mulligan more times. They're even enjoyable to see sometimes late game after MLD.
Insane color fixing and it cantrips, the only problem is you have to run snow-basics instead. If you happen to have enough snow basics laying around, this is a very solid bet for color fixing.
One of these is much cheaper to purchase, so I highly recommend that one. Fixes and cantrips, you really don't mind drawing them late at all.
Color fixer and ramper, works real well with BM. Just add creatures.
Fetchlands
If you have them, they will deck thin + get you to the correct basic land. I know fetchlands are expensive, so also consider that there is a lesser known cycle of mirage ETB tapped fetchlands, while definitely worse, are much cheaper. Sleeper cards tagged for your convenience Flood Plain Bad River Rocky Tar Pit Mountain Valley Grasslands . Also DEFINITELY run Evolving Wilds and Terramorphic Expanse if you don't already. More sleeper fetches that might interest you Krosan Verge Thawing Glaciers
Nice replacements for Mox Opal and Mox Diamond . They let you hit signets/talismans/growths/big dorks on turn 1. They help you escape from underneath Trinisphere or Sphere of Resistance . They are slot intensive, but with Tymna in command zone to guarantee draws I would also highly recommend these. These will be invaluable in helping you get a stronger start than more expensive opposing stax decks. They're a small hit to the wallet but once again, fraction of the price of Opal/Diamond.
I didn't see these listed in the OP or in comments, so I definitely wanted to bring them up. Work extremely well to accelerate and color fix, they also work with Blood Moon . They're enchantments so it gives extra diversity from creatures/artifacts against wipes. Works extremely well with Arbor Elf and Voyaging Satyr
Landcycling
Tutors basic land of your choice to your hand. There are a couple downsides though 1) Doesn't ramp you at all 2) Most cards with landcycling aren't very good for the actual spell. Landcycling does have a few big perks though 1) its an activated ability, which makes it MUCH harder to interact with and mostly immune to stax effects 2) minor bonus utility of actually playing the card 3) it will become a land eventually so it dodges more hate than other permanent types. This would be effective if you had other strong stax decks in your meta, or a crazy amount of counterspells, but otherwise I'd try one of the other ones I listed first.
5 months ago
webfeet I get your concerns on the card draw, but more often than not I seems to be having more than enough cards in hand and I cut card draw spells like Harmonize , but skullclamp wouldn't be a really suitable edition to the deck since it doesn't give you immediate returns as it requires your own stuff to die, and the tokens are too big and there is no sacrifice outlets in the deck, so it would just be too slow. in terms of ramp the deck seems to be working fine with the ones in it, it has 8 instances of ramp including the land cards like Krosan Verge and I always seem to make my land drops almost every turn due to the cards I usually draw, Conjurer's Closet is a card I would include in the deck if I had other useful ETB triggers other than the commander, as it stands Armada Wurm is the only viable target, would rather not waste a slot on a card that could produce me tokens every turn and rather put in a token producer or just an anthem effect.
Load more