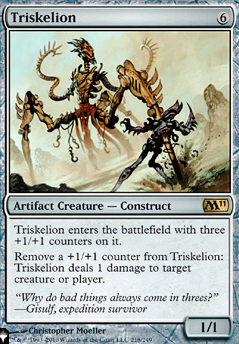 Triskelion
Artifact Creature — Construct
Triskelion enters the battlefield with three +1/+1 counters on it.
Remove a +1/+1 counter from Triskelion: Triskelion deals 1 damage to target creature or player.
Browse Alters
Trade
Legality
| | |
| --- | --- |
| Format | Legality |
| 1v1 Commander | Legal |
| Block Constructed | Legal |
| Canadian Highlander | Legal |
| Commander / EDH | Legal |
| Duel Commander | Legal |
| Highlander | Legal |
| Legacy | Legal |
| Leviathan | Legal |
| Modern | Legal |
| Oathbreaker | Legal |
| Oldschool 93/94 | Legal |
| Unformat | Legal |
| Vintage | Legal |
| Casual | Legal |
| Custom | Legal |
| Quest Magic | Legal |
Latest Decks as Commander
Triskelion Discussion
4 days ago
Hey Walrighti, +1!
Congrats on your first deck! You have a lot of fun cards in here and it looks great! I imagine you want to tune and make it even more efficient so here are some ideas...
Add 3 categories: #Combo, #Lifegain, and #Evasion; and then sort your maybeboard the same way you've done your mainboard to easily rank your choices within a category (By "combo" I mean all your "if-then" cards like Trudge Garden that are slower and don't work by themselves). Remove #Creatures (most of them are #Combo).
Avoid most cards above 4 cmc... Willowdusk is fast and fragile, so play into that... Also, prioritize cards that can do 2 or more things or that give value on ETB... If you have pet cards that don't really fit and that hurt to cut, put them in a "I'll build that theme later" list.
...Always play at least 10 ramp spells under 3 cmc.
...Playtest and make sure Willowbark consistently makes a fatty (with evasion) before turn 6-7.
Here's another Willowdusk thread.
Happy building :)
6 days ago
I'm glad you like it, cmilner! I was thinking about adding the Dark Depths and Thespian's Stage combo, but I decided not to do it, because I would be too tempted to search for them every time. It's the same reason I'm not including Triskelion or Walking Ballista , even though Mikaeus would be happy to have them. When it comes to Phyrexian Obliterator , I'm constantly thinking about replacing it with Phyrexian Delver , but I can't bring myself to cut what may be one of my favorite magic cards, even though I'm pretty sure the Delver would be much more syngergistic. I'm hung up on one day casting Necromancy or Chord of Calling and blocking some 15/15 with the Obliterator :D Also, lately I've been thinking about replacing Lightning Greaves with the new Rushed Rebirth from Strixhaven. Seems like a perfect card for this deck. The only problem is it's mostly a one and done effect.
1 week ago
BlackGtitan Those are great suggestions! I think I will add Triskelion . I originally had Dictate of Erebos , but I started lowering the curve a bit. With Yawgmoth's ability to kill creatures I found that often my opponents have a hard time keeping creatures out so I got rid of it for creatures that combo/tutors. Thanks for taking the time to look over the list and comment!
1 week ago
This looks good! I might suggest Triskelion as it would be good in this and becomes an alternative win with Mikaeus, the Unhallowed . Maybe a Dictate of Erebos to double up on the "I sack, you sack" and death triggers. Otherwise really nice build with lots of synergy.
Check out my Deck as well, The Good Dr., as you're running a lot of the same stuff and maybe get some more ideas!
1 week ago
Hey Patrick, just wanted to say I love the content you're putting out, and you've really inspired me to start to look into Higher Power/cEDH decks to build for myself, my first high powered deck last year actually being a budget version of your Teshar list. Your videos are on repeat for me either in the background while I write papers. I would love to join the Patreon and support you, but I barely have enough funds to play magic even right now so that's out of the picture. All I can offer to you is my thanks is the statement that you're probably my favorite MTG YouTuber!
Please don't feel like you have to read any of the following, it's just my ramblings/a few questions but it may be a long read so I won't be offended if you don't read it, as I know you don't typically keep budget cards in mind persay. Also hey, if leaving a comment can maybe help this awesome deck of yours to get more traction/attention on tappedout for whatever reason, even better.
I've been building my own Belbe list over the last few days and I had a few questions about potential cards to include? I don't always play in a cEDH meta really but have some really close to cEDH decks like a more 75% Brago, a Malcolm, Keen-Eyed Navigator + Vial Smasher the Fierce Curiosity control, and Godo Helm fairly often. I'm hoping to transition more towards cEDH in general and with this deck in particular.
As a college student with no real source of income right now I'm a bit low on funds and we don't typically use proxies in my group, so I don't particularly know if this is a good spot to ask about budget alternatives to the Mike Trike combo, but I figured I might as well give it a shot. I've watched the Cold Brew and the deck tech, but if I forget if you mentioned something from them I apologize when asking about a few cards. Do you have any particularly budget combos you would suggest that maybe you tried during testing? I recall you talking about Gravecrawler loops in the Cold Brew, and I'm thinking of maybe some of those combos as with the Bontu's Monument , Pitiless Plunderer and Carrion Feeder (already in my list) would be a solid win I feel.
Currently I'm mainly running a Protean Hulk line of Disciple of the Vault , Carrion Feeder / Viscera Seer , Melira, Sylvok Outcast , and Lesser Masticore for infinite drain. My meta doesn't run much GY hate so I'm feeling decent with this, but losing one piece usually leads to waffling out. I know you mentioned a Phyrexian Delver line so I may look more into that, maybe getting it and and a one drop sac outlet first plus Putrid Goblin / Blood Artist with the leftover mana for the second Hulk trigger? I'm unsure if that's way too clunky, but I'll have to see.
My back up win is currently a Necrotic Ooze line or two, but not Triskelion / Phyrexian Devourer lines as both together are like, over $60 which is money I can't really shell out right now. Right now I'm doing Devoted Druid + Channeler Initiate and Priest of Titania + Pili-Pala lines for infinite mana of any color. Only current outlet I really have is Walking Ballista , which while good, I can't always rely on with all the artifact hate in my groups. I was thinking of adding more creature outlets maybe as they're easier for me to tutor (only black tutor I have is Diabolic Intent since I was able to trade up for one) Perhaps Ezuri, Renegade Leader since I have Belbe and other dorks (10 Elves Total) or Kamahl, Fist of Krosa as overrun effects that I can sink infinite into? Or maybe something like Tergrid, God of Fright  Flip to use the back side for an infinite Torment of Hailfire effect?
There were also one or two cards I wanted to ask you about, just to see if you thought they were decent enough to run in the list.
Bolas's Citadel is something I'm trying to run in my current list. It's been fairly diffuclt to get out with 3 black pips, but with Dark Ritual (which may be cut soon I'm unsure) it's been a nice thing to have, especially when I've been testing Aetherflux Reservoir with it? Maybe add a Sensei's Divining Top (something out of my budget in general, but I do have someone willing to trade me one) for a storm win? I feel like that could be a cool win con that makes use of colorless mana, and the pieces in general aren't bad outside the combo? I do think that with the high CMC of the deck, I will take a ton of damage of Citadel, but I think hitting a few pingers/dorks in a row and just gaining some life might be good actually? I'd love some feedback on that.

Decree of Pain has been working wonders for me. I know Culling Ritual was a godsend, and its a very amazing card in Belbe, but if my meta is very creature dependant I thought I needed more mass removal than just Ugin, the Spirit Dragon and Culling Ritual . Toxic Deluge is a bit out of my range right now, so I was trying this and even if it is mana intensive, I think it's a very good card depending on your meta since it can be Cycled for 5 to kill all 2 or less tougness things? The cycling saved me once or twice against a Najeela deck with counter magic known to the table to be up. On the other hand while it costs 8, I've mostly payed for it with Belbe mana and drawn upwards of 6 cards off it.

Chalice of the Void I was able to trade for this and have been enjoying putting it on 0 for the Underworld Breach lines the Malcolm list uses in particular, or to even shut off some 3 cmc commanders after getting Belbe mana. Would it be better to trade this for another stax piece or two such as Static Orb or tanglewire?
Sorry for the long post. I hope you have a good day!
3 weeks ago
Hey FelixMortem, I like your build! I use Chainer in my K'rrik deck in a combo with Gravecrawler , Carrion Feeder , and Gray Merchant of Asphodel . It wouldn't hurt cutting a few basics to add the Crawler, Aetherflux Reservoir to gain life with several of your combos, and while you're at it, you could even throw in Bolas's Citadel and Sensei's Divining Top for another infinite combo. I get that you have a lot of high CMC cards so you may not want to run Citadel, but it's worth mentioning.
You could also benefit from the added speed of Chrome Mox , Mox Diamond , Lion's Eye Diamond , Lotus Petal , Jet Medallion , Dark Ritual , and Cabal Ritual . You may eventually be able to generate infinite mana with combos, but these basic ramp cards will really help with the early game.
Another idea is to run Peer into the Abyss so you are very likely to draw into a combo on your turn.
There's also good-ol Mike and Trike, Mikaeus, the Unhallowed and Triskelion or Walking Ballista , to deal infinite damage. Victimize is the way to put them both on the battlefield at once.
1 month ago
Hey! I think that this deck should use Miren, the Moaning Well . It's a way of regaining life with a creature that will die because of some effect. It makes you gain a lot of life and increases the effect of Willowdusk's ability.
About the untap effects outside of blue, you can use Thousand-Year Elixir or Magewright's Stone . About combos... well, if you use sacrifice effects (e.g. Ashnod's Altar ), you could try the Mikaeus, the Unhallowed + Triskelion -like combos (actually, these two work alone, but some combos needs a sac outlet). Depending of other cards, loops with Mikaeus, sacrifice outlets and creatures with Persist could also work.
An artifact like Eternity Vessel can reset your life (if I remember well, having your life total become some value counts as lifegain).
Maybe creatures like Ikra Shidiqi, the Usurper or Reyhan, Last of the Abzan works well inside this deck. As instants or sorceries... the only one that came to my mind now is Weather the Storm , which can be very interesting in some situations.
Why use cards like Jaddi Offshoot (gains you only one life), Dash Hopes (I think that's an unreliable counterspell and the 5 life is a low cost in EDH), Blunt the Assault (I think that this card is pretty bad, maybe a card like Gray Merchant of Asphodel gains you much more life while drains your opponents) or Lifegift (it won't make you gain a lot of life on the same turn)?
1 month ago
elijahhagler In current Cedh meta karodoor needs to be stax commander. With creature based combos. And for hermi combo u play too many basics it to work :D. If you would play 0-1 lands you could win allmost everytime you activate hermi boy. (Trsikelion and phyrexian devour combo) This could be a go to combo because it goes off early or late. And if you control enough stax your opponents can't even deal with it. Combo goes like: need 2-3 any creature on board. Activate hermi boy, mill allcards from library (If u go with 0 basics) activate Dread Return flasback sacing the 3 creatures on battlefield. Reanimate Phyrexian Devourer and target Triskelion and you got infi dmg loop. Very common combo but works with hermiboy. The 2-3 creatures is that you can play like Bloodghast and return it from your grave if you still have land play. For jhoira any stax that lets player on cast 1 spell turn, Draw 1 card each turn and pretty devastating and usually dosen't hurt your gameplan. But I think Abzan is still 1,5 tier commander. Just need right pieces for your meta. I have have scrabbed this deck long ago so this list is soo old. This doesn't even have new best card for stax Drannith Magistrate , this card alone destroys Cedh decks. And with your commander recursing this fellow should not be a problem. Jhoira without Jhoira is nothing. My CEDH in current time is my Golos deck GOLOS Cedh 1 thing that might not be fun palying abzan now is. You need to mulligan to have Either 2 stax pieces, turn 2-3 win or removal for ther players commanders if Cedh or even in high power group.
Load more