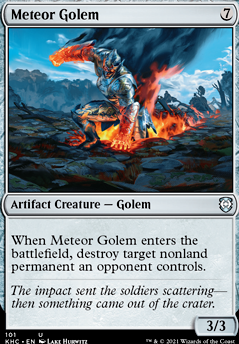 Meteor Golem
Artifact Creature — Golem
When Meteor Golem enters the battlefield, destroy target nonland permanent an opponent controls.
Browse Alters
View at Gatherer
Trade
Legality
| | |
| --- | --- |
| Format | Legality |
| 1v1 Commander | Legal |
| Arena | Legal |
| Block Constructed | Legal |
| Canadian Highlander | Legal |
| Casual | Legal |
| Commander / EDH | Legal |
| Custom | Legal |
| Duel Commander | Legal |
| Gladiator | Legal |
| Highlander | Legal |
| Historic | Legal |
| Legacy | Legal |
| Leviathan | Legal |
| Limited | Legal |
| Modern | Legal |
| Oathbreaker | Legal |
| Pioneer | Legal |
| Tiny Leaders | Legal |
| Unformat | Legal |
| Vintage | Legal |
Meteor Golem occurrence in decks from the last year
Latest Decks as Commander
Meteor Golem Discussion
1 day ago
This is definitely going to be an opinion-filled thread, but I'll throw my hat in.
I disagree wholeheartedly. In fact I'd go so far as to say Strixhaven is the only set I've been actually excited for in what feels like ages. Eldraine was somewhat exciting but before that... Dominaria? Again this is entirely subjective and I'm not here to tell anyone they're wrong about their opinion on a product. But I'm looking forward to Strixhaven.
Introduction to Annihilation is the worst example I could possibly think of to argue blurring the line between colors. Scour from Existence , Universal Solvent , Meteor Golem , Unstable Obelisk , Spine of Ish Sah , Colorless permanent removal is far from new or color warping. Most of the lessons, like Introduction to Prophecy , will mostly be inconsequential imo because, to be frank, they're bad. 3 for a Serum Visions ? Even mono-white isn't THAT desperate for draw.
WOTC is trying to force us into playing golgari lifegain
I'm stoked to finally get golgari lifegain support. If that's not your style, I get it, but I'm happy for it personally.
Galazeth Prismari feels like a case of catering to EDH. Adding red to your deck options and tapping artifacts for any color instead of blue feels like more of a sidegrade than a downgrade. We'll have to see how it does imo.
As for Beledros Witherbloom , a wise man once said of Prophet of Kruphix : If you think this card costs mana, you've been fooled. As for "This card may not be used in any infinite mana combo", actually it says "Flicker me". It's not in good colors for that, but I could see a BUG deck getting infinite mana out of this if they can find a way to supply the life. Deadeye Navigator says hi.
Release, experience, and hindsight will probably affect everyone's opinions on Strixhaven, as it has every set before it. So I generally try to take a "wait and see" approach, even if MTG doesn't have a great record for what I've waited for and seen recently imo.
1 week ago
Question: What would someone consider a "cEDH" deck to be? Would it be a deck that has won against a 4-player pod on turn 2 on three separate occasions and has the (slight) chance of winning on turn 1 if you get the correct hand - a hand which can be built two different ways?
Because if so, Kinnan, The Simic Domri is cEDH. When I play this deck, I very rarely lose. The notable times I do lose is when someone goes infinite or I have all three opponents hitting me with everything they've got.
I own about 1/2 of the deck in paper. Proxied the rest as I save and buy the pieces one at a time.
Now I say this because, as a non-cEDH player, it would seem to me that cEDH falls into the same issue as Modern, in which the format appears "solved" from the inside, but looking in from the outside it really isn't. When I play against cEDH decks in person or online, especially with my Kinnan deck, I notice that many of them rely on combos to win the game. These combos tend to be fragile and can have pieces removed.
The issue that I have noticed is that a cEDH deck functions in two major facets:
Very few run ample removal. So it isn't a triathlon to the finish line. It's more like a 100-meter dash and whomever kicks off first, wins.
The problem, as an outsider looking in, is that all it takes is one single well-timed removal and the entire setup falls apart.
That being said, on the topic of consistency, I feel almost as though your own argument resolves itself. If the deck is designed for consistency, then having a single MDFC means nothing as those lack consistency. Sure you may find the odd one out that actually does give you some minor consistency, but it's not like you are seeing functional reprints of Dark Ritual or something. None of the MDFCs even come remotely close to such a thing. And again, even if they did, I'm sure there's always better options.
I could see an MDFC tutor being an issue, sure. Where one side is a big creature or even threat removal and the other side is a tutor. That's pretty dangerous and I hope WOTC doesn't print something like that. But, until they do (and they will), I don't see the issue.
Again, I am by no means a cEDH player. I built one deck that has stood its ground extremely well and has won something stupid like 90% of the matches I've been in. Yes. I know it sounds insane but seriously, it's a power-house.
You're not casting the creatures, so you can't be countered unless your opponent runs the very specific "counter target ability", which almost nobody does
Your Commander costs . Commander tax is a non-issue.
You don't need to rely on draw, since you rely on cheating off the top of the library
We abuse the + mana by having an outrageous amount of non-land sources of mana in the deck
By packing the deck full of clones, we can clone the biggest threats we have, such as Nyxbloom Ancient , Blightsteel Colossus and Terastodon
The deck has an extreme density of removal on creatures, meaning we don't just get a body on the field, we also take out any set pieces we want
On that topic and previous points, we get to literally take the best option of the top five. So we get to specifically hone in on what is the best possible play, at all times
The deck has numerous combos built in, such as abusing Deadeye Navigator with something such as Meteor Golem or Thorn Mammoth
One of my favorite combos, and the hardest one to pull off, is Woodfall Primus , Gigantoplasm and The Great Henge . You need Woodfall Primus out first, then you clone it with Gigantoplasm . After both of these are out, you bring into play The Great Henge . Now, what you do is pay into on Gigantoplasm . Giga dies as it becomes a 0/0. Since it was a copy of Woodfall Primus , it has Persist so it comes back into play with a -1/-1 counter on it. However, The Great Henge puts a +1/+1 counter on it and they cancel out. You have Gigantoplasm enter as a copy of Woodfall Primus again. You can now repeat this process an infinite number of times, destroying every single land, artifact and enchantment in play that you do not control. Now, no opponent can cast another spell for the rest of the game
We have several ways to generate infinite mana, including ways to produce faux infinite mana with several copies of Nyxbloom Ancient
You can use Basalt Monolith to generate infinite mana. Dump this into Cogwork Assembler to generate an infinite number of Simic Signet s or most other artifacts. Now, you have infinite colored mana. You can also use Grand Architect and Pili-Pala . There is also Basalt Monolith and Chromatic Orrery . I am also considering adding Prismat as another infinite colored mana combo as we can feed into it for either or . All of these options means we can effectively play our entire library that turn
We can react in response for everything. Hold up mana and pass. If you know how to do it, you can put an activation on the stack and when the ETB of the creature goes on the stack, put another activation on the stack ahead of it
The deck is extremely brutal. I had to stop playing it. So...
But again, I am not a cEDH player. All I am saying is, from the outside looking in, cEDH decks run very differently from traditional casual EDH decks. I can see MDFCs making a decent splash in casual EDH decks, but not in cEDH. So, I don't really see the issue here.
I can see, perhaps one or two, being used in cEDH. But to suggest it breaks the format? No, not at all.
2 weeks ago
I see a lot of things that dont synergise very well or cost far too much mana, i would remove Meteor Golem for Artisan of Kozilek i know its slightly more mana but has more versatility and more power. Nirkana Revenant id say is a must because she gives you more mana and can one hit someone, Reanimate , Rise of the Dark Realms , Sepulchral Primordial , Puppeteer Clique , Geth, Lord of the Vault , Chainer, Dementia Master
Malakir Rebirth  Flip has no real value in this deck id remove this for Sudden Spoiling or Tragic Slip or Entomb . you need some lower mana tutors at the like Diabolic Tutor , Vampiric Tutor , Exsanguinate would be good to help balance the life. board wipes like Necromantic Selection , Decree of Pain and Black Sun's Zenith . Nim Deathmantle . things like Grave Pact woundn't be a bad idea to add. Mortuary Mire and Crypt of Agadeem
sorry i feel like ive just ripped apart the deck
1 month ago
I've tried building a Riku deck s few times now. First and foremost you need ample mana for three colors and such an expensive Commander. Then you need mana to sink into spells and his ability.
But all that mana is worthless if you're topdecking. So you need draw.
After 34 lands, 12 other sources of mana, 10 draw spells you're down to 56 of 99 cards. You've got 43 left.
Add in maybe 10 for counter spells and removal and you're at 33 left.
What I find to be best is creatures with ETB effects. This is like casting a sorcery on a stick. For example, a copied Meteor Golem , at 9 total mana, destroys two permanents. 10 mana lands six with a Terastodon .
If you do 1/2 of your ~33 as these, you're landing very strong pressure on the field. Scourge of Valkas and Terror of the Peaks are great additions to piggy-back off each other and Savage Ventmaw helps with the mana production as you can invest 8 mana to get 12.
Clone effects basically double everything. Now your deck doesn't have just one Terror of the Peaks , no it has perhaps 6 or 7 and they can all be cloned by Riku for 12 or 14.
Add in a few "secret commanders" to copy your stuff such as Flameshadow Conjuring and Parallel Lives and Clone Legion and you'll erupt the board in no time.
Add in some basic Hexproof to keep Riku around and you've got a deck dropping bombs left and right, demolishing boardstates and leaving them open to Trample and Flying as your wincon.
Brute forced win.
1 month ago
Gontilordofmtg I had the Worldgorger/Animate Dead combo in my Anje Falkenrath

deck for a while, but having that as my win-con turned out to not be fun for me (or my table) in practice. lol
I actually had Spine in this list for a while, but found I wasn't running enough artifact sac engines to take full advantage of its recursion ability. I subbed in Meteor Golem instead so I can duplicate it with Flameshadow Conjuring or at the very least suit it up with equipment if necessary.
Definitely liking the Mirage Mirror and Hoarding Dragon recs though. I'm going to keep those in mind when making the next round of cuts/upgrades.
Culfenor's Urn is a great idea too, but I have a friend who runs a Glissa, the Traitor deck with it, and I don't want to steal his thunder.
Load more