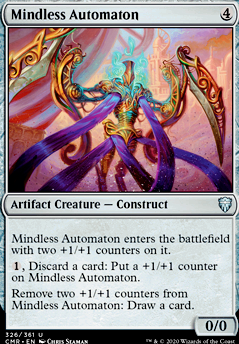 Mindless Automaton
Artifact Creature — Construct
Mindless Automaton enters the battlefield with two +1/+1 counters on it.
, Discard a card: Put a +1/+1 counter on Mindless Automaton.
Remove two +1/+1 counters from Mindless Automaton: Draw a card.
Browse Alters
Trade
Legality
| | |
| --- | --- |
| Format | Legality |
| 1v1 Commander | Legal |
| Block Constructed | Legal |
| Canadian Highlander | Legal |
| Commander / EDH | Legal |
| Duel Commander | Legal |
| Highlander | Legal |
| Legacy | Legal |
| Leviathan | Legal |
| Limited | Legal |
| Modern | Legal |
| Oathbreaker | Legal |
| Unformat | Legal |
| Vintage | Legal |
| Casual | Legal |
| Custom | Legal |
| Quest Magic | Legal |
Rules Q&A
Latest Decks as Commander
Mindless Automaton Discussion
2 months ago
Hey Walrighti, +1!
Congrats on your first deck! You have a lot of fun cards in here and it looks great! I imagine you want to tune and make it even more efficient so here are some ideas...
Add 3 categories: #Combo, #Lifegain, and #Evasion; and then sort your maybeboard the same way you've done your mainboard to easily rank your choices within a category (By "combo" I mean all your "if-then" cards like Trudge Garden that are slower and don't work by themselves). Remove #Creatures (most of them are #Combo).
Avoid most cards above 4 cmc... Willowdusk is fast and fragile, so play into that... Also, prioritize cards that can do 2 or more things or that give value on ETB... If you have pet cards that don't really fit and that hurt to cut, put them in a "I'll build that theme later" list.
...Always play at least 10 ramp spells under 3 cmc.
...Playtest and make sure Willowbark consistently makes a fatty (with evasion) before turn 6-7.
Here's another Willowdusk thread.
Happy building :)
3 months ago
You might like these: Cauldron of Souls , Scrapyard Recombiner , Mindless Automaton , Etched Oracle , Crystalline Crawler , Steel Overseer , Dross Scorpion , Arcbound Reclaimer , Arcbound Ravager , Enduring Renewal , Cloudstone Curio , Ancestral Statue , Altar of the Brood , Glimpse of Nature , Primeval Bounty , Sporeback Troll
4 months ago
You might like these: Scrapyard Recombiner , Light of Promise , Sunbond , Triskelavus , Pentavus , Mindless Automaton , Crystalline Crawler , Workhorse , Inventors' Fair , Arch of Orazca , Mind's Eye , Palace Jailer , Cauldron of Souls
10 months ago
enpc And with newer colorless card draw becoming much better, modern playable Mazemind Tome, EDH specific Endless Atlas, and older Sensei's Divining Top/Scroll Rack always being powerful options!
Things that synergize with white's effects like counters with Mindless Automaton, lifegain with Well of Lost Dreams, and tokens or small dudes with Skullclamp, that or Sword of Fire and Ice for equipment strategies, Smuggler's Copter and Bonders' Enclave for other strategies.
And in white, after looking it up for Omniscience_is_life, here is my new, semi-educated package:
Land Tax, Mangara, the Diplomat, Alms Collector, Weathered Wayfarer, Mesa Enchantress, Kor Spiritdancer, Sram, Senior Edificer, Stonehewer Giant, Dawn of Hope, Puresteel Paladin, Mentor of the Meek, Bygone Bishop, Luminarch Ascension, Emeria, The Sky Ruin, Sun Titan, Sevinne's Reclamation, Ranger of Eos, and Castle Ardenvale
Not to mention tutors being Weathered Wayfarer/Ranger of Eos being tutors, alongside Steelshaper's Gift, Open the Armory, Recruiter of the Guard, Ranger-Captain of Eos, Academy Rector, Arena Rector, Call the Gatewatch, Idyllic Tutor, Enlightened Tutor, Heliod's Pilgrim, Quest for the Holy Relic, Three Dreams, Boonweaver Giant, Auratouched Mage, Djeru, With Eyes Open, Taj-Nar Swordsmith, Thalia's Lancers, Totem-Guide Hartebeest, Relic Seeker, Priest of the Wakening Sun, Forerunner of the Legion, Ignite the Beacon, Plea for Guidance, Kithkin Harbinger, etc.
Oh, and there is more, just look!
Load more