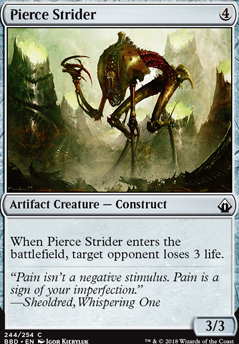 Pierce Strider
Artifact Creature — Construct
When Pierce Strider enters the battlefield, target opponent loses 3 life.
Latest Decks as Commander
Pierce Strider Discussion
5 months ago
Ok, here's a little bit of analysis to consider. Break it up into some comments to read. These are opinions based on experience, playing and watching lots of commander content over the years, doesn't account for your specific playstyle or how you have fun playing commander which are certainly as important of decisions, as is card selection.
Topic: Ramp
You are very low in the mana curve, 11 1-drop, 21 2-drop, 15 3-drop, 16 4-drop, and Orzhov () has lots of pips, but mana ramp is critical to getting your plan onboard as quickly as others, having mana available to advance board state/gain advantage and have interaction, and landing your larger threats sooner.
Sol Ring (CMC1 for 2 = +1 mana) is a must include.
Orzhov Signet I personally don't like (CMC3 for 1 = -2 mana) but also you're in which doesn't ramp as it's core strength.
Arcane Signet (CMC2 for 1 = -1 mana) is a must include, there are only a few archetypes I wouldn't play this in and usually only .
Talisman of Hierarchy (CMC2 for 1 = -1 mana) is a must include in .
Dark Ritual (CMC1 for 3 = +2 mana) this allows for explosive turns like a T1 Vampire Nighthawk .
I would start with that at least, some fringe ones I like are: Burnished Hart (creature/recursion), Commander's Sphere (draw), Mycosynth Wellspring (to hand, fringe), Pristine Talisman (lifegain, fringe), Solemn Simulacrum (ramp+draw!), The Birth of Meletis (doesn't help with , but ramp, 0/4 blocker, lifegain? it has it all!), Wayfarer's Bauble (ramp).
On a premise of battlecruiser/low/mid power 3-6 I DO NOT recommend these, but there are stronger options out there beyond 6: Phyrexian Altar (combo builds), Mana Vault , Mana Crypt , Chrome Mox , Smothering Tithe , Land Tax (Might not be bad in this build)
Honestly on a Avg. CMC 2.99 mana curve, I would likely have 10-12 ramp.
Some potential cuts for these:
Gorgon's Head you've got plenty of deathtouch already, it's not pairing with a Viridian Longbow strategy or anything, it's redundant, but also the worst. Easy cut. (We can get to Open the Armory / Steelshaper's Gift later)
Pierce Strider CMC4 for a 3/3 is just plain bad, the idea is play, do 3 damage, block/sac it, noone going to pay 3 to prevent it? but they will because it's going to do 3 anyway on return, and if your using recursion on this, your making the wrong play as it has no value engine on it. Easy cut.
Creeping Chill for CMC4 sorcery is not great, you're not playing a mill strategy so you're not really casting it for free often. It's not a strong play, we can find better ones, like ramping into Athreos, God of Passage sooner.
Font of Return for CMC6? Yikes. (CMC2+CMC4 for 3 creatures to hand is not great, we can get them on the battlefield for that high a CMC).
Angelic Gift hmm we have flyers, with deathtouch, it replaces itself (draw a card) but unless we flickering it ( Ephemerate or Brago, King Enternal something like that, it sets up easy 2-for-1 if an opponent has instand speed removal.
Topic: Lands! (Umm!)
Average Distribution Build: 38 lands
Average Budget Build: 36 lands
Average Expensive Build: 37 lands
Average Aristocrats Build: 35 lands
Average Reanimator Build: 31 lands (closer)
Your Build: 30 lands (Umm!)
No way you can run 30 lands, and 0 ramp in this deck. I wouldn't shuffle this deck with less than 33 lands, probably 34-36 if I'm playing enters tapped/utility lands. I might (maybe not) go to 33 lands with 9+ ramp spells, but even then, 34 would feel better.
Do you have a combo with Piranha Marsh like Worldgorger Dragon does, if not, just delaying yourself for little value (1 damage). Kabira Crossroads in this same bucket, it's just not work the tapped mana.
Reliquary Tower where are the cards coming from? The colorless is a detriment. Unless your playing a draw strategy Necropotence / Greed it will hurt you more than the rare occasion it might help.
Let's be honest, lands SUCK, they are too expensive! Here is a list of lands you should look at:
Lands I suggest: Godless Shrine ($9), Orzhov Basilica (<$1, slow ramp), Caves of Koilos (<$1 must have!), Command Tower (Umm!), Brightclimb Pathway  Flip ($4), Tainted Field (<$1)
Lands I don't suggest: Evolving Wilds / Terramorphic Expanse (<$1 fixed color), Scoured Barrens (<$1 fixed color), Isolated Chapel ($6, Not bad but not T1 land), Myriad Landscape (<$1, slow), Temple of Silence (<$1, scry/slow).
Forsaken Sanctuary only ever enters tapped so even Isolated Chapel is better, but there is also Orzhov Guildgate that does this too.
Have to head out, I'll review more topics and recs later, but here are some other cards can come out for mana. Gorgon Flail it's on theme and not bad, but let's get that Basilisk Collar or Quietus Spike instead. Soul Stair Expedition I would rather Animate Dead or Reanimate to the battlefield right away, not have to wait for lands (it still sacrifices itself). Not Forgotten we have better removal. Have to head out now! More later to read. :) If it's too much info, let me know!
1 year ago
Thanks for the suggestions PaulMuadDib! I have some thoughts about your suggestions so I'll go through them step by step.
Pierce Strider/Jester's Scepter/Sapphire Charm: Once you have the combo, you should have access to your entire deck. Running cards for the explixit purpose of winning the game means that you are always running the risk of drawing a completely dead card. All current listed win-cons are both good as stand-alone cards but they also have the potential to provide a win-con later.
Skyscanner/Pondering Mage: These cards were previosly in the deck, but I took them out for separete reasons. Skyscanner was cut since most of or flicker/blink cards are single-target and single-use which means, just drawing a card proved to be to inefficient. The exclusion of Pondering Mage was because paying 5 mana for a Ponder was suppremely inefficient and the value that the ponder gained you was lost in how much mana it cost.
Stern Proctor: You are correct that the list is lacking in artifact hate and Stern Proctor might be warranted.
Think Twice: This suggestion I don't get. It is almost never going to be worth returning compared to other blink spells and it doesn't function like a win-con later, unlike Deep Analysis.
Engulf the Shore: You can reasonably expect to have between 2-3 per game. Thusly, this is going to function rather poorly as a boardwipe in the deck.
Azorius Chancery/Sunscorched Desert/Time Wipe: These I simply didn't think of. Especially Sunscorched Desert. They are all going in!
Again, thanks for the suggestions!
1 year ago
I was looking through tapped out for a budged deck yesterday and this is the one that I decided on using. I didn't have all of the cards you used but I was able to fill it in with cards lying around that were out of the super budget stuff lying around and the rest of the empty slots I was able to get for a under $10, very happy with the concept here.
One thing that new players should note, which I assume budget decks attract, is that if you flicker a creature (i.e. use a spell such as Turn to Mist on it), the spell you cast to make the creature flicker will still be on the stack when the creature's enter the battlefield trigger has to choose something. So for instance, when you cast Turn to Mist on Archaeomancer, you cannot choose to immediatly return Turn to Mist to your hand, it has to be something already in your graveyard.
Some alternative budget suggestions anyone reading this list might want to consider, if they already have them for example, are:
Pierce Strider can fill the same role that the chalice fills while still using the same flicker cards that the infinite mana generator uses.
Stern Proctor is some light artifact/enchantment hate. This deck seemed to be very light on artifact hate, so it needs something. Once you have infinite mana it might also be used to bounce your own Chalice/Strider to hand for victory.
Skyscanner is half a Mulldrifter for 3 mana, not a bad pick.
Think Twice is an alright draw card that Scrivener can get back or can be used in response to grave hate.
Pondering Mage is a decent effect with a 3/4 body.
Jester's Scepter could be put in as a second chalice: just flicker it a bunch and exile your opponent's libraries.
Azorius Chancery is a tap land and I generally don't encourage these, but if you are going for infinite mana combo via untapping lands, it can't hurt to had lands which can make extra mana. Also consider Temple of the False God if you take this route.
Sunscorched Desert can in fact win if the Chalice route is used since Ghostly Flicker is able to target lands.
Engulf the Shore is a decent boardwipe that could also be used to return your own creatures to your hand for value.
Time Wipe is a good boardwipe, especially if you are able to say, bounce something to recur your Breath of Life.
Sapphire Charm is also a second avenue to win the game via decking our your opponents. You choose the first mode and they get 100 or so draw 1 triggers during the next player's turn. Since the charm is an instant, it makes it possible to do the flicker combo on the end step before your turn so that, hopefully, your opponents have used up enough mana so that they can't do anything with the cards they draw on your upkeep; the draw triggers are one at a time so the opponents could respond to each one.

Also here are some upgrade suggestions of cards that are currently $2 or less, these are some of the cards I had lying around, for people willing to spend a bit more:
Library of Leng since you have the potential to draw a lot of cards in this deck, it's always nice to not worry about discarding them.
Star Compass this common is annoyingly expensive for it's effect: probably due to the diamond cycle being about double the price.
Flood of Tears isn't too bad since you get an etb right away. The next three should be considered as a unit:
High Tide can make the Drake produce 10 mana when it untaps only 5 lands.
Capsize will let you make infinite mana off of the Drake if you have at least 2 islands out and have cast high tide.
Cloud of Faeries is something that might work to combo off with if you are able to cast high tide multiple times in one turn. That's just a consideration here since I have yet to play test this deck against real players.
1 year ago
Exsanguinate, Torment of Hailfire, Painful Quandary, Breathstealer's Crypt (love this one!! Like, a lot), Forsaken Wastes, Vile Consumption, Sovereign's Bite, Profane Command, Phthisis, Famine, Undermine (love this one!), Clutch of the Undercity, Twilight Prophet, Netherborn Phalanx, Ob Nixilis, the Fallen, Gray Merchant of Asphodel, Erebos, God of the Dead, Duskmantle Seer, Dire Fleet Ravager, Urza's Guilt, Laquatus's Champion, Howling Banshee, Pierce Strider
1 year ago
I'd love to see you fit an Inkfathom Witch in here somewhere, maybe as a replacement for the Pierce Strider you've got in now. Basically a repeatable Overrun for all your little evasive dudes.
2 years ago
Card Categorization
I've categorized the cards in your deck here: https://deckstats.net/decks/50753/1215572-animar
The following analysis is based on that categorization. Several cards are in more than one category, so I've categorized them based on their primary or common case. E.g. Ancient Animus is both "Removal" and "+1/+1 Counter Interaction", but you're going to cast it to kill something -- the +1/+1 counter is a nice bonus.
Strategy
There's no explicit or stated goals of the deck, so I can't evaluate the cards against that. If you have a goal, let me know.
The core effect of Animar is to play creatures, which grows Animar. As Animar grows, he helps you play more (and more expensive) creatures. Some notable limitations:
Animar only decreases colorless costs
Animar only cares about creatures
Animar only cares about casting creatures
Animar is cheap to cast and protects himself from most removal (due to his protection from Black and White). Because of this, we can assume that we will get him out early and keep him out long enough for him to provide benefit. We'll build the deck assuming Animar is on the battlefield at all times.
Since Animar reduces the colorless component of creature costs, we'll get the biggest benefit from colorless creatures. As with any unlimited cost reduction effect, we should look for ways to break the free case. The obvious one here is to bounce and recast colorless creatures for free.
Since we're playing all of these (hopefully free) creatures, Animar will grow quickly. Giving Animar good evasion will give us to win on commander damage quickly.
To best abuse Animar, we want:
Many creatures across a range of mid to high colorless costs
As many of those creatures in our hand as possible
An many +1/+1 counters on Animar as soon as possible
A means to make Animar unblockable
The easiest way to break Animar is to create an engine that casts colorless creatures and bounces them to your hand as many times as possible during a turn. We'll want ETB/LTB effects on those creatures and cards that care about creatures entering and leaving the battlefield. Additionally, we'll want cards that care about +1/+1 counters on a creature.
Favor creatures over non-creatures, as you get a discount on creatures. Try to keep colored costs to a minimum - avoid double or more colors in a cost.
Abusable Colorless Creatures:
Repeatable Bounce:
Synergies:
Unblockable Enablers:
We'll want to get as many creatures down as quickly as we can. Card draw and other card advantage effects are valuable.
Draw/Card Advantage:
Changes to the Existing Cards
I would consider cutting way down on the amount of ramp. Mana dorks get the deck running early, but they don't have any synergy with the core effects. I suspect that's what was leaving you feeling like you had a dead hand.
Cards that seem particularly problematic:
Load more