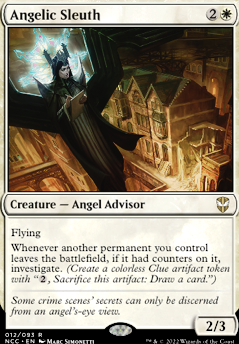 Tokens
Legality
4 months ago
Ah, I guess spoilers don't work in comment boxes, that's annoying.
4 months ago
All,
Grabbed all my 3+ pod gameplays and the recent MOM gameplay and swaps and posted it on my own decklist. I'll keep commenting on Guerric page as it gets more traffic. Let me know your thoughts and if my thinking is sound. Thanks!
6 months ago
CrazyDanPsycho, thank you for your interest in my Giada deck. I thought I would take a look at yours and see if I had any suggestions.
Now, I totally understand the attachment to Avacyn. (I actually still have an Avacyn deck, too.) But the shift in commanders calls for a shift in the creature base. Avacyn does not really care about what type of creatures you are running. Giada does. She wants you to run angels. I don't know your budget is, so take whatever suggestions you think will fit with it.
Breathkeeper Seraph is good for recurring Giada (or any other special angel). Angelic Sleuth makes good use of your creatures with counters dying. Norn's Choirmaster proliferates your counters. Thraben Watcher gives a bonus and vigilance. Admonition Angel outdoes your Leonin Relic-Warder and is an angel. Angel of condemnation is another removal angel. And finally, a non-angel that helps you, even in a Giada deck, Bishop of Wings, which gives lifegain and tokens. For more token fun, and generally producing tokens at a better rate than Parhelion or Moonsilver Spear, we have Entreat the Angels, Finale of Glory, and Starnheim Unleashed. You are also missing the best life-gain Ajani. Ajani, Strength of the Pride.
If you want suggestions on what to cut, just let me know!
8 months ago
Last game of the year! Sorry I've taken over your comment board, hope all these gameplay interactions help!
9 months ago
My typical decks are Muldrotha, the Gravetide recursion, Teysa Karlov aristocrats and a Shorikai, Genesis Engine mechs. Those three usually have big flashy plays for instant wins so this deck definitely plays different. I looked over your whole primer and took your advice to heart to reduce the number of changes and focus only on your new additions and lands. I ran a few games using your methodology for mid-range aggro decks and listed how the deck performed. Let me know if this helps helm the host!
1 year ago
Saw that you were looking for help and this commander seems pretty cool. Not sure what your budget is, but I'm going to make some suggestions at different price points.
Here's some cards I'd cut: Angel's Grace, Cleric Class, Angelic Accord, Treasure Chest, The Book of Exalted Deeds, Panharmonicon, Arcane Signet, Marble Diamond, Campfire, Mass Calcify, Brave the Elements, Cleansing Nova, Everflowing Chalice, and Gift of Estates
I can provide more explanation on why, but generally these cards are low impact, less helpful than they may seem, or off theme a bit. Some of these are life gain or ETB payoffs but they don't have many ways to trigger them.
I'm seeing a wincon through combat with the deck as is. Giada is Ramp in the command zone but only for Angels, and the starting list only has 17 Angel spells. Turn 2 Giada and hitting all your land drops means we can send out 4 CMC angels turn 3.
I recommend Emeria Angel, Guardian Seraph, Angel of Condemnation
A lot of the Angel's are high CMC but you're running a lot of cost reducers. Due to this I think you need more lands and more Draw. Arch of Orazca, Geier Reach Sanitarium, Sea Gate Wreckage and War Room are all utility lands you can run in mono color that tap for colorless mana and help you draw.
That leaves seven more cards to add back in. I'd go with Karmic Guide, Twilight Shepherd, Battlegrace Angel, Angelic Sleuth, Herald of the Host, Dawnbreak Reclaimer, and Aegis Angel
1 year ago
You might be interested in these combo pieces: Flickerwisp, Restoration Angel, Felidar Guardian, Spark Double, Sakashima the Impostor, Sakashima of a Thousand Faces, Changeling Titan, Changeling Hero, Mysterious Limousine, Glimmerpoint Stag, Wispweaver Angel.
These may catch your eye too: Guardian Project, Theoretical Duplication, Faerie Artisans, Path of Discovery, Lonis, Cryptozoologist, Soul of the Harvest, Radiant Solar, Angelic Sleuth
1 year ago
Hi AaKkisa! I've written a primer on this deck and we have some discussion on that page which I'll link below. In the meantime, I'll give some thoughts!
I think you have a lot of things right here. You have a lot of good weenie angels, which is key. You have some good draw engines, though in my opinion leaning a bit more into lifegain and playing Well of Lost Dreams is really good. I might also cut one of the more pricey draw engines like The Immortal Sun in favor of something more synergistic like Sigarda's Splendor, but that's just me. Thorough Investigation is also a great draw engine in my experience that costs only three. I'd also add The Book of Exalted Deeds so as to complete your angel token making suite. I also think you could afford to drop a board wipe, particularly Wrath of God which hits your own stuff. There is at least one good angel I don't see in Angelic Sleuth, which gives you lots of draw in a wipe or mass blink situation. The biggest thing I would change is ramp. Since you always have Giada turn two, one and three mana ramp pieces are often better than 2cmc ones, and you don't need as much ramp as in another deck. Some of the colorless 2cmc cards like Mind Stone or ones that enter tapped like Marble Diamond are lesss ideal. Cards like Herald's Horn, or land fetchers like Sword of Hearth and Home and Dowsing Dagger  Flip are better.
At any rate, I hope that's of help, but you can also check out my approach here in the below primer if you are interested!
---

Commander / EDH Guerric
SCORE: 22 | 24 COMMENTS | 740 VIEWS | IN 9 FOLDERS
---
Load more