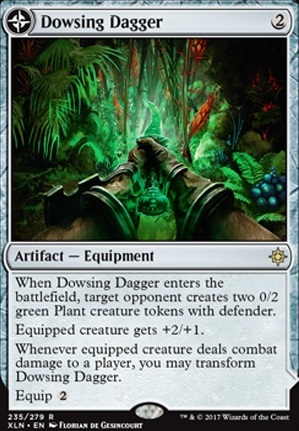 Back:
Lost Vale
Flip
Tokens
Legality
Dowsing Dagger
Artifact — Equipment
When Dowsing Dagger enters the battlefield, target opponent creates two 0/2 green Plant creature tokens with defender.
Equipped creature gets +2/+1.
Whenever equipped creature deals combat damage to a player, you may transform Dowsing Dagger.
Equip (: Attach this to target creature you control. Equip only as a sorcery. This enters the battlefield unattached and stays on the battlefield if the creature this card is attached to leaves the battlefield.)
1 week ago
Hello fellow Wyleth, Soul of Card Draw player!
I'm glad you got both Wyleth's and Aesi's precons for a good price. They are reeeeally explosive in gameplay with a few upgrades.
I play a lot of this bad boy, and I want to suggest some swaps below 3 USD for you to take it to a higher ground:
First of all, the ramp. I found out that 2 CMC, untapped ramp is the best for Wyleth. Since he draws so many cards, he can chain rocks and voltron pieces in the same turn, so his next turn is even more explosive than the last one. I almost always have more mana than the Green decks in my pod.
You should run boardwipes that hits your stuff the least:
Also, you can streamline your removal package. All of those are fetchable by Sunforger:
More/better auras and equipment
Cheating equip costs
If you really need to protect yourself against attacks, Ghostly Prison is a way better Palace Guard.

More utility lands
5 months ago
I really like your manifest take on Jon. Consider Dulcet Sirens. It's a clever way to mitigate risk of having those horrible creatures for yourself. I'll definitely be adding Crawlspace and Endless Whispers to my list.
Suggested removals from deck Plague Reaver. While it's a nice card to give away, the turn you play it you'll have to sacrifice Jon Irenicus to Plague Reaver's trigger regardless of which order you put the abilities onto the stack. You'd rather not lose Jon.
Gisa, Glorious Resurrector. It's something you can't give away, which means it's good when you're ahead, but not great when you're behind,. Your mileage may vary, but I think getting something more immediately impactful on the board tends to be best.
Mirko Vosk, Mind Drinker. You're not running a mill strategy, you'll only be filling the graveyard of dedicate graveyard decks.
Taniwha. I love this creature and totally understand running it for the memes, but phasing triggers before your upkeep, which means that when you give it away, it'll be phased out for the first turn under your opponent, so they'll keep their lands and you won't draw a card from Jon's ability. The turn cycle has to make two full rounds before Taniwha does anything.
Tergrid, God of Fright  Flip. Unlike Sheoldred, Tergrid doesn't make the opponent do either of its effects. It's another creature you don't want to give away, and Jon makes cards unsacrificeable. It just won't trigger much unless you're against a sacrifice deck.
Ensnaring Bridge. The creatures you donate will often be quite big. Ensnaring bridge will prevent them from attacking your opponents and deny you card draw.
Chromatic Lantern. It's only good if you need the mana fixing. You don't need the mana fixing. Try something like Thought Vessel or Decanter of Endless Water or Midnight Clock instead.
Assault Suit doesn't goad the creatures itself. Often they'll swing at you if possible.
Dissipation Field. Not as good as it looks. Doubles ETB triggers. Anti synergy with cards like Endless Whispers.
No Mercy Jon just has better options for this slot. If you can replace a non-creature with a creature in this deck, you usually want to.
Grave Betrayal. That's 7 mana for a card that could ruin your game by forcing you to revive bad cards you do not want.
Diplomatic Immunity. You want instant speed protection and protection from board wipes. Something like March of Swirling Mist is more versatile offensively and defensively.
Dark Ritual. I'm uncertain what you're trying to ramp into so quickly that you would need this. Maybe I'm wrong.
Countersquall. You may as well play the one mana version in An Offer You Can't Refuse.
Redirect may be bested by Narset's Reversal? That's a matter of opinion.
AEtherize risks bouncing creatures attacking other opponents such as those you've goaded but want them to keep. Try replacing this with a more versatile effect like Reins of Power or a more aggressive effect in Illusionist's Gambit.
Damnation. Jon prefers sacrifice board wipes so that your opponents keep their shit creatures.
Overall I think you could run less counter-magic in favor of more proactive effects.
Cards to Consider Creatures Generally I want to focus on adding creatures that you can give away and then steal back later to win the game.
With Jon, you often want cheap evasive creatures to give out for early card draw with his ability. Right now you have 1 two-drop creature. Throwing in a Changeling Outcast or a Slither Blade can mean you can give a creature away for cheap and still hold up mana for other things. Slither blade wouldn't die to Heartless Summoning too.
In the two-drop slot, you can run creatures that are more defensive like Baleful Strix, or give you card draw like Sygg, River Cutthroat or just more powerful creatures like Flesh Reaver which is a goaded 6/6 that can deal 12 damage a turn or Wretched Anurid. Heck, you can even add a versatile two-drop in Dimir Infiltrator which can be given away in the early game or used as a tutor in the late-game.
In the three drop slot, I think your idea of adding Steel Golem is a great one to make sure the only creatures your opponent has are the ones you're giving them. It's a brutal card. Rotting Regisaur is a card you don't mind giving away early, and can take back later to win. Phyrexian Soulgorger can be donated to an opponent as a goaded 10/10. They won't have to pay the upkeep, but that's a great body to give someone as a political tool. Cephalid Facetaker is also worth consideration though I personally don't run it.
In the four-drop slot, like you mentioned, Grid Monitor is a proactive creature counter. Abyssal Persecutor can save you from death. Archfiend of the Dross is risky but fun (it comes back to your control after the opponent dies).
In the 5-drop slot, both of the evil-eye cards are absolute ALL STARS. They work so well every game I've drawn them. They can also replace some of your weaker defenses like No Mercy and Dissipation Field
As a sidenote, I also like Deep-Sea Kraken as an unblockable 8/8 that can win you the game with homeward path.
Removal I recommend running more sacrifice-based removal since it'll mean your opponents keep the crap you give them. Things like Tergrid's Shadow or Vona's Hunger or All is Dust (one of my favorites) or Killing Wave. I also prefer Toxic Deluge to some of your other removal since it goes through hexproof. Curse of the Swine is also an exile effect that can be selective and works really well. You can also run single-target removal like Reality Shift or Pongify if you'd rather instant speed interaction. Feed the Swarm is quality. If you really don't care about cruelty, you can run Torment of Hailfire, but that card is honestly always too boring for me to want in my decks.
Card Draw Jon has access to some great card draw that most decks can't take advantage of. Fateful Handoff is a card draw spell that also donates (though does not goad). Sygg, River Cutthroat works well with evasive threats you give away (though should not be donated). Verity Circle works great with Jon's ability since it donates the creature first, and then taps it down. Teferi's Ageless Insight allows you to double your draw triggers from Jon.
Equipment Remember that you can donate creatures while they're equipped and you still control the equipment so they can't re-equip it. Pact Weapon makes the attacking creature bigger, while ensuring you can't die, and will draw you another card whenever the donated creature attacks. Dowsing Dagger  Flip works effectively on evasive creature to get you ramped. Vorpal Sword is a win condition on your unblockable evasive creatures.
Goad Dulcet Sirens, Bloodthirsty Blade.
Misc Graveyard removal is king. Throw in a Scavenger Grounds. My favorite card to run is Reality Shift. Make an Avenger of Zendikar spawn a dozen Wretched Anurids. It's not GREAT, but it is always funny. Cultural Exchange is a fun time too with all your manifest and shitty creatures.
That is all. Hope it was helpful.
5 months ago
I have a Quest for Ula's Temple deck which does some similar things, I liked Dreamscape Artist because it can reshuffle your library as needed, incase you don't have a relevant creature to work with on top. It's technically only 1 mana and a card to Harrow (you get back 2 untapped lands, so it can also helping mana fixing) Blue, and I could be wrong but I think your Commander wants the odd Discard outlet too. A worse (but still potentially useful) piece of Blue ramp is Apprentice Wizard, it's not as good as Dreamscape, it's like Worn Powerstone, which is a good rock if you want bigger ramp to potentially cast a big creature a bit sooner. Thran Dynamo and Gilded Lotus are big ramp rocks with decent ratios. Urborg, Tomb of Yawgmoth and Cabal Coffers are pretty good together, if you have a lot of devotion to a colour Nykthos, Shrine to Nyx can help, Deserted Temple can untap any land that makes extra mana. Less rampy and more of a big Scry effect, Soothsaying is a neat card if you care about your deck order. Scroll Rack is better but costs more.
Just a general idea, you might throw in things like Reconnaissance Mission, Bident of Thassa, and Coastal Piracy along with some Unblockable or Shadow creatures (Thalakos and Dauthi are the Blue and Black tribes). You can also throw in stuff like Sword of the Animist, Dowsing Dagger  Flip, Prying Blade, Goldvein Pick, Grim Hireling, and any other attack payoffs you can find to generate more value over time. I understand you want a sea-monster theme, but you might want a way to draw some cards/get in some chip damage to soften people up. The only drawback to Shadows is that they can't chump block. If you really want your evasive creatures to be able to chump, there are some small flyers like Spectral Sailor and Thousand-Faced Shadow that have other upsides, these are risk free but are way less evasive than Shadows.
On that note, if you're worried about getting attacked you might look at Propaganda, War Tax, Flood, and Fatespinner are all great ways to make you hard to attack. Mass Diminish, Polymorphist's Jest, Sudden Spoiling, AEtherize, Aetherspouts are all great cards for people to fear.
Callous Oppressor is a funny repeatable theft effect, Ritual of the Machine and Helm of Possession can both steal stuff and are great with tokens, Thieving Skydiver can steal an artifact creature fwiw, Sower of Temptation is a so-so theft effect that shines bright if you can flicker or bounce it, Thalakos Deceiver is probably way better since he permanently steals whatever and can be reanimated, Inevitable Betrayal and Bribery are both pretty sweet.
The biggest (and perhaps best) theft effects are Mass Manipulation and Cultural Exchange, exchange requires bodies but can also be used aggressively to just ruin two players' boards.
Inkwell Leviathan, Lochmere Serpent, Spawning Kraken, Stormtide Leviathan, and Wrexial, the Risen Deep are some relevant creatures I use, some are better than others but there is nothing as bad as Sea Serpent or Bog Serpent, both cards I love but don't use.
If you like Whelming Wave, you might like Spectral Deluge as well.
Hope some of this helps, Big Dimir is a fun deck!
6 months ago
we back baby, lots of changes:
**Sardian Avenger IN
Ashnod's Altar OUT**
I've had really good experiences so far with Devilish Valet, and so I'm adding another cheap, scaling threat that can really rack up the damage at any stage of the game. It synergizes fantastically with pieces like Shadowspear and Duelist's Heritage, introduces a bit of treasure hate, and even shuts off some combos. I love that it scales with the power level of the table, and I expect it to overperform for 2 mana. On the other hand, Ashnod's has underperformed. Without consistent token producers (of which there are only a handful of in the deck), this often feels like 3 mana do-nothing, and it being one of only a select handful of non-mana artifacts in the deck means its even more likely to eat non-creature removal.
**Goblin Motivator and Bloodlust Inciter IN
Ogre Battledriver and Dowsing Dagger  Flip OUT**
I found myself craving more haste enablers in the deck and Ogre Battledriver seems to be too big of a lightning rod, which is fair because it can end games with the right setup. I've opted for cheaper, lower to the ground options that are less likely to eat targeted removal. They won't pump a team of incoming tokens off of Mardu Ascendancy or Hero of Bladehold, but they will come down faster and have impact over many more turns than the ogre would normally be allowed to live. I did enjoy playing with Dowsing Dagger  Flip but it feels counter-intuitive to lean into haste and also give out blockers.
**Battle Angels of Tyr IN
Rabble Rousing OUT**
Myriad is fun, cool, and good. Turns out, its even better when you make twice as many tokens. For 4 mana, you get 26 flying power per turn with Isshin out, and potentially 2 card draws and 2 treasures to top it off (you likely wont get the lifegain trigger). The nail in the coffin for Rabble Rousing is that the tokens don't come in tapped and attacking. That downside combined with the whiff potential means that the card feels clunky at times. It was also overkill for the synergies that it was hoping to lean into for card draw (Welcoming Vampire and Tocasia's Welcome), so overall it only felt like we were unlocking the true potential of this card in magical-christmas-land with Skullclamp and Ashnod's Altar.
**Laelia, the Blade Reforged IN
Welcoming Vampire OUT**
Given that we're downsizing on the overall number of token-focused cards (and adding [battle angels of tyr]), [welcoming vampire] seems like a natural candidate to take out for [Laelia]. A guarenteed 2 cards a turn is better than (maybe) 1 card a turn, even if it means making your creature a lightning rod.
Nadaar, Selfless Paladin OUT**
If I was willing to pay 5 mana to give the whole team melee with Adriana, Captain of the Guard, then I will absolutely double up on the effect on a 2/2 flying body for 3 mana. PSA: instances of melee stack, so Isshin + both of these = +12/+12 to each creature that attacks. Nadaar is a solid value piece, but getting to attack with him twice without him getting killed feels more like a gamble than a guarantee, so he's getting pulled out for the moment. Note that this makes Triumphant Adventurer the sole venture card left in the deck, so if I need space for another 2 drop that might be where I go.
7 months ago
Nature's Lore, Three Visits, Masked Vandal, Heroic Intervention, Boros Charm, Species Specialist, Kargan Intimidator, Dusk / Dawn, Dowsing Dagger  Flip, Kindred Discovery, Kindred Dominance, Kindred Summons, Bojuka Bog, Scavenger Grounds are all worth consideration
I'd take out: Sol Ring Most of your mana costs are colored. Explore replace with better ramp as suggested above. Derevi, Empyrial Tactician not sure what this does here. Thassa's Oracle you're not looking to mill yourself out. Brainstorm only good if you can shuffle your library regularly such as with fetch lands. Demonic Consultation you're not looking for specific combo pieces Spell Pierce. You want to be spending your mana early, not keeping this up. Same with Mana Drain. Rally the Ranks. If you're gonna do this kind of effect, use something nicer like Realmwalker Coastal Piracy. Doesn't seem as good here as Kindred Discovery
Also think you can cut a couple lands given that your mana curve stops at 6. Or replace them with lands like Glasspool Mimic  Flip and Bala Ged Recovery  Flip
Load more