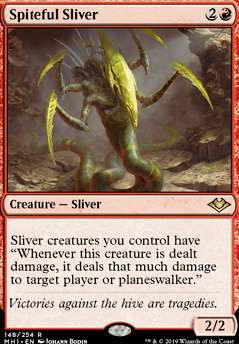 Legality
3 weeks ago
Ah, I guess spoilers don't work in comment boxes, that's annoying.
3 weeks ago
All,
Grabbed all my 3+ pod gameplays and the recent MOM gameplay and swaps and posted it on my own decklist. I'll keep commenting on Guerric page as it gets more traffic. Let me know your thoughts and if my thinking is sound. Thanks!
6 months ago
So I would probably suggest changing Crypt Sliver for Sedge Sliver. Reason for this is because Crystalline Sliver and Crypt Sliver are a NonBo as you cant target the slivers with the ability.
I would also probably change Shadow Sliver for Shifting Sliver. Gives you the ability to block others, but you can't be blocked. Shadow Sliver is a double edged sword, as you also can't block.
You have the option of another mana Sliver in the form of Gemhide Sliver. Trust me, Mana is your most required asset. I would drop Virulent Sliver as, to be honest, I would not genuinely expect to win with poison counters. And if this was a win con I would be going hard on it, not just a 1 chance.
As the aim of your deck is to go wide, I would be tempted to go with Shared Animosity to pump your attack power.
You have Spiteful Sliver in there, why not include Blasphemous Act? with enough creatures, this in itself can kill off your opponents.
Heart Sliver replacing Reflex Sliver is a strict upgrade. Cheaper and still gives haste.
I would question the value of Spinneret Sliver when you already have 2 slivers giving you flying.
If you are going wide Horned Sliver could be an option, however may not be needed. I would be more inclined to go with a Synapse Sliver. Need to keep that grip full of more Slivers to power the Hive.
Now... onto the mana base...
I would strongly suggest getting more dual color lands which can come into play UNTAPPED. We are in a very intensive deck, and getting to that is super important. Chromatic Lantern could be super useful, and you may also wish to replace something with Morophon, the Boundless.
Whilst ABUR duals are super expesive, and to an extent Fetchlands too, Shocklands (Godless Shrine etc.) and Bondlands (Morphic Pool etc.) may be more accessible. You could look at the Filter lands too, or checks. I just think this could essentially speed up the deck exponentially
I will have another think about some other bits as well and will get back to you :)
11 months ago
Firstly, edited it to show my commander, didn't realize it wasn't shown, thanks! Then I was able to trim down to the right number of cards. 1. The World Tree is there for its second ability that grants all lands I control the ability to tap for any once I have 6 lands, so that color-specific mana is less of a worry. 2. I did get rid of Hivestone, thanks for getting my attention to it. 3. I think I'm gonna keep these for now, just because they are still lands and they give the potential for a lot of mana ramp, which can be used a lot to get things like Morophon, the Boundless out, as well as tutoring using Sliver Overlord. 4. I thought about this, but with this deck, If I were to get most of my library out (creatures, enchants, and artifacts mostly), then I would be able to swing out and win by combat dmg, or win in other ways such as Spiteful Sliver and Blasphemous Act, all while keeping my guys alive with Sliver Hivelord.
I really appreciate the criticism on this deck and please continue, I'd love to see how I can improve it!
Load more