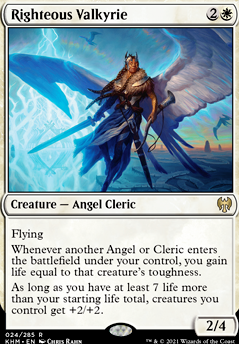 Legality
1 month ago
I got in three more games last night, and got to test the deck out a bit more. It was again 1v1 unfortunately, but it was a strong matchup vs a highly optimized
Ghalta, Primal Hunger
deck that has no problem killing off single opponents incredibly quickly, so I was playing by the seat of my pants the whole time, though I won all three games. The first game was the tightest, and showcased the power of
Bishop of Wings
,
Soul Warden
and
Archangel of Thune
in particular, who were the MVPs of the match. I had a strong start with a turn one
Sol Ring
, but made up for it by missing my land drops for several turns against a deck with crazy ramp and endless resources and fatties, but was able to get through it due to my curve and Giada, who allowed me to consistently play threats turn after turn, and the almight power of
Bishop of Wings
,
Soul Warden
, and
Righteous Valkyrie
, who effortlessly healed me through several battles. What was threatening me however, was commander damage from Ghalta, as I could only afford to take three more before dying, forcing me to commit all of my angels besides Giada (and
Righteous Valkyrie
who he had removed with
Beast Within
to blocking Ghalta, resulting in their deaths. I was left with only Giada,
Bishop of Wings
,
Soul Warden
, and four spirit tokens that I got from
Bishop of Wings
when my other angels had died. What's worse, my opponent had paid
Lurking Predators
, so every time I cast a spell he got to put free creatures onto the battlefield. Thankfully, that turn I played
Archangel of Thune
, and the die was cast. When it ETB'd, both
Bishop of Wings
and
Soul Warden
procc'ed, putting 2 +1/+1 counters on everything.
Lurking Predators
then worked against him, because when his creature entered,
Soul Warden
procc'ed and
Archangel of Thune
put another counter on all of my things, including the four spirit tokens I had put out. While
Feed the Pack
would have allowed him to go wide with many 2/2 wolf tokens, he couldn't do that since the dynamic duo of
Archangel of Thune
and
Soul Warden
would only pump my aerial team to astronomically high power. I was able to swing in for lethal and the game was over! To the many on the forums and elsewhere who lecture other builders that the Soul Sisters aren't that great and one life isn't that big of a deal, I think they need to think about their synergy with the deck's gameplan, something that a match like this showcases!
The MVP of game two was Linvala, Keeper of Silence. He had an incredibly explosive start and probably would have killed me by turn six or so, except that on turn three I played Linvala with Giada, right after he had played Llanowar Tribe, which was now a cute 3/3 with no other powers. Even so he was able to play Omnath, Locus of Mana, store some mana, cast his commander, and be a couple of points away from a lethal play with some other synergies he had, but Linvala held him down long enough for my growing angel army to chip away his life total to zero.
On the third game the shoe was on the other foot from the first one, and he didn't have the acceleration he needed to put up a threat to my quickly goldfishing angelic armada. Lacking key removal spells, he three a ten power Nessian Boar at me in order to kill my best pieces of his choice and to draw a ton of cards. I responded at instant speed with a Swords to Plowshares, preserved my board, and swept in the next turn to knock him down to two life. He wasn't able to recover and the game was done.
This was a particularly helpful play session in highlighting the power of some key cards like Soul Warden, Bishop of Wings, Archangel of Thune, and Linvala, Keeper of Silence, as well as the importance of having the right amount of good, premium, white removal in hand, which made a big difference in the outcome of the second and third games. The only card I didn't care for in one of the games was Mirror Entity, which confirms its likely cutting from the deck in the next update. I hope these game reports are helpful to the community as you build your decks!
1 month ago
I got in two more games today as part of a club I lead. 1v1 unfortunately, but it was up against a fairly controlling
Ranar the Ever-Watchful
deck with flyers and was a good matchup, and I still feel like I learned a bit about how the deck works and what some key cards are.
I must not have re-optimized mana well after the previous session because I only drew three lands over the course of the entire first game. That being said, I still won! Even with only three mana and Giada the curve allowed me to do most of what I wanted to do and put most of my angels out, so the curve and the deck's ability to put up a board state quickly even with limited resources is great. The all-star of the first game was Crashing Drawbridge, which, as I suspected, is great in this deck. I finished by playing out Serra Avenger and Angelic Curator (with plenty of counters) and then swinging with them and all of my other angels for lethal because of drawbridge. It helped me close out the game before my opponent could stabilize and hit me with a wipe, which would have set me way back due to my lack of lands. Another great combo was Righteous Valkyrie which is every bit the powerhouse you'd think it would be in this deck and Resplendent Angel, which ensured that tokens were bolstering my army and that my life total was more than padded.
The second game was much more evenly matched and could have gone either way, but I pulled that one out in the end as well. This would not have happened if Eerie Interlude hadn't saved my cast angels from Curse of the Swine, attesting again to the importance of board state protection in this deck. Quite critically, interlude was the only thing in my deck currently that would have saved me from that (other than Lapse of Certainty, so I was glad to have it! The absolute all-star in this game was Thorough Investigation. Wow! What a card! I thought it might be good, but the whole enter-the-dungeon mechanic seemed a bit cute to me and I was ensure if I would want to pay to sac clue tokens. The answer is yes! I amassed so many tokens from Investigation (as well as a couple from Angelic Sleuth when I blinked it with Interlude) that I knew I could refill my hand at any point, which I did! I'm going to put this card in all of my aggro decks- its a hidden treasure! Angelic Skirmisher is also a must-run in the deck. Everyone plays Lyra Dawnbringer but some don't play this card, which I feel like is better. While the life-link aura is the thing in this deck and two copies of it was great, I definitely experienced the utility of the first strike aura when I wanted to swing with Valkyrie Harbinger but was afraid to lose it to a large flying blocker. First strike made it so that he didn't want to block! Vigilance is also great, and Thraben Watcher was already making sure I wasn't in danger on the crack back in this matchup, but Skirmisher could situationally help with that as well. I finished it out by clearing away all of his blockers (including some absurdly large creatures) with Winds of Abandon. He put 13 lands onto the battlefield, but died to my Angelic Armada.
In both of these games, as with in the previous ones I've reported on, the life gain was real and powerful! I finished the second game with 98 life and the first one with life somewhere in the 70s, so this deck works amazingly well that way. I also played a turn one Soul Warden the first game and was quite thankful for it. I wasn't totally sure about the soul sisters in this deck, but I think I am glad for them. Another huge success in several games so far are the Angelic Accord effects. Having four of them makes it a consistent subtheme, and even a couple of free giant angel tokens goes a long way to killing opponents. I think my issues with card draw aren't that I don't have draw or that it doesn't work, just that this deck is hungry for more of it, which I will address in the first revision coming soon. I've already ordered some more cards based in part on suggestions I've received here from some of you, so thanks for those! I will post the revisions once they are made and my reasoning for them. I'll also update the primer and the acknowledgements to offer credit where credit is due!
2 months ago
So first things first - I see you swapped the commander to Atla Palani, Nest Tender, and I do think that she is stronger for cheating things into play as her plus her ability costs the same as a single Mayael the Anima activation, her ability triggers whenever an egg dies, and besides her you only have one egg producer in the deck - Nesting Dragon - and you aren't running any token doublers, I'd advise running something like Rings of Brighthearth or Illusionist's Bracers to copy her ability, allowing you to potentially cheat in multiple things a turn. However, her ability only triggers when something dies. I see you have Ashnod's Altar and Phyrexian Altar in the maybeboard, and they're definitely probably your best options to accomplish this as that mana can also be used to cast angels in your hand.
Also, your CMC is 4.03, which is ridiculously high. You also aren't running any mana ramp outside of artifacts, which while your commanders ability is based around cheating things into play - if you don't have access to your commander or sac outlets than you're screwed. Things like Cultivate, Kodama's Reach, Migration Path, or cards like Birds of Paradise, Avacyn's Pilgrim, Fyndhorn Elves, or even cost-reducer cards like Starnheim Aspirant, Pearl Medallion all can make a big impact. Or, even just swapping some of the higher CMC angels out for lower-costed ones, like Angel of Vitality, Angel of Jubilation, Resplendent Angel and Righteous Valkyrie can go a long way towards a smoother game.
3 months ago
This goes infinite with Ajani's Welcome, Angelic Chorus, Anointer Priest, Answered Prayers, Auriok Champion, Cleric of Life's Bond, Daxos, Blessed by the Sun, Healer of the Pride, Impassioned Orator, Kor Celebrant, Lunarch Veteran  Flip, Pious Evangel  Flip, Righteous Valkyrie, Soul's Attendant, Soul Warden, Suture Priest, Corpse Knight, and several green creatures as well.
4 months ago
Actually ignore the sentence that says " And, Righteous Valkyrie is another with Angelic Accord, considering that the token's toughness is 4, and even with Bishop of Wings it adds 4 more life, which makes for triggering Resplendent Angel."
Angelic Accord works at the end step, so you would have to generate a 4/4 with Righteous Valkyrie before you generate a token with Angelic Accord.
4 months ago
How about instead of Renewed Faith you add Chaplain's Blessing? Much cheaper MV, and almost as good. Also, Chaplain's Blessing gives just enough life to trigger Resplendent Angel. I would also get rid of Emeria's Call  Flip as it's mana prohibitive, and replace it with Angelic Accord; Angelic Accord is useful with Chaplain's Blessing and Bishop of Wings. When you use Angelic Accord, then trigger it with Chaplain's Blessing, And, Righteous Valkyrie is another with Angelic Accord, considering that the token's toughness is 4, and even with Bishop of Wings it adds 4 more life, which makes for triggering Resplendent Angel. Also, I would definitely exchange Lyra Dawnbringer with Shalai, Voice of Plenty. The latter protects with hexproof, which is great against many types of threats, especially counter/burn decks. I would also get rid of Starnheim Unleashed with Starnheim Aspirant.
4 months ago
I don't really think you have enough payoffs for gaining life to make this strategy viable.
Lifegain in general is probably one of the weakest things you can do in magic - in that gaining life oftentimes does nothing to improve your boardstate, or get you any closer to winning. This deck that feels especially true, as your only payoffs is a few creatures getting "slightly" bigger.
To give lifegain any chance at all, you need stronger payoffs. Stuff like Speaker of the Heavens, and Righteous Valkyrie are good examples of what can make lifegain semi-viable as a gameplan.
Load more