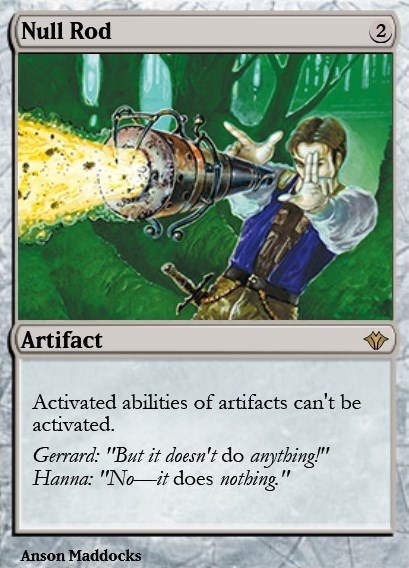 Null Rod
Artifact
Activated abilities of artifacts can't be activated.
Browse Alters
Trade
Legality
| | |
| --- | --- |
| Format | Legality |
| 1v1 Commander | Legal |
| Canadian Highlander | Legal |
| Commander / EDH | Legal |
| Duel Commander | Legal |
| Highlander | Legal |
| Legacy | Legal |
| Leviathan | Legal |
| Limited | Legal |
| Oathbreaker | Legal |
| Tiny Leaders | Legal |
| Unformat | Legal |
| Vintage | Legal |
| Casual | Legal |
| Custom | Legal |
| Quest Magic | Legal |
Latest Decks as Commander
Null Rod Discussion
1 day ago
I used to play -Eldrazi Stompy in Legacy 3-5 years ago, before switching to EDH due the LGS where I had moved to having a large EDH community (pre-lockdowns). However, I'm currently in a position where I might be able to play some Legacy events in the near-future, and I want to update my deck accordingly. But I think it's worth briefly noting the developmental-chain that led to the current decklist that I own..
Ironically enough, this deck was originally based on a "budget" Vintage list from The Mana Source (watch it to have a chuckle over how much less the Reserve List cards used to be). My original list was extremely close to this, except invert the 1:4 ratio of Chalice of the Void / Null Rod , and I (originally) ran Simian Spirit Guide ..
---

Legacy Metroid_Hybrid
SCORE: 13 | 13 COMMENTS | 3485 VIEWS | IN 7 FOLDERS
---
1 month ago
Lavinia and Knowledge Pool, both mentioned above in separate posts also form a lock together.
Mycosynth Lattice + Karn, the Great Creator locks your opponents out of using any permanents for mana generation. Null Rod would lock everyone out of generating mana... so I guess it could count as a wincon if you have a bigger deck than anyone else and will draw out your deck last, or if you have some way to win already established on the field.
Nekusar, the Mindrazer and Helm of the Ghastlord forms a soft lock, forcing opponents to discard every card they draw, locking them out of anything other than instant-speed spells.
Opalescence and Enchanted Evening keep players from every fielding a land... but this effect is symmetrical, so you need something to give your lands +1/+1.
3 months ago
Collector Ouphe and Null Rod type effect will shut off there artifact ramp which most those decks use along with mana dorks. Turn of the artifact ramp
4 months ago
Glad you're enjoying the list! However, I would suggest you do not deviate from what I've built. If safety is a concern, adding Dockside - a variable ramp piece - is a bad idea, particularly in a list oriented towards one creature. The combo line with Raza requires two creatures and one black minimum. I know with absolute certainty that I can generate 8 mana going into either PITA or Ad Naus, so if I wanted "safety" I'd play for Ad Naus (3 mana floating). Your opponents will have (or should have) fought the Divergent Transformations or Reality Scramble , so any measures beyond this(?) seem unlikely. On that note, if RS is what I have in hand and the combo's available but I reveal into a Dockside, I've effectively done nothing. Dockside has become the crutch of many a player: 1. If there's a Torpor Orb , Root Maze , Manglehorn , Null Rod ... It's not providing acceleration when you need it or at all, 2. Often times it's only best turn 4+, where this deck has the potential to DT (Divergent Transformation) or RS into a win prior, 3. The uncertain value of Dockside places it low on the totem pole, namely because 3.1 You will not have as much interaction in hand as it can potentially provide beyond what Burnt Offering provides into an Ad Naus and 3.2 Giving opponents the opportunity to copy, reanimate, steal ( Praetor's Grasp ), etc. your Dockside is a bum deal when you don't need it, 4. When playing for a Reality Scramble build, you need to focus on a singular target to benefit the most from the build, so any additional creature is bad beyond the one. Dockside could be relevant, but this deck doesn't need that crutch. Focus on a T1 Ad Naus or Tevesh, draw value, play to hard cast PITA/Ad Naus T2-4 or through the DT/RS line of play. I prefer certain things... When I go for Divergent, the worst threats are: Spellseeker , Drannith Magistrate , Collector Ouphe or Opposition Agent . If I know a list doesn't have one of those, I hit their creature. I've yet to hit something "bad," but I may at some point. That's why you can always Divergent two thrull and sac Rograkh for Final Fortune .
Load more