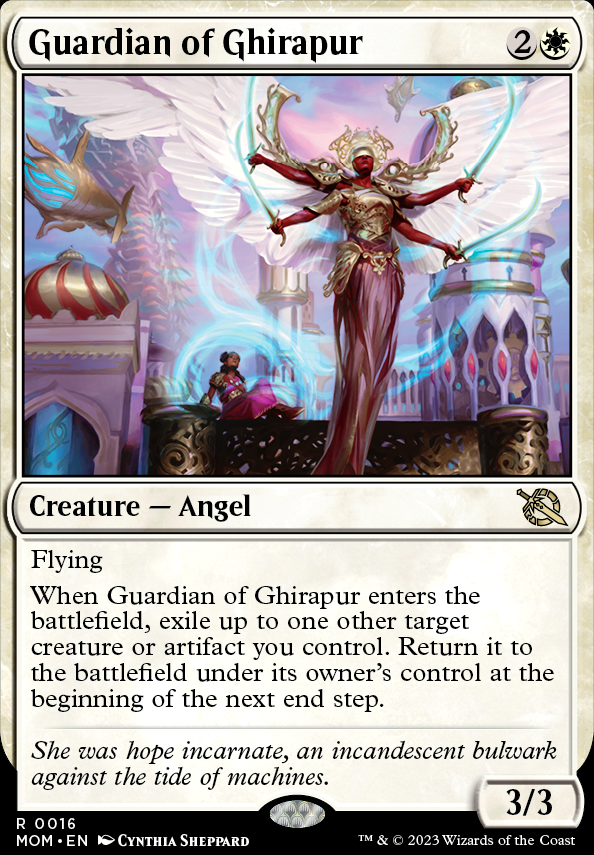 Legality
4 months ago
Ah, I guess spoilers don't work in comment boxes, that's annoying.
4 months ago
All,
Grabbed all my 3+ pod gameplays and the recent MOM gameplay and swaps and posted it on my own decklist. I'll keep commenting on Guerric page as it gets more traffic. Let me know your thoughts and if my thinking is sound. Thanks!
5 months ago
Now that the full card list is up and searchable I figured this is the current breakdown.
Invasion of Gobakhan  Flip flips to Lightshield Array  Flip
The front side of this battle card doesn't do much except maybe slow down the strongest player. We wouldn't necessarily play it on curve but flipping the battle would be pretty easy and its effects would happen the same turn we flip it. Not only does it grow the entire angel army with continued aggro it serves as a protection piece against single target removal or damage spells which is great. Also, when we sacrifice it the battle goes into graveyard which can then be recurred with Serra Paragon or Emeria Shepherd.
I fully suspect this card to be double digits on release as it does so much for white aggro decks. Getting card draw on an angel stick is great and it curves out perfectly. It also encourages others to aggro your opponents, usually the combo players.
There aren't many 3CMC angels and this one has a pretty useful ability. Unfortunately we don't have too many ETB targets for it. Typical targets would be Inspiring Overseer or Sanctuary Warden for the draw or a mana rock to drop more threats.
This enchantment has the same effect as Firemane Commando but lacks any other useful effects. It fits into the same category as Folk Hero as it'll essentially be a draw a card per turn. While Hero would require Giada to be out, Alliance would require 2 creatures to attack. I figure after a board wipe it would be faster to draw with Hero as you could drop Giada and another angel and draw. If you have Alliance then you could do the same but then need to wait a full turn to attack in order to draw.
This equipment is great for tribal decks and can serve as additional card draw for 3CMC total. I'd say it serves a better purpose than Rogue's Gloves as the total cost is 1 less and it provides a slight buff, provides vigilance, triggers on attack instead of combat damage and can pull threats from the deck. On the off-chance that it whiffs then it's obviously worse but with 29 Angels in the deck statistically there's 1.75 Angels out of 6 cards.
This was mentioned in an article as the best white card of the set. I think it serves as a decent protection spell for 1 but I'm not sure how many we'd actually want in the deck.
Invasion of Dominaria flips to Serra Faithkeeper
Apparently this card isn't in the database yet but gaining 4 life and drawing a card is OK for 3CMC. It'll help trigger the lifegain payouts when there's no lifelinker on board. It also flips into a Serra Angel which is decent although you need 5 damage to flip it. I also like how it's recurrable like Invasion of Gobakhan  Flip.
5CMC for its effects just aren't that great.
No specific angel buffs :(