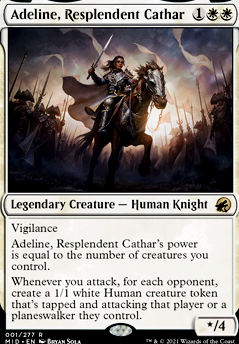 Adeline, Resplendent Cathar
Legendary Creature — Human Knight
Vigilance
This creature's power is equal to the number of creatures you control.
Whenever you attack, for each opponent, create a 1/1 white Human creature token that's tapped and attacking that player or a planeswalker they control.
Adeline, Resplendent Cathar Discussion
1 week ago
Notable Human Tribal cards that I feel have a place in here:
4 weeks ago
I like the deck, but you're missing a lot of my favorite token deck cards. Here's a list worth perusing. It's a long list, and I wouldn't expect that you could find room for all of them. Just something to give you some ideas to think about.
Also, if you already have any of these on your list and I didn't notice, I apologize.
The only other thing I might mention would be Monologue Tax, which would be useful the way that you have your list set up.
Cheers!
2 months ago
kirbysan I'm confident The Meathook Massacre will find a place in the deck. The lifegain triggering off opponents' creatures is incredibly strong with boardwipes, and it also seconds as a boardwipe. It won't take the spot of any of our current wipes, acting more as an additional Blood Artist, but the fact that it can be used as a wipe ups our control potential. Not sure what the best cut is, but it's certainly stronger than a few current cards in the list. I just wish it were a creature so it could proc off itself and we could fetch it with creature tutors, but at least enchantments are hard to kill.
I think you're right that Dreadhound is too expensive. Similar to Syr Konrad, the Grim, we achieve this effect by cheaper means via Blood Artist and friends, and we don't gain much from additional procs off mill.
One card I've been keeping an eye on is Adeline, Resplendent Cathar. As long as we have a piece of fodder to attack with each turn, she's pumping out 3+ tokens every turn. On a similar level to Ophiomancer, 3+ tokens on our turn every round is as good as it gets, especially since it can proc as soon as she comes town. She's also quite big for a 3 mana creature, making her hard to kill and a strong attacker early game to consistently proc her own effect. The only unfortunate thing is that the tokens have to attack, and we have to attack to create them, meaning we can't sit on them while we build our board. However, she still does a great impression of Elspeth, Sun's Champion at 3 mana.
Eloniel We're always happy to play more aggressively costed drainers, especially one with additional versatility. I find Falkenrath Noble and Vindictive Vampire are too expensive. Our 4 mana options usually do more, like Luminous Broodmoth or Elenda, the Dusk Rose providing exponential value. I could see us playing as many as 7 good 2-3 mana drainers, as I always find myself wanting more in-game.