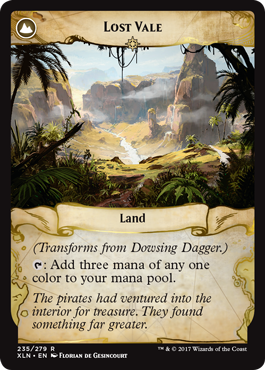 Front:
Dowsing Dagger
Flip
Legality
6 months ago
My typical decks are Muldrotha, the Gravetide recursion, Teysa Karlov aristocrats and a Shorikai, Genesis Engine mechs. Those three usually have big flashy plays for instant wins so this deck definitely plays different. I looked over your whole primer and took your advice to heart to reduce the number of changes and focus only on your new additions and lands. I ran a few games using your methodology for mid-range aggro decks and listed how the deck performed. Let me know if this helps helm the host!
6 months ago
I love your deck and have been using it as a template as my regular deck for random pub games. While it performed pretty well without any upgrades, I found it ran out of steam mid to late game after I get blown out by a board wipe. After a game or 2, players would usually exile Giada the moment it hits the board, slowing down our ramp signifcantly. Also, if we miss a land drop mid-game, we're basically stuck waiting for a good draw. I realized that building an early oppressive board state begs for a board wipe when everyone else is still building but it sets us back significantly. With that in mind, I cut a lot of the lower CMC angels and built more towards value/recursion. Based on your comments it seems that this deck is more budget focused but since I'm making this my main, I've decided on pulling the best cards from other decks for some spicy upgrades. Let me know what you think below (sorry for the wall of text):
1 year ago
seshiro_of_the_orochi That's what I'm saying. People should just talk before the game to set expectations instead of crying and hiding behind some "social contract." Because that is what I run into when people bring it up in the wild. Just a list of like 20 things they refuse to play against. Ever.
Like in one game I was playing we had set expectations around power level 6 or so. One of the guys had a Lost Vale and I blew it up with a Ghost Quarter. He was pretty far ahead of the rest of the table but complained about land destruction being against the spirit of the format. He stormed off saying he'd never play with me again. Which is fine with me but a little crazy too. The number of folks who refuse to even sit down at the mention of combo is crazy too. When I offer up a different deck that doesn't combo about half still refuse to play.
Not to say I don't get games in still. I do get a good number of them and most people I play against are decent sorts.
3 years ago
Battlefield Forge, Caves of Koilos, Command Tower, Conqueror's Foothold, Crypt of the Eternals, Forest, Gingerbread Cabin, Gold-Forge Garrison, Grove of the Guardian, Holdout Settlement, Island, Llanowar Wastes, Lost Vale, Mountain, Plains, Primal Wellspring, Rupture Spire, Shimmering Grotto, Spires of Orazca, Swamp, Temple of Aclazotz, Tomb of the Dusk Rose, Treasure Cove, Wandering Fumarole, Wastes.
I used to give me a complete list of lands and subtraced what you had. I know Command Tower doesn't actually do anything but it's still legal. Do with that what you will. I also added the basics. They seem unnecessary but the addition of Wastes may be useful information.
Hope this helps!
4 years ago
Darth_Savage While Phyrexian Obliterator might not be hard to work around, the problem is that it isn't the only things I have to work around.
While taking a 2 to the face because of Eidolon isn't much, taking 2 after a 10 damage combo due to Monastery Swiftspear Prowess + multiple spell shenanigans and could be the difference between winning or losing.
But you are right about Vengeful Pharaoh it's a dead card considering getting 3 of the same mana is hard for a tri color deck.
My point for my deck right now is to figure out answers for all the current deck archetypes, without sacrificing card economy. Hence everything being useable from the graveyard.
Like for example, against milling Ratchet Bomb for Leyline of the Void removal, or if that fails, just keep casting Nexus of Fate.
Against burn decks Sun Droplet to discourage burns until they can "burst me to death," and either damaging myself via Rekindled Flame if I have two sun droplets, prepping Ratchet Bomb for the inevitable Eidolon/Bedlam Reveler, or just gum them for life with Vault Skirge, forcing them to waste a spell on it.
Ulamog is there as both a failsafe against dredging myself to death, and a probable win condition.
There's also the synergy with Lost Vale and Vesuva, that form of mana ramping is pretty hard to pass up.
4 years ago
TheChrisWaits: Oh, man, it's been amazing (in multiplayer). Give the plants to Player A, swing at Player B (often with a snake they don't want to block), get Lost Vale untapped?? I usually manage to play, equip, and flip in the same turn. The ramp is great, and the plants are convenient places to stick -1 counters when my opponents don't have creatures.
5 years ago
I think if you're going for the Fleet Swallower + Fraying Sanity win, it's probably right to focus on only that and take out the other mill cards. Both Navigator's Ruin and Compelling Argument are much, much slower mill options and they actually make Fleet Swallower less effective on its own since there will be less cards in the opponent's library already. :P
Instead, you could add much more card draw to get to Fleet Swallower and Fraying Sanity quicker. If you want to keep the unblockable creature aspect (it kind of splits your win conditions, but I see the appeal) you could go up to 4 Curious Obsession and add 4 Chart a Course for great, cheap card draw, plus maybe 1-2 Pull from Tomorrow to use all the Lost Vale mana on.
It could be a fun option to have a transformational sideboard into mono-U aggro, as in this list, with 4 Skyship Plunderer, 4 Siren Stormtamer (also a consideration for maindeck as it can protect the Swallower), 4 Unsummon, Cartouche of Knowledge, etc. That way people who bring in anti-mill cards will be stranded with useless cards.
A word of advice, though - one advantage of mill strategies is usually that they're creatureless and blank a lot of opposing removal. You'll find this deck is kind of torn between combat damage and milling the library. But the two card win in Fraying Sanity + Fish alleviates that somewhat.
Load more