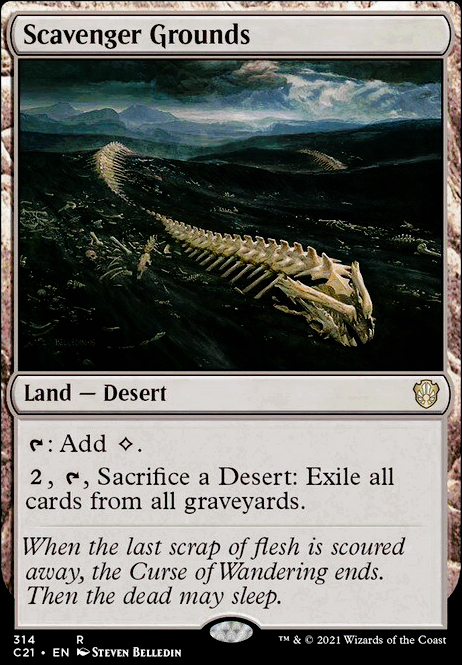 Scavenger Grounds
Land — Desert
: Gain .
, , Sacrifice a Desert: Exile all cards from all graveyards.
Latest Decks as Commander
Scavenger Grounds Discussion
1 week ago
Hey! Kinda late, but I would like to suggest some stuff:
(Disclaimer: I have a budget way lower than yours, but I've been tinkering with Ghired for almost two years - he's my favorite commander. I'll break the suggested upgrades down into categories for better organization.)
Haste enablers:
Ramp: Run at least 15 ramp cards to make your deck flow smoother and faster.
As an aggressive deck, speed is fundamental. Fellwar Stone, Nature's Lore, Three Visits, Skyshroud Elf, Bloom Tender, Faeburrow Elder, Chromatic Lantern, Coalition Relic, Wood Elves, Skyshroud Claim and Mirari's Wake can ramp and heavily fix your mana, taking the place of Gyre Sage, Solemn Simulacrum, Rampant Growth, Sakura-Tribe Elder and Xenagos, the Reveler - the latter is a win-more ramp, and his 2/2 token is not large enough to synergize with the power-based card draw, while the other four fix for a single color of mana (Ghired decks can sometimes be color-hungry), and this deck can't abuse the sad robot for value.

In the land department, Krosan Verge and Blighted Woodland pull their weight, and synergize greatly with Avenger of Zendikar and Rampaging Baloths. Maybe remove Cascading Cataracts? (Your spells are not THAT color hungry.)
Direct damage:
Extra combats: You don't have to worry about your opponents' answers if they never get to their turn, so...
Boardwipes:
Card draw: Alongside ramp, it is my main concern with Ghired. I want to be able to rebuild my board after a boardwipe.
Some cards I suggest you to remove:
Some cool lands for you to try out: (landbase is my favorite part of deckbuilding)
I hope I've been of some help to you. I didn't suggest many token-related cards because I believe that, as long as you have decent ramp, draw and removal in your deck, you can win to your heart's content. Wanna throw in a Godsire? Do it. Prefer to clone your opponents' creatures with Hate Mirage? Go ahead. But the fundamentals of the deck is what makes it flow consistently. Have fun and smash 'em all (and run Doubling Season for extra fun) ;-)
2 weeks ago
Seeing how much dessert land you got it would be a shame not to include this one Scavenger Grounds
1 month ago
I would add: Nature's Lore, Rampant Growth, Three Visits, Moss Diamond, Skyclave Relic, Glorious Sunrise, Elvish Mystic, Llanowar Elves, Arbor Elf, Llanowar Tribe, Reclamation Sage, Bala Ged Sanctuary  Flip Bane of Bala Ged Avenger of Zendikar Wood Elves Farhaven Elf Priest of Titania Archetype of Endurance Old Gnawbone Soul of the Harvest Scavenging Ooze Wolfbriar Elemental Howl of the Nightpack Harrow Scavenger Grounds Ezuri, Renegade Leader
2 months ago
Coward_Token I like to stay between 30-34 lands and that works for me most of the time, with mana rocks and draw. I do like the idea of adding Scavenger Grounds. I don't have a very aggressive playstyle, so I don't think Umbris, Fear Manifest power will be something I even pay attention to unless I am trying to close the game out.
2 months ago
More finetuning thoughts:
Land count feels low. I like the rule of thumb of 31 + commander_mana_value + commander_colors; that would be 38 in this case. On a related note, do you think the deck will still be able to do its thing decently if Umbris gets too expensive to cast? I have a feeling people will be scared of it getting too big; a random Scavenger Grounds after a board wipe could push it into 30+/30+ territory
5 months ago
There's so many cards that recur cards from your graveyard in every color, you're doing yourself a disservice if you don't run anything.
Especially in a format like Commander, where your opponents combined probably run more answers than you have threats in your deck, you need to make sure that a simple opposing Wrath of God or an overloaded Vandalblast is not the final word on your gameplan, or you're gonna have a bad time in the last half of the game. You could try and fix the problem with tutors and card draw, which you should already be running, of course, but in a singleton format, there's a chance you just need that unique effect once more, but the card is in your graveyard. A Bala Ged Recovery  Flip, an Eternal Witness, a Mystic Sanctuary, a Reanimate or a Sun Titan can work miracles for you in those situations, and even with a Rest in Peace in play, none of them are completely dead cards. So low risk, high reward, and you don't need to focus on a graveyard strategy to enjoy the benefit of reusing its cards.
For exact the same reason, you should run some graveyard hate. Something like Scavenger Grounds or Soul-Guide Lantern which still has other utility even if you don't have to exile a graveyard. Low opportunity cost with max utility, every deck can run them. They don't hurt in your hand, and well timed use can even win you the game.
Or you could lean into not using the graveyard and Rest in Peace to hose everyone who agrees with what I just said ;-)
Load more