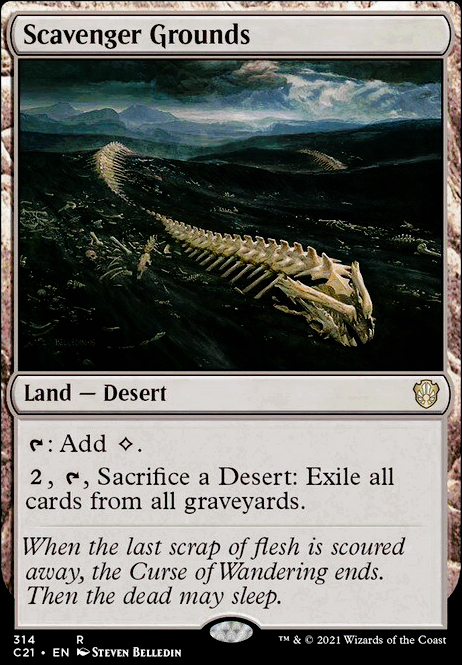 Scavenger Grounds
Land — Desert
: Gain .
, , Sacrifice a Desert: Exile all cards from all graveyards.
Browse Alters
Trade
Legality
| | |
| --- | --- |
| Format | Legality |
| 1v1 Commander | Legal |
| Arena | Legal |
| Block Constructed | Legal |
| Canadian Highlander | Legal |
| Commander / EDH | Legal |
| Duel Commander | Legal |
| Gladiator | Legal |
| Highlander | Legal |
| Historic | Legal |
| Legacy | Legal |
| Leviathan | Legal |
| Limited | Legal |
| Modern | Legal |
| Oathbreaker | Legal |
| Pioneer | Legal |
| Tiny Leaders | Legal |
| Unformat | Legal |
| Vintage | Legal |
| Casual | Legal |
| Custom | Legal |
| Quest Magic | Legal |
Latest Decks as Commander
Scavenger Grounds Discussion
2 days ago
With
Modern Horizons 2
we get the best update for this deck since
Theros: Beyond Death
. We have two fabulous new toys and a great reprint to add to the deck. Id I hadn't already picked up a copy of
Solitary Confinement
we'd have four, but if you haven't yet definitely do, as its one of the most busted cards you can get for this deck. Without further ado, here are the cuts and adds with justifications for them.
Sterling Grove IN Open the Vaults OUT
I've wanted this fabulous little treasure for awhile as it definitely belongs in the deck. It combos with Privileged Position to make our entire board invulnerable, and ourselves too if we also have Solitary Confinement on the board. To top it off we can always sacrifice it in the later game to tutor any enchantment we want, which can often be game winning. Open the Vaults is at best an emergency card that most of the time does nothing. Wraths in general are declining in the format, and mass enchantment removal is even more rare. It still does nothing if they exile our enchantments, and we can still mass recur them with either of our planeswalkers, or stop the wipe in the first place with Arcane Denial . Its just not worth the slot.
Sythis, Harvest's Hand IN Rest in Peace OUT
We have a new enchantress on the block! And this isn't just any old enchantress, but a legendary one who costs two mana, is an enchantment creature (hence super tutorable) and has no restriction on cards that can be drawn per turn. Fabulous! Rest in Peace is only good as graveyard hate, and I'll probably just slide Scavenger Grounds into the mana base to replace it. It'll be better of in my Ranar the Ever-Watchful deck. :)
Sanctum Weaver IN Island OUT
We finally have an enchantments tribal version of Elvish Archdruid , or a non-land version of Serra's Sanctum . Amazing! All the mana this can generate will allow us to cast Omniscience easily, at which point we won't need it any more. As for the Island, this deck draws cards like mad and can definitely do with only thirty-six.
1 week ago
Remove:
Add:
That's all I can think of for the moment.
2 months ago
11/12 LANDS
4 ROCKS
2 months ago
Cool idea, I've never seen wolf tribal before! :-) I'm not familiar with wolf tribal, so I won't recommend specific tribal cards. But I will comment on the general deck structure:
cheers
2 months ago
Their is a lot of thoughts I have about this but, in short why call this storm? You have no "storm" payoffs. With that in mind look at other counter burn decks on this site and you can get a few tech thoughts up grades.
Like Scavenger Grounds should go. what can it help you cast? Stormwing Entity and Manamorphose . Tormod's Crypt would be better, it triggers Prowess and still cost 0.
Load more