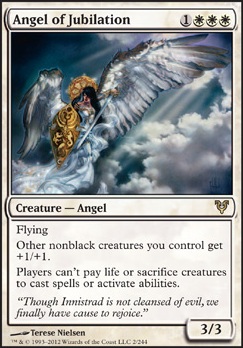 Angel of Jubilation
Creature — Angel
Flying Other nonblack creatures you control get +1/+1. Players can't pay life or sacrifice creatures to cast spells or activate abilities.
Latest Decks as Commander
Angel of Jubilation Discussion
6 days ago
The first major update to the deck has been completed, the major theme being
more draw.
All of my initial testing showed that this deck goldfishes very quickly, but is hungry for resources, and that just drawing one extra card per turn, which it was consistently able to do, wasn't enough to feel like we had options and could easily rebuild after a blow out. Burst card draw pieces like
Well of Lost Dreams
and
Thorough Investigation
(which builds up tokens to be used as burst draw later) have been the powerhouse pieces. As such, the idea with this update is to add either more of those, or more one card per turn pieces so that it is likely we can have two of them out most games. Below are the lists of cuts and adds with justification.
1) Burnished Hart OUT Pearl Medallion IN
Hart is a great card, and research suggests it's one of the winningest cards in EDH, so naturally in a monowhite deck that a land ramp piece like this would seem to be great. I think the issue for it here is it just isn't fast enough for the deck. Giada doesn't need to ramp a lot to be relevant, and in testing I've found that we often have something more urgent to do cast it initially or sac it to get the lands. It's still a great card, but likely better suited to more controlling decks. What is amazing in this deck, however, are cards that discount creature spells like Herald's Horn, as we can use them to more easily put out multiple pieces in a turn at discount. Making your four drops three drops is incredible acceleration that suits our gameplan just fine. And Medallion does this not just for our creature spells, but any spell in white. It's fabulous!
2) Cosmos Elixir OUT Vanquisher's Banner IN
Elixir is theoretically a good card in this deck as it can draw cards off life-gain or gain life. The problem is it never does both, it draws one extra card per turn at most, and costs 4 mana for the privilege. It's equivalent card would be Sigarda's Splendor, but that always gains us life, and is simply based on not having lost life from the last noted turn, which is more reliable. Banner costs more, but its floor is replacing every angel we cast with a card, and its ceiling is drawing several cards in a turn, so it's better all around. The anthem is just gravy.
3) Welcoming Vampire OUT Mask of Memory IN
While a fabulous card, Giada's ability ensures that we won't draw cards with angels off of vampire. It will definitely find a home in a new deck. Mask of Memory, however, is great. It costs two and equips for one, meaning an easy early line of play would be to cast it turn three, attack it to Giada, and get an engine going. We get to draw two cards and then discard the one in our hand we need least, which allows us to be up a card while moving through the deck to what we need. Sometimes we might even discard a good card only to recur it with another later, so there are lots of nice little possibilities with this one.
4) Mirror Entity OUT Sanctuary Warden IN
So far we've replaced subpar draw with better draw, but no we are upping our count. I've never like entity, but I thought it might be better here since Giada gives it counters that make it more resilient when not being pumped. Still though, like all changelings, its an angel that doesn't fly, which is wicked annoying. Moreover, while its ability is a powerhouse with 1/1 tokens which can be turned to 4 power with 4 mana, it's not so great when the average power of an angel is already 3/3 or 4/4. It will weaken some of your angels, and where it improve them it takes a monstrous amount of mana to do so. Finally, while one might be tempted to add Reveillark to complete the combo with entity and Karmic Guide, we have to remember that Giada shuts entity off from killing the board, effectively shutting down the combo. It's just bad, trust me. This is where a lot of online deck tech's fail. They just throw it in because its an "angel" and a generically good card without thinking through the consequences! Meanwhile, while costly Sanctuary Warden is an absolute powerhouse. It immediately replaces itself, and can draw cards more cards this way for free by being blinked with Sword of Hearth and Home. It's an engine that draws us cards every turn, and we can use our plentiful supply of +1/+1 counters to power it, leaving the shield counters to protect it from most removal and board wipes. It's an all-star card.
5) Plains OUT Tome of Legends IN
I'm hoping I don't regret going down to 35 lands, but I think the deck can sustain it, especially when we are upping the draw. Tome is an amazingly good and underrated card. It can net us an extra card the turn we cast it, and can draw one every turn as long as we attack with out commmander, something that isn't too hard to do here. Keep in mind, Giada has vigilance, so even if we want to tap her to cast an angel we can always do so on our second main phase! The best part of this card is that it costs only two mana, allowing us often to ramp it out turn three with another angel or put it out early with another two drop. It's been great in other decks and I expect no less here!
6) Archaeomancer's Map OUT Eye of Vecna IN
This might be a more controversial cut, but I don't think I need the ramp map theoretically provides, and it can be a tricky card to play here. Ideally you'd want to get this down turn three, in order to ramp lands based upon your opponent's turns, but you'll have to discard if you do unless you played a one drop turn one. It's not as great late game, and the ramp is conditional based on having the extra land in hand and not missing a land drop, which can happen without enough draw. Eye immediately replaces itself and draws one card every turn for the low cost of 2 life, which we aren't worried about at all here. The only downside is that Angel of Jubilation shuts it down, but that is a narrow enough case that it isn't worth not playing a 2cmc draw spell over.
7) Disenchant OUT Together Forever IN
We have plenty of removal and I think we can afford to cut our least relevant piece. Together Forever is amazing, cheap, efficient protection for our entire board, including Giada. It can save our stuff from being destroyed by removal or damage, and has value as repeatable single-target protection and board wipe protection. I expect this to be an all-star piece.
8) Desert of the True and Drifting Meadow OUT War Room and Bonders' Enclave IN
I hated these cycling lands in early testing because they are just not worth having the lands come into play tapped. War Room and Enclave actually draw us cards, and come into play untapped. Sure, 4 mana is a lot for a single card, but there are times we will be happy for it, and in a monocolored deck the colorless nature isn't too much of a drawback.
9) 2x Plains OUT Emergence Zone and Seraph Sanctuary IN
Why not attack lifegain to a land? Sanctuary is just an obvious card for this build that I somehow missed the first time around. Zone is a deeply underrated card that allows you once in a game to get the jump on your opponents by becoming a one turn Vedalken Orrery. The element of surprise is what often wins you games in aggressive decks, and this card allows for that!
So that's the first update! I'll have updates to the primer coming later today or tomorrow. Hope this helps all of you as you build and play the deck!

6 days ago
I got in a three player game today against a fast
Anowon, the Ruin Thief
deck and my own
Feather, the Redeemed
deck which another person was playing, which is optimized. The MVP of the game was the almighty duo of
Sanctuary Warden
(just recently added to the deck) and
Sword of Hearth and Home
, which it turns out is a devastatingly powerful engine. While Anowon deck exploded out of the gate and was soon milling me four cards per turn, the Feather deck was slowed for the first few turns because he kept a hand with no red mana, which definitely helped. I drew
Sword of the Animist
in the first couple of turns and soon had Giada herself swinging with both, which meant I had absolutely no mana problems at all throughout the game, and felt like I was in a green deck.
Sanctuary Warden
was the first angel I got on the battlefield besides Giada, and she was an absolute powerhouse. Not only did
Sword of Hearth and Home
put a fresh, untapped plains onto the battlefield each turn, but it blinked
Sanctuary Warden
, allowing me later to put more counters on it after more angels were out, and drew a free card pretty much every turn. The milling actually helped out a couple of times because it milled me through some land clumps that would have been dead draws, and combined with two swords my deck was thinned to the goodstuff near the end. I ended up oblating the Anowon player's best mill piece and hitting him exclusively with my ever-growing angelic armada, which had been reinforced by
Archangel of Thune
and
Angel of Jubilation
. In the mean time, the Feather player had stabilized, hitting one of his tokens with
Path to Exile
to rapidly catch up in ramp, and began doing what feather does best. At that point I hit him for the first time with some large angel tokens generated by
Archangel of Thune
and
The Book of Exalted Deeds
, and also finished off the Anowon player, who I knew had a counterspell in hand, and then tutored up
Sephara, Sky's Blade
with
Search for Glory
and promptly played it! I knew he still had Path in hand, but was pretty confident he didn't have enough mana to both path Sephara and wipe my board the same turn. And that was where I made a huge mistake! I should have seen it coming, especially because it was my own darned deck and he had exactly four mana open. Instead of just swinging with just a little bit more power than I needed to kill him and holding Sephara in reserve, I just alpha swung with everything, thinking the game was over. And then I got my
Comeuppance
! It was absolutely brutal watching my whole board go to the graveyard and none of my damage or life-gain triggers working. Thankfully, Giada was saved by
Sword of Hearth and Home
and
Sanctuary Warden
was saved by her shield counters. Clearly they were still the MVPs! Since all of my mana was still untapped and I had cards in hand I played in quick succession, piling them with counters again. He wasn't able to come back even after his epic play, and on my subsequent term I finished with a win. It was certainly an enlightening game, aside from showcasing the power of two specatacular cards. I made quite a few misplays, and was fairly sloppy. Aside from the
Comeuppance
debacle I missed all of the on attack draw triggers for
Sanctuary Warden
and also forgot to scry and draw each turn with
Herald's Horn
, which was on the battlefield for a good part of the game. The deck was nonetheless strong enough to overcome these misplays. I've heard some people warning potential players on Reddit and elsewhere that
Sanctuary Warden
is a trap and not good enough, though others have defended its inclusion. After my experience today, there is definitely a lot of evidence in its favor. I'm also amazed that I was able to pick up
Sword of Hearth and Home
so cheaply still.
Smuggler's Share
costs three times enough and while good, is a narrower card that won't be anywhere near as expensive as the second best sword of will be in several years. Definitely invest in it now! As expected,
The Book of Exalted Deeds
and
Archangel of Thune
also played a role, and the deck still seems to have a great curve and lots of synergies.
1 week ago
New cards an en route in the mail, and I think I know how I am planning to update the deck. In the meantime, I'll continue to play as it is, but I can announce final plans later this week when the cards arrive. As of now, here is what I am planning, please let me know if you agree or disagree with any of my thinking as it could help me avoid errors.
1) Cosmos Elixir OUT Vanquisher's Banner IN
Elixir works in this deck but is my worst draw piece in that it only gives life if I don't draw, I have to have over 40 life to draw, it costs 4 colorless mana to cast, and it at most can net me one card per turn. The all star draw pieces so far are those that allow burst draw such as Well of Lost Dreams and Thorough Investigation. Banner allows for this burst draw as every angel replaces itself with a new card, and tokens net us free cards. Its one mana higher but the upside makes it a far superior card. The anthem is just gravy really.
2) Disenchant OUT Tome of Legends IN
I think there is sufficient removal in this deck, so I can afford to cut my worst piece. This deck needs more draw and better draw, so adding a card that can consistently net me an extra card most turns is great.
3) Welcoming Vampire OUT Eye of Vecna IN
Even though many of my angels are weenies they don't ETB that way. As such, vampire is subpar card draw here, whereas normally it is premium for white. Eye may only get me one extra card per turn but it is cheap, fairly unconditional, and I'll have plenty of life to power it. The only downside is that Angel of Jubilation shuts it down, but I think that in most cases I'll be glad to have the option to draw.
4) Mirror Entity OUT Sanctuary Warden IN
I can't believe I missed Warden on the first round. It is unlimited draw in this deck stapled to an angel which has quite a bit of built in protection due to the shield counters (which we won't have to use to power it thanks to Giada). I'll confess I've never liked Entity, though in this deck it has some additional upsides and additional downsides. As for upsides, the counters help it a lot. One reason I feel like Entity is weak normally is that it often dies to ping effects if you don't reserve mana to pump it. I've seen this over and over again over the years, but the counters Giada gives it here mean we can rest easy. Another advantage is that it is an angel here, so the deck supports it well. A disadvantage, however, is that it is less useful and necessary. It is most powerful when it turns 1/1 tokens into 4/4 threats and provides a massive swing. It does little in this deck unless we pump at least 5 mana into it, and even then the improvement is marginal. A second disadvantage is it doesn't fly. Even an Angelic Page is a huge threat in this deck that can go over a defensive line, whereas Entity can be chump blocked easily. Thirdly, it can't enabled combos in this deck because of Giada. We are playing Karmic Guide, so a thought might be to add Reveillark and enable the combo so we can gain infinite life and do other recurison shenanigans. The problem is that this approach relies on paying zero into Entity to kill the board, but the board won't die to counters, so Giada shuts the combo off. Overall I think this isn't worth it, I sentiment I feel about pretty much all of the non-flying changeling cards that we might think would be good to put in.
5) Plains OUT Together Forever IN
I think with enhanced card draw of the update and Giada's ramp ability I can afford to go down to 35 lands, something I have done successfully in other low-to-the-ground aggro decks. Together Forever is premium protection here that also allows Giada to give herself some protection. What I especially like about this card is that it can serve as protection from both targeted removal and board wipes. The deck has done well so far, but well-played protection is key, and this is one of the most flexible pieces there is.
6) Archaeomancer's Map OUT Mask of Memory IN
This is likely to be my most controversial change as Map is a good card that fetches some lands and can ramp over the course of the game, provided we have the lands in hand. It may be bad! That being said, ramp is less of a problem here because of Giada and because of our curve. Map is bad turn three play where we sometimes want to ramp, because it leaves us often having to discard on our end step. I think with our curve and Giada what is important is simply to draw into our land drops, and extra ramp is gravy. That means more draw is better than more ramp, and between Map and the swords/dagger I think the latter are better land fetching/ramp pieces in a deck with evasive creatures. Mask is great because we can see two cards every turn and discard whatever is least relevant in our hand. It can also go down on turn three and be immediately attached to Giada and used right away to get things going.
7) Angel of Finality OUT Angelic Curator IN
Finality isn't great here, as the body doesn't matter too much and cmc is less conducive to a go-wide and high theme than a 2-drop. I think more turn 2 angels has some advantage here, and this is the best of the bunch (other options would be changelings that don't fly). 2-drop angels allow us to play an angel and a support piece like Tome of Legends on turn three, or even play two angels. Four drops can also be good turn three if they are high impact, which Finality is not. It was only in to be an anti-graveyard piece, but is just bad when there are no serious graveyard threats. As such, I'll address that by putting Scavenger Grounds into the mana base and drop the curve to a better place.
8) Mana Base Changes- I'm going to cut two of three cycling lands as this deck really doesn't want lands coming into play tapped, especially early in the game, and the cycling option just isn't worth it. I'll keep Secluded Steppe for now on account if its efficiency, but the others are gone. They'll be replaced with War Room and Bonders' Enclave, which tap for colorless but come into play untapped and give us additional card draw options that we need. Since we are only in one color we can afford more colorless lands than other decks, but we want as many to come untapped as possible due to the fact that we always have stuff to do early. I'll also add Seraph Sanctuary for more life gain and Scavenger Grounds to deal with problematic graveyards.
Those are the proposed changes. Let me know what you think!
1 week ago
I've ordered some cards and pulled a few from my binder which I may add to the deck, but while they are enroute I thought I'd telegraph my thoughts on them so that some of you can weigh in with your thoughts.
1) Draw Lands- War Room and Bonders' Enclave While I don't like using four mana (including the land itself) to draw a card, I'll be happy to in a pinch or when the mana is free. These are not primary draw, but they will add options and I think get use, and since they don't come into play tapped that's good.
2) Seraph Sanctuary Missed this one in my first build, but it's obviously great here.
3) Emergence Zone This is a hidden gem most people forget about. A huge piece of aggro is the element of surprise, and this allows us to make bigger plays and functionally double mana by playing on our opponent's end step before our turn. It's great.
4) Sanctuary Warden This is another painfully obvious choice that I missed on the first round (I should have read the card more closely). It's an angel draw engine in Giada that leverages our Giada counters rather than the helpful shield counters it comes with. Nice.
5) Tome of Legends This is a favorite draw piece for me in two of my other decks, so I was thankful that someone reminded me of it. It also fits our low curve nicely.
6) Vanquisher's Banner This card does not fit our draw curve as nicely, but is broken and probably the second best draw engine for this deck.
7) Eye of Vecna I saw this in a few other lists and it seems great. Why not pay a small amount of the life we are gratuitously gaining for a card each turn? For 2 mana, and we get a card immediately when we play it! The only downside is that Angel of Jubilation shuts it down, but that is a narrow case.
8) Mask of Memory I saw this on other lists as well and it seems like a good choice. We get to look at two cards, end up one, and discard what we need least. There could also be lines of play where we discard a good card like Gisela, the Broken Blade  Meld and return her with Bruna, the Fading Light  Meld, so there's that too.
9) Together Forever Premium protection from both board wipes and targeted removal. And for an efficient cost. What's not to like?
2 weeks ago
As people in the thread said, if you really wanted your playgroup to hate you, things like Armageddon, Null Rod, Deafening Silence, Spirit of the Labyrinth, Rule of Law, Archon of Emeria, Angel of Jubilation, Thorn of Amethyst, Sphere of Resistance, Winter Orb, and Smokestack are all super fun cards you can run.
3 weeks ago
So first things first - I see you swapped the commander to Atla Palani, Nest Tender, and I do think that she is stronger for cheating things into play as her plus her ability costs the same as a single Mayael the Anima activation, her ability triggers whenever an egg dies, and besides her you only have one egg producer in the deck - Nesting Dragon - and you aren't running any token doublers, I'd advise running something like Rings of Brighthearth or Illusionist's Bracers to copy her ability, allowing you to potentially cheat in multiple things a turn. However, her ability only triggers when something dies. I see you have Ashnod's Altar and Phyrexian Altar in the maybeboard, and they're definitely probably your best options to accomplish this as that mana can also be used to cast angels in your hand.
Also, your CMC is 4.03, which is ridiculously high. You also aren't running any mana ramp outside of artifacts, which while your commanders ability is based around cheating things into play - if you don't have access to your commander or sac outlets than you're screwed. Things like Cultivate, Kodama's Reach, Migration Path, or cards like Birds of Paradise, Avacyn's Pilgrim, Fyndhorn Elves, or even cost-reducer cards like Starnheim Aspirant, Pearl Medallion all can make a big impact. Or, even just swapping some of the higher CMC angels out for lower-costed ones, like Angel of Vitality, Angel of Jubilation, Resplendent Angel and Righteous Valkyrie can go a long way towards a smoother game.
3 weeks ago
So I am really digging this deck but, I see you have the same issue that most mono white decks have which is card draw. A few cards that you might want to consider to help on the draw front are, Sigarda's Splendor, Cosmos Elixir, Rogue's Gloves and,Mask of Memory. I have personally found the last two equipments work really well in my angel deck as your creatures already have evasion.
From the creature front here are a few creatures I would condsider adding:
A few other cards you might want to consider:
Lastly you have a lot of 7 and 8 mana drop angels in this deck and unless they are actively winning you the game as soon as they come down then I would consider removing them. Think about it, for the same mana as Akroma, Angel of Wrath I could play Insurrection which can win me the game as soon as the spell resolves. That being said Insurrection is not even a spell that I actively play due to it costing so much mana. Just food for thought as I would personally consider removing some of your bigger angels for some of the lower costed angels I listed above as it would help to smooth out your curve and make your games more consistent.
Still really cool deck!
1 month ago
Angel of Jubilation is the beater angel that was needed in the deck! Complete honesty tho, Indomitable Archangel and her are a deadly duo. I kept both in for extra goodness!! Thanks Very Much for this addition!!
Load more