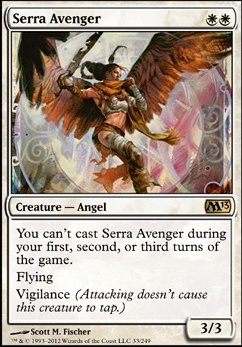 Legality
1 month ago
I got in two more games today as part of a club I lead. 1v1 unfortunately, but it was up against a fairly controlling
Ranar the Ever-Watchful
deck with flyers and was a good matchup, and I still feel like I learned a bit about how the deck works and what some key cards are.
I must not have re-optimized mana well after the previous session because I only drew three lands over the course of the entire first game. That being said, I still won! Even with only three mana and Giada the curve allowed me to do most of what I wanted to do and put most of my angels out, so the curve and the deck's ability to put up a board state quickly even with limited resources is great. The all-star of the first game was Crashing Drawbridge, which, as I suspected, is great in this deck. I finished by playing out Serra Avenger and Angelic Curator (with plenty of counters) and then swinging with them and all of my other angels for lethal because of drawbridge. It helped me close out the game before my opponent could stabilize and hit me with a wipe, which would have set me way back due to my lack of lands. Another great combo was Righteous Valkyrie which is every bit the powerhouse you'd think it would be in this deck and Resplendent Angel, which ensured that tokens were bolstering my army and that my life total was more than padded.
The second game was much more evenly matched and could have gone either way, but I pulled that one out in the end as well. This would not have happened if Eerie Interlude hadn't saved my cast angels from Curse of the Swine, attesting again to the importance of board state protection in this deck. Quite critically, interlude was the only thing in my deck currently that would have saved me from that (other than Lapse of Certainty, so I was glad to have it! The absolute all-star in this game was Thorough Investigation. Wow! What a card! I thought it might be good, but the whole enter-the-dungeon mechanic seemed a bit cute to me and I was ensure if I would want to pay to sac clue tokens. The answer is yes! I amassed so many tokens from Investigation (as well as a couple from Angelic Sleuth when I blinked it with Interlude) that I knew I could refill my hand at any point, which I did! I'm going to put this card in all of my aggro decks- its a hidden treasure! Angelic Skirmisher is also a must-run in the deck. Everyone plays Lyra Dawnbringer but some don't play this card, which I feel like is better. While the life-link aura is the thing in this deck and two copies of it was great, I definitely experienced the utility of the first strike aura when I wanted to swing with Valkyrie Harbinger but was afraid to lose it to a large flying blocker. First strike made it so that he didn't want to block! Vigilance is also great, and Thraben Watcher was already making sure I wasn't in danger on the crack back in this matchup, but Skirmisher could situationally help with that as well. I finished it out by clearing away all of his blockers (including some absurdly large creatures) with Winds of Abandon. He put 13 lands onto the battlefield, but died to my Angelic Armada.
In both of these games, as with in the previous ones I've reported on, the life gain was real and powerful! I finished the second game with 98 life and the first one with life somewhere in the 70s, so this deck works amazingly well that way. I also played a turn one Soul Warden the first game and was quite thankful for it. I wasn't totally sure about the soul sisters in this deck, but I think I am glad for them. Another huge success in several games so far are the Angelic Accord effects. Having four of them makes it a consistent subtheme, and even a couple of free giant angel tokens goes a long way to killing opponents. I think my issues with card draw aren't that I don't have draw or that it doesn't work, just that this deck is hungry for more of it, which I will address in the first revision coming soon. I've already ordered some more cards based in part on suggestions I've received here from some of you, so thanks for those! I will post the revisions once they are made and my reasoning for them. I'll also update the primer and the acknowledgements to offer credit where credit is due!
2 months ago
So I am really digging this deck but, I see you have the same issue that most mono white decks have which is card draw. A few cards that you might want to consider to help on the draw front are, Sigarda's Splendor, Cosmos Elixir, Rogue's Gloves and,Mask of Memory. I have personally found the last two equipments work really well in my angel deck as your creatures already have evasion.
From the creature front here are a few creatures I would condsider adding:
A few other cards you might want to consider:
Lastly you have a lot of 7 and 8 mana drop angels in this deck and unless they are actively winning you the game as soon as they come down then I would consider removing them. Think about it, for the same mana as Akroma, Angel of Wrath I could play Insurrection which can win me the game as soon as the spell resolves. That being said Insurrection is not even a spell that I actively play due to it costing so much mana. Just food for thought as I would personally consider removing some of your bigger angels for some of the lower costed angels I listed above as it would help to smooth out your curve and make your games more consistent.
Still really cool deck!
10 months ago
DigitlViking glad you like the deck! With an appropriate SB for the meta I am sure you can get a few wins with this deck, and more importantly have a ton of fun.
Archangel of Thune is our biggest finisher and we tend to want one as soon as we can cast it. That said it's a 5 drop and it's not like we can't win without her so I don't think there will be much problem going to 3 to save a few bucks. Lyra Dawnbringer is the second best choice for a 5 drop IMO for this deck, and they do quite similar things, so it won't make much difference if you go 3 Thunes and 1 Lyra. And in the future you may want to upgrade once tryed and seen why Thune has an slight edge.
About Shalai, Voice of Plenty , I think she's amazing, you are always happy to see her in your hand. She protects us and our hand super well and combos neatly with Giver of Runes. You feel safe with her on board. The only reason I don't run a 4 of is because she is legendary. But she doesn't really advance our win plan, so I assume that if you cut one of them our plan doesn't really change or gets affected, it's just a bit easier to disrupt.
About other options, the other best angel 4 drops are Archangel of Tithes, Angel of Jubilation and Linvala, Keeper of Silence. I already explained their their individual pros and cons more in depth in previous comments so check those out. But basically those 3 (may depending on the deck) disrupt your oppenents plan. But to have a card that my or my not disrupt the oppenents plan I'll rather have one that ensures that our plan doesn't get f****d. After all we are in white, every card is relevant.
Any way, if you manage to free two slots i'll probably give a go to 2 Speaker of the Heavens. When he is online is such a power house... A couple of Serra Avenger s might fill the gap also.
Card draw is a huge problem so I've been thinking lately about testing a 2 of Mask of Memory and my main candidates to go were actually an archangel and a Shalai so you might want to be the one who gives it a try and tell us all how it went. I think that with such a cheap both cast and specially equipping cost and so many flyers in our deck it has the chance of being pretty consistent.
10 months ago
lagotripha portable hole is worthless in this deck. 99% of the permanents that worry us are 3cmc or more (mainly planneswalkers, ensnaring bridges, etc. You can go momo white but if you do the only card that does the trick is Generous Gift.
I've more than tested Serra Avenger, it's what I used before Youthful was printed. But the card is only good if you vial it in, a 2 of works Shor of. Not more than that. Youthful is much better.
Speaker of the Heavens is my choice 1 drop for a more budget list. It's ceiling is super high. But it's bottom is super low. It's either a wincon or a dead top draw/chumblocker. Giver is much more consistent and adds way more overall. Still is a card I will totally add 2 off to a more budget or low to the ground list.
Luminarch Ascension is waaaay to slow for modern.
Tobe fair impostor is never been in the competition, XD, but yeah, they've printedmreprinted a few 2 cmc angels latelly, but I wish those were at least rares. And I will kill for a 1cmc rare/mythic angel. And yeah, I wish we didn't have to look for humans but honestly I think is going to be hard to get something better than bishop, even if she's not an angel. That thing is too good.
A 1cmc creature that becames an angel could be dope, but in this build it would be worthless since most our staff cares of angels ETBing, not in play.
What I think we need is some kind of card advantage stapled in to an angel. And we could use an angel variation of Skyclave Apparition also. There are a couple angels that do that but all return the card when they leave the battlefield, which sucks.
I hope that in innistrad we get and angel worth making the list, fingers crossed
10 months ago
I like this list idea- I'll second the call for mono white - there are cards being printed like Portable Hole that fill universal removal holes, the rest should get there.
Youthful does a lot, Serra Avenger is worth some testing if you can vial it out, and Speaker of the Heavens plays to the lifegain synergy. Thats it in terms of low cost fairly-early game angels. Luminarch Ascension is dope but not exactly early game.
I just want wizards to print some better 1/2/3 drop angels, or cards that care about angels. Impostor of the Sixth Pride shouldn't be in the competition for a tribe with a card printed in almost every set, and I shouldn't look at human tribal cards to support speaker/bishop synergies.
A 1 drop creature that becomes an angel when X happens, or grants decent stats to angels would go so far. Even an angel Squadron Hawk would do a lot.
10 months ago
darkmus, yeah I've been going back and forth in my head about Resplendent Angel , but I do agree that its probably worth the price of admission to have a card that efficient in play.
I do think I'll probably swap in Legion Angel , I guess I'm just a bit anxious about how efficient removal is in modern compared to standard haha. It does make more sense to run generally than 4 Serra Avenger .
Ideally I think I'm going to keep this in B/W if for no other reason than to keep the identity of the deck in-tact (and so when I'm playing super casually I can slip in some of my favorite black valkyries just for fun). I think hitting about $200 usd is the spot I'd like this deck to sit in, that's about the max I'd be willing to shell out for this sort of thing and right now this is hovering right around that point.
I'm thinking about adding a couple Seraph of the Scales for the additional token payout, and I am definitely going to add 2 Great Hall of Starnheim ; both because its a cheap land, and because in my experience having the token conversion is actually extremely useful (and, with Resplendent Angel and one other lifegain source in play, its a 2-for-1 deal).
I definitely think I'll have a lot of fun with this when I get it put together, and thank you again for the help!
10 months ago
janederscore if you put in the deck Bishop of Wings , Righteous Valkyrie , Seraph Sanctuary , Cleric Class and Angel of Vitality I recommend you (unlesh money issues) to put at least a couple of resplendents in there. Thay are a great finisher and with so many life gain you will be activating it passively just by playing angels and doing your stuff. She's amazing. You have 12 different life gain triggers, I can't speak without trying it but I believe Cleric Class will end up neting you more +1/+1 than the other one, plus you can put them all in one creature and both the first and last modes of the class feel to me more useful to this deck. Legion Angel is a total overachiever, a must, she's been the MVP in my deck (which is my main that I use against tier1 decks and win with it) many matches. Yeah, first being bolt range sounds shitty but, well, it's not. It generates more value for your opponent than for you? Well... No, it doesn't, mor e like the total opposite. Are they going to have 3 bolts to stop the 3 straight turns of putting and angel and triggering all our stuff, even if it dies? No they are not going to, it overwhelmes opponents, they need to put a toon of resources to kill all of them while your angel replaces itself and nets you some triggers along the way. And she will be your most aggressive creature, the 4 power with evasion will matter and is a nice fast clock for the oponnent. Serra Avenger also dies to bolt, and you are rarely going to have 2 of them at the same time to play them together to make sure one survives. It's a dead card the whole early game, I wouldn't put more than 2 avengers in, you don't want to draw it until you can play it. I'll strongly suggest 2x Avengers and 2x Legion. But even if you want 4 avengers that's OK, is not a bad card, but at least give legion a try, you will be pleasently surprised (as I was, because I thought the same as you until I tried it). Yeah emeria's call doesn't ad much. No need for it. I told you just so you bear it in mind (I have to say anyway that I am from Europe and everything here is somewhere between 1/3rd and 2/3rds the price, so it's just like 2 bucks here) I've tried them, as sad as it is, I can assure you there is no black valkirye worth playing in modern. I do think that firgas retribution is slightly better than starnheim unleashed, but I don't think it's 60 bucks better if you know what I mean, specially if money is an issue. I'll rather spend that money in resplendent angels, they will win you more matches in the long run and is an easier card to sell if the moment arrives than mediocre lands. Plus it's price is growing lately, so maybe it's even a small investment.
The deck looks much better now than yesterday anyway, good luck fellow angel player, I am sure you will have a lot of fun with it!
10 months ago
Hi darkmus! Thank you for the suggestions, I really appreciate it.
I was looking at your Serra's Descendants, competitive Angel Tribal deck last night actually, and I agree on the Bishop of Wings call for sure, I actually completely forgot about that card when I was building this. Speaker of the Heavens I originally wasn't considering because of the aggressive stance I was taking with the low mana cost creatures, but as nice as Resplendent Angel is its definitely less justifiable without more lifegain payoff (and is the most expensive card here by far), so I think that's a switch I'm comfortable with making.
I was concerned about the payoff for Cleric Class being less reliable than Paladin Class , but with an extra couple of lifegain cards like Bishop that's definitely more viable feeling.
Legion Angel is one of my favorite cards in standard right now, but I'm worried about having a 4 mana drop sitting in bolt range. The card advantage is very helpful, but I feel like it generates more value for an opponent than it does for me if it immediately dies to a 1 mana spell. I think I might value the opportunity to drop 2 Serra Avenger on turn 4 a bit more instead.
I have the same issues with Emeria's Call  Flip as you noted here and in your conversations about it in your Serra's Descendants deck, its something that just doesn't generate enough value consistently enough that its worth spending the extra 6 bucks to me.
I definitely am considering swapping to a monowhite deck here, especially since unfortunately as much as I love them the black (and most b/w) valkyrie cards just aren't very viable in modern (rest in peace Eradicator Valkyrie and Hailstorm Valkyrie , I wish you two were better ;_;).
I worry about Starnheim Unleashed a bit since getting efficient payouts with it requires having at least 5 mana on the board, and I've found that Firja's Retribution is actually quite nice in a lot of instances; the "free" removal on stage 2 is nice for killing flying blockers without taking a hit on my tokens (since you can activate it after declaring), and the double strike ends up being a wincon in most games where I get it out on the field. That said, the dual lands are pretty pricey, so the switch is definitely still on the table for me.
Anyway, thank you again! I'll be making a few changes here to update things and see how it shapes up.
Load more