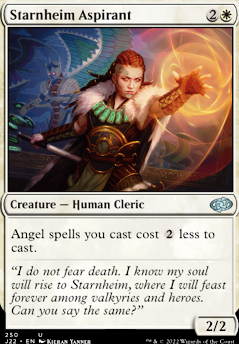 Legality
3 months ago
I'm glad that's being reprinted! I've often thought about this myself. I agree with what you said about those two cards being better for different reasons. Pearl Medallion is which often allows us to play it turn three with a one or two drop angel, and can also discount non-creature spells, so it's just amazing. Herald's Horn isn't as good ramp but if often draws us cards, keeping our draw engine up. If we were to swap it with anything it could maybe be Dowsing Dagger  Flip. Sword of Hearth and Home costs the same to put on the board but has insane value it it's ability to blink ETBs and ramp lands right out of our library, and Sword of the Animist does the latter, comes out a bit earlier, and doesn't require us to hit our opponent. These both are kind of half card draw pieces as well since they put cards on the battlefield right from our libraries and allow us to shuffle, so they're definitely better. Dagger is really good though, giving us a land version of Gilded Lotus, but it does require four mana total and some setup whereas incubator just does work immediately. I am not sure though, as dagger has consistently been good in several of my decks with evasive creatures. I suppose it could also replace Starnheim Aspirant as it doesn't die to board wipes, but one of the main appeals of adding it would be having access to both. As such, I am unsure, but if I did put it in it would probably replace the dagger as that is probably the weakest link, even if it definitely is not weak.
3 months ago
My typical decks are Muldrotha, the Gravetide recursion, Teysa Karlov aristocrats and a Shorikai, Genesis Engine mechs. Those three usually have big flashy plays for instant wins so this deck definitely plays different. I looked over your whole primer and took your advice to heart to reduce the number of changes and focus only on your new additions and lands. I ran a few games using your methodology for mid-range aggro decks and listed how the deck performed. Let me know if this helps helm the host!
4 months ago
I love your deck and have been using it as a template as my regular deck for random pub games. While it performed pretty well without any upgrades, I found it ran out of steam mid to late game after I get blown out by a board wipe. After a game or 2, players would usually exile Giada the moment it hits the board, slowing down our ramp signifcantly. Also, if we miss a land drop mid-game, we're basically stuck waiting for a good draw. I realized that building an early oppressive board state begs for a board wipe when everyone else is still building but it sets us back significantly. With that in mind, I cut a lot of the lower CMC angels and built more towards value/recursion. Based on your comments it seems that this deck is more budget focused but since I'm making this my main, I've decided on pulling the best cards from other decks for some spicy upgrades. Let me know what you think below (sorry for the wall of text):
4 months ago
     PirateCptAstera: Glad you like it, look forward to hearing how it goes! =)
     abstractfive: I have been experimenting with the total volume of lands, and have found that I maybe could afford to cut one - with the volume of cards I'm drawing I've been pretty consistently able to hit every land drop. As for the utility lands, there's really no drawback in a mono-colour deck to running a few with narrow options. Arcane Lighthouse is an excellent political tool for helping the board deal with someone else's problematic creatures, and Hall of Heliod's Generosity is really just there to help me keep True Conviction (and to a lesser extent Folk Hero) around, as it's pretty much due for removal the moment it hits the board.
     As for Starnheim Aspirant - you're totally right that drawing it later in the game doesn't feel great, but even through the mid-game it's still pretty useful as it can free up mana to use for things like equipment, Divining Top or Swords/Path/Grand Crescendo after casting a 7 or 8 drop.
     Sungod: Not yet. It's on the maybeboard pending me finding one, but my Local Shop doesn't have any. I'm probably going to have to order one.
     Thanks for the comments and upvotes everyone! =)
4 months ago
I feel like one place your deck could use a tune-up is in your land selection. Play-testing against it I sometimes get a flood of basic plains that leaves the deck dead in the water. Also, I don't see a purpose for Arcane Lighthouse. You are only running what generally evens out to three sources of targeted removal. Hall of Heliod's Generosity is in a similar spot. If you had 15-18 enchantments it could be useful, but what are the odds you are going to get it when you actually need it, with only 5? Very low. It's just not impactful, and you are not running sac enchantments either.
Consider removing Starnheim Aspirant. Ask yourself when you want to draw that card. To me, it's at the beginning of the game only, and it generally doesn't curve like I want it to. Giada turn 2, aspirant turn 3, 1 white mana 3 costing 3 same turn? There are 6 cards in your deck that can be played for that turn 3 combo. This isn't mathematically correct, but in essence you have a 93 out of 99 chance to lose an attack turn 4, and end up with a block fodder 2/2 on the board. Expect a board wipe turn 5/6. Removing it leaves you in the same spot, minus a potential extra attack / wasted card slot.
Thanks for posting the deck. Playing vs. yours inspired me to shift all the way out of life gain antics. (soul sisters, ext.)
6 months ago
BrantMTG - I like your take on the angel tribe deck with a focus on lifegain and token creation.
If I were to offer up my initial thoughts on improving the deck, I feel like you likely need another land or two to make this deck more consistent. You are running a number of cards like Starnheim Aspirant to accelerate the deck and make the angels more playable sooner but the average CMC of the deck is 3.05 and you are only running 20 lands. Maybe adding in 2xNykthos, Shrine to Nyx would be a good fit.
Also, I feel like not running any removal may hurt you in the long run. has a lot of ways to exile creatures or destroy artifacts/enchantments, some of which may be more of a sideboard but not having any in a deck that will likely be slow to get off the ground and/or slow to rebuild from a board wipe likely will lead to lots of near victory games.
Lastly, on the topic of additional draws, Well of Lost Dreams or Dawn of Hope are killer in lifegain decks as they keep your hand full. I personally like Well of Lost Dreams better but that is more in mid-range decks.
Anyways, good stuff! Happy Brewing!
Load more