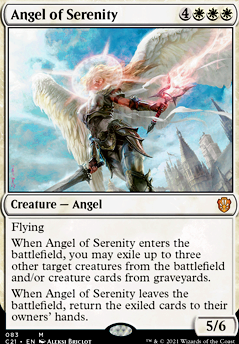 Angel of Serenity
Creature — Angel
Flying
When this enters the battlefield, you may exile up to three other target creatures from the battlefield and/or creature cards from graveyards.
When this leaves the battlefield, return the exiled cards to their owners' hands.
Browse Alters
Trade
Legality
| | |
| --- | --- |
| Format | Legality |
| 1v1 Commander | Legal |
| Block Constructed | Legal |
| Canadian Highlander | Legal |
| Commander / EDH | Legal |
| Duel Commander | Legal |
| Highlander | Legal |
| Legacy | Legal |
| Leviathan | Legal |
| Limited | Legal |
| Modern | Legal |
| Oathbreaker | Legal |
| Pioneer | Legal |
| Unformat | Legal |
| Vintage | Legal |
| Casual | Legal |
| Custom | Legal |
| Quest Magic | Legal |
Latest Decks as Commander
Angel of Serenity Discussion
2 months ago
Sup lobsternips!
As a baseline, you'll need to add lands, which I'm sure you know. Since you're making Treasure and Gold tokens in this deck you'd probably be good with roughly 34-36 lands, leaning more to the most mana color you'll need, say like a 25/25/50 split if thats what you're going for.
That basically does it for my brief review, hope I was of some help!
4 months ago
My best advice is to get your hands on Vilis, Broker of Blood , Razaketh, the Foulblooded , and a Phyrexian Arena . More rocks for mana acceleration and lowering the mana curve of your deck by focusing on things that give you as much bang for your buck as possible would also be highly advised. I see you're not running Thundermaw Hellkite , for example. I'd recommend that at least.
Running more creatures in general might be just what you need... especially with the Strionic Resonator being a thing. I don't run that or any extra combat cards, but I still run 33 in the 99. Only three of them are not ADD. One of those three is Kaalia, Zenith Seeker . She's a one-and-done, but combos well with Phyrexian Reclamation or Reya Dawnbringer and a sac outlet. Speaking of sac outlets, another card you might be interested in is Carnage Altar . Someone's trying to exile your Avacyn? Sac her and draw a card in response, so you can bring her back later. Better than the alternative, at least.
Another thing about running sac outlets is that Angel of Serenity works quite well with them. The funny thing about how her effect is worded is that if she's removed in any way while her exile trigger is on the stack, her second trigger resolves while there are still no creatures to return, causing it to fizzle and the targets to be exiled for good. Fun times.
Here's my Kaalia deck in case it gives you some ideas. =3
4 months ago
Yes this is an absolute legit strategy but hard to pull off consistently. You have two sets of cards you need. "Permanents with ETB triggers" & "Flicker Spells" If you draw only one of those sets, you are basically screwed. If you still want to try, it will work best if you splash a bit black or blue. (I think it is not worth to play in mono white)
Permanents with ETB trigger abuse - Journey to Nowhere , Tidehollow Sculler , Fiend Hunter , Oblivion Ring , Angel of Serenity
Creature Flicker - Cloudshift , Essence Flux , Ephemerate , Restoration Angel , Eldrazi Displacer , Justiciar's Portal , Momentary Blink
Permanent Flicker - Flicker of Fate , Blizzard Strix , Teferi's Time Twist
5 months ago
Looking for suggestions, eh?
My best advice would be to try and get as much bang for your buck as possible, using cards that do more for less mana, and to keep that mana curve as low to the ground as possible. One of the biggest criticisms I have for other Kaalia decks is that their mana curves are too crazy, leaving them far too reliant on her.
That's not something you wanna do. She is your friend, but letting her become your crutch is asking for people to target her... and when you can't play her, you can't play your deck when you rely too much on her.
Obviously, the first thing you're gonna want is better dragons. I'd recommend Thundermaw Hellkite at the very least, to keep blockers outta your way. Angel of Serenity , Subjugator Angel , and Angel of Despair serve a similar purpose in my deck. Emancipation Angel also bounces them to be used again.
I also like having a sac outlet and Reya Dawnbringer , which goes quite well with cards who have ETBs. Alternatively, Phyrexian Reclamation can bring them back to hand to play again with her effect, which is quite nasty with Rakdos the Defiler and Master of Cruelties if you don't mind being mean, lol. Another card I like using specifically with those two is Oni of Wild Places , whom Thundermaw Hellkite and Kaalia, Zenith Seeker also like very much. XD
Never hurts to have more sweepers and spot removal as well... and redundancy when possible.
My deck's right here Hardcore Heavenly Inferno if you wanna take a look. Hope that helps. :)
6 months ago
suggestions right now are to get out all the low-impact 4-5 costed 'big' creatures that sit in your hand as a 1/turn spell even when you have 8 mana available and replace them with stuff that either has an actual impact or that helps big stuff come out faster and better.
in: Angel of Serenity, Kaalia of the Vast, Rakshasa Debaser, Dragon Tempest, Lightning Greaves, Rakdos, Lord of Riots, Angel of Condemnation, Worn Powerstone, Thran Dynamo, Herald of War, literally any land.
out: Bloodgift Demon, Demanding Dragon, Desecration Demon, Taurean Mauler, Nesting Dragon, Hoarding Dragon, Ambition's Cost, Conjurer's Closet, Idyllic Tutor, Memorial to Folly.
Also update the list so it has Graveshifter and not Gravedigger.
6 months ago
Okay so, this comment is kinda unreadable, and I'mma clean this up a bit, order cards together, give my personal thoughts and then repost it, but here's the dump version also so I can work off it myself
Dragon Tempest, Lightning Greaves, Caged Sun, Thran Dynamo, Aura of Silence, Austere Command, Archangel of Thune, Aurelia, the Warleader, Doom Whisperer, Rakdos, Lord of Riots, Sword of the Animist, Dragon's Hoard, Price of Fame, Ob Nixilis, Unshackled, Angel of Serenity, Kaalia of the Vast, Magus of the Moat, Herald of War, Primevals' Glorious Rebirth, Hazoret's Monument, Firemind Vessel, Worn Powerstone, Thundermaw Hellkite, Kolaghan, the Storm's Fury, Lathliss, the Dragon Queen, Karmic Guide, Sower of Discord, Angel of Condemnation, Blade of Selves, Gilded Lotus, Bolas's Citadel, Tainted Remedy, True Conviction, Deafening Silence, Grasp of Fate, Everflowing Chalice, Grafdigger's Cage
Something you could also be doing is go for more of a reanimator style deck, running stuff like Faithless Looting, and Cathartic Reunion.
7 months ago
I'd try to get some more 2 drop ramp spells worked in: Coldsteel Heart, Marble Diamond, Mind Stone, and Fellwar Stone to name a few budget options. If you want of focus on the Voltron aspect of the deck, I'd cut high CMC cards like Angel of Serenity and Admonition Angel. Some lower CMC forms of removal at instant speed that you could fetch with Sunforger would serve you better, and you can free up slots for more equipment or protection spells. I think I'd cut Runehorn Hellkite, too. If you still want the card draw, try Magus of the Wheel or Humble Defector. Trailblazer's Boots is another nice piece of equipment. If you are interested in being able to equip ALL of your artifacts to Wyleth, Bludgeon Brawl can do it.
Sejiri Shelter  Flip could substitute for one of your Plains, or possibly Spawning Bed. I'm not sure what that card does for you, but there seem to be better nonbasics. It can offer some protection in a pinch.
Hope this helps. You've got quite a bit of good equipment in there, much better than I have available. +1.
Load more