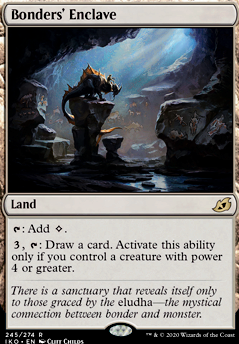 Bonders' Enclave
Land
: Gain .
, : Draw a card. Activate this ability only if you control a creature with power 4 or greater.
Latest Decks as Commander
Bonders' Enclave Discussion
1 week ago
Hey! Kinda late, but I would like to suggest some stuff:
(Disclaimer: I have a budget way lower than yours, but I've been tinkering with Ghired for almost two years - he's my favorite commander. I'll break the suggested upgrades down into categories for better organization.)
Haste enablers:
Ramp: Run at least 15 ramp cards to make your deck flow smoother and faster.
As an aggressive deck, speed is fundamental. Fellwar Stone, Nature's Lore, Three Visits, Skyshroud Elf, Bloom Tender, Faeburrow Elder, Chromatic Lantern, Coalition Relic, Wood Elves, Skyshroud Claim and Mirari's Wake can ramp and heavily fix your mana, taking the place of Gyre Sage, Solemn Simulacrum, Rampant Growth, Sakura-Tribe Elder and Xenagos, the Reveler - the latter is a win-more ramp, and his 2/2 token is not large enough to synergize with the power-based card draw, while the other four fix for a single color of mana (Ghired decks can sometimes be color-hungry), and this deck can't abuse the sad robot for value.

In the land department, Krosan Verge and Blighted Woodland pull their weight, and synergize greatly with Avenger of Zendikar and Rampaging Baloths. Maybe remove Cascading Cataracts? (Your spells are not THAT color hungry.)
Direct damage:
Extra combats: You don't have to worry about your opponents' answers if they never get to their turn, so...
Boardwipes:
Card draw: Alongside ramp, it is my main concern with Ghired. I want to be able to rebuild my board after a boardwipe.
Some cards I suggest you to remove:
Some cool lands for you to try out: (landbase is my favorite part of deckbuilding)
I hope I've been of some help to you. I didn't suggest many token-related cards because I believe that, as long as you have decent ramp, draw and removal in your deck, you can win to your heart's content. Wanna throw in a Godsire? Do it. Prefer to clone your opponents' creatures with Hate Mirage? Go ahead. But the fundamentals of the deck is what makes it flow consistently. Have fun and smash 'em all (and run Doubling Season for extra fun) ;-)
3 weeks ago
While I do have a bunch of niche pet cards that are really good in specific situations, I tried to keep this list to cards that I just never see across the table yet jam into most of my decks that can play them. Some of which are already climbing in value so maybe they aren't as underrated as I think but still worth spreading the word about. Caveat that I'm mostly a budget/casual player but cards like these are how I build 50-100 dollar decks that go to bat with 2-400 dollar decks
W Glorious Protector If your deck doesn't have Blue and has ANY level of ETB synergy, this card is amazing. Helps your team dodge all manner of board wipe: bounce, exile, -X/-X, good ol' destroy.
U Plea for Power Pay 4 draw 3 is an acceptable rate and there are situations in which you might be able to convince two of your opponents to give you the extra turn to deal with the third. Metamorphic Alteration I've never seen anybody else play this card- I only play it in Zedruu the Greathearted and Callaphe, Beloved of the Sea which have permanent/Enchantment synergy and would recommend doing the same but the sky's the limit on this bad boy. There's the obvious use of removal (I've turned someone's Commander into a Humble Defector before) but it's got the flexibility of copying someone else's Eldrazi or Avacyn for 2 mana. Stubborn Denial Does your Commander have 4+ Power? Are you already playing Negate? Well here's that for half off!
B Vona's Hunger Instant speed Asymmetrical Board Wipe for 3. Do I need to say anything else? This is one I used to be able to pick up for 80 cents and is now 4 bucks :( Incarnation Technique Any time I've cast this I've negotiated a specific creature in an opponent's graveyard that I know won't be too threatening and gotten two bangers for myself for 5 mana. Additionally, if your deck has any kind of graveyard synergy already, the mill 10 is outstanding. Virtus's Maneuver I'm a sucker for political cards as this list can totally indicate, but this 3 mana spell that pays for itself has the option to remove a pesky Voltron Commander or make some friends around the table. Or both! Court of Ambition Why this isn't in every non-cEDH Black deck is beyond me- If you're able to maintain Monarch (and with it board position) for 2+ turns it will essentially seal the deal on anybody trying to challenge you. Even if you aren't, sending Monarchy around the table encourages them to hurt each other while you're draining a sneaky 3 life every turn from every opponent. This card does serious work (in any game expected to go past turn 6).
R Rousing Refrain Best case scenario you're able to play this turn 2 and then have a pretty blowout-y turn 5 (I use it to cast Niv Mizzet while holding mana for counters) but worst case this is essentially a free spell that helps you rebuild from board wipes or push extra hard for a win. Doesn't go in every deck but consider whether yours is right Chandra, Fire Artisan Repeatable card draw isn't super common in Red, plus she comes with her own discouraging rattlesnake clause.
G Sigardian Zealot I love this card! You're in Green so you probably have creatures- my biggest issue with team-buffers like this is that a lot of them only give the buff on swing. This is at worst a 6/6 Vigilance for 5 that boosts your team the turn he comes down, at best he boosts your team to make killing blows while leaving you all the blockers you need. If you natively have any Trample synergy (this dude rips in my Zilortha, Strength Incarnate deck) then take a look at this guy. Blossoming Bogbeast Budget alternative to Pathbreaker Ibex. Guaranteed +2/+2 and full team Trample: not as mana-intensive or clunky as Dragon Throne of Tarkir and more repeatable than Overwhelming Stampede. Are Stampede and Ibex better? Totally. Are they 70 cents? Nope! And that's all assuming you aren't playing any Lifegain synergy- if you are, this absolutely deserves a slot. Wrap in Vigor If you're playing a non-Blue, non Nikya, non-Voltron Green deck (read: most Green decks because even some of those criteria aren't absolute) this card is awesome! Heroic Intervention is one of the best Green spells ever printed imo and while this is clearly its little brother you should still consider doubling up on 2 mana protection like this. I've won tons of games cause someone else wipes the board for me and the "Creatures can't be regenerated" clause is becoming less and less relevant as cards like Vanquish the Horde become the new standard.
L Bonders' Enclave Does your Commander have 4+ Power and you're playing 3 or less colors? This card deserves a slot. This is the other card I've grabbed 5 of for 40 cents and now are 2 bucks a piece. Is it inefficient? Totally. Does it give you options when it's turn 8 and you're looking at your Commander and an empty hand while coming at the low low cost of being a colorless land in every other situation? Totally.
I got a lot of good ideas from this thread, hopefully mine can help somebody out!
3 weeks ago
Not sure if I'm missing something, but why do you have 45 lands? That is as many as I run in my Tatyova Lands deck, which wins the game via lands mostly, specifically my Commander offers a payoff for landfall. I see you have a few payoffs for landfall, but it still seems like a lot. Anyways, a few thoughts!
First thought, Multani, Yavimaya's Avatar would probably work well in here, maybe even as a Commander. He often end up quite big, and he comes with Trample and a recursion effect. You can still run Ohran Frostfang and Bow of Nylea for Deathtouch, and you could run Saryth in the 99 still. Just an out there thought to start off with, not trying to be negative.
I think Isochron Scepter probably wants more potential 'hits' (you have 2 afaik, I find having quite a few more, and some tutors for Instants and Artifacts still doesn't set it up very often).
Crucible of Worlds seems odd in here too, for one Ramunap Excavator does similar work and is a more useful type (and your Commander can get the creature Hexproof), and on the other hand your deck runs enough lands that you'll hit drops to turn 6 usually. I'm going to list a few utility lands that might help by giving mana sinks or card draw to help when you get flooded: Bonders' Enclave and War Room might work out, offering a mana sink and card draw to help smooth out bad draws. You could consider Geier Reach Sanitarium and/or Mikokoro, Center of the Sea, but these help everyone. Tyrite Sanctum is a good utility land in more casual play, offering +1 counters or Indestructible. Temple of the False God can blow up in your face a bit with a terrible hand, but it's usually a ramp land if you run this many lands. Inkmoth Nexus might work well with +1 counters, and it dodges wipes usually. Tower of the Magistrate is useful vs Voltron, you can give an opponent's creature protection, dropping all it's equipment IIRC, which can be pretty funny the first time. Homeward Path can be nice in Green, if people steal your better creatures it feels pretty bad. Any of the G lands with Cycling like Slippery Karst or Tranquil Thicket can be nice with a higher land count. Blighted Woodland or Myriad Landscape offer ramp, but are slow or use a lot of mana to do it. I actually like Opal Palace in a deck that can benefit from it in 1v1, and you should have lots of mana on hand to make the tax pretty insignificant. If you can recast your Commander a few times, they end up reasonably beefy.
Time of Need can find Fynn or Toski. Have you thought about more removal, mostly for artifacts and enchantments, but Green has access to some creature removal, so-so stuff like Kamahl's Will exist at this point, or the reasonably useful Transmogrifying Wand for repeated Destroy. Silklash Spider or even Squallmonger can help deal with Flying decks, which are frustrating. I also run Sandwurm Convergence in my mono G deck, otherwise I consistently lose to faster flying decks like Talrand (a very nasty 1v1 Commander), ymmv though.
1 month ago
Hey Bobthebirdman! Man this deck looks great, lots of cool tech here. Personally I would cut Resolute Archangel, Vicious Shadows, and Plea for Guidance and replace those with lands. Even though they're neat cards, their mana costs are high and your land count is low, especially considering how much mana it takes to get Hofri out. Maybe swap in utility lands like Bonders' Enclave, Windbrisk Heights, and Spinerock Knoll?
2 months ago
Cyb3rguerrill0, thank you for the interest! I have to be very careful with my non-plains in the deck, considering all my mana-doublers, but I might have to squeeze Bonders' Enclave into it!
2 months ago
Hi Vessiliana really like your cool deck it contains some cards that inspired me to choose for my own mono white deck. I also got some suggestions for you: Blighted Steppe and Bonders' Enclave hope these are helpful. Greets
Load more