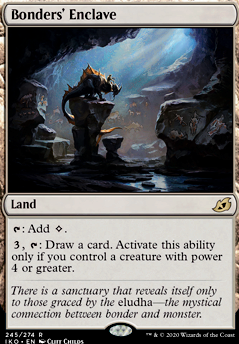 Bonders' Enclave
Land
: Gain .
, : Draw a card. Activate this ability only if you control a creature with power 4 or greater.
Browse Alters
View at Gatherer
Legality
| | |
| --- | --- |
| Format | Legality |
| Canadian Highlander | Legal |
| Brawl | Legal |
| Historic | Legal |
| Vintage | Legal |
| Legacy | Legal |
| Duel Commander | Legal |
| Limited | Legal |
| Arena | Legal |
| Highlander | Legal |
| Commander / EDH | Legal |
| Tiny Leaders | Legal |
| Block Constructed | Legal |
| Oathbreaker | Legal |
| Casual | Legal |
| Pioneer | Legal |
| Leviathan | Legal |
| Unformat | Legal |
| Modern | Legal |
| Standard | Legal |
| Pre-release | Legal |
| 1v1 Commander | Legal |
Latest Decks as Commander
Bonders' Enclave Discussion
5 days ago
Interesting deck +1
What is your meta like?
Proud Wildbonder - Seems too unimpactful for 4 mana
Essence Warden - Whats the purpose of this?
Beast Whisperer - Seems cool, I tried him in my build. Does he get a chance to stick around long enough to draw you atleast 2-3 cards?
Ravager Wurm - Is this meta against maze of ith?
Shivan Wurm - Reusing ETB effects or something I'm missing? Seems weak
Voracious Cobra - Gosh this card brings back memories from my childhood. Curious how it's been for you, seems like a card they need to burn removal on if they want a chance of attacking you unless they go wide
Windstorm - Meta?
Fog - Meta, if so, why not get the new green fog that came out recently?
Soul's Might - Return of the Wildspeaker would better serve you as you can draw cards in response to removal rather than your creature getting removed in response to might being cast.
Ancient Tomb , Castle Garenbrig are ramp
Goreclaw, Terror of Qal Sisma - Trample and ramp
Heroic Intervention - Protection
Selvala, Heart of the Wilds - Ramp and draw
The Great Henge , Somberwald Sage, Shaman of Forgotten Ways are all good ramp
Inferno Titan - Removal
Kogla, the Titan Ape - Removal
Deflecting Swat - Utility! Counter counterspells, redirect targetted removal/draw/extra turns. Very powerful
Rishkar's Expertise, Bonders' Enclave, Elder Gargaroth, Greater Good, Life's Legacy, are all amazing card draw options, especially greater good. Seriously, don't sleep on greater good
I hope the suggestions werent too overwhelming, I just didn't see that much draw and I figured that adding more never hurts.
3 weeks ago
This deck is pretty low to the ground for Xenagos, good job.
How is your land situation? Given your dorks and lower CMC, you might be fine, but I'm curious how it plays out. It seems unless you get a dork early game and lands, you will have trouble casting Xenagos consistently. How has it been playing out for your in your meta?
Yavimaya Hollow - Protection
Ancient Tomb > Temple of False
Bonders' Enclave > Sanctum of Eternity - Is the reason it's in your deck to prevent opponents from removing Xenagos during your turn prior to combat? I don't see the use of it in this deck. Perhaps I'm missing something.
Cragcrown Pathway  Flip > Mountain/Forest
Turntimber, Serpentine Wood > Forest - The additional utility it provides late game is key for when you're topdecking/out of gas
Raging Ravine - Manland that can be used as a creature to place a draw effect under late game
Dread Statuary - See above - Or not given your dorks and you want to limit colorless mana?
Myriad Landscape - Ramp - Same issue as above?
The Great Henge
- Draw
Skullclamp - Not 100% sold on it, but I think it could work here given your dorks which can be used as draw for late game, or helps you draw cards when your beaters die.
Berserk - Malignus says hi! Also, works on opposing creatures too. If opponent A attacks opponent B, you can kill their creature and deal extra damage to opponent B. Although I like using it on my beaters or Selvala heart of the wilds for extra ramp.
Deflecting Swat - Counter counterspells, redirect targeted removal(biggest issue in Xenagos so you don't get 2 for 1ed), targeted draw/extra turns, abilities, etc... Too much utility and for free.
Heroic Intervention - Protection for beaters
Rishkar's Expertise
- Crazy value that's worth risking the 2 for 1, also helps keep up with tempo which is great
Life's Legacy - Draw
Harmonize - Draw
Green Sun's Zenith - Tutor for the beater you need to the battlefield
I count 5 sources of draw in this deck, 2 of which are unimpactful, 1 of which is unreliable, the other 2 are good. Do you often find yourself running out of gas quickly especially given your lower CMC?
You run embercleave but no Godo, Bandit Warlord???
3 weeks ago
So, there are several things you have misunderstood when looking at this deck, as it's one I have played and tweaked for the better part of a decade now and am very happy with it's current state. Firstly, the danger of Xenagos really kicks in when you can actually pressure an opponent, so it's best to stick with either trample or flying creatures exclusively, with the few exceptions of those that will really buff and support you such as Birds of Paradise and Oracle of Mul Daya. I chose to go with flyers, the best of which are largely dragons, because people generally do not have many fliers and are not prepared to deal with the power and pressure of many massive fliers suddenly appearing and swinging at them. As for the rest of the suggestions you have, and the part you misunderstood with him, is that you're focused on making more of a midgame and a recovery so you don't falter due to lack of cards. However, Xenagos doesn't really care of need that. Xenagos needs to get to 5 mana and get a single dragon out. One dragon. Then you are immediately swinging for at least 10 if not more, and every dragon has abilities and triggers that further pressures your opponent(s).
Greater Good is a fantastic card, but there are very few times that you want to be sacrificing your creatures since you will always be a massive target since Xenagos is always a threat. The same goes for Life's Legacy and Momentous Fall.
The problem with cards such as Return of the Wildspeaker, Harmonize, and Bonders' Enclave is that they take up most of your turn to draw cards. I have found that as a true gruul deck you don't want to let off the pressure on your opponents. You very rarely need more than a few dragons over the course of the game as Xenagos puts so much pressure on through doubling them and haste that losing an entire turn to draw more cards is a waste. I make an exception for Rishkar's Expertise because it does still allow us to drop a card and keep the momentum going.
Elder Gargaroth is indeed a good card, but it runs into the problem that it's effects aren't good enough for the deck. He is focused on the additional utility abilities, being lifegain, token generation, and drawing a card, which in any other deck are fantastic abilities. But here he doesn't put pressure onto your opponents the way cards such as Terror of the Peaks does. Everything about Xenagos is speed and pressure. You also run into the issue of him dying. With most opponents fielding very few flying and reach creatures when compared with the number of them in this deck, you rarely need to worry about your dragons dying. Every turn your board keeps building and the dragons have such destructive abilities (see Balefire Dragon for an example of such) that they have trouble keeping a strong board presence and fighting back. But all they need is one small deathtoucher, or any pump spell on one of their ground creatures and they stop your momentum. However, they will rarely have enough fliers to do that. That's a big part of the reason why we run so many dragons. Direct damage to your oppoenent, destructive effects to their boardstate (ex. Tyrant's Familiar), and constant psychological pressure and panic setting in. This is the way of the gruul.
Lifeblood Hydra is too slow. You need at least 8 mana to make him even a little viable, which is too much and too slow. My 8 drops are either extremely powerful, Utvara Hellkite for example, or i'm dropping a 6 drop and holding up a Heroic Intervention or something of that sort.
The Great Henge is also a great card, but again it's too slow.
Berserk is okay, but I prefer my creatures staying alive and pressuring on further turns.
Kessig Wolf Run Honestly just not good enough. The trample is largely unnecessary, and it eats up a minimum of 3 mana to have any effect, mana that can better be spent elsewhere.
Rancor Not good enough
Deflecting Swat Amazing card, but very rarely are cards single targeted any more, at least in my meta. Board wipes are more common.
Ilharg, the Raze-Boar Rather than this, I can just have another dragon which would do much more for my deck.
Sensei's Divining Top Another amazing card, but it just doesn't do enough in this deck.
Now, regarding the high CMC of the deck, of course it's going to be high. We're rushing out to 6 mana and then aggroing out from there. This deck doesn't look to play tempo with a whole bunch of smaller cards being played and set up. That takes too long and allows midrange and late game decks to set up too much. This deck is trying to ramp out and attack.
Finally, I have no idea which creatures you are viewing as subpar. The creatures in this deck are exclusively either flying to attack and pressure my opponents, or ramp/dorks to accelerate the deck, or protection in the form of Archetype of Endurance. If you would be willing to expound on that statement i'm curious to hear your opinion on which creatures could be better utilized.
I will say this, all of those suggestions are great and i'm always really happy to hear and see other people's thoughts on improving things. Other than Berserk and Ilharg, the Raze-Boar I have actually run every single one of those cards in this deck at one point or another. However, though many years and a lot of experience with him, this build is what I have found to be the most powerful and reliable one.
3 weeks ago
enpc And with newer colorless card draw becoming much better, modern playable Mazemind Tome, EDH specific Endless Atlas, and older Sensei's Divining Top/Scroll Rack always being powerful options!
Things that synergize with white's effects like counters with Mindless Automaton, lifegain with Well of Lost Dreams, and tokens or small dudes with Skullclamp, that or Sword of Fire and Ice for equipment strategies, Smuggler's Copter and Bonders' Enclave for other strategies.
And in white, after looking it up for Omniscience_is_life, here is my new, semi-educated package:
Land Tax, Mangara, the Diplomat, Alms Collector, Weathered Wayfarer, Mesa Enchantress, Kor Spiritdancer, Sram, Senior Edificer, Stonehewer Giant, Dawn of Hope, Puresteel Paladin, Mentor of the Meek, Bygone Bishop, Luminarch Ascension, Emeria, The Sky Ruin, Sun Titan, Sevinne's Reclamation, Ranger of Eos, and Castle Ardenvale
Not to mention tutors being Weathered Wayfarer/Ranger of Eos being tutors, alongside Steelshaper's Gift, Open the Armory, Recruiter of the Guard, Ranger-Captain of Eos, Academy Rector, Arena Rector, Call the Gatewatch, Idyllic Tutor, Enlightened Tutor, Heliod's Pilgrim, Quest for the Holy Relic, Three Dreams, Boonweaver Giant, Auratouched Mage, Djeru, With Eyes Open, Taj-Nar Swordsmith, Thalia's Lancers, Totem-Guide Hartebeest, Relic Seeker, Priest of the Wakening Sun, Forerunner of the Legion, Ignite the Beacon, Plea for Guidance, Kithkin Harbinger, etc.
Oh, and there is more, just look!
1 month ago
Berserk - Don't worry, my malignus doesn't have trample.....oh you're gonna attack my other opponent, here, get buffed and die doing so! Very fun and versatile
Kessig Wolf Run - Don't underestimate utility in the mana base
Rancor - Makes a 1/1 into a 3/1 into a 6/4 trample.
Deflecting Swat - Counter counterspells, redirect targetted removal, draw, abilities, etc..... for free? Too much utility to ignore
Ilharg, the Raze-Boar - Cheats things into play for cheap, highly recomended
Sensei's Divining Top - Not needed but very nice to have.
I have other ideas of additions and cuts but don't want to overwhelm you. Be sure to let me know what you think of each suggestion as I think each will tremendously improve your deck. You high too high of an AVG cmc as well as some subpar creatures which can be swapped to be more efficient.
1 month ago
Cool deck! You might like these: Sunbond, Cradle of Vitality, Regna, the Redeemer, Vanquisher's Banner, Empowered Autogenerator, Thran Dynamo, Endless Horizons, Crested Sunmare, Palace Jailer, Throne of the High City, Bonders' Enclave, Arch of Orazca, Slate of Ancestry, Lapse of Certainty, Angel's Grace, Tome of Legends
1 month ago
I like the survival of the fittest + Brawn/anger/genesis. Nice synergy. I also like the bling and energy you put into the deck. I have a couple of ideas for you....
Sword of Feast and Famine - Anti-synergy with Xenagos but combo with Aggravated Assault. Which do you find happens more, anti-synergy or combo?
Nyxbloom Ancient > Mana Reflection? Nyxbloom is a creature so it can be more easily tutored
Yavimaya Hollow - Utility
Solemn - Doesn't seem to do much, you have better ramp and card draw in these colors. Why not replace him for 3CMC ramp to help ensure a T4 xenagos?
You have only 5 sources of card draw, you definitely need much more. I recommend the following....
Load more