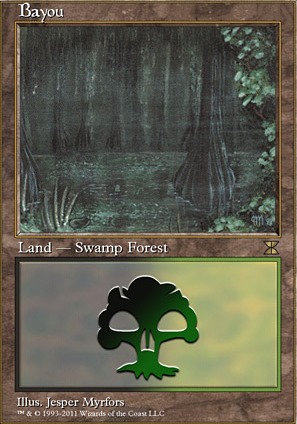 Legality
| | |
| --- | --- |
| Format | Legality |
| Pre-release | Legal |
| Noble | Legal |
| Leviathan | Legal |
| Magic Duels | Legal |
| Vintage | Legal |
| MTGO | Legal |
| Vanguard | Legal |
| Legacy | Legal |
| Archenemy | Legal |
| Planechase | Legal |
| 1v1 Commander | Legal |
| Duel Commander | Legal |
| Unformat | Legal |
| Commander / EDH | Legal |
Bayou
Land — Swamp Forest
(: Add or to your mana pool.)
Have (3)
NostalgicAce ,

T

h

e

R

e

a

l

P

e

a

c

h

e

s

, tragic_slip
Want (9)
Sasuin ,

p

s

k

i

n

n

0

1

,

R

o

a

d

h

o

g

,

M

i

n

d

A

b

l

a

z

e

,

P

o

p

t

a

r

t

z

9

5

,

O

c

h

e

y

o

, dplerner , zachi ,

S

p

i

n

a

l

r

i

p

p

e

r
Bayou Discussion
1 week ago
Definitely a long shot, but I've got a NM Masterpiece Pithing Needle if anyone would be willing to trade me a moderately/heavily played Bayou. I'd be willing to pay a small difference if anyone could work something out with me. Again, probably a long shot, but I might as well try!
I have not traded on here before, which means I have no one specific to vouch for me; I understand if this is an inconvenience. Therefore, I am willing to send first.
2 weeks ago
Hey The_Llanowar_Elf, I've done a bit of playing around with budget versions of this deck, this is what I can recommend; For stuff like Bayou and any other expensive lands, I would replace them with Peat Bog and Hickory Woodlot first, then any after that with basics. For tutors, I would suggest trying to fit in more mana dorks that are not in the deck currently, such as Devoted Druid or Bloom Tender. Hope I could help.
3 weeks ago
Hey Abby!
Thank you for the great trade, I am happy the Bayou found a forever home (: Have fun firing off Griselbrands on turn one and countering Force of Wills like a boss.
Hope you're having a great day!
3 weeks ago
Hey all! Just wanted to share some good news and thank the TappedOut community for being awesome. About a month ago I started looking into building B/R Reanimator for legacy--after getting hooked on the strategy from a cube.
I started with the fetches, promo Griselbrand and Iona, Shield of Emeria, and 4 Lotus Petals. A month later, here I am!
Link for bigger pic NEED 4 T1 GRISELBRAND
Thanks to the traders on this site, the only money I spent on this deck was $150 on two Badlands (one of which is in the mail, currently, hence the basic mountain)!
Special shoutout to KIngWiggins for trading around to help get me pieces (enjoy Chandra!), cj96.calimlim for being willing to trade a Bayou, and Sparky41 for a huge chunk of the deck :)
Legacy is an awesome format, thanks for helping me get into it on a budget! :)
1 month ago
I'm SOOOO close to finishing B/R Reanimator, my first legacy deck! I fell in love with the reanimator strategy by playing a cube and now I have a NEED for T1 Griselbrand :P
The cards I still need:
4x Thoughtseize (LORWYN ART HEAVILY PREFERRED but I may have to shelve my pride, so feel free to make an offer for Theros ones.)
1x Entomb (any art ok, Invocation would be INCREDIBLE)
3x Chancellor of the Annex
2x Griselbrand (promo is fine)
1x Collective Brutality
3x Animate Dead (Graveborn foil preferred, EMA art least preferred)
3x Faithless Looting
I also need these lands, which I'm most willing to trade the Goyfs/Lilianas towards:
1x Badlands
1x Bayou
2x Verdant Catacombs
1x Marsh Flats
I don't really need the enemy colored fetches so I'm looking to trade for the above stuff first, but they're nice anyway. I can contribute cash towards a dual land and am willing to trade heavily in your favor.
BIG TICKET CARDS I HAVE:
2x Tarmogoyf (MM3)
1x Liliana of the Veil (MM3)
1x FOIL Damnation (MM3)
1x Glimpse the Unthinkable (RAV)
1x Japanese Liliana, the Last Hope
1x Torrential Gearhulk Masterpiece
1x Pithing Needle Masterpiece
1x Combustible Gearhulk Masterpiece
SDCC JACE, NISSA, and GIDEON (aka zombie walkers), and a lot of FROM THE VAULT cards. Binder is full of other value things besides, just sort by $. Let's make a deal! :)
Load more