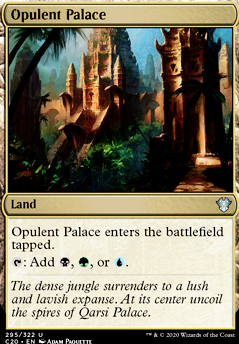 Opulent Palace
Land
Opulent Palace enters the battlefield tapped.
: Gain , , or .
Browse Alters
Trade
| | |
| --- | --- |
| Have (0) | |
| Want (15) | Asfael , Spencerc55 , stride , danielwiseman , Hellxlucifer , 3xist3ntial , berk , Snapdisastermage , kingcraig , Authorauthor , Sting302 , Runed_Servitor , Conderon , Teleman89 , DragonKnightZero |
Legality
| | |
| --- | --- |
| Format | Legality |
| Unformat | Legal |
| Legacy | Legal |
| Modern | Legal |
| Tiny Leaders | Legal |
| Magic Duels | Legal |
| Canadian Highlander | Legal |
| 2019-10-04 | Legal |
| Block Constructed | Legal |
| Frontier | Legal |
| Pioneer | Legal |
| Casual | Legal |
| Leviathan | Legal |
| Vintage | Legal |
| Oathbreaker | Legal |
| 1v1 Commander | Legal |
| Duel Commander | Legal |
| Commander / EDH | Legal |
| Highlander | Legal |
Opulent Palace occurrence in decks from the last year
Rules Q&A
Latest Decks as Commander
Opulent Palace Discussion
2 months ago
Dear Kronhamilton
Golos, Tireless Pilgrim is my favorite commander, and I've been brewing around him ever since he was teased. Let me just say you've chosen an excellent commander.
(I've written quite a lot in an attempt to make a sort of guide for you, so if you want the short version, check out the Suggestions panel)
Golos can be tricky to build around since he can do literally anything pretty well. The easiest way to make an effective Golos deck is to lean into Golos's 7 Mana Rainbow Wheel Of Death. Before getting into that though, we need to cover some EDH deckbuilding basics.
I think the most useful advice I can give someone who is just beginning to explore the deck-building territory of EDH is to structure your deck and mind your Ratios. By this I mean it is useful to categorize the cards in your deck according to the role they fulfill.
We'll begin by looking at some core categories that you'll want to make your deck function effectively. Then I'll present the Ratios (how many of each category of card) you will want to make a generic Golos deck function effectively. Next, I'll include a detailed (but not totally complete, because I'd be here all day) catalogue of cards within some of those categories. I'll also offer up some suggestions and input about some of your specific card choices. Lastly, since I'm about to unpack a lot of information, I will include a brief list of suggestions (see the bottom) for a generically good Golos 'Shell' that should be able to support most Golos strategies.
Categories
Draw

Ramp

Removal

Sweepers

Threats

Support

Land
The art of Ratios is all about determining what combination of cards from each category makes your deck run the most smoothly.
Please note that these Ratios will not total to 99 cards. This is because you will invariably have extra flexibility to choose how your deck behaves even after establishing functional Ratios. Also keep in mind that although these Ratios do recommend you adhere to the minimum number of cards in each category, you still can choose which cards will fill those slots. The point is not to restrict your options, but instead to create a 'Shell' that is reliable enough to power your Threats cards, Support cards, and other cards. Whatever you do, make sure you have at least the minimum number of Draw and Ramp cards. THE MOST IMPORTANT CARDS IN THE DECK ARE DRAW AND RAMP!!!
While I ultimately suggest Ratios resembling the Basic Golos Shell, I will lay out the Ratios for several different Shells;
Template: a sort of baseline beginner's guide which is commonly promoted as a place to start.

Basic Golos: a modified version of the Template that suites most Golos decks.

Control: a version tailored for a slower game with many Sweepers.

Aggro: a version designed to act quickly and deploy Threats before the opponents are prepared.

Big Mana: a version invested heavily into Ramp with the goal of deploying many end-game Threats.

Mega Mana: an even more extreme version of Big Mana with extremely expensive Threats.
Please remember that any suggestions I make are because I am trying to help. Ultimately, the choices you make with your deck are up to you, and I can only provide constructive criticism based on my own experience and opinions.
Good luck :)
Ratio Fixing
The most effective change to your deck would probably be adjusting the Ratios, especially with regard to your Draw cards. Applying the most basic Template Shell, you want to have at least these three quantities nailed down for a smoother and reasonably powerful deck;
Lands – 36 --> You have 40 Lands (Cut 4 Lands)

Ramp – 10 --> You have 5 true Ramp cards (Add 5 to 8 Ramp cards)

Draw – 10 --> You have 3 true Draw cards (Add 7 to 10 Draw cards)
Ramp & Draw Additions Show
What I counted in your deck Show
Mutate
Depending on how strong your Mutate subtheme is, some of your Mutate inclusions may act as engines. However, I must state that Mutate is a VERY risky and even fragile strategy since your Mutate 'Pile' of creatures will all be destroyed at once if your opponent uses a Removal spell or a Sweeper. For that reason, I recommend leaning out of the Mutate theme (unless the Mutate card is just straight-up insane, as in the example of Nethroi, Apex of Death).
With that said, playing a Mutate theme is your decision and I totally respect that and if you want to stick to a Mutate theme then by all means do so. I just want to be sure you know that Mutate is a risky strategy that you cannot depend on to fulfill your Ramp and Draw slots (so you'll just need to supplement it with other cards).
Cut or Include?
At a glance your deck seems like something you have created using just your collection – and that's great! However, if you want to incrementally upgrade your deck, then I recommend replacing most of the cards in your deck with more powerful options over time.
Here is a list of cards you should probably keep playing: - Barrier Breach (Removal, because exiling 3 enchantments is helpful in some situations)
In my opinion, there are other, better options for all of the other nonland cards in the deck, however it is up to you to decide on how you would like to proceed so I won't intrude.
I strongly recommend cutting the Planeswalkers though – Calix, Destiny's Hand doesn't seem to synergize much with the deck and I feel that Lukka, Coppercoat Outcast is not very potent.
Lands
Just as a recommendation, I would suggest the following spread of Basic Lands;
8 Basic Forests

3 of each other Basic Land
The remainder of your lands could be either more basics (which is really, really, risky if you don't have tons of Ramp – think like 15 Ramp cards and about 12 Basic Forests) or Color Fixing Lands (see the Catalogue for more options). It is rough to have your lands enter the battlefield tapped, but unless you want to either lean into Green or spend a lot of money on lands, you will just have to live with it (I play around 5-10 tapped lands in a normal Golos deck and it isn't really that bad).
In this section, I will list out an example of the Basic Golos Shell complete with the necessary Ratios and some examples of good/fun cards in each category. I'll try to keep it relatively Budget sensitive and most of these cards will be relatively random – this won't be based on any particular theme so don't expect it to be optimal.
As a reminder:
The Shell
Ramp – 12
Draw – 13
Removal – 7
Sweepers – 2
Threats – 12
Support – 7
Land – 36
Good Luck :)
-Slashdotdash
2 months ago
Updated the landbase slightly. The tri-lands are out since it's too important for us to have our first three mana without any tapped lands.
Opulent Palace --> Gemstone Mine
Zagoth Triome --> Ancient Ziggurat
Thran Quarry was also a consideration of mine. But I think it might get us into too much trouble, so I'll hold back on that.
Cheers!
3 months ago
Force of Will, Force of Negation—oh yeah.
Wild Pair seems like it might also be good, if perhaps a little slow. Dual Nature is kinda similar, but hits everyone. There's also Lurking Predators, which is kinda similar.
Lands: Flooded Grove, Sunken Ruins, and Twilight Mire are good in 3 color, and you appear to have an abundance of basics you could hew from. I also like Reflecting Pool and Exotic Orchard in 3 color+. Also good are Prismatic Vista and Fabled Passage, even if you don't wanna bother with the etb tapped Evolving Wilds and Terramorphic Expanse. Path of Ancestry and Opulent Palace are also worth considering, if you can get over their tappedness. Could also consider the omnipresent Vesuva and Thespian's Stage for other people's good lands or for your Cabal. I also rather like Alchemist's Refuge in these colors, and Ancient Tomb in general, which is also kinda thematic with your Gorgon general. Also Temple of the False God. And Nykthos, Shrine to Nyx might be super good with all your blue dudes. That means you could also run Deserted Temple (and run with a mini temple theme) for your Cabal and Nythos, as well as potentially your copylands. Finally, Strip Mine never hurts, unless you want to maintain more basics.
I'm not seeing Sol Ring! Fellwar Stone is also good, though I'm not sure you need another. Also, Mana Crypt, but yeah.
You've got Demonic Tutor, might as well run the superior Vampiric Tutor as well.
Genesis Wave might also be good, again, if a bit mana-heavy. In the same vein: Omniscience. Card's an obvious bomb with your general, I wouldn't shy away from it. You could also combo out with Null Profusion and/or Recycle, but that might be a line too far. Or maybe not, it's not exactly "infinite" per se! I encourage you to run em, go big on the Janktown Express.
Thassa's Oracle might be something of a win-con for you, and it's not bad with all your blue dudes either way.
Villainous Wealth from the new set is kinda cool, but maybe not entirely necessary.
Kydele, Chosen of Kruphix is a neat mana source, especially when you compare her to something like Thran Dynamo. Might be worth considering.
Alhammarret's Archive—again, maybe a little slow, but 14 cards every turn? Thought Reflection, too. Could be game-enders, especially if you're running Omniscience.
Abundance is also kinda neat for your draws–can guarantee no lands if you don't want em. Might be a little underwhelming, but might be a bomb, I'm not sure.
Burgeoning is almost must-run with this general, also, now that I think about it. You'd be way ahead of everyone all the time with it and your general.
Alright, that's all I can come up with at the moment, but I reckon that's a good amount of adds to consider for you already 104 card deck. A few of these I feel like you really should work in there. I'll take a look at potential cuts a little later!
3 months ago
Looking good! It's hard to screw up Muldrotha. Just go to value town. Your selection of creatures seems great!
That said, I would include a little more ramp. You are at eightish, which is where one usually wants to be in an EDH deck, but Muldrotha is usually kill-on-sight and 6 CMC. Try to use more things that permanently get a land into the field, which you already have a good amount of, like Cultivate and Kodama's Reach. Also, Wood Elves, Farhaven Elf, and Wayfarer's Bauble can be brought back for value--making them particularly good. Elvish Reclaimer is an interesting choice too.
The one-CMC dorks (Llanowar Elves, Fyndhorn Elves, Elvish Mystic, Boreal Druid, Arbor Elf, Wild Growth (and to a lesser extent Birds of Paradise and Utopia Sprawl) are all extremely good generally for their speed and chumping ability. If they get whacked or boardwiped they can slowly be brought back later. Getting Muldrotha out as soon as possible is very worth it. I don't run many mana dorks in my Muldrotha deck. I would run as few artifact rampers as possible, since you don't have to (as you run Green). Lands are always safest. Commander's Sphere being brought back for the card draw is nice--probably better than the Darksteel Ingot.
Good job on including Evolving Wilds. I would also add Terramorphic Expanse and maybe Myriad Landscape, Warped Landscape, and Blighted Woodland. The Mirage fetches (Bad River, et al) are decent but better with fetchable lands that have two colors--like Sunken Hollow and Watery Grave. Be sure to include Opulent Palace. Exotic Orchard, Grand Coliseum, and Command Tower are worth including too. On a budget, Vivid Marsh, Vivid Creek, and Vivid Grove are all good too. That all said, I still like running a healthy amount of Basic Lands for repeated fetching.
Protecting Muldrotha is important. Kaya's Ghostform is an excellent choice. I would also include a combination of Aspect of Mongoose, Canopy Cover, Alpha Authority, Diplomatic Immunity, Alexi's Cloak, Cloudform, Mystic Veil, Robe of Mirrors, Mirror Shield, Whispersilk Cloak, Neurok Stealthsuit, Mask of Avacyn, and Swiftfoot Boots. Usually the Enchantment Auras are considered weak because they can be two-for-one'd, but Muldrotha can bring them right back!
Personally, I believe every single EDH deck should run at least two boardwipes, and more if you can find the room. Sometimes it's just an emergency. On a budget in Sultai colors I like Crux of Fate and Gaze of Granite the most, followed by In Garruk's Wake (should have the mana!), Deadly Tempest, Decree of Pain, Extinction Event, Hex, Nevinyrral's Disk, Oblivion Stone, Killing Wave, Hythonia the Cruel, Life's Finale, Massacre Girl, Necromantic Selection, and Black Sun's Zenith. Pernicious Deed is great too.
Not everyone likes doing this, but I love running Enchantment-based removal in Muldrotha since it can be reused. Many have strong effects but still aren't worth it since they can be removed but Muldrotha gets rid of that drawback! Things like Corrupted Conscience, Inevitable End, Kasmina's Transmutation, Ichthyomorphosis, Lignify, and Lay Claim. I've actually had good luck with things an innocuous as Universal Solvent.
4 months ago
So a few things as far as this deck goes.
First, is your mana base. While yes the deck is able to go infinite, you won't be able to get there if you don't consistently have lands for mana, so you may need to look at adding a few more. A couple big ones to look at would be Nykthos, Shrine to Nyx, Opulent Palace
Second, a lot of your cards give opponents permanents like Swan Song, Beast Within. Be careful how much you are giving your opponents because they could use those to help sacrifice for other things they could use. The same can be said for spells such as Rites of Flourishing. That card gives your opponents chances to draw counter spells and ramp themselves out to their own combos.
Third, I am a little lost why some cards are in the deck like Deathrite Shaman or Selvala, Heart of the Wilds. Also with Astral Cornucopia it seems unneeded to be in the deck. To make it really useful you are very well able to do the infinite combo easily at that point, so why have it?
Really look into what kind of combos you are wanting to do, then look at whatever cards are not helping those combos as the ones you can cut for other cards to help make it easier to do those combos.
4 months ago
I would consider Prosperity in this list specifically for Win Con 1, since it's a little cheaper and in a pinch you could politic it for the table and just draw a ton of cards but also get a big token.
Also, 33 lands is a little light here. I'd try to add at least 3 more. Since it seems pretty spell heavy, Boseiju, Who Shelters All could be solid here, Opulent Palace for mana fixing in your colors on a budget, etc., Mage-Ring Network could be good for extra mana on your X drops.
Also Parallel Lives effects for the cast trigger would double the counters on one token, but (unless I'm wrong) wouldn't put the counters on the copied token- causing a 0/0 to die as a state-based action. Might want to consider Primal Vigor here instead to get more on the counters for the first token, but I would suggest cutting this for extra lands since you seem light on them, big time.
4 months ago
Cut the duplicates
If you can afford it, exchange Ghost Quarter vs Wasteland and Cabal Pit vs Ancient Tomb (or for Bojuka Bog)
Other good (utility) lands which are always good:
"Slow Lands" which sadly enter the battlefield tapped but, (in my opinion) are worth that downside:
I can also highly recommend visiting as a source of inspiration.
It would really appreciate it if you would visit some of my decks and leave comment there
Load more