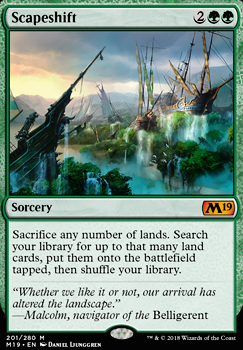 Scapeshift
Sorcery
Sacrifice any number of lands. Search your library for that many land cards, put them onto the battlefield tapped, then shuffle your library.
Browse Alters
View at Gatherer
Trade
Legality
| | |
| --- | --- |
| Format | Legality |
| Historic | Legal |
| Unformat | Legal |
| Casual | Legal |
| Vintage | Legal |
| Limited | Legal |
| 1v1 Commander | Legal |
| Modern | Legal |
| Canadian Highlander | Legal |
| Arena | Legal |
| Leviathan | Legal |
| Pioneer | Legal |
| Block Constructed | Legal |
| 2019-10-04 | Legal |
| Oathbreaker | Legal |
| Legacy | Legal |
| Commander / EDH | Legal |
| Highlander | Legal |
| Tiny Leaders | Legal |
Latest Decks as Commander
Scapeshift Discussion
3 days ago
Assuming you still would like help, here are my thoughts just going off what you already have (so your mainboard and sideboard).
First of all your land situation needs to be sorted out. You have an insanely high average cmc (4.74) so you're going to be looking at about 40 lands without the very pricy ramp cards. 30 lands is in the range that decks with an average of about 2cmc or lower run. Here's a quickly made list of your lands that I'd use:
You almost always want to prioritise lands that can come in untapped over ones that always enter tapped. This is because auto-tapped lands basically set you back a turn, so it's often better to just run a basic over something like Sheltered Thicket. The exception here goes to the Triomes because they offer three colours and more importantly can be picked up by your fetchlands.
As for the rest of your cards, here's what I recommend cutting:
And add in their places, assuming you're running 40 lands:
Hopefully that helps, and let me know if you have any questions! These are just suggestions after a brief runthrough of course, so feel free to take them or leave them!
5 days ago
Glacial Chasm is a great defensive tool that helps you mainly when you are ahead, or when you are behind.
It can secure you the win after making an explosive play that makes you the archenemy of the game. Let's say we start activating Gaea's Cradle 3 times in a turn to cast a Genesis Wave for X=20+. Or if you cast a Scapeshift at 8+ lands. If that did not already kill the table, everyone is surely going to gang up on you. Glacial Chasm will make it very hard for them to kill you in the next turn rotation. And you probably only need one more turn to finish the job. So it's great for when you are ahead.
It's also great for when you are behind and you need time to setup before you can become aggressive, let's say after a boardwipe. If there is another player that is getting out of control, Glacial Chasm can help you turtle up until you find an answer or the means to take them out. Then, paying any cost is lower than losing the game. So even if you don't have land recursion or lifegain to combo with Chasm, it's still a great card for when you are behind as well.
1 week ago
Hey BenWin, thanks for the shout out. As you wrote a long post I thought it fair I do the same in reply.
I want to respond to your comment as I think there is a lot you are overlooking in your analysis, most of which is on point. However, you mentioned a few cards now a couple of times so I want to break these down a bit as you have gone to the effort to write an extensive comment.
All of this discussion is what makes Omnath such a great general as there are so many viable build options.
1 week ago
Finished a game last night with this deck. It got to the last turn and my opponent was tapped out. He still had a full 40 life. I had 6 lands on the board with Scute Swarm, and I drew Scapeshift. I also had Amulet of Vigor and Temur Ascendancy on board. I played Scapeshift, found all the fetch lands, fetched out a couple more fetch lands and dual lands...and by the end of it I had 20 landfall triggers. We didn't count how many Scute Swarm got made. With the remaining 6 untapped lands+Omnath, Locus of Creation, I slammed down Moraug, Fury of Akoum and swung for lethal.
The deck has problems with its few card draw outlets, but left alone, it can combo off pretty hard. I had lots of fun and am now trying to adopt the scutate strategy in standard to play in Commander. Thanks for the deck!
2 weeks ago
Actually, no. Both Prismatic Omen and Dryad of the Ilysian Grove both take care of that issue. These in combination with Ashaya, Soul of the Wild will cause triggers from creatures ETB as they'll be land creature and recognized as all land types. Ancient Greenwarden gives double triggers without dropping Vesuva using Scapeshift or similar cards.
The real issue I'm finding is that whit doesn't offer this deck design much. I'm actually leaning towards Lord Windgrace

who would offer better tutoring effects and draw.
2 weeks ago
As much as I want to like the the flip lands I just don't think any of them are good enough to make the cut. I expect to see them floating around other Om_rath builds, I just don't think bad lands with bad effects are worth the utility. My opinion of course.
Out of all the great offerings from Zendikar Rising I think there are four cards for sure going in the deck, 1 that I will most likely add, and 2 that I want to add, but won't.
The four cards that for sure make the cut are:
Ancient Greenwarden - Best "Auto Include" for this deck in a while! Both effects are amazing for us, and being on a body that can block most flyers is great!
Valakut Exploration - Conditional card draw, but still powerful. The damage on the back end is more cute then game changing, but it might kill some low life totals in a pinch.
Nahiri's Lithoforming - I see this as a flexible Scapeshift that also draws you cards. I'm really hoping it plays out as well as it does in my head.
Roiling Regrowth - Two landfall for 3 cmc is to good not to include. Yes, its a bad Harrow, but that still makes it a good card.
That card that I want to add but might not:
Moraug, Fury of Akoum - I love the power and fun behind this effect. The problem is that this build does not focus to much on swinging in, but Moraug might just be a flap. I can see this still being good when you can get 3 combats with even just 4 5/5s swining!
The two cards that I like but arn't good enough to make the list:
Phylath, World Sculptor - Although this card is screaming for Om_rath's attention, I just don't think it is good enough to take up a 6 cmc slot in this deck.
Ashaya, Soul of the Wild - This protects from SOME removal, but not nearly enough to be worth including. Throw it in your Omnath, Locus of the Roil tribal deck, but I don't think it is good enough for us here.
The struggle now is finding 4-5 cards to cut... This is what I came up with:
Force of Vigor OUT FOR Ancient Greenwarden - I shouldn't cut removal, but this card has sat in my hand way more games then I care to admit. I know for a fact that would be happening with Greenwarden.
Perilous Forays OUT FOR Moraug, Fury of Akoum - Perilous is one of our OG cards, but it has been under-performing lately. With all the creature tutors in the deck now I think I am relying way more on pulling out answers that way.
Return of the Wildspeaker OUT FOR Valakut Exploration - Seems like a clean card draw upgrade.
Genesis Wave OUT FOR Nahiri's Lithoforming - The change I'm least sure about. I LOVE throwing a bunch of mana into Genesis Wave but I've noticed it was overkill most of the times I've cast it. Regardless, it sure is cool!...
Ranger's Path OUT FOR Roiling Regrowth - I can already hear people saying I should cut Migration Path instead, but I like the ability to cycle more then the marginally better mana fixing. I have never struggled to hit the colors I needed with this deck.
What do you guys think about my changes? Is there anything you can come up with to save Genesis Wave? I look forward to hearing back from all of you!
2 weeks ago
As far as ramp goes I think you have a good amount, but it could maybe use a little tuning! Nissa's Pilgrimage has too big a chance of failing to find in a deck with only 5 forests. I would add in Circuitous Route and Explosive Vegetation. Having a really low curve probably doesn't need to be your biggest concern since your whole game plan is dropping 3-5 lands a turn. So I would probably drop a couple of the lower costed single land grabbing spells.
Also Scapeshift and Splendid Reclamation are wonderful possible game enders in landfall decks.
I also run 40 lands in both of my lands matter/landfall decks and try to keep the basics around 20 because I used to run 36 and maybe 10 basics and starting to fail to find before you have the board state to win the game is a really terrible feeling
Load more