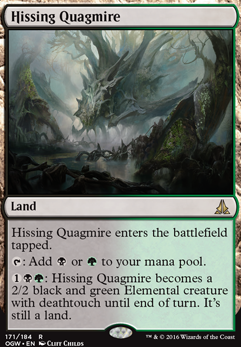 Hissing Quagmire
Land
Hissing Quagmire enters the battlefield tapped.
: Add or to your mana pool.
: Hissing Quagmire becomes a 2/2 black and green Elemental creature with deathtouch until end of turn. It's still a land.
Browse Alters
View at Gatherer
Trade
Legality
| | |
| --- | --- |
| Format | Legality |
| Unformat | Legal |
| Leviathan | Legal |
| Commander / EDH | Legal |
| 1v1 Commander | Legal |
| Block Constructed | Legal |
| Modern | Legal |
| 2019-10-04 | Legal |
| Custom | Legal |
| Oathbreaker | Legal |
| Casual | Legal |
| Pioneer | Legal |
| Limited | Legal |
| Highlander | Legal |
| Canadian Highlander | Legal |
| Tiny Leaders | Legal |
| Vintage | Legal |
| Duel Commander | Legal |
| Legacy | Legal |
Latest Decks as Commander
Hissing Quagmire Discussion
3 months ago
Cool deck! You might like these: Animist's Awakening, Kamahl's Druidic Vow, Traverse the Outlands, Squandered Resources, Lotus Cobra, Stone-Seeder Hierophant, Shared Summons, Alhammarret's Archive, Memorial to Unity, Memorial to Folly, Embodiment of Fury, Embodiment of Insight, Hissing Quagmire, Lavaclaw Reaches, Raging Ravine, Waker of the Wilds (strongly recommend this last one. once Om is out, you can pay to pop a land, dealing 3 damage and creating a bigger elemental)
4 months ago
Golgari Rot Farm, Hissing Quagmire, Jungle Hollow, Khalni Garden, Oran-Rief, the Vastwood, and Temple of Malady would be immediate cuts from me. I'd run things like City of Brass, Mana Confluence, Overgrown Tomb, Forbidden Orchard, and fetches instead (if you can afford them).
5 months ago
I've been playing around with a decklist for Nethroi, too. I really like your budge approach. I was trying the same at first but couldn't stop me from buying all these cool overpowered and overpriced pieces of cardboard :D
I think Season of Growth would be good with a reasonable amount of mutate creatures. Lumberknot too because it (or a mutant) keeps growing and is permanently hexproof on top. Golgari Grave-Troll is also "fairly" cheap at the moment. And the manlands Stirring Wildwood, Hissing Quagmire and Shambling Vent can act as a backup to mutate onto after a board wipe.
6 months ago
Okay so here's a bunch of suggestions that fit Gyruda's requirement and then some things to then take out.
Put in: Arcane Signet, Wake the Dead, Gravespawn Sovereign, Embalmer's Tools, Sakura-Tribe Elder, Disciple of Bolas, Forgotten Creation, Notion Thief, Oversold Cemetery, Skull Prophet, Clever Impersonator, Garruk Relentless  Flip, The Cauldron of Eternity, Sire of Stagnation, and Razaketh, the Foulblooded. The cards in your maybeboard seem good too.
Take out: Cranial Archive, Enhanced Surveillance, Devious Cover-Up, Gather the Pack, Migratory Greathorn, Polukranos, Unchained, Shepherd of Rot, Vengeful Dead, Void Beckoner, and all petitioners.
In terms of land, there are a lot of cheap options to include that will make a three color deck a lot better: Choked Estuary, Sunken Hollow, Botanical Sanctum, Blooming Marsh, Fetid Pools, Hissing Quagmire, Drowned Catacomb, Hinterland Harbor, Woodland Cemetery, Bad River, Ash Barrens, Dakmor Salvage, Exotic Orchard, Witch's Cottage, and stuff like that. Replace the guildgates and bounce lands and a few basics with those if you can.
And lastly if you want to run the petitioners then you should put more of them in, otherwise having just 8 won't do a whole lot for you most of the time other than for fun.
7 months ago
I love the flavor of this deck! Looks super fun.
Quick question - why is Pine Barrens in here? Seems like Llanowar Wastes, Temple of Malady, Hissing Quagmire, Jungle Hollow all might be better and still in your budget. or maybe another vivid land.
related question - is this really playable with 17 lands? seems very low.
anyway keep having fun looks great!
7 months ago
Hey, there's some good cards here, but my advice is before you make any other changes that you focus on the manabase. If you want better results then improving the manabase can help. The ratio of 28 lands that are green sources of mana to 10 sources of black mana is subpar. Even though there's more green cards here than black you still need more black.
It appears you're playing so many Forests because you're counting on having a green land ramp spell to search for a Swamp. This is a trap, it's too risky, because if you don't draw a land ramp spell then how are you going to get black mana? A safer plan is not count on having land ramp spells instead build the manabase with the idea that you will not have access to them. Think of them as a bonus for ramp, instead count on the consistency of different colored lands to cast cards.
Lands within the budget to consider adding:
If you cut 10x Forest for these lands then you have many more black sources while still keeping the green sources the same. There's an artifact theme here which makes mana rocks Golgari Signet and Talisman of Resilience good budget options for ramp.
Good luck with your deck.
Load more