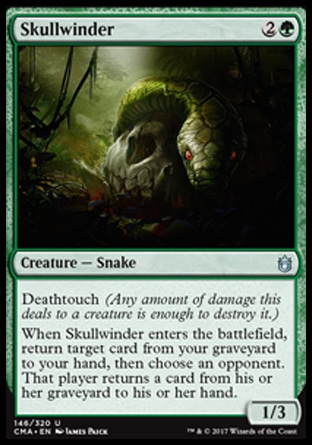 Skullwinder
Creature — Snake
Deathtouch (Any amount of damage this deals to a creature is enough to destroy it.)
When Skullwinder enters the battlefield, return target card from your graveyard to your hand, then choose an opponent. That player returns a card from his or her graveyard to his or her hand.
Browse Alters
Trade
Legality
| | |
| --- | --- |
| Format | Legality |
| Tiny Leaders | Legal |
| 1v1 Commander | Legal |
| Magic Duels | Legal |
| Canadian Highlander | Legal |
| Vintage | Legal |
| Leviathan | Legal |
| Legacy | Legal |
| Duel Commander | Legal |
| Oathbreaker | Legal |
| Casual | Legal |
| Commander / EDH | Legal |
Skullwinder occurrence in decks from the last year
Commander / EDH:
All decks: 0.02%
Green: 0.12%
Golgari: 0.15%
Skullwinder Discussion
2 weeks ago
GrizzlyAtom: Just wanted to say that I absolutely loved the list! Safe to say you hit the nail on the head on almost all of your choices. However, I do highly recommend you make a couple of changes for the general consistency of the deck.
These won't be direct swaps to the cuts and more of a series of cards that you should highly consider as I don't want to cramp your style.
I hope this helps, I love the deck, will be keeping up with it. Final recommendation would be to use a similar categorization that I used in Yeva for your list as it helps you visualize your deck based off function and see where it is lacking.
1 month ago
I like group hug decks so much, and I think that you can consider some of these cards:
I hope that this helped you
4 months ago
Eternal Witness , Finale of Devastation , Creeping Renaissance , Deadwood Treefolk , Genesis , Greenwarden of Murasa , Hatchery Spider , Moldgraf Monstrosity , Nature's Spiral , Noxious Revival , Paleoloth , Praetor's Counsel , Regrowth , Reincarnation , Revive , Seasons Past , Skullwinder , Verdant Confluence , and Wildwood Rebirth are all reasonable options and I am sure I am missing a few since I was going through this quickly at 2 am.
With mono g I would say get 3 or 4 of these and focus on keeping a full grip of cards even if it means cutting a few of your worst wurms to make it so you get to your good wurms faster. A Duskwatch Recruiter Flip is more helpful to you than something like Duskdale Wurm . Good draw and tutors make a deck much stronger than one just jam packed with big dudes.
There are also a few indestructible creatures that can be used if there are far too many board wipes to recover. Spearbreaker Behemoth , Impervious Greatwurm and Nylea, God of the Hunt are pretty fitting cards for wurms imo.
6 player games can be fun, but you are right, some decks don't really function well with that many. I always prefer 4 player games.
4 months ago
Actually, most people don't scoop, even when it's clear I'm going to win. They want to see the wincon first. Finale is used pretty much purely as a Green Sun's Zenith in this deck, and Walking Ballista is the best one card wincon for these reasons. One, it can be tutored which is extremely relevant. Two, you can get it with Duskwatch Recruiter Flip, which if you have infinite mana and one tutor, you can get the recruiter and play Walking Ballista from there, and you have access to Eternal Witness and Skullwinder in case of counters. Three, it only requires infinite mana, as opposed to infinite storm. Aetherflux Reservoir requires more cards to actually win, and you whiff if you have infinite mana and Reservoir in hand, but no source of card draw or tutor or storm generation. Ballista still wins the game in that place. Viridian Joiner is no doubt a bad card, I just don't know what to cut for a duplicate of my commander, and in the case when Marwyn gets taken by a Gilded Drake or something, the best bet is probably just Priest of Titania anyway. Viridian Joiner is also a dead card in 95% of situations, but it does have its benefits. Finally, Duskwatch Recruiter Flip is the second best draw outlet in the deck ( Staff of Domination will always be better), but Duskwatch Recruiter Flip has never underperformed for me. Riftsweeper on the other hand seems like a meta call, when I play cEDH exiling cards are never really a problem.
4 months ago
It's hard to see your real curve because of your large Maybeboard. Though you don't have a lot of 1-drops, that's for sure. Search for Tomorrow and Diligent Farmhand are good choices in that regard.
You have a lot of cards that cost 2 but you don't really want to cast on turn 2. Things like Zulaport Cutthroat should be saved in hand for a big play, for example, and Costly Plunder will probably rarely be cast on turn 2, whereas something like Sakura-Tribe Elder will ALWAYS be played on turn 2. Same with Farseek , Nature's Lore , etc.
Top-end should really be wincons. You have Pathbreaker Ibex , Overwhelming Stampede , and Command the Dreadhorde for that, and I think you could fit in one or two more big ones. Rise of the Dark Realms , Craterhoof Behemoth , Triumph of the Hordes , Avenger of Zendikar , Rune-Scarred Demon to tutor for answers/wincons - these are all solid top-end choices.
I would cut your creature-count by about 5. I suggest looking at Massacre Girl , Skullwinder , Carrion Feeder , Whisper, Blood Liturgist , World Shaper , Gonti, Lord of Luxury . Most of these are decent cards, but I don't think they do enough in your build.
Load more