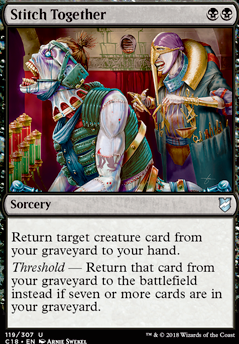 Legality
| | |
| --- | --- |
| Format | Legality |
| Tiny Leaders | Legal |
| Noble | Legal |
| Leviathan | Legal |
| Magic Duels | Legal |
| Canadian Highlander | Legal |
| Vintage | Legal |
| Vanguard | Legal |
| Legacy | Legal |
| Archenemy | Legal |
| Planechase | Legal |
| 1v1 Commander | Legal |
| Duel Commander | Legal |
| Unformat | Legal |
| Casual | Legal |
| Commander / EDH | Legal |
Stitch Together
Sorcery
Return target creature card from your graveyard to your hand.
Threshold — Return that card from your graveyard to the battlefield instead if seven or more cards are in your graveyard.
Have (12)
Supremespeed , corys , Joblaska , Fairseas , bpiser95 ,

i

t

h

e

o

r

y

z

, xXThormentXx , frederiklw , coyler2016 ,

A

C

C

G

, silvereh , bennybubbles
Want (17)

S

k

w

a

r

k

a

, Pawstitute , SpottedGee , VampSlayer , Talonisnthavingit , ferretgr , CaptianClueless , LagAngel , blaze333 , frederiklw , kovellen , d3nnisV , terrykyg , Edu7ez , SilverGalaxE , frands24 ,

L

y

t

h

i

a
Stitch Together Discussion
6 days ago
Looking for cards that can help me bring out Dragons for free. So any card that does this sort of thing, really.
I know a small list already, but I was wondering what else there is so I can try to narrow and hone in on the best cards.
Here's what I already know of that do this sort of thing, in one way or another. In no particular order, because I'm lazy.
I'm trying to stay away from graveyard tricks, so please keep those suggestions to a minimum. Thank you.
As I said, I'm trying to stay away from Graveyard tricks but if it is cheap enough and easy to pull off, I guess it works. I'm looking to constantly grow my boardstate every turn, not try and rebuild it from scratch.
Yes I know Dragon Broodmother and Utvara Hellkite will grow the boardstate as well. I plan on including them. I just wanted to know what else I might be missing :)
Thanks! :D
2 weeks ago
My opponent scooped during my Lord Windgrace game yesterday and I'd just like to share because it was absolutely insane.
So context first: I had a T1 Sol Ring and ended up bringing out Gruul Turf and Temple of the False God rather early. I had a small assortment of creatures out, but nothing quite so impactful. However, I was able to bring out an Avenger of Zendikar which net me 5x 0/1 Plant tokens and an Omnath, Locus of Rage along with Xenagos, the Reveler and Lord Windgrace whom was up to a decent amount.
It got to my turn:
My opponent's biggest threat was a 9/9 Predator Ooze which he was relentlessly assaulting me with. I was not wanting to attack because I was building up a creature base to try and overwhelm him first. He had a lot of small creatures and I had nothing with trample. I felt that if I full-assaulted, he would just let it all through and swing for game. Plus, anything he blocks with PO will just make it stronger, meaning more damage to me later.
His typical strategy is to bring out a ton of small creatures and get Craterhoof Behemoth out and swing for game. So I knew I had to act quick because I felt like he was setting up for that win.
---
So it gets back to me and I feel like the clock is ticking away. I decide that I no longer need Xenagos' ramp so I opt to crack off his ultimate.
I end up bringing out the best possible assortment of cards.
Caustic Crawler, Swamp, Bloodstained Mire, and Jund Panorama.
So right there I see I am about to finally nail this Predator Ooze to the F-ing wall. I tell him I'm about to kill that SOB, and he's like "How?! It has indestructible!" -- "Yeah, but -1/-1 isn't damage ;)"
So since Caustic Crawler entered with those three lands, something immediately gets -3/-3. Pin that on PO.
Keeping Track:
3x Lands entered this turn
Predator Ooze is at -3/-3 (Recall, he's a 9/9)
Plant Tokens are currently at 6/7
Currently have 7x Elemental Tokens
I tap Sol Ring and sac both Bloodstained Mire and Jund Panorama for a Swamp and a Mountain.
5x Lands entered
Predator Ooze is -5/-5
Plants are now 8/9
9x Elementals
He gets mad, but I'm not done yet ;)
-3 Lord Windgrace to bring back 2x lands to the field: Bring back Bloodstained Mire and Jund Panorama >:)
7x Lands entered
Predator Ooze is at -7/-7
Plants are at 10/11
11x Elemental Tokens
So with Bloodstained Mire and Jund Panorama. With the remaining that is floating from Sol Ring earlier, I sac both lands and search for a Mountain and a Forest.
9x Lands entered
Predator Ooze is -9/-9 and dies to SBA
Plants are at 12/13
13 Elemental Tokens
Now at this point my opponent is furious and begins untapping their things, thinking I am done with my turn.
"WOAH WOAH WOAH, I'm still in my main phase!"
"OH FOR F-S SAKE!" ... "Longest turn in Jund history, much?"
So, I play my land for the turn. Lol a Swamp.
10x lands entered this turn
-1/-1 to something else, I don't recall.
Plants are 13/14
14x Elemental tokens
I tap for , play a Burnished Hart and end my turn.
So he taps out, brings out some more creatures - no Craterhoof Behemoth, and passes reluctantly.
I end up topdecking Stitch Together and laugh like an idiot.
---
Forest for my land for the turn.
1x land entered this turn
-1/-1 from Caustic Crawler
Plants are 14/15
15x Elemental tokens
Then I sac Burnished Hart for for 2x Forests.
3x lands entered
-3/-3 in total from Caustic Crawler, all of which is taking out some of his smaller guys. Remember, I'm trying to clear the board of small creatures so that in the event of a Craterhoof Behemoth, the impact isn't so strong.
Plants are now 16/17
17x Elemental tokens
I then -3 Lord Windgrace and say I'm going to bring back Bloodstained Mire and Jund Panorama again.
At this point my opponent is fuming. He begins to swear under his breath and scoop.
"Woah, what are you doing?!" I laugh.
"You gonna let me finish? I still need to sac these lands and play Stitch Together to bring back Burnished Hart for two more lands!"
Haha yeah. Good times. Lol.
1 month ago
Paradox Engine, Eater of the Dead (you need Brainspoil to tutor him for sure), Phyrexian Devourer (his ability will only go on the stack once so once his power hits 7 go crazy and make him big for one last gigantic mill), and Intruder Alarm can all close out games. Mesmeric Orb is pricy but can easily know I out a quarter of everyone's deck when played turn 2. Thousand-Year Elixir May also be worth a shot.
Undead Alchemist with Altar of the Brood is almost infinite.
But I love not expensive things. Take a look at Pemmin's Aura, Freed from the Real, Sword of the Paruns, Bonehoard, Mortivore, and Slagwurm Armor. Stitcher Geralf is also fun.
You also may consider milling yourself every once in a while to use Ever After, Necropolis, Stitch Together, and Treasure Cruise.
If you thought even some of my ideas were worthwhile then you may want to consider looking st my deck for more card suggestions. !!!DANGER: YOU ARE ENTERING A MILLZONE!!!
4 months ago
Daedalus19876 For the most part, I reeeally tried going all-permanent. Insidious Dreams, Life from the Loam, and Buried Alive are really the only instants/sorceries I feel like this deck needs. Harrow has been turned into Dreamscape Artist so that can go. Stitch Together is great, but Apprentice Necromancer also exists. Sultai Charm and Windfall were kind of thrown in there to make due since I had to sell off Gilded Drake and Dream Halls (they both just spiked!!).
I LOVE the idea behind Primal Surge!!
Load more