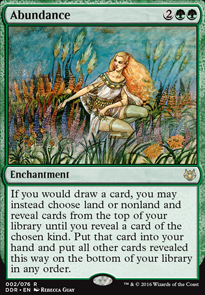 Legality
| | |
| --- | --- |
| Format | Legality |
| Vintage | Legal |
| Duel Commander | Legal |
| Commander / EDH | Legal |
| Legacy | Legal |
| Modern | Legal |
Related Questions
Abundance
Enchantment
If you would draw a card, you may instead choose land or nonland and reveal cards from the top of your library until you reveal a card of the chosen kind. Put that card into your hand and put all other cards revealed this way on the bottom of your library in any order.
Abundance Discussion
2 days ago
So I have an Ezuri, Claw of Progress build, myself. You should check it out! I'm gonna give you some ideas, as I may have a few more experience counters than you xD
The suggestions I make are from my list, but I won't mention any cards outside of your budget. Let's get started!
This is alphabetical, not in order of relevance:
This is kinda alphabetical... but not really. _()_/
Whew! Well I gave you a lot to think about, there. feel free to ask questions about anything I've suggested; I'd be happy to give you examples from games I've played, etc. Good luck, and happy deck-teching!
4 days ago
ZendikariWol, I like what Elemental Mastery brings to the table and it does fit the theme of the deck. I'm just unsure of what cut I can make to include it to the list.
Hi_diddly_ho_neighbor, I was thinking about cutting Amulet of Vigor and Chandra's Ignition for Abundance and Soulblast. What do you think? Abundance would pair perfectly with Sylvan Library. As for Soulblast, it's what I was trying to accomplish with Chandra's Ignition, but better due to the amount of damage that would be dealt.
ZM4C, Hostility seems okay. I just don't think it will fit as well in my deck as it does for yours. Great suggestion though, thank you! I liked what I saw in your deck and gave it +1.
riburah, +1 for your deck as well. Another great adaptation on Omnath. I'll have to thoroughly review your deck to see if there are any "must adds" to incorporate to mine.
4 days ago
One card that I love to run in my Omnath deck (linked here if you want to take a look) as a blindsiding win-con is Soulblast. With Omnath in play and a critical mass of elementals you can pretty much one shot 2 opponents for the price of 6 mana.
I have also found Abundance to be exceptionally strong in my Omnath deck for filtering through to relevant cards.
The additions of Rakka Mar and Dokai, Weaver of Life might also be helpful as additional elemental creators.
Lastly, Ghost Town is fantastic with Omnath, especially if you have any cards which let you play additional lands each turn.
1 month ago
I know it costs a whopping 7 mana, but have you tried Mind's Dilation? It seems like it could accomplish some interesting things. Beast Within seems pretty good in here as well as Mystical Tutor. I don't know if it's necessary in your meta, but you might want to add non-basic land hate in the form of Strip Mine and Ghost Quarter to stop things like Cradle and Coffers. Abundance could help smooth out draws and nullifies deck strategies like Nekusar and mill.
Load more