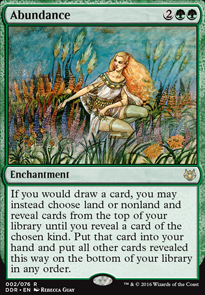 Legality
| | |
| --- | --- |
| Format | Legality |
| Pre-release | Legal |
| Noble | Legal |
| Leviathan | Legal |
| Magic Duels | Legal |
| Vintage | Legal |
| Modern | Legal |
| Vanguard | Legal |
| Legacy | Legal |
| Archenemy | Legal |
| Planechase | Legal |
| 1v1 Commander | Legal |
| Duel Commander | Legal |
| Unformat | Legal |
| Commander / EDH | Legal |
Related Questions
Abundance
Enchantment
If you would draw a card, you may instead choose land or nonland and reveal cards from the top of your library until you reveal a card of the chosen kind. Put that card into your hand and put all other cards revealed this way on the bottom of your library in any order.
Abundance Discussion
2 days ago
Hey there! Congrats on choosing the best commander of them all :D
[cracks knuckles] Let's get started! ;)
I share because I care! You told me your deck would be far different than I expected and uhyup, it was! But it is a fun, innovative, and seemingly effective build. Props be unto you, my friend! Make it a good one! :)
6 days ago
skyninja135 your average cmc is too high (3.81) and your Abundance combo is solid but there's a lot of win more cards in there (whats Worldspine Wurm and Realm Seekers doing?). A number of your artifacts don't seem competitive at all, Storm Cauldron, Horn of Greed, Ghirapur Orrery all benefit the opponents as well which is something you want to avoid (except cards like Selvala, Heart of the Wilds), giving them extra lands basically speeds up their game plans as well. Most of the creature ramp (Wood Elves, Yavimaya Elder etc.) you got can be cut for normal dorks ( Elvish Mystic, Llanowar Elves etc.). I get the fact that you want to ramp heavily with lands, but most of the spells that enable you to do so are rather slow; compare Cultivate to Mox Diamond, of course, mox may be out of your budget but this kind of ramp allows early explosive turns ( after all you're aim is to pull off the combo asap) rather than a slow accumulative ramp (someone's bound to go off before you do). You can take out the landfall theme it's just not fast/strong enough. I'm unsure what the optimal land count for a deck like this would be, but removing the tapped lands is a definite (Temple of Abandon, Evolving Wilds) and adding in off-color fetches (unless your budget prevents you but it should be one of your top priorities). Also, why no artifact hate? Just some other cards that I think should be cut:
- Seek the Horizon (for 4?)
- Tempt with Discovery (letting the opponent search for a land is not a good idea)
- Rites of Flourishing (should really be adding cards that benefit yourself like I mentioned above)
- Constant Mists (unless there's someone who plays the kiki combo)
- Knollspine Dragon, Kodama's Reach (let's be honest: it's too slow)- Krosan Tusker (better options out there)
- Mina and Denn, Wildborn, Oracle of Mul Daya ( 4cmc is a bit too much for this effect and they don't really do anything else, you also want enough lands in the library for Borborygmos to discard)
- Temple of the False God (when you can just replace it with an Ancient Tomb)
- Centaur Vinecrasher (yyyy?)
- Kessig Wolf Run, Thespian's Stage (kessig if you must, but I don't see the value in stage)
As for the cards, you'll want to add:
- The green tutor package (Worldly Tutor, Sylvan Tutor etc)
- Taiga (when you can ocf)
- Red Rituals (Desperate Ritual, Rite of Flame etc.)
- Mana Rocks (Mana Crypt, Mana Vault etc if budget allows)
- Autumn's Veil, Guttural Response, Pyroblast, Red Elemental Blast to ensure Borborygmos sticks
I believe there's a loop to reshuffle the lands discarded through Kozilek, Butcher of Truth I may be hallucinating tho, but if someone finds a way then the double damage + Illusionist's Bracers package can go.
Either way, I'm looking forward to the development of this list :)
1 week ago
Thanks for the suggestions! Some of the cards you recommended, while great, are a little outside my price range. Abundance, unfortunately, is a nonbo with Kydele, Chosen of Kruphix. I have Reliquary Tower for unlimited hand size. Not sure what untappers you're talking about, so Stasis doesn't really work. I also have a pretty limited number of Auras, so I don't need to move them.
1 week ago
Not sure why it took me so long to come take a look at this - but well done. This looks incredibly fun to play, and has such a unique combination of enchantments! I like the enchantress and Kydele synergy, but wonder if there are a few more things you could add to ensure that doesn't come back to bite you by increasing turnover. Maybe something like Mirri's Guile or Exploration to help streamline the cards you get - maybe even Abundance. Also, some insurance on the hand size. I think Venser's Journal could work especially well. You could also have something like Words of Wind make that combo add to the control you have set up.
The land base is pretty susceptible to things like Ruination and Blood Moon. Having some recursion might help, or just swapping for more basics.
Ishai might not be as effective with some of the control out, since you'll limit opponents' spell casting, but I think the trade off is worth it.
Eon Hub, while it would ruin some things, also has potential if you wanted to leverage more cumulative upkeep cards in the deck. I also think Stasis could fit here, with some of the untap cards you have for yourself.
If there is a goal to get Starfield of Nyx to make creatures, something like Asceticism might help give some extra insurance. Also, Dictate of Heliod or Elesh Norn, Grand Cenobite might help if you want to get Enchanted Evening out at the same time, so you don't have to worry about wiping your lands.
Finally, I saw you had multiplayer tagged. Having cards that let you move enchantments might help out. I can only think of Enchantment Alteration and Aura Graft off the top of my head, but even Copy Enchantment could help get a curse on more than one opponent.
2 weeks ago
Hey Paavvukun,
I like your list. It seems more aimed at beating face with big hitters. I especially liked to see Molimo, Maro-Sorcerer and Abundance in there. Also a quite affordable list! Here are some thoughts I had for you to consider.
First thing that I notice is your curve. I think your deck might perform better if you could smooth out the curve somewhat. Do you ever have issues with consistency? Curve could be a key consideration for future adaptations of your list. You are especially low on 2-drops and 5 drops and probably a little too high on 6+ drops and 3 drops.
Here are some cards you could consider in those slots: Scavenging Ooze. Vexing Shusher, Life from the Loam, Lightning Greaves, Lotus Cobra, Gatecreeper Vine, Sylvan Library, Urabrask the Hidden, Primal Command, Garruk, Primal Hunter, Creeping Renaissance, Titania, Protector of Argoth
I would cut Gruul Signet for something that fetches you a land instead, as that is more synergistic (perhaps Nissa's Pilgrimage?).
Mountain Valley is strictly better than - Evolving Wilds / Terramorphic Expanse as it can fetch one of your duals. I am also more fan of the panoramic lands (like Naya Panorama) than wilds and expanse, because you can time the landfall it provides.
Some other land tips in no particular order: Ghost Town (great with Burgeoning), Undiscovered Paradise, Khalni Garden, Radiant Fountain, Glacial Chasm and the new Scavenger Grounds are great lands to consider for more land-shenanigans without blowing your budget through the roof. Also, if you can get your hands on a Dryad Arbor, that would very well match your Green Sun's Zenith.
Hope that there is something there that meets your vision for the deck!
GL and HF,
Beebles
3 weeks ago
I've been wanting to build a Ruric Thar deck of my own so I came to spy on your list for ideas. Awesome deck list by the way.
I do have a few card suggestions for you. These are cards I've played with in the past that I absolutely love.
Abundance this card is absolutely fantastic and you can find copies for under $1.

Commune with Lava is another great budget friendly card.

Vexing Shusher is a bit expensive but kicks ass against blue players. Bring your Ruric Thar out without worrying about being countered.
Load more