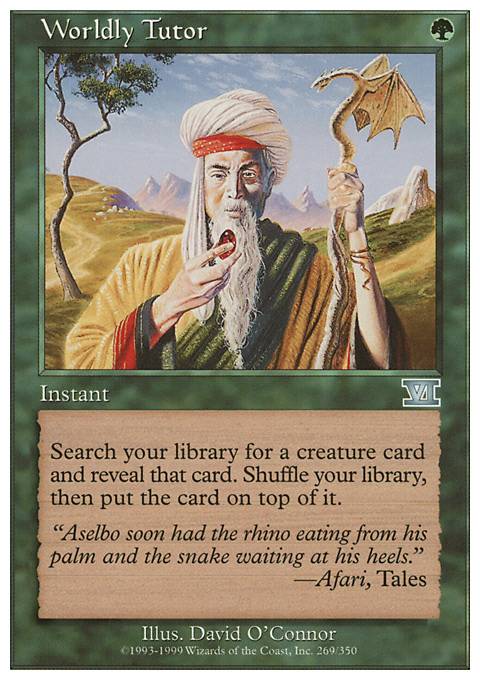 Legality
| | |
| --- | --- |
| Format | Legality |
| Vintage | Legal |
| Duel Commander | Legal |
| Commander / EDH | Legal |
| Legacy | Legal |
| Tiny Leaders | Legal |
Worldly Tutor
Instant
Search your library for a creature card and reveal that card. Shuffle your library, then put the revealed card back on top of it.
Have (8)
thekingpinBR , tragic_slip , NOGzFTW ,

M

o

J

o

M

i

X

u

P

, Mousemke , kpral , ibraJG84 ,

T

h

e

R

e

a

l

P

e

a

c

h

e

s

Want (11)
Turtlelover73 ,

L

i

g

h

t

p

u

l

s

a

r

9

,

p

s

k

i

n

n

0

1

, fireborne1986 , zachi , xpsychovampx ,

N

e

b

m

a

n

2

2

7

, MouseyWolf ,

L

T

m

i

l

l

e

r

, golgarigirl ,

a

w

a

l

l

o

f

t

e

x

t
Worldly Tutor Discussion
15 hours ago
So I have an Ezuri, Claw of Progress build, myself. You should check it out! I'm gonna give you some ideas, as I may have a few more experience counters than you xD
The suggestions I make are from my list, but I won't mention any cards outside of your budget. Let's get started!
This is alphabetical, not in order of relevance:
This is kinda alphabetical... but not really. _()_/
Whew! Well I gave you a lot to think about, there. feel free to ask questions about anything I've suggested; I'd be happy to give you examples from games I've played, etc. Good luck, and happy deck-teching!
4 days ago
First of all, your deck is hard to read due to cards appearing in multiple categories. If you want to do this create a separate category named "Deck" where you simply put your entire deck. When you write the description make sure to include your gameplan and the problematic decks you are trying to beat.
If you are trying to win in one go I recommend Vicious Shadows, Craterhoof Behemoth, Ogre Battledriver, Natural Order, Tooth and Nail, Worldly Tutor, Crop Rotation, Defense of the Heart
For value Nissa, Vital Force, Courser of Kruphix, Bane of Progress, Beast Within, Decimate, Green Sun's Zenith, Panharmonicon, Evolutionary Leap, Asceticism, Xenagos, the Reveler, Xenagos, God of Revels, Birthing Pod, Acidic Slime, Swiftfoot Boots, Skullclamp, Strip Mine, Wasteland, Mosswort Bridge
For specific opponents Scavenging Ooze, Stranglehold
Cuts, my suggestions would be Amulet of Vigor, Rakka MarBUt my best suggestion would be to just play, see what works and what doesn't and adjust accordingly.
1 week ago
Genesis is a recur engine stuck onto a creature. Depending on whether or not you stick to the all creatures idea, Birthing Pod is a ludicrous tutor engine. Speaking of, I think mostly creatures would be better than all, so you can get some tutors and such of the non creature variety, like Diabolic Tutor, Worldly Tutor, and maybe Demonic Tutor if you can get one. Also things like Sol Ring and Chromatic Lantern help you get ahead in mana and/or assure you have all your colours. Still, I kind of like the gimmick of creatures, these are more of a push to a less gimmicky version of the deck.
2 weeks ago
I like it, and hope to put together a Sliver EDH deck in the near future. The bulk of your cost here is caught up in your mana base, which you could fudge a little to get the cost down. But hey, its fun to dream (and while we're dreaming, why no Gaea's Cradle?).
I see you have library manipulation cards Sylvan Library, Mirri's Guile, and Sensei's Divining Top (but no Soothsaying...). I like them here, and I think they do ok, but you might want more straight draw as opposed to looking and putting back. I think you want to be a bit more aggressive with slivers. Rhystic Study is great, and other good options would be Dictate of Kruphix, Howling Mine, and Phyrexian Arena, and maybe even Greed.
Along with these, I think more tutoring would help, too. Demonic Tutor, Diabolic Tutor, and Diabolic Intent to go along with Vampiric Tutor. The tutors are nice, too, and plentiful as we discussed in other threads, but Worldly Tutor would be good for getting to Gemhide Sliver and Manaweft Sliver early on. Natural Order as well, but to a lesser extent, as the sacrifice requires a green creature. Survival of the Fittest would be a judgment call, but worth a playtest. Defense of the Heart might be the best one for this deck, as you can then tutor for the Legendary slivers right away.
Anyways, those aren't changes that I think have to be made, just some other options to consider in a different build.
I like what you've got here!
2 weeks ago
I don't know if you can get one or not, but as for lands, a Gaea's Cradle should definitely have a home in this deck, especially since you've got opportunities to abuse Palinchron and Great Whale with Sakashima the Impostor.
You've got some nice cards that take advantage of creatures being the top card of your library, so some library manipulation would be good. I think you might benefit from Sylvan Library, Mirri's Guile, and Soothsaying.
Anger might work better for you than Concordant Crossroads, but either way, to make room for it, I think I'd cut Hardened Scales. Yeah, you've got some creatures that do some nice things with counters, but I'm not sure its going to do that much more for you.
I really like cards like Lurking Predators, and other options like it are Call of the Wild, Zoologist, and to a lesser extent, Game Preserve. If you really wanted to stomp some heads, you'd use the Gaea's Cradle to activate Soothsaying's second ability, get some fatties on the top of your library, and then start bouncing your Palinchron to untap the Cradle to pay for Call of the Wild's ability, and pretty soon, you'll be drawing out the fatties in your library and really messing stuff up.
Cuts: Woodland Bellower - it seems and expensive critter to tutor for a mana-dork or Man-o'-War or something like that. Draining Whelk - not sure it fits well here. I can see how it could be useful, but if there are other options more useful for what you want the deck to do, it could be cut. Maybe that's the spot for Deadeye Navigator. Decimator of the Provinces - I like him, but I'm not sure he's necessary.
These are just my thoughts, so take them for what they are worth there. Remember, I'm recently back into Magic, so I'm relearning a lot, and there's a lot I still don't know about that I missed out on.
One more thing I'll add; with here, you've got access to the best creature tutors available: Worldly Tutor, Natural Order, Defense of the Heart, Survival of the Fittest, Pattern of Rebirth, etc. If you can find some slots to fit tutors into, it can really help to speed you up if you find the deck needing it.
I really like the build here. If I had access to all those sweet Eldrazi, I'd consider it. +1, and let me know how this plays out for you.
I hope all this helped!
Load more