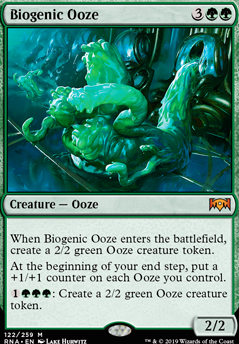 Biogenic Ooze
Creature — Ooze
When Biogenic Ooze enters the battlefield, create a 2/2 green Ooze creature token.
At the beginning of your end step, put a +1/+1 counter on each Ooze you control.
: Create a 2/2 green Ooze creature token.
Browse Alters
View at Gatherer
Trade
Tokens
Legality
| | |
| --- | --- |
| Format | Legality |
| Modern | Legal |
| Block Constructed | Legal |
| Oathbreaker | Legal |
| 2019-10-04 | Legal |
| 1v1 Commander | Legal |
| Canadian Highlander | Legal |
| Casual | Legal |
| Pioneer | Legal |
| Historic | Legal |
| Vintage | Legal |
| Leviathan | Legal |
| Legacy | Legal |
| Limited | Legal |
| Arena | Legal |
| Duel Commander | Legal |
| Highlander | Legal |
| Commander / EDH | Legal |
| Tiny Leaders | Legal |
| Unformat | Legal |
Latest Decks as Commander
Biogenic Ooze Discussion
7 months ago
austintayshus got in there first for the ninja, so I'm going to do that one.
---
Rest For The Wicked
Enchantment
Whenever a creature attacks, tap that creature. It doesn't untap during its controller's next untap step.
---
Make a card that creates tokens and then pumps them, a la Biogenic Ooze, but make it for Grixis, and make the tokens something other than zombies.
10 months ago
Hey, you should consider looking into using Ezuri, Claw of Progress as the General for your deck. Ezuri can be an enabler for big green ramp with mana dorks that can tap to make mana equal to their power and/or number of +1/+1 counters they have.
At combat put all the experience counters on one of these dorks and then use that dork to make mana at your second main phase or after. Use all this green mana with token mana sinks:
Other reasons to use Ezuri with tokens are to take more advantage of Champion of Lambholt and Sage of Hours . Lambholt can make your token army unblockable and she gets a counter whenever a token is created. She can get huge with Ezuri and tokens. Hours can give you infinite extra turns with Ezuri. All Hours needs are 5 experience counters which can be placed on him via Ezuri each combat. This lets you attack with the tokens at the extra turn and keep doing this until all your opponents are dead.
11 months ago
This looks like a fun deck, I always love me some Hornets. My biggest recommendation would probably be to add in more token-producing cards, starting with 2 more Wingmate Roc, since right now you only have 8 cards that do so versus 19 cards that depend on having those token-producers to combo with and are pretty dead cards otherwise. Unfortunately 3 and 4-drop options look pretty thin but one idea is Whirler Rogue . If you don't mind being a little crowded at 5-drop there are several good options, such as Angel of Invention , Biogenic Ooze , Scion of Vitu-Ghazi , and Tolsimir, Friend to Wolves .
You also might want a few more mana dorks in order to speed things up, especially if you have a lot of 5 drops so you can hit them consistently on turn 3-4. I'm thinking 8 would be a good number given your curve.
1 year ago
Firstly, thanks for the comment Kjartan, I really appreciate the feedback, after a little play testing, i think swapping out Gyre Engineer for some Llanowar Elves would be a great idea, sadly Birds of Paradise is a little out of my price range. Our play group is a little more casual than most so I tend to avoid running removal but I love the idea of Ulvenwald Tracker 's synergy with Prophet of Kruphix , so I might give him a shot too. I do like the idea of a huge bomb spell, my first thought was Rite of Replication but that was a little too costly so maybe Increasing Savagery could be a nice substitute. I'm picturing a game with a 15/16 Gyre Sage sinking the mana into my Biogenic Ooze . Thanks for the help, I've got lots to consider
Load more