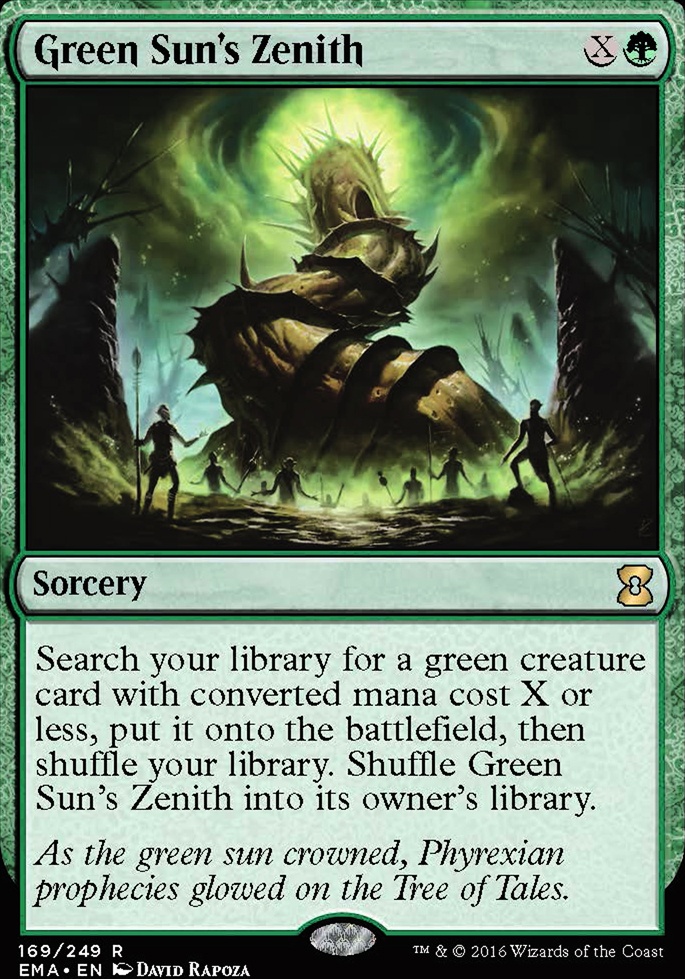 Green Sun's Zenith
Sorcery
Search your library for a green creature card with converted mana cost X or less, put it onto the battlefield, then shuffle your library. Shuffle Green Sun's Zenith into its owner's library.
Browse Alters
View at Gatherer
Trade
Have (2)

A

z

d

r

a

n

a

x

,

m

e

t

a

l

m

a

g

i

c

Want (14)
Terraphiel , Bonezone , laswear131 , MonCala , protourplayer , Phoreon , Denikke , DragonOfFreedom ,

T

o

b

b

y

M

u

c

h

W

o

w

, CheekySofie , foramen , PhantomWings , lucwarm , kompy12
Legality
| | |
| --- | --- |
| Format | Legality |
| Unformat | Legal |
| Limited | Legal |
| Leviathan | Legal |
| 1v1 Commander | Legal |
| Legacy | Legal |
| Tiny Leaders | Legal |
| Custom | Legal |
| Canadian Highlander | Legal |
| Duel Commander | Legal |
| Oathbreaker | Legal |
| 2019-10-04 | Legal |
| Highlander | Legal |
| Casual | Legal |
| Vintage | Legal |
| Block Constructed | Legal |
| Commander / EDH | Legal |
Green Sun's Zenith occurrence in decks from the last year
Latest Decks as Commander
Green Sun's Zenith Discussion
3 weeks ago
Omniscience_is_life do like grim monolith but the arbor is ramp if you get it t1 with Green Sun's Zenith and if you need a land you can get it with worldly tutor. I will add frim monolith and rampant growth but the adversary is great card draw. Maybe I'll cut a land card.
1 month ago
Is there any creatures you are specific "I will not take these out"? I have a few suggestions mainly about the ramp and how to make it more consistent/efficient.
You don't need gen wave and put in play cards. For example...
Hey check out my deck Gruul Hydras
If you want genesis wave to be optimal going all out on getting it pumped up is the way to go. There is an old school Gen wave deck that was pretty good i would refer to it for extra tid bits.
1 month ago
With Dryad Green Sun's Zenith becomes very viable for ramp and other shenanigans!
1 month ago
Starsky2814 for those running this deck without dual lands, with maybe snow covered basics to replace them, does it warrant the inclusion of, say Cultivate or Harrow in one of our flex spots? Also the Tempt with Vengeance idea is pretty..tempting. In my personal list I'm considering Green Sun's Zenith and/or Natural Order since the majority of our creatures are green and they can bring out Angry Omnath or Craterhoof right away. I'd like to know your guys' thoughts!
1 month ago
Grove of the Guardian is a good land you could throw in, gives you a big token that can be copied. Cryptolith Rite is insane ramp. Illusionist's Bracers to copy Rhys's copy abillity, working very similarly to Doubling Season and crew. Crashing Drawbridge is a good budget way to give all your tokens haste which can be very valuable. Throne of the God-Pharaoh and Altar of the Brood are good wincons if you're not able to attack for whatever reason. Huatli, Radiant Champion, Mentor of the Meek, and Runic Armasaur are all pretty consistent card draw options throughout the entire game. And Aura Shards is a huge defensive piece, keeping opponents' games out of sync with their key artifacts and enchantments. A few tutors to get out creatures and enchantments help as well... a few are Idyllic Tutor, Enlightened Tutor, Eladamri's Call, and Green Sun's Zenith. That should be a pretty good list to get you started, you can check out my Rhys deck if you would like for any other inspiration you may find: 0-60 in 3.5! (Rhys tokens). Rhys is such a fun commander! Make a big emphasis on ramp and quick token generation and watch it fly out of control! If you would like any help with cuts or any questions let me know!
Load more