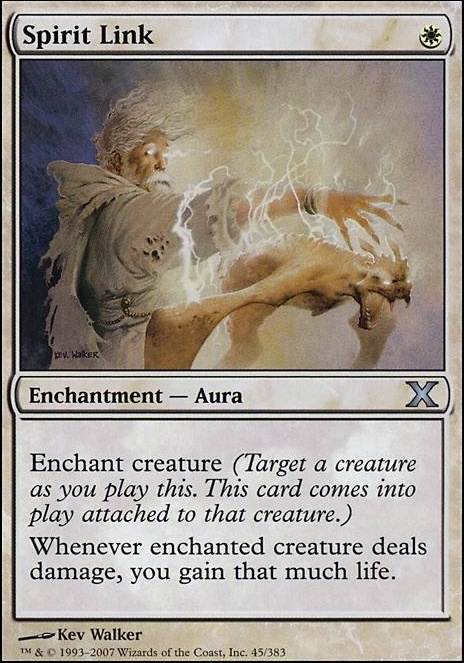 Legality
| | |
| --- | --- |
| Format | Legality |
| Tiny Leaders | Legal |
| Noble | Legal |
| Leviathan | Legal |
| Magic Duels | Legal |
| Canadian Highlander | Legal |
| Vintage | Legal |
| Modern | Legal |
| Penny Dreadful | Legal |
| Oldschool 93/94 | Legal |
| Vanguard | Legal |
| Legacy | Legal |
| Archenemy | Legal |
| Planechase | Legal |
| 1v1 Commander | Legal |
| Duel Commander | Legal |
| Oathbreaker | Legal |
| Unformat | Legal |
| Casual | Legal |
| Commander / EDH | Legal |
Spirit Link
Enchantment — Aura
Enchant creature (Target a creature as you cast this. This card enters the battlefield attached to that creature.)
Whenever enchanted creature deals damage, you gain that much life.
Spirit Link Discussion
6 months ago
These suggestions are made with my previous suggestions in mind, that I assume you liked via your comment upvote.
These are my considerations for your removal... I don't do it often but most of them just dont do much other than offer you the hexproof ability.
Troll Ascetic : problem with regeneration is you gotta hold mana for it. Easy to forget.
Soul of the Rapids : doesn't do much for it's cost.
Sagu Mauler : I mean it's ok... but just doesn't do alot other than have abilities.
Prognostic Sphinx : I see no reason to want to discard cards for optional hexproof. Scry's nice but there are better options for card advantage.
Ascended Lawmage : Again, cost vs stats... it's just not there. One mana less would have changed my mind...
These are just what I can think of... again, with my previous changes in mind.
Heroic Intervention : and similar cards can protect you from board wipes and other spells that don't target.
Steel of the Godhead & Shield of the Oversoul : mostly for the evasion, but the other options are nice too.
Wild Growth and similar cards could be useful if moving towards more of an 'enchantress voltron' style deck.
Curiosity for extra cards, coupled with an evasive creature.
Rancor & Spirit Link keep returning to use again.
Octopus Umbra : great for the evasive creatures. Also for anything that has accrued counters, then it becomes 8/8 + counters and hopefully unblockable... maybe even Ishai.
These are the iffy ones... they could stay, or go. Up to you
Multani, Maro-Sorcerer : other players can control the stats my discarding/casting etc. Sure it could get big but its subjective. Also if we follow a voltron strategy you cant target t either.
Witchstalker : on curve, but unless it's a meta call because U/B is common... but idk.
That's all I got for now, perhaps look into some bant enchantress decks to get some more ideas for enchantment support. I think the hexproof theme is a great idea, it just needs the support of the enchantments to make it shine. Hope it helps some at least.
6 months ago
Throw a Vampiric Link & Spirit Link on your opponent's two biggest beaters. Even if they attack you the damage equals the life gain.
6 months ago
Stream of Life originates from Alpha. Back then, "White is undisputedly the best color in this game at gaining life" simply wasn't true. In fact it was quite a while before white caught up to green's level of lifegain.
Fruition , Rejuvenate , Wellwisher , Nourish , and so on. It wasn't until Soul Warden that white got anything even resembling efficient lifegain imo. Maybe Spirit Link , but that's still a single outlier among plenty of efficient green lifegain cards.
Lifegain is one of those things that shifted on the color pie as the game matured. It started as a primarily green thing that white did on occasion. If anything, I'd argue that White has become too efficient at it, to the point that Green rarely even bothers with it anymore, effectively robbing Green of what was once a defining characteristic.
And it would seem to me that Sanguine Sacrament makes Stream of Life look terrible. I don't see how Stream could possibly be "too efficient" in the face of that.
Finally, I feel like pointing out that in general, the best lifegain cards tend to be ones that are both White and Green. Vitalizing Cascade , Heroes' Reunion , Dawnglow Infusion , Oracle of Nectars , Ajani, Mentor of Heroes , Pledge of Unity , etc.
7 months ago
VaalVanir First off Electrostatic Field is indeed a great addition is you feel like you've been falling back on to AoE damage as your main win condition. Let's say your play group runs a TON of artifact hate or something, than the damage you get from it is worth the card slot. the only reason I run Firebrand Archer instead is because she deals damage on more than just Instant and Sorcery cards being cast, so the little bit of damage helps.
Sentinel Tower is also a good addition as well, but I haven't gotten around to playtesting it. The main issue with it is that it ONLY works on your turn. But Feather, the Redeemed usually plays her cards on EVERY turn. Which means this card is only really working 1/4th of the time. Its effect is still strong tho, so we shall see.
And here is the reason I do not run any lifegain cards in my deck, I will try to explain as best as possible. Aetherflux Reservoir gives FAR more lifegain than we need. When it gets used, it either dies right away to removal (nothing you can do about that) or you pop off with it and win. I've never had it only go kinda halfway then peeter off, and here is why. The rest of the game I was preparing my boardstate for it, and not gaining life. When Aetherflux Reservoir and Paradox Engine aren't on the field, you'll want to be spending almost all your resources on getting several things; a bunch of mana rocks, 2-3 cantrip cards, and a field full of targetable creatures with either Mirrorwing Dragon or Zada, Hedron Grinder to back them up). If you spent that time gaining life here and there than you would have enough life to MAYBE kill someone right away if you were able to attack with enough guys. But if we are ready for Aetherflux Reservoir when it hits the field in a normal game, we can win that turn easily by cycling through our hand. It will get to the point easily where you are gaining 9-10 health a single spell without the need to attack.
Which also leads me to the second reason we do not run those cards, and it is their restrictions. I'll talk about each one individually. Soul Warden and Soul's Attendant are both ONLY good if you already have a token engine on the field, and at most they will then be gaining you only a little bit of life before we need to do other things with the board (maybe about 7-8 if we're lucky). Soul's Grace will really ONLY ever hit for 1 about 80% of the time, a 2 mana spell that only gains us one life is nowhere near good enough for us. Which means it is only SOMEWHAT decent with you have Zada, Hedron Grinder or Mirrorwing Dragon on the field, and cards that are completely useless without another in a 99 card deck are almost always a bad decision. Spirit Link , Spiritualize , and Take Heart all REQUIRE you to attack with something in order to be effective, and if you recall from earlier, attacking is almost always the way we dont play our deck. We will get maybe 1 solid attack with up to a dozen or so creatures before we either combo off with Aetherflux Reservoir or we eat a boardwipe and need to rebuild. Also Spiritualize is just WAY to heavily costed for a card that will be gaining us 1 life 80% of the time, it draws a card sure, but so do a TON of 1 mana spells in the deck. Student of Ojutai also falls under the WAY to heavily costed category, in fact, he is as expensive as our main win condition, so let us compare the two. Let's say we cast about 8-12 spells a turn when we get the ball rolling, I'll average it to 10 for simplicities sake. With Student of Ojutai on the field that means we will be gaining 20 life, not bad. But with Aetherflux Reservoir on the field that means we will be gaining 55 life, MUCH better. NOW let's say we DONT cast Student of Ojutai and instead use that mana for up to 4 more spells, since he costs 4 and we run a ton of 1 cost cards. Add that on to our already 10 cards cast and that's and extra 50 life! So investing in casting more small spells and cantrips instead of investing in Student of Ojutai is a lot better for our lifegain. Syndic of Tithes is just WAY too taxing on us. Almost all of what we do is 1-2 mana so his extort makes our spell twice as expensive, aka we will be doing half as much for only minimal returns. And you can ONLY use white mana for it, not colorless or red, and we are already stretched pretty thin for colored mana in our deck since many mana rocks tap for colorless. Tablet of the Guilds this one is probably the most "ok" of the lifegain cards so far, unfortunately tho the artifacts in our deck are all good because we can tutor for them a lot. And there is little to no circumstances where I will be tutoring for Tablet of the Guilds instead of something like Paradox Engine or Sunforger , but as a budget option Tablet of the Guilds isnt totally horrible, just not good enough to make the cut. And lastly we have Tandem Tactics for 2 mana it does very little, most of our cards do something, and raw us a card, this card does something and gains us a bit of life. That little bit of life is almost never worth the loss in card draw. Since card draw is afterall, one of Boros main weaknesses.
You also need to consider what you would have to give up for the lifegain cards. You could choose to cut into the Sunforger tools, but then you have no protection, or way to interact with the enemies board state. If you choose to cut into the tutoring creatures/cards then we no longer have any consistency in our deck, and our win percentage drops drastically. And if you cut into our card draw then we are back to square one in Boros EDH where we no longer have enough cards to win the game or combo off. In the end tho it all comes down to how unnecessary it is. Aetherflux Reservoir is more than enough for us, and cards that are being used to to its job but worse, would be better spent helping it do its job safely. "There aint no kill like overkill" is a very false statement in MTG, overkill is expensive and unsafe.
Hope that explained it well enough :)
9 months ago
Is there any reason why you're trying to build U/W instead of the (in my opinion) more powerful G/W?
(I typed all this before I saw you're only doing U/W so sorry in advance lol)
As someone who used to play Bogles a couple years back, do not underestimate Rancor . I think it's a worthwhile addition maybe even over Arcane Flight. I don't believe you need 5 counter spells. I think maybe 2 Stubborn Denials would be enough, and maybe pump up to 4 Paths. In the 2 years I played this deck, I never ran into that many times that I absolutely had to counter a noncreature spell that made a big difference. I usually tried to find ways around it. Maybe have those 2 against Fracturing Gust and Engineered Explosives post-board which are some of your worst enemies. You might add a couple more to the sideboard if you see a lot of noncreature wraths in your meta.
One copy of Dryad Arbor is absolutely necessary for sacrificing if need be, especially if you don't have Leyline on the field (which I think you really only need 2 in the maindeck), so you can fetch it up at instant speed if the opposing Jund player tries to get you with Liliana of the Veil .
I don't believe Spellskite is super necessary. Really the only time you would ACTUALLY need it is against Burn, and you're trying to race them anyway. You don't want to use your entire 2nd turn trying to protect yourself from 2 burn spells or one trigger of Valakut, the Molten Pinnacle against TitanShift. You would rather be throwing on a Spirit Link and Rancor instead.
If you only have 12 creature spots open, I would definitely run Gladecover Scout over the Stalker. You want to get swinging on turn 2 as often as you can, because Bogles wants to be as linear as possible. I only ran 2 Spiritdancers by the time I was done playing, because I found myself drawing them too often, especially in opening hands, so maybe you can do 2 Spiritdancers and 2 Stalkers.
Exiling enchantments or artifacts over destroying them never seems to be super relevant in Modern, and hopefully you wouldn't run those mainboard, so the cycling shouldn't be necessary
Your sideboard is going to be completely dependent on your meta. If there's a lot of Dredge, Storm, and Hollow One then cards like Relic of Progenitus are handy. If there's tons of control then this would be where Spell Pierce or Negate are good (although there's not much you can do against Supreme Verdict except not putting all your eggs in one basket). Just try to build one that can hit decks from all sides then adjust accordingly.
Overall, I think you just need more Auras. Running out of gas by drawing two counter spells is a terrible feeling.
Hopefully this help! And feel free to ask questions. I'm a veteran Bogles player
11 months ago
It would be annoying to advise huge changes to your deck, so here are a few nice cards that you may or may not know about that could replace some of the cards in your deck:
Remove Cancel for a better counterspell, like Dissolve or maybe Swan Song.
Lifelink, Fog and Spirit Link are kind of inefficient for commander. You can sort of think of commander as a 3 on 1 game, so you should have cards that do more than just one little thing, even if they cost more mana. Some examples would be Brave the Sands and Teferi's Protection. (Giant Growth is also kinda bad for commander.)
EDH is a much slower format than all the others. Games consistently go on to turn 15 for more casual players. If you run out of gas early, that's a lot more time with no hand than in a 1v1 match. So a lot of commander decks dedicate close to 10 of their cards to card draw and around 10 more for mana ramp. You have some, but I'd recommend adding a little more. Some good mana ramp and card draw cards that generally work with any deck are Rhystic Study, Future Sight Sylvan Library, Skullclamp (though that one might not be so good with your deck), Cultivate, Kodama's Reach,Beast Whisperer, and Selvala, Explorer Returned. A more specialized card draw cards I can think of off the top of my head are Soul's Majesty, Hunter's Insight, and Hunter's Prowess (To put on your unblockables).
Your strategy's cool though! +1 Upvote from me!
1 year ago
Witch Hunter is a good budget alternative to Preacher...I paid $30 for mine just because I needed it to finish the deck.
Spirit Link is another great card that deserves a recommendation.
Load more
No data for this card yet.