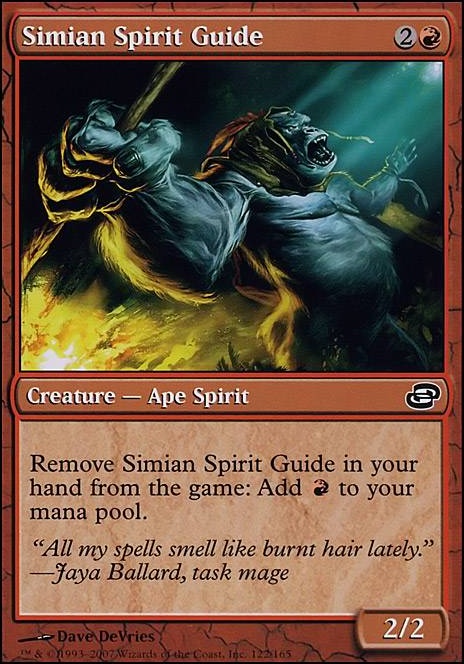 Simian Spirit Guide
Creature — Ape Spirit
Exile Simian Spirit Guide from your hand: Gain .
Browse Alters
Trade
Legality
| | |
| --- | --- |
| Format | Legality |
| 1v1 Commander | Legal |
| Block Constructed | Legal |
| Canadian Highlander | Legal |
| Commander / EDH | Legal |
| Duel Commander | Legal |
| Highlander | Legal |
| Legacy | Legal |
| Leviathan | Legal |
| Limited | Legal |
| Oathbreaker | Legal |
| Pauper | Legal |
| Pauper EDH | Legal |
| Tiny Leaders | Legal |
| Unformat | Legal |
| Vintage | Legal |
| Casual | Legal |
| Custom | Legal |
| Quest Magic | Legal |
Latest Decks as Commander
Simian Spirit Guide Discussion
1 month ago
I used to play -Eldrazi Stompy in Legacy 3-5 years ago, before switching to EDH due the LGS where I had moved to having a large EDH community (pre-lockdowns). However, I'm currently in a position where I might be able to play some Legacy events in the near-future, and I want to update my deck accordingly. But I think it's worth briefly noting the developmental-chain that led to the current decklist that I own..
Ironically enough, this deck was originally based on a "budget" Vintage list from The Mana Source (watch it to have a chuckle over how much less the Reserve List cards used to be). My original list was extremely close to this, except invert the 1:4 ratio of Chalice of the Void / Null Rod , and I (originally) ran Simian Spirit Guide ..
---

Legacy Metroid_Hybrid
SCORE: 13 | 13 COMMENTS | 3485 VIEWS | IN 7 FOLDERS
---
1 month ago
Thoughts on these? Lotus Petal , Simian Spirit Guide , Stoneforge Acolyte , Dockside Extortionist , Brass's Bounty , Wyleth, Soul of Steel , Axgard Armory , Seize the Day , Tithe , Weathered Wayfarer , Not of This World , Flawless Maneuver , Knollspine Dragon , Exotic Orchard , Bludgeon Brawl
2 months ago
Gitaxian Probe and Lava Dart will be really good here, Mental Misstep is probably solid too but you lose the targets of Sol Ring, Mystical and Vampiric Tutor, Top, Seal, Entomb and Tide, but there's tons of great 1 drops anyways that I'd still run it. 2 life to counter a mana dork, Brainstorm, Gamble, Wordly or Enlightened Tutor? Seems great.
Also, Storm. Grapeshot after a couple cheap or free spells can not only deal a solid chunk of damage, but it also can give you a lot of Magecraft triggers(and you can kill a commander with it).
Since this is a 1-on-1 format, I'd recommend Daze as well. 0 mana Force Spike is pretty good.
Isochron is best when paired with Dramatic Reversal , and Breach wants something like Brainstorm to combo off with.
You could definitely cut a couple of the higher CMC cards as they'll clog up your gameplan a bit -- run a few more cantrips and interaction such as Preordain , Serum Visions , Faithless Looting , Lightning Bolt , Spell Pierce and Miscast .
Also, a couple rituals -- Rite of Flame is the best one here, but Simian Spirit Guide also works. Pyretic Ritual and Desperate Ritual are also okay, but they don't help you cast Veyran so they're last in line for those slots.
3 months ago
Two-brid mana is inherently balanced. It takes work and building around it to be able to pay instead of , but it also takes work to be able to pay . The two-brid cards available are pretty bad outside of mono color(and even then, it tends to be Spectral Procession in Modern and Beseech the Queen in EDH that are the only ones that see play) for that reason. However, if new cards were printed, there would be no real problem outside of some annoying people complaining about color pie breaks online.
For example, Lightning Bolt but twobrid. Giving ALL colors access to Lightning Strike isn't broken at all. Does it help decks like Tron or Monoblue who typically have problems removing creatures? Yep. But will it break any format? Most definitely not. Well, it will make Modern Burn and Pioneer Red Aggro lists a lot better in this specific case.
Compare this to . You are almost always paying life instead of the mana cost. You will only ever not pay life in very specific situations. In fact, if you pay mana for it when you have enough life, people question you. They wonder what the hell you are doing in your deck. Phyrexian mana is like having a multicolored Simian Spirit Guide in your hand at all times, except it costs 2 life. It's raw, unfettered mana advantage, which quickly and easily turns into advantage in the action economy.
Also, take a look at the banned Phyrexian mana cards. And the playable ones. Gitaxian Probe is Peek , which is basically unplayable. Mental Misstep would be unplayable if it cost instead of . Gut Shot , Postmortem Lunge , Mutagenic Growth , Dismember are all horrible if they didn't have the Phyrexian mana attached. It's the fact that they cost the generic cost only that makes them good. Dismember is a 1-mana spell, that costs a bit more later on if you have mana to spare but not the life. All the 1 mana Phyrexian Mana cards are actually zero mana.
Load more