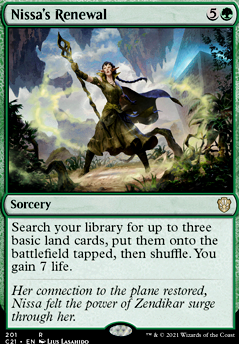 Nissa's Renewal
Sorcery
Search your library for up to three basic land cards, put them onto the battlefield tapped, then shuffle your library. You gain 7 life.
Latest Decks as Commander
Nissa's Renewal Discussion
1 month ago
Part 2
Other Cards that you could consider cutting
Other Cards that you could consider adding
This is where the fun begins and your wallet cries
That is all I can think of at the moment. I'm sure I'll have more la
4 months ago
Hey TwentDoggo, glad you like the deck. Normally I wouldn't have trouble finding ways to upgrade my decks, but this one in particular is kind of inherently flawed in that there simply isn't much support for its plan. That said, there are some things you could do to make the deck more functional in general.
Probably the easiest upgrade you could make is include the Arbor Elf + Utopia Sprawl ramp package. These two make it possible to have four mana on turn two (turn 1 Arbor Elf, turn 2 Utopia Sprawl on an untapped Forest) which makes higher cmc ramp spells such as Hunting Wilds , Explosive Vegetation , and Nissa's Renewal more viable. It also makes the deck's combo turn come around much sooner since being able to make four mana off of one land gives you more untapped lands to attack with after casting Sylvan Awakening .
If you do this, you'll need to rework the deck a bit--this ramp plan is better with a lower land count, so Arboreal Grazer and Rites of Flourishing would be cut out, and since you have more mana early on you'll want to add some higher impact ramp spells (the aforementioned Hunting Wilds etc). You would also be able to play Rude Awakening , a card that I excluded from the original draft of the deck because 8 mana is a lot.
So these are the changes I'd make:
I'm not sure what you're budget is, but that's really the best you can do if you want to stick to the man land plan. I suppose you could also upgrade the mana base, but you can get by with all basics since you've got a lot of color fixing ramp spells.
4 months ago
Hey Walrighti, +1!
Congrats on your first deck! You have a lot of fun cards in here and it looks great! I imagine you want to tune and make it even more efficient so here are some ideas...
Add 3 categories: #Combo, #Lifegain, and #Evasion; and then sort your maybeboard the same way you've done your mainboard to easily rank your choices within a category (By "combo" I mean all your "if-then" cards like Trudge Garden that are slower and don't work by themselves). Remove #Creatures (most of them are #Combo).
Avoid most cards above 4 cmc... Willowdusk is fast and fragile, so play into that... Also, prioritize cards that can do 2 or more things or that give value on ETB... If you have pet cards that don't really fit and that hurt to cut, put them in a "I'll build that theme later" list.
...Always play at least 10 ramp spells under 3 cmc.
...Playtest and make sure Willowbark consistently makes a fatty (with evasion) before turn 6-7.
Here's another Willowdusk thread.
Happy building :)
4 months ago
Hey, good budget upgrade of the precon. Nice upgrades of Ral, Return of the Wildspeaker, Archmage, Hullbreacher, Counterspell, Saheeli, Prismari Command.
Some creatures are good with Kalamax especially when you can cast them before Kalamax, but having just as many creatures as instants is not taking enough advantage of the power of Kalamax as Commander. That comes from being able to copy an instant on each player's turn, but you want instants in your hand to cast not creatures.
More low mana cost instants that draw are good with Kalamax since when you copy them for free they give you great draw for the mana cost. These budget draw spells, each less than $1, can also help to find lands in the early game to be able to cast Kalamax or other creatures.
---
A $5-$7 card at TCGPlayer that's excellent with Kalamax is Narset's Reversal . Reversal is a unique effect and you can take advantage with Kalamax of return the spell you copied to owners hand. When Kalamax copies Reversal the copy targets the original Reversal which sends it back to your hand. This makes Reversal a repeatable copy any instant or sorcery effect that can copy your opponents spells. Reversal is even better with your own sorceries because if you copy your own sorcery it will then return to your hand along with Reversal if Kalamax copied it, but the copy of the sorcery still resolves along with Reversal. This makes any sorcery you have repeatable with Reversal.
Storm-Kiln Artist is another creature with magecraft and these creatures are worth playing because of the amazing interaction with Kalamax copying and instants cast. Artist interacts really well with Narset's Reversal because it creates enough treasures on each player's turn to cast Reversal again and keep doing this as long as an opponent cast instant or sorcery. With Kalamax, Artist creates three treasures just by casting Reversal and copying a spell which equals a lot of ramp.
Reclaim + Regrowth is a budget interaction for three mana to repeatedly recur cards in your graveyard. Reclaim is copied by Kalamax which returns Regrowth + any other card to the top of your library. Draw Regrowth then recur Reclaim and repeat.
---
Some cards to consider cutting:
Some other cuts to consider are the 6 CMC creatures. Niv-Mizzet, Parun is better than all the other 6 CMC creatures therefore you could cut the others for more instants.
Good luck with your deck.
9 months ago
Cards that don't make sense for you:
Eldrazi Displacer, World Breaker
---- you currently have all of 3 cards that can produce colorless mana, and it's a 4 color deck, so the premium is on hitting colors, not odd utility lands. Not to mention that they're another means of ramping in the deck, which would be the priority.
---- I've played with and replaced it in Mina and Denn. 2 hard pips of red for what it provides isn't worth it. You'd be better off running Trade Routes for the effect. you're not likely to want to pay to throw lands, so the pay to bounce isn't ideal for a hard green each time.
---- It's just bad. For the cost it should be Path to Exile or Swords to Plowshares.
---- For the cost it should just be something like Boundless Realms, cheaper to cast and gets you more lands.
---- This one is just real bad; you have all of 7 potential legendary permanents to hit, add that to the lands and that leaves 44% of the deck as a viable hit from starting. It's always going to be below 50%. For the effect, you would be better off with Genesis Wave since most of your permanents aren't legendary.
---- for the sake of effects, you would likely be better off with Ramunap Excavator for the redundant copy of Crucible of Worlds.
Cards to Consider:
Oboro, Palace in the Clouds, Ancient Greenwarden, Avatar of Growth, Farseek
10 months ago
Everything looks really quite good except you have really low ramp. You have a few cost-reducers and two mana rocks, one of which doesn't necessarily come out early. Personally, I aim for at least eight pieces in all my decks. For an expensive deck like this I might go for ten. Land is queen with Zacama so I'd recommend the classics like Rampant Growth, Cultivate, Kodama's Reach, Thunderherd Migration, Explosive Vegetation, Migration Path, Nissa's Pilgrimage, Sakura-Tribe Elder, and Vastwood Surge are all good choices that aren't too expensive. Ranger's Path is good too since you have lands with multiple types. Nissa's Renewal might be good in this deck, since it's budget and getting to nine mana is indeed a goal. Frontier Siege is good on a budget too.
You don't have much in the way of card-draw or card-advantage either. Look into Harmonize, Return of the Wildspeaker, Soul's Majesty, Elemental Bond, Colossal Majesty, Lifecrafter's Bestiary, Shamanic Revelation, Bonders' Enclave, and Garruk's Uprising in particular. Adding a few of these will smooth out your games for sure. Draw also helps with land drops.
Keep up the good work and happy planeswalking!
11 months ago
Hey, very good upgrade of the precon while still keeping budget. Nice Doubling Season and Xenagos, God of Revels is some spicy tech with Obuun :)
My advice is consider cutting a few land ramp spells and adding some repeatable draw sources such as Valakut Exploration, Garruk's Uprising and Tireless Tracker. Exploration uses landfall to play cards from the top of your library including lands. It can also be graveyard fuel for Trove Warden, Sun Titan and Emeria Shepherd. Uprising is an amazing budget card in Commander with creature strategies especially with Omnath, Locus of Rage and Rampaging Baloths since it triggers when a token is created. Tracker, Mystery Booster version, creates clues with landfall and clues can sac to draw.
Crop Rotation can tutor for any land which is nice with Bounce lands, Fetch lands, Kessig Wolf Run and Gavony Township. Emeria Angel and Scute Swarm are build your own army with landfall which is very good with Doubling Season, Felidar Retreat, Township and Beastmaster Ascension.
Cinder Glade and Canopy Vista are some land upgrades for the manabase because they have good interaction with lots of basic lands and they're two different land types. Farseek, Nature's Lore, Grasslands, Mountain Valley can search for one of these dual lands. Krosan Verge and Skyshroud Claim can get both of them. These Battle lands are $2 or less each at TCGPlayer. Exotic Orchard is a budget Rainbow land that's quite good in multiplayer Commander.
---
Cards to consider cutting:
Good luck with your deck.
1 year ago
Ah, lands. An archetype with which I consider myself quite adroit. I play a Naya version, but Gruul bears the majority of the value.
If you opt for a strategy more anent utility lands, there is a multitude of options that become available.
Inkmoth Nexus can combo superbly well withal Kessig Wolf Run, oft murdering someone on the spot.
Of course, Dark Depths and Thespian's Stage is just another threat for the opponents to answer.
Glacial Chasm has saved me more times than I would care to admit, and Drownyard Temple is fun with sacrifce effects.
Sheltered Thicket is probably just better than an Evolving Wilds.
Sylvan Safekeeper is a little too perfect here. Defend the commander, aggressively costed, and perfidious for the opponents to remove.
I have a lands deck myself, bearing Vital Force and Vivien Reid as splendidly potent engines.
Nissa, Vastwood Seer  Flip is a card that literally never feels bad. It's great at all points of the match.
For assembling your land base, Realms Uncharted carries its weight, Hour of Promise is fantastic evermore, Crop Rotation can be a surprise, Elvish Reclaimer is as powerful as it reads, and Expedition Map is cheap and efficient. Sylvan Scrying is also fine.
Given enow utility lands, Field of the Dead becomes one of the very best cards. You could try snow basics for additional names to support it. This also opens Into the North as a possible ramp spell.
'Tis a little selcouth, but I enjoy Throes of Chaos for decks with many lands, as it makes dead draws less possible.
Cantrips make every deck work! Once Upon a Time is banned and broken, Winding Way grants a refill, and Life from the Loam with a cycling land is an engine by itself, and one quite difficult for anyone to intercede upon. Explore is also effective.
One more interactive spell would be nice. Beast Within does the job.
World Shaper has proven itself with High Market for additional control.
There are some things I'd recommend you ablate:
Try fewer lands and more large threats. You have an ungodly amount of ramp yet the only thing reqiring much mana is Radha's second ability. Try some eldrazi, Apex Altisaur does work, Borborygmos Enraged is on theme and always sweet, and fun times is the scariest card on any table, no matter what. Ignore that Teferi. Radha is huge!
Insurrection is oft dispraised, but it ends games a lot of the time. In fact, it has bean so thoroughly unloved by the community as of late that no one expects it. Nice!
The combat package is nice, but it falls apart very quickly to a removal spell. Though, Raking Claws could be fun. :)
In summation, add more angles of attack than voltron, some more card draw would be great, have better ways to spend your mana, and just stick the cheaper ramp. Four mana or less is ideal.
Oh, add some wraths. Blasphemous Act and Ezuri's Predation are each solid. Put them in and don't look back.
Good luck and happy cartography!
Load more