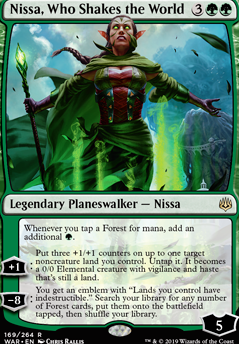 Legality
| | |
| --- | --- |
| Format | Legality |
| Pre-release | Legal |
| Tiny Leaders | Legal |
| Custom | Legal |
| Magic Duels | Legal |
| Canadian Highlander | Legal |
| Vintage | Legal |
| Modern | Legal |
| Arena | Legal |
| Standard | Legal |
| Leviathan | Legal |
| Legacy | Legal |
| Brawl | Legal |
| 1v1 Commander | Legal |
| Duel Commander | Legal |
| Oathbreaker | Legal |
| Unformat | Legal |
| Casual | Legal |
| Commander / EDH | Legal |
Tokens
Nissa, Who Shakes the World
Legendary Planeswalker — Nissa
Whenever you tap a Forest for mana, gain an additional .
+1: Put three +1/+1 counters on up to one target noncreature land you control. Untap it. It becomes a 0/0 Elemental creature with vigilance and hate that's still a land.
-8: You get an emblem with "Lands you control have indestructible." Search your library for any number of Forest cards, put them onto the battlefield tapped, then shuffle your library.
Latest as Commander
Nissa, Who Shakes the World Discussion
2 days ago
(Yes, I pulled off a freaking Thanos; but only half a Plane of Existence dies. Rip. No wonder Darkseid would beat him, & Nintendo never lost a Death Battle for soooo long (& no, Mario vs Sonic fight 1 barely counts; same for Nintendo vs Nintendo.) X/)
---

Commander / EDH* BMHKain
SCORE: 2 | 14 COMMENTS | 908 VIEWS | IN 3 FOLDERS
---
Just thank GhostChieftain for the suggestion on using something I need to use more. I did. :)
I personally wonder how a sequel to an otherwise, crappy attempt for advice for a deck like this can get any worse. Regardless, might as well push on; ALOT of cuts have been made since; & I'm truly nearing the end; which means after that, I'll allow the personal Merit to make a Morophon, the Boundless Human Tribal Deck. But after that, & trying to make & cut to 100 cards for Kruphix, God of Horizons & aforementioned Tribal Deck; There is no more turning back; I plan to make a Tribal Deck w/ Kykar, Wind's Fury based on the 2016/2017 Documentary The Red Pill; as nobody had a previous objection to this even now, it is officially too late to object the idea.
& One last bit of news for now: I plan to do something regarding "Project: Razia's Parhelion II" (Working Title)
IT's a Working Title as even though Razia, Boros Archangel was the Parun (The only rank of a Guild higher than a Guild Leader) of the Boros Legion; I actually wanted to get as ancient as possible; before the Ten Paruns was still an idea, & Ravnica, compared to other Major Planes of Existence is just recently formed in comparison to (then) many others.
Think of this as a haven for those who can think of combos in Commander/EDH that can win games; all while improving upon ideas The Legion would only dream of doing as a Guild. All that said & done though, I do apologize for this part of the whole thing; but it's not like I'd want to make a Tier 1 deck of this kind right away; that is too much already. But because Feather, the Redeemed , & (As a Joke.) Depala, Pilot Exemplar seemed to reach Tier 3, I'll start young from there. Even so, I do apologize about this kind of idea; but it just might work; after all, one topic stated "I played Boros before it is considered "cool""
Not the right name, but you get my point. If any of the few, the proud, the cEDH Boros users want to join in the future, I only need one suggestion: In MTG Lore, The Boros League's Parun: Razia is the first thing we know of in Ravnican Lore for the Boros Legion. But there was also a time before even the idea of a Parun of a Guild was ever a thought; here would have to be someone for each of the "Ten Guilds-To-Become" as the Primordial base for all ten. You may list all 10 each if you wish, but I just want the one for Boros.
& yes, In apologize for the whole "Boros" idea for the few cEDH Players, but, as I said before, most of my crap is more akin to "Semi-Competitive" anyway.
AW CRAP! I souldn't have mentioned my updates here! Uh, here are the questions before I have a mental breakdown for having most of this topic about anything, but Questions:
1: ( Teferi, Timebender trashed. Nexus of Fate 's is stil MIA)
2: On the Topic of ol' Mu-Mu (I pray I'm still being honourable to her while enchristening her with a cute, & Affectionate Nickname; I don't understand Chinese Dialect; & I'm trying to learn Nipponese Kanji... Please forgive Me, Yanling...) She too has two new iterations, but which is the better to add?: Do you think Mu Yanling, Sky Dancer would be good? Sucks that has 2 Loyalty, maybe adding Prismatic Omen again can help? At least it's better than having to deal w/ Blood Moon , or what about Mu Yanling, Celestial Wind ?
3: ( Elspeth, Knight-Errant is kept.)
4: Golos, Tireless Pilgrim is an awesome new reveal, & I consider Top Secret Tek. Flikering it Recht & Link to supply you w/ your whole library of Lands, easily a card that is of immense Banworthiness. I also included Crucible of Worlds (Which WILL NOT leave the deck; especially if I get my lands screwed by an Armageddemon . Since I don't intend to lose either of the former, I think it is time to recreate Zendikar in ways not even Nissa, Who Shakes the World would ever do; Wrenn and Six can manipulate Lands, while working w/ both Crucible of Worlds & Golos, Tireless Pilgrim . But there is Also Xenagos, the Reveler , who makes a ton of mana from your creature tokens; can make a Hasty 2/2 Satyr, & for the record, his Ultimate is ENTIRELY OPTIONAL.
So, who would you pick: Wrenn and Six , or Xenagos, the Reveler ? Or should I not have cut Kiora, the Crashing Wave in the first place, & put her back, maybe even keeping in one of the former 2?
5: Daretti, Ingenious Iconoclast ; Reason of Death: The creature from the Star Trek episode: The Man Trap.
6: (Ol' Teyo gets promoted in rank as a Shieldmage.)
(Not like it matters, Walkers w/ Indestructible while still being Walkers can be damaged all the same...)
7: (Misguided Idiocy Averted.)
8: (Very well. This Karn gets Korned.)
9:
---

Commander / EDH* timmyt1000
SCORE: 25 | 10 COMMENTS | 2784 VIEWS | IN 30 FOLDERS
---
Because I had no choice but to mention this again. After I reach the 100 card mark, I wonder how to rebuild my landbase on a budget-level cEDH Level; despite being only "Semi-Cometitive". How'd you recreate this? Remember the Cycle Duals are mandatory 5 slots by default, &
Crucible of Worlds
, &
Golos, Tireless Pilgrim
are not to be cut from the non-lands either.
Side Note: It's fair enough This was meant for 1, 2, or even 3 color decks; I just used something similar for the current decklist.
10: Mirari's Wake is added. Status regarding Night of Souls' Betrayal is still MIA.
11: (nope.)
And... that's it, actually. That took soooo long. So I'd like some answers unless anyone can make me answer them myself. Regardless, I still need to cut to 100 cards. So I hope this crappy sequel can help... :D
For Now, I'm planning after all this...
Actually, I have one last announcement. Remember that time that I wanted to make a Partners Deck? Well, I wasn't kidding. & neither is the theme in question, based on these cards:
Yep, I'm making a deck based on Exile running colors. Not running Atraxa though; I can't even believe I even cut her from Superfriends/Avengers. What two Partners would be good in a deck like this? & no, is exempt from this as their exile stuff isn't truly well devised here unless you got some things to say otherwise against this fact.
Huh... Finally... It worked. Thanks go to GhostChieftain for the Accordion method. I guess I'll have to use it more...
1 week ago
I have found the quickest way to get +1/+1 counters on your creatures is to play Biomancer's Familiar with Growth-Chamber Guardian and Incubation Druid . This means almost instant flipping of Hadana's Climb Flip. Jiang Yanggu, Wildcrafter and Simic Ascendancy then help to create back-up win conditions, while Nissa, Who Shapes the World gives you all the mana you could want.
I would keep Pelt Collector and Roalesk, Apex Hybrid , but Siren Stormtamer is so much easier to cast and almost as effective as Frilled Mystic and the explore package (12 cards) may actually slow you down.
My recommendations for this deck would be:
-2 Nissa, Who Shakes the World , +2 Jiang Yanggu, Wildcrafter
-4 Frilled Mystic , +3 Siren Stormtamer , +1 Stony Strength
-4 Jadelight Ranger , +4 Biomancer's Familiar
-4 Merfolk Branchwalker , +4 Simic Ascendancy
-4 Wildgrowth Walker , +3 Evolution Sage , +1 Stony Strength
This combination should give you super-rapid growth of your creatures power with +1/+1 counters and an alternative win-con with the effect of Simic Ascendancy . I would look to have Sylvan Awakening in the side-board to be able to swing with an army of 2/2's after using Nissa's ultimate effect.
I suppose that we could design the sideboard so that we could swap out the adapt and the explore themes, but I would prefer some control options.
1 week ago
Force of Denial
Instant
Counter target spell that was cast by an alternative cost.
---
create a balanced mana duplicating non-permanent or non-planeswalker permanent card. see Nissa, Who Shakes the World - static ability, Dark Ritual
1 week ago
I'd 100% run Reap the Past , since it's most often a strictly-better Wildest Dreams. I'm also surprised to see no Earthquake or similar "damage to creatures and players" effects, just since with such big stompy dudes, you can halve everyone's life, and kill the board in one turn.
On that note, I'd actually cut the Finale in favor of more mana-doubling. This is because unless you have a pretty large board-state, (not easy to maintain on turn 7), you won't kill anyone without trample, and any earlier in the game it's basically a dead draw; most of your creatures just die without being cast.
In its place, a Nissa, Who Shakes the World or Mana Flare could make your plays absolutely bananas.
2 weeks ago
Guerte: I think all your changes are great. I am just struggling to figure out if I can make room for Circuitous Route in my deck yet. I don't want to cut something with CMC smaller then , but everything the same of above seems too good to cut. What do you think about cutting one of the token doublers or Splendid Reclamation ?
Sylvanrush: I don't see a problem with running the Nissa package, I am just not a big fan of Planeswalkers in Commander for the most part. The exception I make with Wrenn and Six is because of its CMC as well as the fact that I really don't mind if it dies after one use. Two mana for a land from the grave is not all that bad, and if it lives then it is pretty fantastic after that. The problem I have with all the Nissas is that if they don't survive a couple turns then they are really bad! I think mainly about playing them on curve. So although Nissa, Who Shakes the World could ramp you a ton if played with a couple lands open, if you play here and only get 2 mana (after untapping one land with her+) then that is a pretty bad turn. Regardless, still not bad cards overall, just not my thing. I would definitely play Evolution Sage if you go more of a Planeswalker route though!
When it comes to Boundless Realms I always felt like it was a bad play about 80% of the time when I had it in hand. I have played then deck easily over 100 times and have always felt this way. It has been in the deck so long only because of these handful of times it did really cool things. I think there are better options out there though, like earlier ramp spells for have the CMC.
As you stated, I removed a couple "search for any land" cards from the deck, but also added Crop Rotation . When I search it is almost always for Gaea's Cradle and maybe sometimes Command Beacon (if against heavy black) or Cavern of Souls (if against heavy blue). Going down one search ability overall won't break the deck I think, but only playtesting will tell us.
The odds of Wheel of Fortune giving them Cyclonic Rift comes up as often as if it would make them discard it. The risk is worth the reword when it comes to refilling your hand though.
Ruggs: Thanks for the support man! I think the deck is a ton of fun too! The Finale of Devastation debacle was discussed a bit above. Although you just win if you cast it for 12 mana and Avanger is not in your hand, that is a ton of mana for something that can be done by other cards, such as Tooth and Nail for Avenger of Zendikar and Craterhoof Behemoth . The only way it gets in the deck is if I take out Natural Order or Chord of Calling . Do you think either of those are worse? I am not against adding it, but I don't think I need three tutors.
Load more
No data for this card yet.