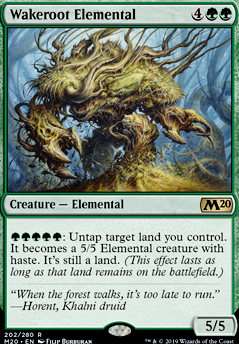 Legality
| | |
| --- | --- |
| Format | Legality |
| Pre-release | Legal |
| Tiny Leaders | Legal |
| Custom | Legal |
| Magic Duels | Legal |
| Canadian Highlander | Legal |
| Vintage | Legal |
| Modern | Legal |
| Arena | Legal |
| Penny Dreadful | Legal |
| Standard | Legal |
| Leviathan | Legal |
| Brawl | Legal |
| 1v1 Commander | Legal |
| Duel Commander | Legal |
| Oathbreaker | Legal |
| Casual | Legal |
| Commander / EDH | Legal |
Wakeroot Elemental
Creature — Elemental
: Untap target land you control. It becomes a 5/5 Elemental creature with haste. It's still a land. (This effect lasts as long as that land remains on the battlefield.)
Wakeroot Elemental Discussion
1 month ago
Welcome to TappedOut :)
Nice start for a budget deck, but it needs more focus on Elementals. You're best cards here are not green they're red Chandra, Awakened Inferno and Cavalier of Flame . The problem is you've made a primary green deck and plugged your two best red cards into it which doesn't work. Both Chandra and especially Cavalier need lots of red in the manabase to support them, to cast them and you don't have this here.
A playable manabase is the hardest part of a deck to get right with such a low budget for this reason consider only one color? Either mono green or mono red? A mono colored deck only has to use one type of basic land therefore don't have to worry about playing dual lands for the second color. Since your two best cards here are red then consider mono red?
Obviously mono red will be a different deck than you have here and would require adding lots of budget red cards. Mono green wouldn't, but mono green wouldn't let you play Chandra or Cavalier. My advice is go with mono red since there's several good budget (less than $1 each) red Elementals in Modern to choose from: Smokebraider , Incandescent Soulstoke , Obsidian Fireheart .
---
For your current Gruul deck, if you don't like the idea of playing only one color, but wanting to keep two colors then focus on improving the manabase with more red sources. Add 4x Evolving Wilds , 2x Terramorphic Expanse , 1x more Gruul Guildgate or upgrade Guildgate to 4x Temple of Abandon ? The scry 1 is helpful when you play a dual land that ETB (enters the battlefield) tapped. Add Unclaimed Territory especially if you add more red Elementals since it can be make any color of mana to cast an Elemental.
Consider expanding on the Elemental strategy and less +1/+1 counters strategy? Consider building around the idea of ramp with Leafkin Druid and Smokebraider ? Grove Rumbler is a budget Elemental to considering ramping into. Rumbler is a creature to put counters on because it has trample and it gets a pump of power each time you play a land, +4/+4 until end of turn when you play and sac Evolving Wilds /Expanse in the same turn.
Smokebraider is the most powerful ramp creature for Elementals; it's budget and is an upgrade for Chandra's Embercat if using two colors. Incandescent Soulstoke is a budget anthem for Elementals and can cheat one onto the battlefield which has interaction with my next suggestion. Soul of the Harvest is a budget Elemental to ramp into and an upgrade for Vorstclaw and Wakeroot Elemental . A 6/6 with trample for six mana and it's ability to draw you a card whenever a nontoken creature you control ETB is good.
Cheat Soul onto the battlefield with Soulstoke for two mana; attack with a 7/7 Elemental with haste/trample. Not having to pay the six mana to cast Soul gives other mana to use to cast creatures to draw for the turn which is good with Smokebraider and Leafkin. The two mana that Smokebraider can make to cast an Elemental is good to ramp into Soul as well as can pay for Soulstroke or Cavalier of Flame 's activated abilities.
---
Example of budget ramp Gruul Elementals base (keeping several cards you already have):
The Elemental core of this example is:
4x Leafkin
4x Smokebraider
4x Soulstoke
4x Rumbler
4x Soul
Leafkin and Smokebraider are the ramp. Rumber and Soul are the creatures to ramp into.
Manabase for this example:
6x Forest
5x Mountain
1x Flamekin Village : haste can be helpful, letting an Elemental attack the turn it ETB.
This example would add $10 to your current deck cost of $35. I offer more advice. Good luck with your deck.
No data for this card yet.