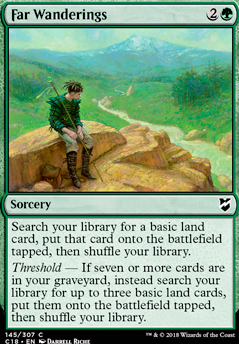 Far Wanderings
Sorcery
Search your library for a basic land card and put that card onto the battlefield tapped, then shuffle your library.
Threshold — If seven or more cards are in your graveyard, instead search your library for three basic land cards and put them onto the battlefield tapped, then shuffle your library.
Browse Alters
View at Gatherer
Trade
Legality
| | |
| --- | --- |
| Format | Legality |
| Tiny Leaders | Legal |
| Noble | Legal |
| Leviathan | Legal |
| Magic Duels | Legal |
| Canadian Highlander | Legal |
| Vintage | Legal |
| Casual | Legal |
| Pauper EDH | Legal |
| Vanguard | Legal |
| Legacy | Legal |
| Archenemy | Legal |
| Planechase | Legal |
| 1v1 Commander | Legal |
| Duel Commander | Legal |
| Oathbreaker | Legal |
| Unformat | Legal |
| Pauper | Legal |
| Commander / EDH | Legal |
Far Wanderings occurrence in decks from the last year
Commander / EDH:
All decks: 0.02%
Far Wanderings Discussion
3 weeks ago
My suggestions using only cards in your maybeboard.
If Ob Nixilis Reignited's only purpose is card draw, out for Guardian Project
That's 1 more out than in so you should be down to 99.
Ugrades using cards not in maybeboard.
1 month ago
Those are good thoughts, AscendedLandfalls. I do like the Bauble, even though you end up paying three total to ramp a land, but the first turn drop is nice. But I may go ahead and switch out Far Wanderings for Explosive Vegetation , although it's not difficult to hit Threshold in this deck.
3 months ago
Looks like a good draft of the deck if anything I would do 2 things to improve the consistency.
Not counting the artifact ramp, I counted 15 cards that ramp you. Increase this to 20 cards, and that will give you a 75% chance of summoning Gishath on turn 6 game after game.

Get rid of the artifact ramp for more cultivate effects, cards I didn't see in your list Beneath the Sands , Deep Reconnaissance , Far Wanderings . There are many more of those effects in magic and all can be had for less than a buck each.
By doing these 2 things you can cut the lands down to 37, and you'll open up 5 slots for cards in your maybe board.
5 months ago
I completely understand your stance on Crucible of Worlds and Scapeshift . The only reason my deck runs 'em is because I was lucky enough to crack one of each from M19 packs. Sadly those cards aren't that cheap.
In regards to Concordant Crossroads vs. Need for Speed , it really comes down to preference. Crossroads is a fine haste enabler (though since you do have access to red I would suggest one that isn't a symmetrical effect), but I like Need for Speed because it doesn't require a huge non-land board state to win a game. All you need is Titania, Protector of Argoth on the battlefield and you can then quickly take down the table. Throw in Splendid Reclamation for to an immense set of landfall triggers (basically building your own Scapeshift ). Plus being able to sac a land when you want is pretty solid with The Gitrog Monster and Lord Windgrace .
I think if you are not going to include Oracle or Azuza, then Rites of Flourishing is a fine replacement since you should benefit more from the extra land drops than your opponents. Wayward Swordtooth is another option that is a little easier on the wallet (though even he is getting up there these days). Just as an aside, one way you can get around the lack of Oracle and friends is to use 'big' ramp spells which drop multiple lands onto the battlefield at once. So cards like Summer Bloom (which you already run), Skyshroud Claim , Harvest Season , Traverse the Outlands , Collective Voyage , New Frontiers , Harrow , Far Wanderings (if you have threshold), and Animist's Awakening . Basically you use your ramp spells as replacements for your extra land plays. It's a bit slower than playing extra lands every turn, but the landfall effect is all the same.
5 months ago
The first thing you should figure out is the direction of the deck, and adjust things accordingly. It's a lot easier than it sounds, and it really is that simple. Since this is Tribal EDH and Reaper King is the general, most of what we want is stuff to facilitate both his casting, abuse of his removal effect, and the consistency with which those are done. Granted, I'm not an expert with multicolor EDH, but there are some basic principles that apply, so this is where I am drawing from.
Fielding the 'Crows
Popping with King is great, but with limited deck space, vanillas just don't make the cut. To that end, you need to look for what you get in addition to a card triggering King's removal.
Irregular Cohort - Pay 4 to get a pair of 2/2 Changelings, which means a field day for Reaper
Unsettled Mariner - Changeling plus a hint of protection
Birthing Boughs - Simple Changeling production, which of course means Scarecrows at a decent price
Riptide Replicator - Largely, it's a watered-down Boughs, but a slow format like EDH can give you better opportunities with Replicator
Volrath's Laboratory - Largely, it's a watered-down Replicator, but for a budget deck it can get the job done
Call to the Kindred - Assuming your creature doesn't get vaporized, you can generate free board presence and possibly get pops with Reaper
Descendants' Path - Easier to keep around than Call while harder to actually use, but is an option
Kindred Charge - Swarm tokens, obliterate things with Reaper King , swing for game
Kindred Summons - High costed, but can snowball hard
Acceleration and Mana Fixing
Since this isn't fully funded five-color EDH, you need to compensate for your lands' blandness with artifacts, and possibly a touch of ramp if it fits into the deck. These things are widely used because it's more than just fixing your mana, it's having more mana at your disposal for when your general dies and you need to recast at an inflated price.
Darksteel Ingot , Manalith , Spectral Searchlight - Never underestimate an omni mana rock in EDH, because this both speeds you up and eases your mana needs. There is a point at which too much mana fixing of this nature is bad, but for a budget deck, don't worry too much about that until a little further down the line when you start shifting away from being strictly budget
Coalition Relic - Additional option of planning for next turn
Firemind Vessel - More generation at the cost of being pretty slow
Coldsteel Heart - Not as good as omni mana rocks, but is an option
Rampant Growth , Harrow , Explosive Vegetation , Far Wanderings , Kodama's Reach , Primal Growth - All slight variations of mana ramp
I'm short on time right now, so I'll pick up where I left off tomorrow.
6 months ago
Overall really good deck, but you may need to double check your card draw/ ramp. Tamiyo's Journal is very inefficient at seven mana to draw your first card. Far Wanderings is usually just a more expensive rampant growth unless you are in a graveyard deck. I personally would like to see Harmonize and Kodama's Reach over those. Also definitely consider Sol Ring and Swords to Plowshares as they are staples.
8 months ago
Interesting Commander choice! Definitely don't see too many Baru decks around. I play mono green as well, though my commander is Titania instead. They do have in common that they use lands to good effect though.
I definitely have some suggestions most of which I'll keep budget as your total deck cost is 100$:
Load more