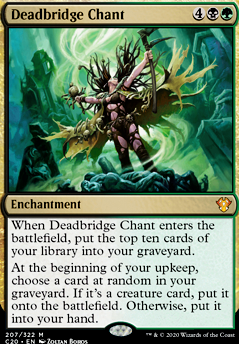 Deadbridge Chant
Enchantment
When Deadbridge Chant enters the battlefield, put the top ten cards of your library into your graveyard.
At the beginning of your upkeep, choose a card at random in your graveyard. If it's a creature card, put it onto the battlefield. Otherwise, put it into your hand
Latest Decks as Commander
Deadbridge Chant Discussion
4 months ago
Hey Walrighti, +1!
Congrats on your first deck! You have a lot of fun cards in here and it looks great! I imagine you want to tune and make it even more efficient so here are some ideas...
Add 3 categories: #Combo, #Lifegain, and #Evasion; and then sort your maybeboard the same way you've done your mainboard to easily rank your choices within a category (By "combo" I mean all your "if-then" cards like Trudge Garden that are slower and don't work by themselves). Remove #Creatures (most of them are #Combo).
Avoid most cards above 4 cmc... Willowdusk is fast and fragile, so play into that... Also, prioritize cards that can do 2 or more things or that give value on ETB... If you have pet cards that don't really fit and that hurt to cut, put them in a "I'll build that theme later" list.
...Always play at least 10 ramp spells under 3 cmc.
...Playtest and make sure Willowbark consistently makes a fatty (with evasion) before turn 6-7.
Here's another Willowdusk thread.
Happy building :)
10 months ago
Another thing. You need Self-mill. like A LOT of Self-mill. otherwise Karador isn't going to be able to recur anything. You already have underrealm lich, so similar cards like Deadbridge Chant are really going to give you more creatures to resurrect. If you accidentally mill a really good non-creature spell, Eternal Witness or Regrowth are good cards
Also Guardian Zendikon has no business being in this deck. if it were a toughness-matters deck it would work, but Karador does better with graveyard strategies. Hope this helps.
10 months ago
Some updated thoughts on this deck:
Mana base, this has been interesting and fun but it's worth noting I studied operations research and optimization. Thoughts on this are, fetch lands that tap for mana (like the Panorama's) are better because they can be replayed and tap for colourless. This is also why the cycling lands are really good. Given the amount of things that fetch basic lands, I think basics would be better than scry or check lands. TLDR: I have run out of basics a few times with this deck...

Tormod, The Desecrator from Commander Legends will go in. This could create a 2/2 zombie per permanent that leaves the graveyard, that could be 5 in a turn (and one is a land). VALUE.

Azusa, Lost but Seeking is good, but there is so much ramp in this deck already. I think I prefer something that sacrifices as it can fetch and is repeatable.

The Mending of Dominaria this card has been awesome for me, but too early and you don't hit enough lands. Too late and you throw back everything you have milled and lose that card advantage. Considering removing this for a Deadbridge Chant, as it mills more and helps cheat out an extra permanent. If it hits a creature, awesome, if it hits anything else and puts it into your hand, still awesome.

Considering removing Stitcher's Supplier and put in Mulldrifter. Stitcher mills three but there are few ways to kill it to get the extra three unless you enlist help. A one drop that will only get played in the early game unless it is drawn over milled. Mulldrifter on the other hand draws 2 and can kill itself, which is important if the death trigger matters for the Butcher of Malakir.

The only reason why I want Jarad, Golgari Lich Lord still is because it really excites me with Kokusho, the Evening Star since it can sack it and deal an extra 5 to everyone. Though it is worth mentioning that it can fling a bunch of other creatures if needed. The 4 coloured mana could be hard to cast in the early game, but this is a late game card in this deck. I am flip flopping.
11 months ago
Hey there Kronhamilton,
First of all, I like the improvements you've made to your deck. It's already looking a lot slicker and I can see you've made some very fun looking changes to how the deck plays.
You've got a nice array of threats (I always love to see the Bringers and Ur-Dragon) and a decent amount of ramp which are both a big plus. Additionally, you've got the beginnings of some nasty graveyard synergy shaping up, which looks really, really cool as a sort of plan B.
That being said, I'd like to make a few suggestions to help guide you toward a more consistent and powerful Golos deck. Please remember that these suggestions are just my informed opinion, and that I totally respect whatever deck choices you decide to make. I really just want to help you get comfortable with deck building and learning what to look for in a 'good' or 'bad' card.
Broad Suggestions
I would encourage you to add 2 Lands, 3 Removal cards, and 8 Draw cards. I'd also think about adding 2 more Ramp cards, but that is less critical to the overall health of the deck. Your Threats look great and I think your Sweepers are also appropriate. Anything that synergizes with your graveyard backup plan is great.
There are a couple of things to think about as you play this deck; 1. "Am I happy or sad to be holding this card in my hand or drawing it off the top of my deck?" – If a card seems to constantly be 'the wrong card' for the situation, or you can never seem to cast it, or you always play other cards instead, or you tend to die while holding a certain card, then you probably want to think about how well that card fits in your deck and whether or not you should cut it or modify the deck to support it. 2. "What ongoing advantage does this card give me?" – Some cards seem like a decent card based on having decent power/toughness, a fair cost, and some neat keywords or abilities. Just having those upsides alone though doesn't make a card truly powerful. Instead, try to think about what ways a card can synergize with your deck to create crazy effects or otherwise how it will become more dangerous as the game progresses (like a Quartzwood Crasher, Scute Swarm, or Giant Adephage). Additionally, try to find cards that do multiple things such as Chasm Skulker which gets bigger when you draw cards and also explodes into tokens when it dies, or even Ravenous Chupacabra which deals with a threat and also acts as a blocker when you are facing pressure. The key is finding a way to levarage the most amount of value in each individual card – even a 2 mana ramp spell will set you up to play all of your future spells 1 turn earlier than normal for the rest of the game, which can be an insane advantage when you think about it. 3. "Am I out of options?" – If you can't seem to find a solution to a problem or you're 'running out of steam', then it is likely that you need more card draw and more ways to create 'engines' that accrue value. An example of an engine would be Fertilid + Evolution Sage or Rampaging Baloths + Elemental Bond or Kruphix, God of Horizons + Victory Chimes or Atraxa, Praetors' Voice + Ajani, the Greathearted or Anointed Procession + Endless Ranks of the Dead or Search for Azcanta  Flip or Deadbridge Chant or Mind Unbound, etc.
Ramp
Your ramp looks pretty good with 10 dedicated Ramp cards. I'd suggest adding 2 more Ramp spells to really help speed things up early. Examples would be Kodama's Reach, Llanowar Elves, Wild Growth, Farseek, Rampant Growth, Springbloom Druid, etc.
Ramp - 10
Not Ramp
Draw
Overall, I think your card draw package needs a little bit of love. I want to note I see a lot of 'looting' effects like the ones on Teferi, Master of Time or Obsessive Stitcher and while these cards are great for a graveyard strategy they still don't count as card draw. I'd keep most of these 'looting' type cards, but try to find cards that get you about 2 or 3 cards such as Harmonize, Concentrate, Escape to the Wilds, Urban Evolution, Moldervine Reclamation, Deathreap Ritual, Recurring Insight, Mind Unbound, Underworld Connections, Cloudblazer, Mulldrifter, Drawn from Dreams, Return of the Wildspeaker, Harvester of Souls, Momentous Fall, Dream Trawler, Keeper of Fables etc.
Draw - 2
Not Draw
Removal
Your removal package looks like it needs a couple more additions to keep your deck responsive and able to handle imminent-doom type threats. It is worth noting that cards like Blatant Thievery or Mythos of Illuna can save you in certain situations, but be wary of their crazy mana costs and the fact that they are not instant-speed answers. Examples include Mythos of Nethroi, Beast Within, Price of Fame, Reality Shift, Terminate, Return to Nature, Putrefy, Utter End, Eat to Extinction, Murderous Rider, etc.
Removal – 4 (aim for 7)
Cuts
There are several cards that I would consider cutting first when modifying the deck.
Azusa, Lost but Seeking – you don't have enough land + card draw to really capitalize on Asuza's ability. Yes, you can use the double lands (like Gruul Turf) to bounce a land to hand and then play that land with Asuza, but realistically that's such a narrow and relatively tame synergy (in this non-landfall deck, that is) that you would be better off playing a Farseek or a Rampant Growth or even a Fertile Ground.
Summary
Nice changes Kronhamilton, I can see that your deck is really starting to shape up as a rampy graveyard-mingling Golos deck, and that's really cool. I encourage you to try and pay attention to what situations you find yourself in, as that's often the best way to tell what cards you need to cut or add to the deck for it to work best. As a default, I'd consider making a few of the changes I mentioned in the Broad Suggestion section, as those changes should just generally help with your deck's consistency.
Please do let me know how you decide to tune your deck – it's really fun to watch honestly, and I'm always down to help advise you. Other than that, take care and enjoy Golos!
Best,
-Slashdotdash
1 year ago
How does the deck play out? Are the Hymn to Tourach disruptive enough to keep opponent's from destroying your creatures?
If you are looking for more tools for the deck I would suggest adding some instant speed protection for your non-mortivore creatures. Maybe Golgari Charm since it follows the regeneration style and is modal. Heroic Intervention is also good. If you are looking for combat tricks some good ones are Gaze of the Gorgon because it will kill something after it saves your creatures. In the same spirit, Back for More is in flavor with the deck. While in the graveyard your creatures add to your goyf counts. And then at instant speed you can return one and potentially kill something with the fight trigger. Status / Statue is not a bad card for a casual deck. It is modal, and adds death touch or enchantment kill to the deck.
Finally, I have to second Deadbridge Chant if slowing the deck down a little does not hurt your deck given your local meta. It provides card advantage and makes a deck extremely resilient during mid-long games.
Load more